A glance at the Wienerschnitzel menu might make you believe it's not someplace that would fancy you, being on keto. With Hot Dogs, Fries, Burritos, and Oreo Freeze on the menu, anybody would be scared for once. But here's the ultimate keto guide for you to maintain your keto streak at Wienerschnitzel.
The mini corn dog and the jalapeno poppers are the two options with the least amount of carbs at Wienerschnitzel. You can also have the hot dogs if you let go of the bun, since it has 26g of net carbs.
While most of the Wienerschnitzel's menu is pumped up with carbs, you can still scoop out a few keto-friendly options that taste just as good!
This is a complete guide to EVERYTHING Keto at Wienerschnitzel. I'll not just tell you the low-carb options, but also share with you some time-tested practical advice.
So read on!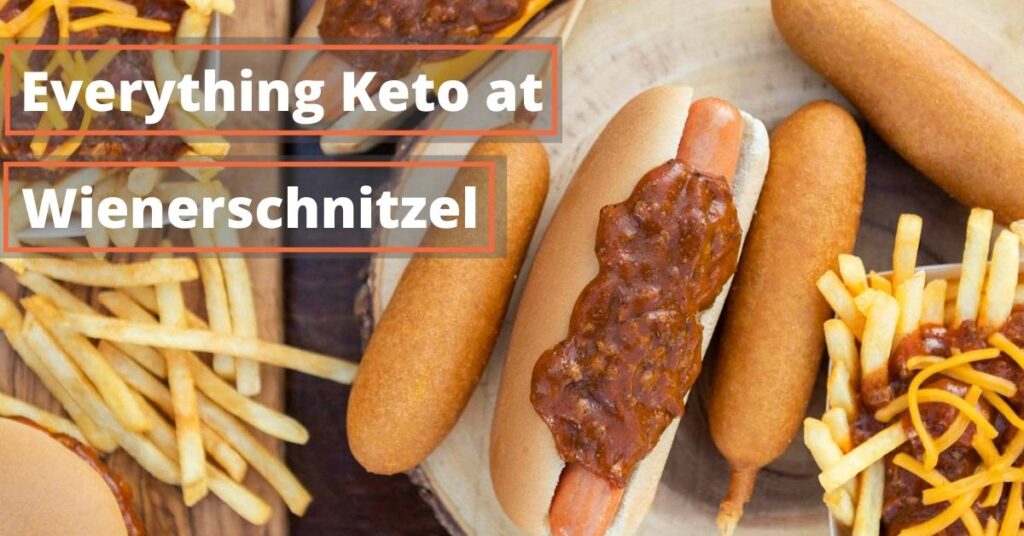 Tired of searching whether certain foods are keto? Download my keto cheat sheet with 210+ keto-friendly foods!
This post may contain affiliate links, which help keep this content free. (Full disclosure)
Surviving Keto at Wienerschnitzel
A place famous for its Hot Dogs and Cheesy Fries might not be your first while on keto. But, if you land in a situation where you do not have a choice, except dining out at Wienerschnitzel, you should be well informed about the dishes you can have without worrying about losing your keto streak.
They have a good enough variety when it comes to serving low-carb meals. From their Hot Dogs to their Burgers, to Burritos, and finally some refreshing keto-friendly beverages. Sounds astonishing, right? The catch here is that you can have all of it, but with slight modifications.
For instance, while having a Hot Dog at Wienerschnitzel, strip away the high carb bun and you save yourself more than 26g net carbs (Source). Enjoy your hot dogs as a salad bowl or have them served in a lettuce wrap.
The keto trend has been in place for over a decade, and restaurants like Wienerschnitzel are pretty used to such requests. (Don't worry, there won't be any unwanted stares.)
As far as burgers are concerned, it's the same as Hot Dogs where if you can ditch the high carb bun, and make it into a salad, you're doing no harm to your keto routine.
For Burritos, the tortilla consists of around 33g net carbs, way above the acceptable keto limits. Just avoiding the tortilla would lower your meal's carb amount to around 6-7g which is absolutely fantastic! In fact, it even leaves room for some delectable side dishes.
If you crave sugar, Wienerschnitzel might not be the best place to go. But, you can have their zero-carb drinks as a substitute to fulfill your sweet cravings. Let us now see what all the keto-friendly options have got at Wienerschnitzel, along with some tips to save yourself from a relapse.
RECOMMENDED: Everything Keto at Mimi's Cafe
Keto-Friendly Options at Wienerschnitzel
With the necessary modifications (and a bit of self-control), it won't be that difficult for you to go keto at Wienerschnitzel. So, without further ado, let's jump right into all the low-carb options they have for us.
Keto-Friendly Hot Dogs (Bunless)
Chilli Cheese Dog (3g)
Chilli Dog (3g)
Mustard Dog (1g)
Kraut Dog (1g)
Deluxe Dog (3g)
Chicago Dog (9g)
Street Dog (3g)
Junkyard Dog (14g)
Green Chile Chili Cheese Dog (4g)
All these Hot Dogs are no-bun dogs. Trust me, it tastes just as good without the bun!
Recommended: Franz Low-Carb Bread Review
Keto-Friendly Burgers (Bunless)
Chili Cheeseburger (1g)
Classic Burger with Thousand Island Dressing (3g)
BBQ Bacon Cheeseburger (7g)
Same as Hot Dogs, you'll have to ditch the bun here as well. The burger bun also consists of around 26g net carbs (with <1g dietary fiber), making it Anti-Keto.
Side Mentions
Mini Corn Dog – 1 Piece (5g)
Jalapeno Poppers – 1 Piece (5g)
You're one lucky person if you get to eat Jalapeno Poppers and a corn dog (a mini one tho) on keto (and guess who got you lucky 🙂 )
Keto-Friendly Breakfast (No Tortilla/Bread)
Burrito with Egg, Bacon & Cheese (4g)
Burrito with Egg, Sausage & Cheese (8g)
Biscuit Sandwich with Egg, Bacon & Cheese (10g)
Biscuit Sandwich with Egg, Sausage & Cheese (14g)
Chilli Cheese Egg Breakfast Burrito (5g)
Eggs, Bacon, and cheese have been the keto staple for more than a decade! It's also the best keto-friendly breakfast you can grab at a restaurant. A Wienerschnitzel Tortilla has around 33g net carbs. So turn your burritos into burrito bowls and you are golden!
Keto-Friendly Beverages
Iced Tea (0g)
Coffee (0g)
Diet Pepsi (without ice) (0g)
Wienerschnitzel has a lot of beverages but unfortunately, they are carb heavy, and only these three options do the job.
If you crave desserts a bit too much, probably Wienerschnitzel won't be a good option for you since they can't be modified to reduce the net carbs and are loaded with sugar.
Note – There's no concrete rule that defines a meal as "keto-friendly". A ketogenic diet caps your daily carb intake to 20-25 grams. This loosely translates to 8g carb per meal. But sometimes you can have more in one meal and cut back in another, to balance your scale for the day.
This "balancing" comes in handy, especially when dining out on keto. Most delicious items are always higher in carbs, and you may want to relish them even on a low-carb diet. As long as you stick to your daily carb allowance, you'll be just fine!
ALSO Read: Keto Options at Mimi's Cafe
Conclusion
From all that we have seen, Wienerschnitzel seems like a fairly reliable place to dine out while practicing keto. With modifications available for almost every category of food, be it Hot Dogs or Burritos, they certainly have not disappointed.
Although, they can make their fitness-focused customers happier, if they introduce the lettuce wrap options in the near future, and also play with the desserts to make them keto-friendly. But as of now, that's all the low-carb options we have at Wienerschnitzel.
I have provided you with all the necessary information, tips, and tricks you need, to maintain your keto streak here. But still, if you want to look up the various nutritional components of your meal, visit their official nutrition guide here.
Happy Ketoing 🙂