Just about fifteen years ago, Smashburger completely changed the hamburger game for us Americans. Their unique method of cooking adds a whole new touch to this everyday staple. What's more, the burgers are highly customizable and hence loved by fitness enthusiasts all over the country!
But what's keto-friendly at Smashburger?
You can enjoy most of their burgers for less than 5g of net carbs, as long as you ditch the bun. Have it as a lettuce wrap or enjoy it as a salad bowl instead. In fact, you can create your own burger with your choice of meat patty, cheese, toppings, and dressings.
Since keto is a very low-carb diet, dining out can be really overwhelming sometimes. You look at the menu and it seems very confusing. What patty should you pick? Which cheese has lower carbs? Can you have the dressing?
I'm here to answer all your questions regarding Smashburger on a ketogenic diet. You'll find all the low-carb options and some inside tricks to maintain your keto steak at this fast-food restaurant.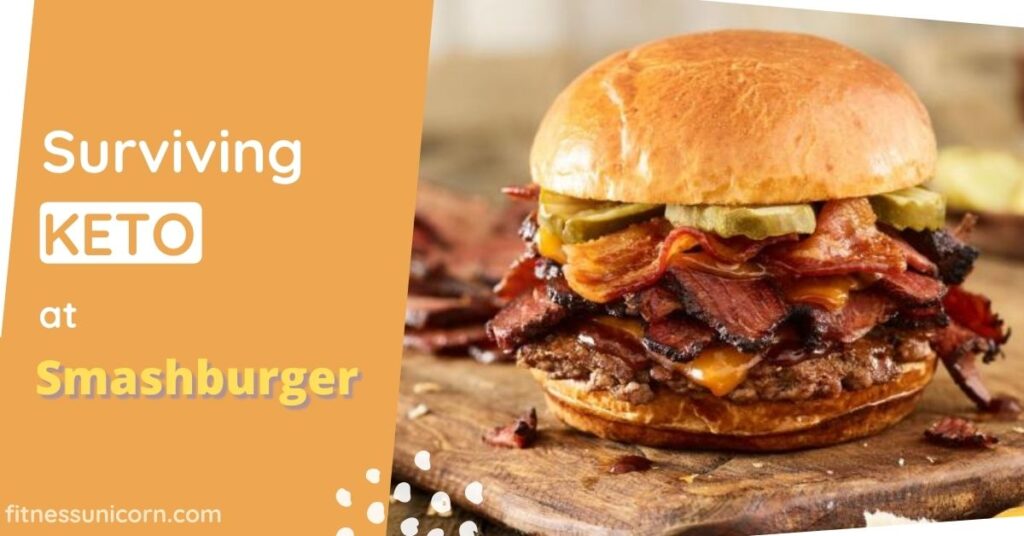 Tired of searching whether certain foods are keto? Download my keto cheat sheet with 210+ keto-friendly foods!
This post may contain affiliate links, which help keep this content free. (Full disclosure)
Survival Guide for Keto at Smashburger
Smashburger is an American fast-casual hamburger chain having its origins in Denver, Colorado. Founded in 2007, they are famous for their "smashed burgers" (hence the name!).
The burger patty is cooked on a flattop grill at high temperatures. This completely locks the flavor inside and gives a unique texture to the burger. You can then customize the ingredients any way you like (think of it like a Subway for burgers. Amazing, right?)
Their menu includes shakes, salads, sides, and a huge range of burger options.
Slipping out of your keto streak still remains a possibility here. Look at all those delish burgers, buttery buns, and carb-heavy barbeques sauces. But given the right strategy, you can satisfy all those cravings without crossing the keto carb limit.
Smashburger allows you to customize your meal with a choice of buns (normal bun or lettuce wrap), protein (Turkey, Beef, Grilled Chicken), cheese, sauces, and low-carb toppings. You can choose to make a burger out of these, or have it all as a salad bowl instead!
An important point to keep in mind is the traditional burger bun consists of around 30g carbs, which is even more than your whole day's carb limit (25g). While following a keto diet, you should always go for a lettuce wrap to enjoy your burger.
They have a lot of beverages too, but unfortunately, almost all of them are stacked with buckets of sugar. Mostly, they are packaged drinks that cannot be customized.
As far as their salads are concerned, the only thing to keep in mind is not to be too comfortable with the dressings and sauces. Some low-carb sauces you can go for are Ranch, Truffle Mayo, Yellow Mustard, Spicy Chipotle, and their in-house Smash Sauce. Strictly avoid the BBQ sauce and ketchup (tons of sugar).
Even though there are restrictions, Smashburger still impresses you with its vast range of low-carb options. Without any further ado, let's jump to the keto-friendly options available at Smashburger.
Keto-Friendly Options at Smashburger
If you are visiting Smashburger on keto, you fall into one of the two categories:
You are short on time and simply want a quick bite. So check out the list of burgers given below.
Or if you've got some time to spare, the next section explains how you can craft the perfect low-carb burger.
So here you go:
Keto-Friendly Burgers at Smashburger (Lettuce-Wrapped)
Classic Smash (10g) – Beef, American Cheese, Ketchup, Smash Sauce, Lettuce, Pickles, Red Onions, Tomato
Double Classic Smash (11g) – Turkey (Double) patty with same condiments as Classic Smash
Bacon Smash (3g) – Beef, American Cheese, Mayo, Applewood Smoked Bacon, Lettuce , Tomato
Double Bacon Smash (4g) – Turkey (Double) patty with same condiments as Bacon Smash
Avocado Bacon Club (3g )- Beef, Mayo, Ranch, Applewood Smoked Bacon, Fresh Sliced Avocado, Lettuce, Tomato
Double Avocado Bacon Club (3g) – Turkey (Double) patty with same condiments as Avocado Bacon Club
Smoked Bacon Brisket (3g) – Beef, Smoked Cheddar, Applewood Smoked Bacon, Pickles, Smoked Beef Brisket
Double Smoked Bacon Brisket (3g) – Turkey (Double) patty with same condiments as Smoked Bacon Brisket
Spicy Jalapeno Baja (9g) – Beef, Pepperjack, Spicy Chipotle, Fresh Jalapenos, Guacamole, Lettuce, Red Onions, Tomato
Double Spicy Jalapeno Baja (10g) – Turkey (Double) patty with same condiments as Spicy Jalapeno Baja
Truffle Mushroom Swiss (1g) – Beef, Aged Swiss, Truffle Mayo, Sauteed Crimini Mushrooms
Double Truffle Mushroom Swiss (1g) – Turkey (Double) patty with same condiments as Classic Smash
Colorado Smash (10g) – Beef, Pepperjack Cheese, Mayo, Lettuce, Tomato
Alaska Smash (14g) – Beef, Kenai, Mayo, Applewood Smoked Bacon, Fresh Jalapenos, Haystack Onions
Double Alaska Smash (15g) – Turkey (Double) patty with same condiments as Alaska Smash
All of the above-mentioned keto-friendly burgers are lettuce wrapped and not sandwiched in a traditional bun.
Low-Carb Salads
BBQ Ranch (15g) – Ranch Dressing, Bacon, Cheddar Cheese Shredded, Hay Stacks, Tomato Slices
Classic Cobb Salad (10g) – Same as BBQ Ranch, with an addition of red onions
Side Salad (2g) – Spring Salad Mix, Diced Tomatoes, Cheddar Cheese Shredded, Quartered Red Onions
Salads are undoubtedly the healthiest meals, keto or no-keto. With both veg and non-veg options, choose whatever suits you.
Looking for keto-friendly side dishes? Smashburger provides you with Crispy Brussels Sprouts along with Ranch dressing for just 11g net carbs. But that's it. No fries. No tots. And definitely no Haystack Onions for you! (Did you know they have over 40g of carbs?)
Craft Your Own Keto Burger
Here comes the best part about Smashburger: Make your own burger!
Not many restaurants allow you the luxury to choose your own bun, cheese, toppings, patty, etc. But Smashburger stands a class apart! That's why it's so easy to follow any specific diet here.
Here's a list of all the items along with their net carbs count per serving. Simply add your selections to determine the exact carb in your lettuce burger.
Bun Choice:
Smashburger has 5 burger bun options including the gluten-free one. However, all of them range from 28-35g of carbs (way out of keto limits). So go for the last option i.e. "On Lettuce, No bun!"
Protein Choice:
Beef: 0g
Grilled Chicken: 0g
Turkey: 0g
Black Beans: 19g
Crispy Chicken 23g
Clearly, the last two options aren't keto-approved at all. But the other meat options are just perfect with zero net carbs!
Cheese Choice:
Aged Cheddar: 0g
Aged Swiss: 0g
American Cheese: 0.5g
Blue Cheese Crumble: 2g
Pepperjack Cheese: 0.5g
Smoked Cheddar: 0g
Surprised with so many low-carb cheeses? I was too! Generally, hard cheese varieties always have fewer carbs because they have minimum lactose (a type of milk sugar).
Sauces:
BBQ Sauce: 9g
Chicken Mayo: 0g
Ketchup: 4g
Ranch: 0.5g
Smash Sauce: 2g
Spicy Chipotle: 0.5g
Truffle Mayo: 0g
Yellow Mustard: 3g
You should clearly avoid BBQ sauce and ketchup (these are also the sweetest in taste). As a rule of thumb, avoid any sauces that taste on the sweeter side.
Note: The above carb count only relates to single-serving size. If you go overboard with the sauces, the numbers can easily add up!
Toppings:
Applewood Smoked Bacon: 0g
Fresh Jalapenos: 0.5g
Fresh Sliced Avocado: 0.5g
Fried Eggs: 0g
Grileld Onions: 1g
Guacamole: 1g
Lettuce: 0.5g
Pickles: 0g
Red Onions: 1g
Sauteed Crimini Mushrooms: 1g
Tomatoes: 2g
With so many toppings available, there is something for everyone here!
Keto-Friendly Beverages at Smashburger
It's hard to dine out and not order a beverage, right? Well, Smashburger has a few low-carb options that'll surely quench your thirst!
In fact, having a diet coke is the most sneaky way of satisfying your sweet tooth on a ketogenic diet. So here are all the options.
Coors Light: 5g
Miller Lite: 3.2g
Diet Coke: 0g
Water: 0g
White Claw: 2g (all flavors)
I was a bit surprised to see White Claw when I first visited Smashburger. After all, it's not a common sight at fast-food restaurants.
You see, White Claw is a hard seltzer, which is the perfect alcoholic beverage on a low-carb diet. It has even fewer carbs than a "light" beer.
There are still a lot of doubts about hard seltzer and what it contains. For example, a lot of folks believe that it contains vodka (since it tastes like a cocktail), while others think that there's no alcohol at all inside!
The official ingredients list of a White Claw label reads: Purified carbonated water, alcohol, natural flavors, cane sugar, citric acid, natural juice concentrate, sodium citrate
It's sold and marketed as a "gluten-free" alternative to your regular beers. Since there are no grains involved, it also has a lot fewer carbs than beer and other brews (which benefits us on keto!)
Note – Though I've included all the meals below 15g of net carbs, but an ideal meal should have around 7-8 g carbs, to keep your daily carb intake at around 25g. You can go for the 15g carb meals only when you've consumed very less carbs from your other meals of the day.
Conclusion
Clearly, Smashburger is no loser when it comes to keeping up with the continuously evolving fitness industry. Their customization options, lettuce wraps, low carb sauces speak for themselves. While dining out during ketosis, Smashburger should definitely be up there on your list.
Though you have all the necessary information now, along with the necessary tips and tricks to ditch those carbs. If you still want to look up the nutritional facts for all the different food items at Smashburger, you can go through their official nutrition guide here.
You can set your priorities and limits for different nutrition components, and it'll show you meals accordingly.
Next: