Whether you are on your commute or simply hanging around the block, 7-Eleven stocks everything you need. They've got coffee, groceries, soft drinks, confectionery, and my favorite of all – snacks!
If you are on the keto diet, I can see why you hesitate every time you visit such convenience stores. As you step in, you see endless aisles filled with shiny-packaged food beckoning you. But the truth is that 90% of the stuff can kick you out of ketosis (scary, but true!)
I've done all the heavy lifting for you and laid down this elaborate keto guide for 7-11 stores. You'll find the exact food items listed below along with some important tips to keep things low-carb at all times!
So read on.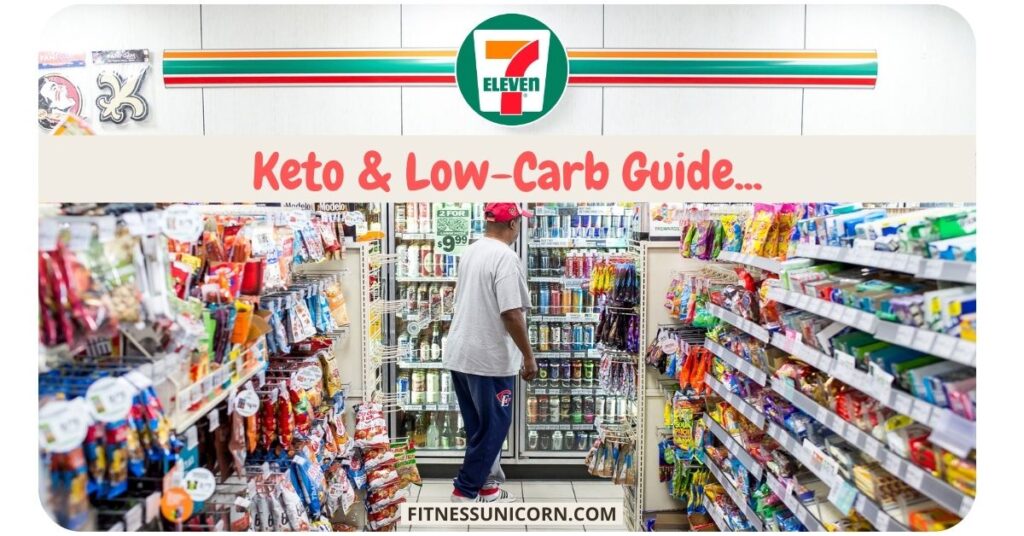 Tired of searching whether certain foods are keto? Download my keto cheat sheet with 210+ keto-friendly foods!
This post may contain affiliate links, which help keep this content free. (Full disclosure)
How to Shop Keto at 7-11
In my early days of low-carb eating, I would always shy away from new products and just stick to my staple meals. But you know how boring it gets after a while! And you soon realize the importance of snacking on a restrictive diet (It gives you something to hold on to, while your cravings are driving you on the edge of cheating!)
7-Eleven is now my go-to store when I'm in need of some emergency snacks. It's also one of the biggest convenience store chains in the US. They have over 77,711 stores in 19 countries as of January 2021!
They also have a lot of keto-friendly snacks and munchies that can satisfy those untimely cravings. Obviously, you won't find something as wholesome as home-cooked meals. But they do have delicious options at reasonable prices which are also low in carbs.
The best part is that they are open 24/7! It means that all your midnight hunger pangs are covered!
Before I tell you what all you can eat, it's important to clear out what you must stay AWAY from. These include:
Candy/Sweets
Sugar-sweetened gum and mints
Baked goods
Most Ice cream and other frozen treats
Potato chips, Nachos, etc
Sweets and candies are the enemies of any ketoer! Recently I've seen a lot of brands selling candies as low as "1g net carbs". But in reality, they have a ton of sugar alcohols that can upset your stomach (They are fine in moderation though).
What's worse, some sugar-free candies have sweeteners that can instantly spike your blood sugar (which means bye-bye keto!).
So it's always best to read the nutrition labels of every item you pick, in order to safeguard your health and your hard-earned ketosis.
Without any further ado, let's take you through all the low-carb snacks available at your nearest 7-eleven!
Best 7-Eleven Keto Friendly Snacks
Note: The availability of the items may slightly vary from store to store. But the list below will give you a fair idea of what to pick from all the options.
#1. Beef Jerky
If you only have to buy one thing – go with the beef jerky. It's as simple as that!
Jerky is the flag bearer of convenience snacking and it's available literally everywhere. It's a lean meat trimming that's dried to prevent any bacteria build-up. Beef jerky is soaked in various spices and sauces that give it a unique taste.
On average, one ounce (28g) of beef jerky has 2.5g of net carbs.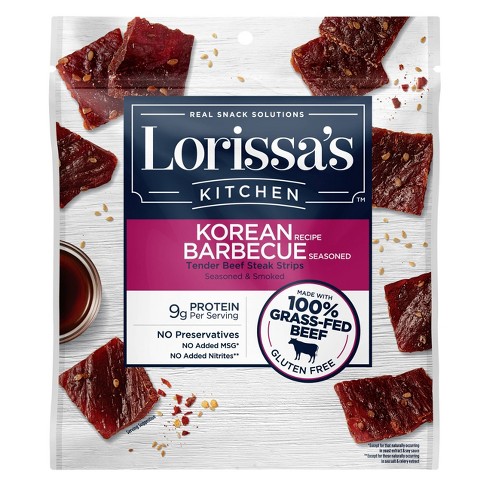 Depending on the brand you go for, you can have anywhere between 1g to 10g of net carbs per serving (some of them are a sugar house!) It also has a long shelf life which means you can buy in bulk.
Beef jerky is an excellent source of protein along with some vitamins and minerals. However, it's devoid of any fats (which are REALLY important on keto). So ideally you should pair it with some hard cheese that's also low-carb and high in fat.
Now comes the most important question: Which beef jerky to buy?
My personal favorite is the Lorissa's Grass-Fed Beef Sticks which have only 1g net carbs per ounce. If that's not available, look at some alternatives that have the least carbs.
#2. Pork Rinds
Pork rinds (especially unflavored) are one of the rare keto-friendly munchies that have zero net carbs. Even though they taste like puffed rice crackers, nutritionally these two are poles apart!
Pork rinds are 50% protein and 50% fat (approx.) They are made of only two things: pig skin and salt. But 7-eleven has many other varieties including flavors like BBQ, spicy, etc.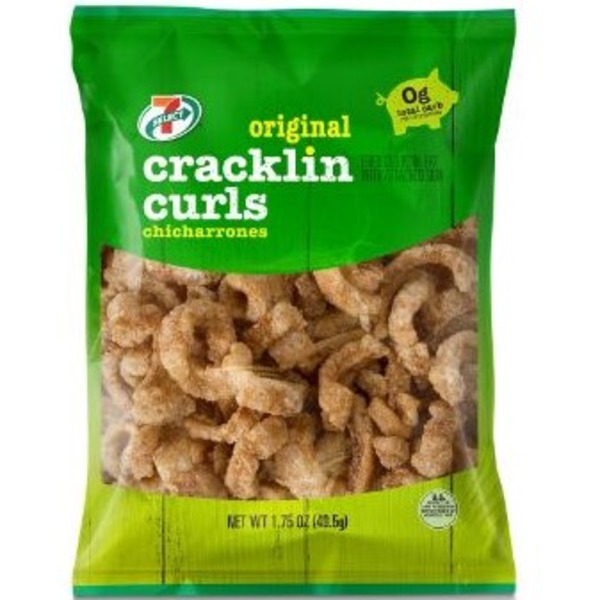 You might also see labels with the words "pork scratchings" or "pork cracklings" – they are all different names of pork rinds.
I highly recommend the 7-Select pork rinds, which is the in-house brand of 7-Eleven. Choose from the following flavors:
7-Select Chicharrones, Original
7-Select Chicharrones, Hot & Spicy
7-Select Hot Pork Cracklins
7-Select Chicharrones, Cracklin Curls, Original
Before you fill up your cart, I'd caution you to never buy pork rinds in bulk. They are just so easy to overeat and you might end up with too much protein for the day (it can even impair ketosis!)
#3. String Cheese, and some more Cheese
You just can't get enough cheese on the ketogenic diet. Whether it's mozzarella or a cube of the delicious pepper jack, it's one of the best items to snack on.
String cheese isn't just for children! I love it for the fact that it peels away itself, without leaving behind any crumbles or bits n pieces. It pairs perfectly well with deli meat or any other keto-friendly snack for that matter.
These cheese sticks are primarily made of mozzarella cheese which is considered fairly keto-friendly (though you should always aim for harder cheese varieties because they have fewer carbs).
I've tried these two brands and they taste pretty delicious:
Sargento® String Cheese, Mozzarella
Kraft String Cheese Mozzarella Cheese Snack
ALSO READ: Keto-friendly options at Beans and Brews
#4. Pickle Bites
Pickle bites are super keto-friendly for two reasons:
They have as low as 1g carbs per serving, which is what every ketoer digs!
They pair well with almost any other keto-friendly condiment like cheese or ranch dressing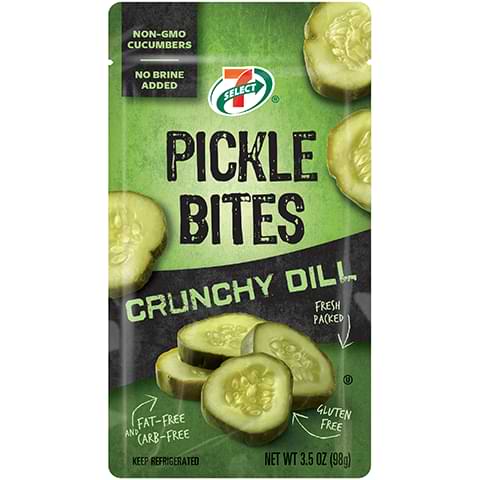 If you've just hopped on the keto wagon, then there's a third reason why they must be in your stack! When you first begin keto, your kidneys flush out water at a very high rate. But you also lose a lot of vital minerals and electrolytes along with the water.
Pickle bites are a rich source of electrolytes that help keep you hydrated.
At 7-Eleven stores, you can find 7-Select Dill Pickle Bites which are highly keto-friendly and low-carb.
#5. Quest Cookies
Quest protein cookies are equally good for a ketoer as well as a bodybuilder – it's low in sugar and packed with protein!
A single serving of quest cookie (58g) contains 5-9g of net carbs and 15-16g of protein. The best part about these cookies is that they don't crumble like other so-called "keto cookies". Quest cookies are my favorite low-carb snacks from 7-11 when the sugar craving strikes.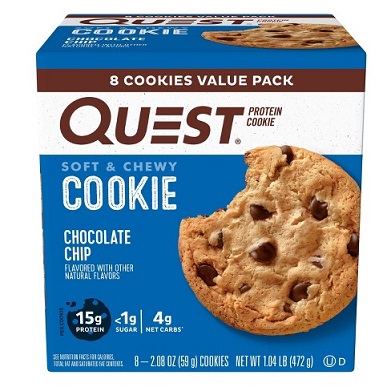 Don't expect them to taste like the real flour-baked ones. However, they are one of the best in the market right now. Quest cookies are flavored with erythritol, which is a natural sugar-free sweetener.
Choose from the different flavors:
Quest Nutrition Chocolate Chip Protein Cookie
Quest Nutrition Double Chocolate Chip Protein Cookie
Quest Nutrition Peanut Butter Chocolate Chip High Protein Cookie
Quest Nutrition Snickerdoodle Protein Cookie
Quest Nutrition Peanut Butter Protein Cookie
Also Read: Keto Bread, Snacks, and Desserts at Publix
#6. Quest Bars
These are protein bars with a keto-friendly angle to them. They taste just as sweet but you'll get less than 5g net carbs per bar (isn't that great?)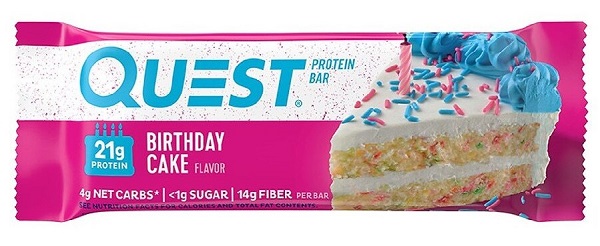 Even if you're a picky eater, you won't be leaving the aisle empty-handed. They have at least 8 different flavors to choose from, and they are constantly innovating.
Both the Quest Cookie and Quest Bar can be your anytime comfort food without worrying about your carb intake. My only concern with Quest bars is that they have a little too extra fiber. So watch your intake or make frequent quests to the bathroom!
Choose from the given flavors:
Chocolate Chip Cookie Dough
White Chocolate Raspberry
Caramel Chocolate Chunk
Blueberry Muffin
Birthday Cake
Chocolate Brownie
Chocolate Peanut Butter
Lemon Cake
Mint Chocolate Chunk
#7. Almonds
Natural almonds are wholesome and healthy along with a tiny amount of net carbs.
A 10-piece serving of raw almonds provides you with 3g protein, 5g of fat, and 3g of carbs. If you go for roasted and salted ones, the carbs may increase slightly (they come with sugar and added sweeteners).
Nuts and seeds have always earned the respect of ketoers because they are high-fat and low-carb. They are also rich in protein, fiber, vitamins, minerals, and antioxidants.
If you are looking for some low-carb snacks from 7-Eleven, try these:
Blue Diamond Almonds, Whole Natural
Blue Diamond BOLD Almonds
7-Select Roasted & Salted Almonds
#8. Nut Mixes
Nut mixes are highly convenient and can be really filling as well (not to forget the minerals and vitamins they are packing!)
I prefer the 7-Select Nut mix that has 170 calories and just 4g of net carbs per serving.
You'll always find a certain brand of nut mix at the snacks aisle of 7-Eleven. While most nuts pass the keto-friendly test (except cashews and pistachios, obviously), look for a combination of these:
Pecans
Brazil nuts
Macadamia nuts
#9. Seeds
7-Eleven stocks some delicious fire-roasted sunflower seeds from Spitz.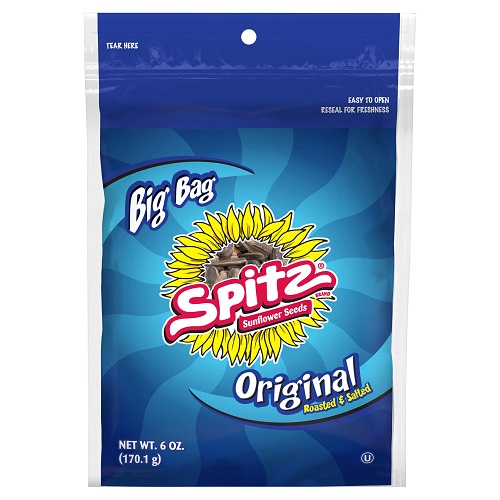 Well, keto takes you to places you never would have imagined! I never even thought about consuming the seeds picked from a sunflower. Fast forward to today, they are a must-have in my keto-munching stack! A 3-tablespoon serving of roasted sunflower seeds contains just 2g of net carbs.
Sitting just beside the Spitz packets, you'll find pumpkin seeds, which are also great for low-carb munching.
Spitz comes in the following flavors:
Chili lime
Lime, Spicy
Cracked Pepper
Spicy Hot
Dill Pickle
Salted Caramel
Barbecue
Salty
#10. Sardines
Sardines are a super-food when it comes to the keto diet. They are packed with vitamin D and B and lots of Omega-3 fatty acids.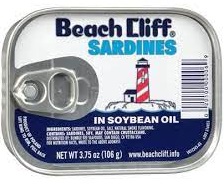 These tiny fishes feed on plankton and hence they are also free from mercury (which is a major risk in big fish). The best part is that Sardines are super light on your pocket as well!
Preferably go for the sardines that come in a water solution. The cheapest ones come soaked in soybean oil, which I sometimes rinse before eating them (it isn't considered so healthy).
#11. Deli Meat
The "Fresh & Grilled" section from 7-11 offers plenty of snacks and lunch meat options.
Deli meat is always low-carb because ultimately it's just processed meat. However, some flavorings like the BBQ flavors are sweet in nature and may contain added carbs. Stick to the spicy or plain flavors and you are golden!
I just order a hot dog without the bun and top it with some mustard sauce. It can be a great lunchtime snack with hardly any carbs going in your belly.
#12. Soda & Energy Drinks
Pretty much all the "diet" and "zero" drinks are also keto-friendly because they are free from sugar. But keep in mind that not all of them are zero-carb.
For example, Monter Zero Ultra has 4g of carbs in a single can. They can easily add up if you aren't careful.
Coke Zero

Diet Iced Tea
Diet Pepsi
Sparkling Water
Unsweetened Iced Tea
Michelob Ultra Beer – (Yes! just 2.6g carbs per pint)
Anything between 0-1 g of carbs would be fine.
#13. 7-Eleven Keto Coffee
I've kept this one for the last! Thanks to Starbucks, 7-11 also has your daily kick of caffeine packed in a neat can.
It's really difficult to find some GOOD coffee that's not lathered with carbs or sugar (especially at a convenience store!)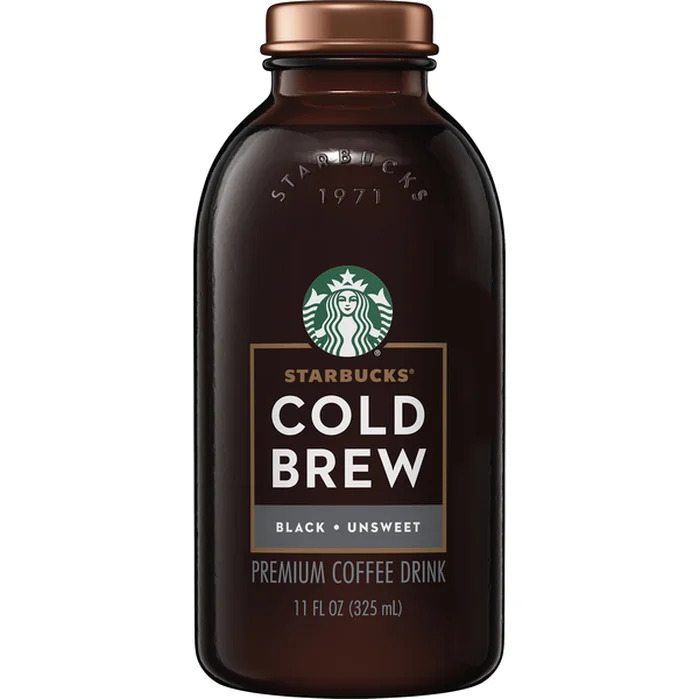 My favorites include:
Starbucks Cold Brew Black Unsweetened
Starbuck Nitro Cold Brew
Conclusion
These are some of the most keto-friendly items you can grab from your nearest 7-Eleven! Remember, they are not a substitute for the wholesome meals you can cook at home.
Important Tip: Nuts or seeds make for a great keto snack. But make sure that your munching sessions don't last for an entire hour. Finish a serving in one go because your body only burns fat when you are NOT eating.