It's the middle of the day and your pals decide to visit Old Chicago Pizza & Taproom. You very well know that pizza and beer are far from keto (yes, beer does have a lot of carbs!). But I have some great news! You do have plenty of low-carb options if you choose wisely!
So what's keto-friendly at Old Chicago?
You can have the bone-in wings at Old Chicago since they have the least amount of carbs. They also have soups and salads that are extremely keto-friendly with the basic ingredients.
Honestly, Old Chicago isn't the best place to be dining out on keto. It has a narrow range of options and most of them are quite dense in carbs. The slightest mistake can kick you out of your hard-earned ketosis (it could be as small as a pizza slice!)
But don't you worry because I'm here to help! In this article, you will get to know what exactly is keto-compliant at Old Chicago and what isn't.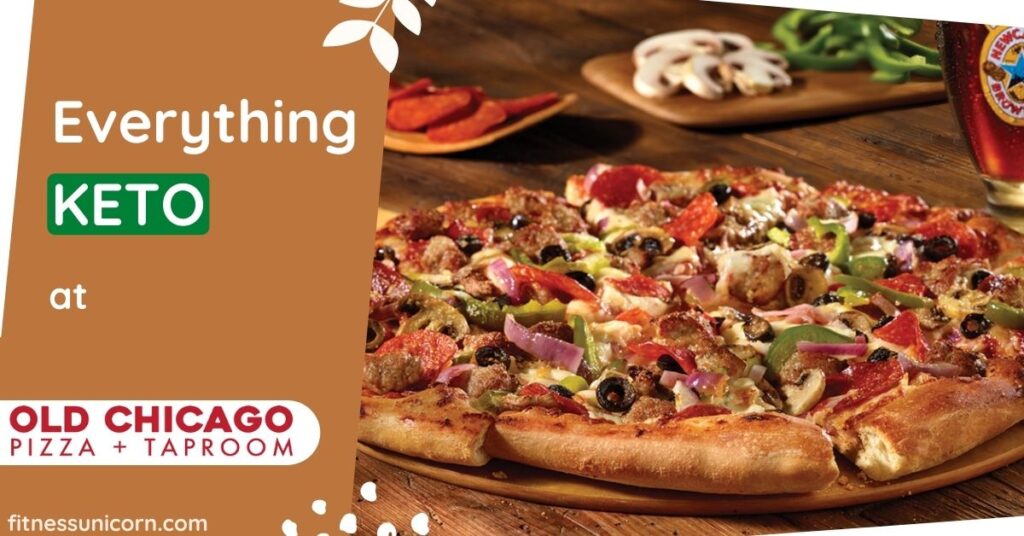 Tired of searching whether certain foods are keto? Download my keto cheat sheet with 210+ keto-friendly foods!
This post may contain affiliate links, which help keep this content free. (Full disclosure)
How To Survive Keto At Old Chicago
Old Chicago Pizza is a brand of CraftWorks Restaurants & Breweries that specializes in – you guessed it – breweries. But the best part about Chicago Pizza is that their food is equally appealing as their range of beers!
The restaurant was first launched in Boulder, CO as a pizza-only chain. But over these years they have expanded their food menu along with their beer offerings. In fact, they now have over 2900 beers on tap available across all locations!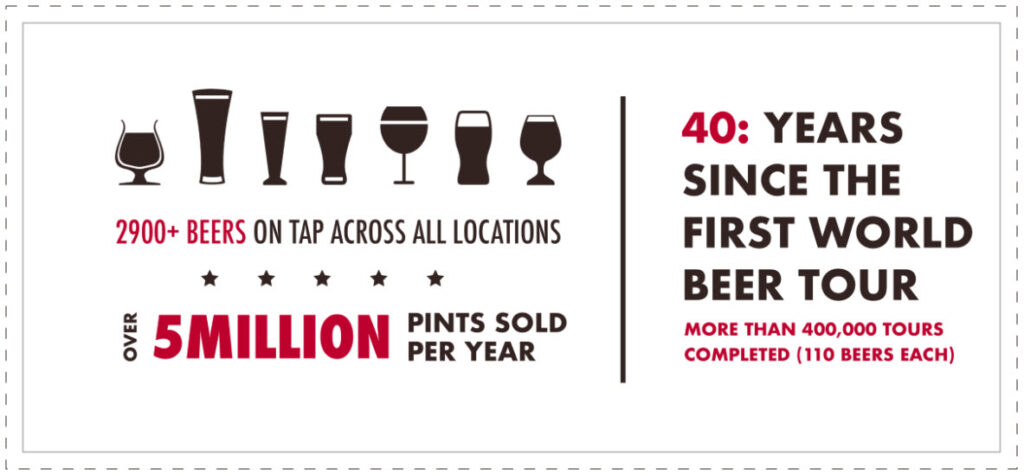 Old Chicago isn't a hugely popular chain. So don't be surprised if your friends haven't even heard about it! Truth be told, even I discovered this restaurant fairly recently through a food coupon (It was handed out to me during a football game.)
And me being a foodie, I couldn't resist trying out a new restaurant, even though I'm on the keto diet.
They have a medium-sized menu with little scope to eat healthy or low-carb. The taproom starters indeed have an amazing aroma and they also taste super-yum (as reported by my friends!)
Luckily, they do have bone-in chicken wings which are a delight for anyone following the keto lifestyle (2-3g net carbs per wing). I asked for minimum sauce and paired it with a good chunk of bleu cheese and some celery sticks.
Bone-in wings are always a savior! But make sure that they aren't lathered with the BBQ sauce because it's one of the sweetest sauces on Earth! Ask your server beforehand to use the sauces sparingly.
Moving on, you can seek comfort in their rich green salads. Focus on leafy greens and non-sweet dressings and you are good to go.
RECOMMENDED: Everything Keto Friendly at Togo's
The rest of the menu is full of carbs and sugar! However, if you are really craving something satisfying, keep reading to know how you can alter the dishes and make them keto-compliant.
Before we proceed, here are some items that you should completely avoid at Old Chicago on Keto:
Sicilian Pepperoni Rolls
Buffalo Chicken Rolls
Nachos
Pretzels
Tenders and Boneless Wings
All types of Pizza crusts
Calzones (The outer crust is your enemy!)
Bread and Burger buns
Pasta Spaghetti
Sweet-tasting sauces e.g. Marinara sauce
I have asked you to stay away from these because even the smallest portion has too many carbs. When dining out on keto, your only goal is to stay within the carb limit i.e. 20-25g of net carbs. And that is including all the meals of the day!
So it comes down to 7-8g of net carbs per meal, which leaves you with a very limited range of options at Old Chicago.
Now, without further ado, let's dive into the list of keto options for you at Old Chicago and what I think about them.
Keto-Friendly Options At Old Chicago
(Note: The restaurant doesn't have an official nutrition guide on their website, so all the data below is collected from third-party sources. Also, they are slowly rolling out the new menu, which is covered in the next section of this article.)
Chicken
#1. Chicken Rustica
Net Carbs: 16g
Total Fats: 21g
Protein: 51g
Calories: 515 Kcal
This is a popular Italian recipe. The chicken rustica is basically a Tuscan-spiced chicken nestled in a bed of lemon-dressed kale, tomato, and warm cannellini beans.
Salad Dressing
#1. Ranch Dressing
Net Carbs: 3g
Total Fats: 24g
Protein: 1g
Calories: 240 Kcal
Ranch dressing consists of buttermilk, onion, garlic, mustard, spices, and herbs.
#2. Blue Cheese Dressing
Net Carbs: 3g
Total Fats: 41g
Protein: 4.6g
Calories: 402 Kcal
The blue cheese dressing is said to have a similar composition to that of the ranch dressing. However, it has some added ingredients like vinegar, cumin, and blue cheese.
#3. House Italian Dressing
Net Carbs: 6g
Total Fats: 19g
Calories: 190 Kcal
The house Italian dressing is another popular Italian specialty. It's made of cheese, garlic, Parmigiano Reggiano, bell pepper, Italian seasoning, salt, basil, black pepper, red wine vinegar, extra virgin olive oil, oregano, and white wine vinegar.
Suggested: Everything Keto at Carrabba's
Salads
#1. Mediterranean Salad
Net Carbs: 12g
Total Fats: 12g
Protein: 3g
Calories: 172 Kcal
For the Mediterranean salad, any type of salad green is used in the right proportions with canned chickpeas, red onions, an English cucumber, roasted red pepper, and feta cheese.
#2. Antipasto Salad
Net Carbs: 8g
Total Fats: 40g
Protein: 12.5g
Calories: 435 Kcal
This salad originated from Italy. It's a popular traditional Italian salad often served as the first course during any Italian meal. Antipasto salad consists of meat, several vegetables, olives, mushrooms in light oil or vinegar dressing.
#3. House Salad
Net Carbs: 11g
Total Fats: 5g
Protein: 4g
Calories: 104 Kcal
House salad combines crisp lettuce, firm tomatoes, sliced cucumber, red onions, croutons, cheddar cheese, and bacon.
Bonus Tips for Eating Keto at Old Chicago
Tip #1: Old Chicago has come out with a new menu that can be tweaked to fit your keto needs. The best option is to choose your favorite ingredients from the list below and make them into a salad:
Fresh greens (Romaine, kale, spinach, etc)
Pickled red onions
feta cheese
herb vinaigrette
tomatoes (sparingly)
cucumbers
pepperoni
banana peppers
bleu cheese
lemon vinaigrette
green peppers
mushrooms
mozzarella, ricotta and Asiago cheeses (the blend they use in calzones)
bacon
broccoli
Tip #2: Craving those juicy burgers? The ultimate tip is to enjoy them WITHOUT the bun! It might sound silly but you can actually have a lettuce-wrapped burger patty along with the goodness of cheese and veggies for less than 5g net carbs.
Tip #3: Enjoy a serving of meatballs without the spaghetti. They are quite low in carbs (after all, it's just meat) so feel free to add veggies and a generous amount of cheese.
Tip #4: An average beer has 13g of net carbs in a single pint, which is more than half of your daily quota. But if you are really craving some, go for the "light" versions as they have fewer carbs.
Does Old Chicago Have Cauliflower Crust?
Old Chicago uses the cauliflower crust from Caulipower, which is a gluten-free alternative to regular pizza crusts.
It is a dairy-free and gluten-free option made with real cauliflower as the main ingredient. So people with gluten intolerance or celiac disease can now enjoy a crisp thin crust without missing out on taste!
However, if you are on a low-carb diet, this isn't the cauliflower crust you are looking for. And I quote: All that glitters is not gold!
The reason is that the Caulipower crust also has a lot of rice flour and corn starch that contributes to the bulk of the base. So according to the official nutrition guide, you will be getting 28g carbs from 1/3rd of a 12-inch crust. It comes down to 14g carbs per slice – not THAT bad!
Save it only for the times when you get those unsatiable pizza cravings!
READ: Papa Murphy's Low-Carb Guide
Conclusion
Old Chicago is a great place to enjoy a keto-friendly meal if you know what you are doing. You can ask the server for slight customizations and they are often happy to adjust.
The salads and bone-in wings have been my friends whenever I visit Old Chicago on a low-carb diet. At the end of the day, it all comes down to honoring your daily carb limit.