You can never go wrong with a good bite of a sandwich—and it's totally normal to be wary of it when dining at a sandwich place especially if you're on keto.
But if you still fancy one and don't know where to go to, Togo's might be the best place for you. But can you find a good keto meal at Togo's?
Togo's offers an extensive selection of keto-friendly options—from the Mediterranean Salad Santa Fe Chicken Salad to the Chili and Broccoli Cheddar Soup.
Say goodbye to your worries as these tasty options are below the keto limit, all at a perfect price! Keep an eye out for their bread and wraps, though.
Be extra careful when eating them to avoid crossing your limit even if they go below the keto mark!
So, are you still in for navigating through the ketogenic options at Togo's? Let's get into it! Join me as I walk you through the following process.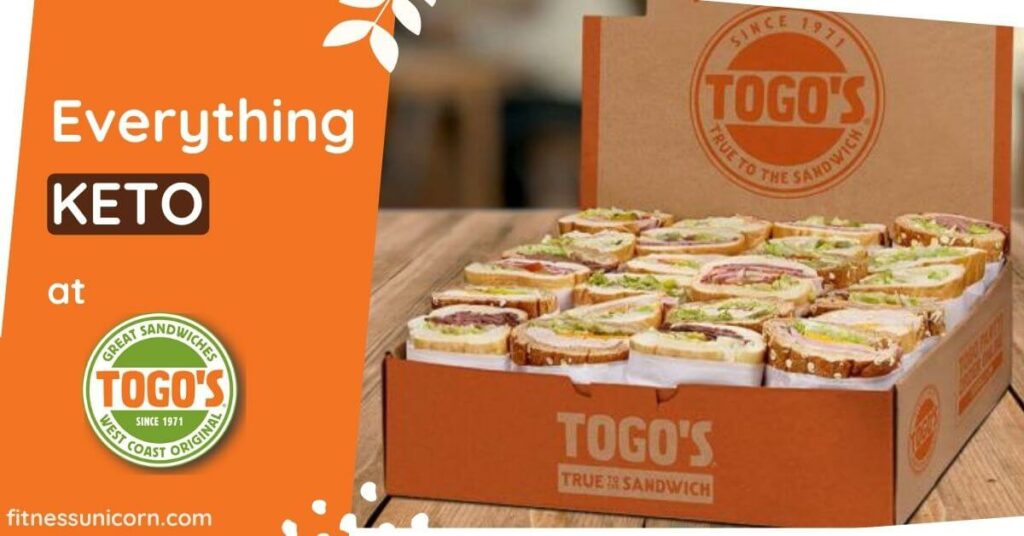 Tired of searching whether certain foods are keto? Download my keto cheat sheet with 210+ keto-friendly foods!
This post may contain affiliate links, which help keep this content free. (Full disclosure)
How to Survive Keto in Togo's
Togo's is undoubtedly one of the best sandwich restaurants out there. With years of dedication in mastering its craft, Togo's has been able to offer a big selection of sandwich options and treats!
Sadly, the average dish there isn't exactly keto-friendly. The chicken cheesesteak, for example, has about 34g of total carbs. Yes, it might really be tasty—but this comes with a cost of sacrificing any other planned meal that you have for the day.
The cheesesteak melt is similarly carb-dense with the same amount of 34g net carb. It's creamier and just as tasty as their chicken cheesesteak.
Other dishes like Hot Chicken, Turkey, desserts, and even the veggie sections all feature dishes that have at least 32g of net carbs.
Worry not! You can still enjoy some of these meals by asking only half of the dish. Here's a tip: the Turkey and Hot Chicken are your best bets in this case.
Let's say the Chicken and Cheddar mini costs you 17 extra grams of carbs past your limit. By eating only one-third of its actual size, you'll be consuming a way lower amount of carbs.
Here's another advice: it would be best for you to also avoid some of their veggies and pretzels. Shockingly, their mini–Greek Veggie has 37g of net carbs.
But you shouldn't be as surprised that their Prezelrami has 51g of carbs, considering it's something sugar heavy.
It's also best to be just as careful with the Classics, Pastrami, and Roast Beef. The only options suitable for practicing portion control are the Roast Beef, Ham & Swiss, The Italian, and Albacore Tuna—all of which contains an average amount of 34 g of net carbs.
On a brighter note, there are still keto-friendly options on the menu! Some of the best go-to keto meals for you are the Greens (Salads and Wraps), Soups, and Custom Choice Breads and Wraps.
Wondering what the lowest carb options are from this section? It's their Half-sized Chicken Caesar Salad, Broccoli Cheddar Soup, and Parmesan bread! I'll give you more of these options in the following section.
Keto-Friendly Options at Togo's
Greens (Salads and Wraps)
#1. Chicken Caesar Salad (Half-serving size)
Togo's Chicken Caesar Salad is undoubtedly one of the best salads they have. This amazing low carb dish is a delicious combination of chopped fried chicken, lettuce, and vinegar.
Net Carbs: 12g
Carbs: 14g
Fiber: 2g
Total Fats: 22g
Protein: 18g
Calories: 330 Kcal
#2. Santa Fe Chicken Salad (Half- serving size)
Trust me when I say that you'll be wanting more of their Santa Fe Chicken Salad featuring a marvelous blend of chicken, black beans, topped with some tortilla chips and roasted corn.
Net Carbs: 15g
Carbs: 20g
Fiber: 5g
Total Fats: 45g
Protein: 22g
Calories: 560 Kcal
RECOMMENDED: Everything Keto at Mooyah
#3. Mediterranean Salad (Half- serving size)
Net Carbs: 13g
Carbs: 19g
Fiber: 6g
Total Fats: 25g
Protein: 17g
Calories: 370 Kcal
#4. Farmer's Market Salad
Trust this bowl of salad in giving you that kickstart for the day thanks to its amazing combo of fibrous goodness: lettuce, cucumber, radishes, tomatoes, corn, and garlic all in one bowl!
Net Carbs: 13g
Carbs: 16g
Fiber: 3g
Total Fats: 36g
Protein: 5g
Calories: 400 Kcal
#5. Broccoli Cheddar
Togo's Broccoli Cheddar soup maintaining its unique flavor with only 15g of carbs is a wonder in itself that never fails to amaze me. It highlights a carefully prepared mix of broccoli and some cheddar cheese.
Net Carbs: 15g
Carbs: 16g
Fiber: 1g
Total Fats: 14g
Protein:
Calories: 220 Kcal
ALSO READ: Everything Keto at Old Chicago
#6. Chicken Noodle
Chicken Noodle Soup is your traditional watery soup consisting of chopped chicken, noodles, along with a couple of spices.
Net Carbs: 14g
Carbs: 15g
Fiber: 1g
Total Fats: 3.5g
Protein: 7g
Calories: 120 Kcal
#7. Garden Vegetable
Having a bowl of this soup will surely leave you confused if Togo's uses the same recipe you've been using to make yours. Its fibrous veggies coupled with spices leave a unique, yummy crunchiness to it that you surely won't find anywhere.
Net Carbs: 15g
Carbs: 18g
Fiber: 3g
Total Fats: 4.5g
Protein: 3g
Calories: 120 Kcal
#8. Chili
Who doesn't fancy a good chili soup every once in a while? Togo's delicately balances the spiciness so that the taste won't be compromised.
Net Carbs: 16g
Carbs: 23g
Fiber: 7g
Total Fats: 8g
Protein: 18g
Calories: 240 Kcal
Custom Choice Breads and Wraps
#9. Classic White (1")
Your classic white bread is typically sweet. But with some extra bites from another portion, you can bid goodbye to your ketosis.
Net Carbs: 9g
Carbs: 9g
Fiber: 0g
Total Fats: 1g
Protein: 2g
Calories: 50 Kcal
#10. Whole Wheat (1")
Keto enthusiasts will surely love a bite of Togo's whole wheat bread. It's still best to stick with what's on your plate because eating two loaves alone crosses the keto limit!
Net Carbs: 9g
Carbs: 10g
Fiber: 1g
Total Fats: 0.5g
Protein: 2g
Calories: 60 Kcal
#11. Parmesan (1")
You can never go wrong with Togo's parmesan bread! It has a interesting flavor to it that your local bakery can't copy.
Carbs: 6g
Fiber: 0g
Net Carbs: 6g
Total Fats: 2g
Protein: 3g
Calories: 60 Kcal
#12. Sourdough
Sourdough is a go-to dish for vegans and keto enthusiasts all thanks to its low carb content. But having more than one serving of it can cost you your hard earned ketosis.
Net Carbs: 11g
Carbs: 11g
Fiber: 0g
Total Fats: 0g
Protein: 2g
Calories: 60 Kcal
RELATED: Peet's Coffee Keto Friendly Options
Sandwich Dressings (Mini)
BBQ Sauce, Sweet Baby Rays: 7g
Italian Vinaigrette: <2g
Mustard, Sriracha (Boom Boom) Sauce: 2g
Horseradish Mayo: 1g
Chipotle Mayo, Mayonnaise: 0g
Salad Dressings
Thousand Island: 12g
Caesar: 8g
Lite Balsamic Vinaigrette: 7g
Ranch, Zesty Pepitas: 2g
Zesty Pepitas: 2g
Conclusion
Despite having a wide selection of sumptuous sandwiches fit for all tastebuds, a keto-dieter like you can only have a couple of dishes without breaching the rules of keto.
But with discipline of only eating appropriate proportions, you can still treat yourself with a bite of their sandwiches!
I've hand-picked and outlined some of the best options at Togo's that you can have with ease. Since you've already come this far, you're only one step away from having a fantastic experience with sandwiches at Togo's!