Rush hour is crazy, and it's not just because of the daily struggle to commute but also because of the stress of finding a quick bite. So, if Peet's Coffee comes to your mind when you're on your way to grab breakfast, then you sure are someone with a classy taste. Nonetheless, if you're on a Ketogenic diet, you may wonder whether the restaurant is keto-friendly or not.
So, is Peet's Coffee Keto Friendly?
Peet's is famous for its different kinds of espresso and coffee that are relatively low carb and keto-friendly. Also, the Bacon-Spinac-Swiss Frittata, and the Egg white-Tomato-Feta Frittata are the best low carb options on their menu. However, if you have a penchant for the other dishes, you'll have to find a way around it.
Luckily, my years of experience being a restaurant connoisseur has helped me devise hacks to eating these high-carb dishes while sticking to a keto diet. So please keep reading as I'll be dropping some of my best tips on sticking to a keto diet below.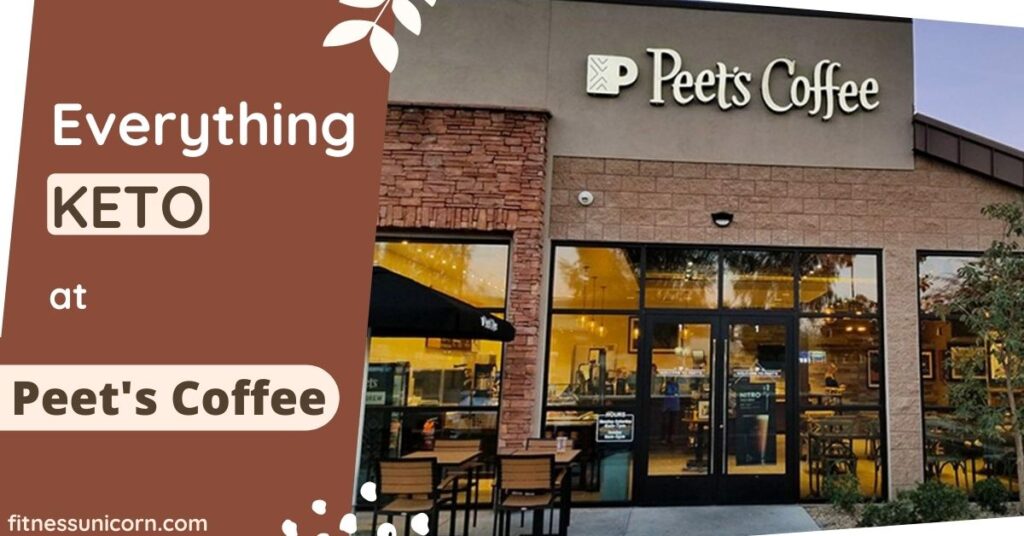 Tired of searching whether certain foods are keto? Download my keto cheat sheet with 210+ keto-friendly foods!
This post may contain affiliate links, which help keep this content free. (Full disclosure)
How To Survive Keto at Peet's Coffee
It's pretty easy to eat at Peet's without breaking any of your diet restrictions. Mainly when you stick to just the coffees alone, it's common knowledge that coffees have low amounts of carbs, and some are even negligible.
But don't be too swift to come to conclusions as some are pretty heavy on carbs, primarily because of the sugar added to the coffee.
One more issue is the carb-dense meals on the menu. You'll only find two meals that will fit into your diet. These are the Bacon-Spinach-Swiss Frittata, and Egg white-Tomato-Feta Frittata.
But if you're looking towards having something else while staying dedicated to your keto diet. You may not know your way around it. So, how exactly can you eat other meals on the menu while keeping tabs on your carb count?
One of my favorite hacks is quite a popular one: portion control.
Say you want to have the Everything Plant-based sandwich. It has a net carb count of about 26 grams, which means you can't have the whole sandwich. However, if you split the sandwich into two, technically, you have two sandwich pieces with 13g of carbs each.
Another hack I use is separating bread and buns from sandwiches and burgers as they contain a high amount of carbs. For instance, when I take the flour wrap off the Veggie Harissa Breakfast Burrito, I'm left with a considerably lower amount of carbs than the 33 net grams it initially had.
In addition, while these methods are pretty effective, you may not precisely know how much carbs you're shedding off from your meals. So, it'd be best to stay on the safer side by sticking to those whose carb contents you know.
Without further ado, below I'll be listing my favorite keto-friendly dishes and coffees at Peet's Coffee Restaurant.
Peet's Coffee Keto and Carb Guide
#1. Egg White, Tomato & Feta Frittata
Carbs: 9g
Fiber: 1g
Net Carbs: 8g
Total Fats: 14g
Protein: 12g
Calories: 200 Kcal
Coming first on our list is Peet's Egg White, Tomato, and Feta Frittata. The cream, milk, and egg whites used in making this dish make it quite proteinous. Furthermore, because no wheat is used in the cooking process, it has a low carb count.
#2. Bacon, Spinach and Swiss Frittata
Carbs: 10g
Fiber: 0g
Net Carbs: 10g
Total Fats: 22g
Protein: 17g
Calories: 310 Kcal
This particular dish is one of my favorites because of the bacon. Although it's almost the same size as the other Frittata, it has more protein and fat due to the bacon and whole eggs used. With no fiber, I'm pretty glad it has only 10g of carbs.
#3. Iced Mint Matcha Latte
Carbs: 24g
Fiber: 1g
Net Carbs: 23g
Total Fats: 3.5g
Protein: 7g
Calories: 160 Kcal
The Iced Mint Matcha Latte is one of my favorites. Who knew matcha and peppermint would make such a great match? Although the carb content is at 23 grams, it can be drastically reduced if you ask for yours to be sugar-free.
#4. Holiday Spice Latte (Not Keto Friendly)
Carbs: 37g
Fiber: 0g
Net Carbs: 37g
Total Fats: 5
Protein: 11g
Calories: 240 Kcal
It's pretty controversial that I'd be mentioning a drink so high in carbs here. Nonetheless, the sugar content — 33 grams — of this latte cause this high amount. So, because you have the option of customizing your drink, you can ask the waiter to use only a cube of sugar or none at all in your latte.
#5. Pumpkin Latte (Not Keto Friendly)
Carbs: 37g
Fiber: 0g
Net Carbs: 37g
Total Fats: 5g
Protein: 11g
Calories: 240 Kcal
The pumpkin latte has a hint of blended pumpkin that gives it that distinct taste. Like the other coffees, its carb count is 37 g because of the 33 grams of sugar added. But, of course, you have the option of customizing the amount of sugar in your cup.
#6. Tropical Berry Green Tea Shaker (Not Keto-Friendly)
Carbs: 32g
Fiber: 1g
Net Carbs: 31g
Total Fats: 0g
Protein: 0g
Calories: 130 Kcal
The Tropical Berry Green Tea Shaker is also another great option on the menu as it has natural strawberries in it. It is hand-shaken and made from lemonade, ice, strawberry puree, and chopped strawberries. It's not coffee, so you'll notice the absence of milk here. To keep the carb count low, you'll have to ensure that the sugar added is minimal.
#7. Mighty Leaf Tea Pouch
Carbs: 1g
Fiber: 0g
Net Carbs: 1g
Total Fats: 0g
Protein: 0g
Calories: 0g
The Mighty Leaf Tea Pouch comes last on my list because although it has the lowest carbs, it doesn't have any substantial nutritional value. However, adding some milk and sugar can drastically change the entire nutritional scope of this drink.
RECOMMENDED: Everything Keto Friendly at Togo's
Conclusion
The above items give you a fair idea of what Peet's Coffe has to offer on a keto diet. Feel free to experiment and use your common sense while trying new menu items.
So, as aforementioned, having a good meal while sticking to your keto diet at Peet's Coffee requires skillful maneuvering. Luckily, in this article, I have mentioned how to go about this and make the most of your time there.
Also Read: