Pollo Tropical isn't your regular fast food joint with burgers, fries, or unhealthy Pizzas! They are hugely popular for their fire-grilled, tropical-seasoned chicken (the best I've ever tasted!). But can you eat Keto at Pollo Tropical?
Good News! This Caribbean-inspired restaurant has plenty of low-carb options to suit your taste buds!
The chicken at Pollo Tropical is super keto-friendly because it has ZERO carbs. This applies to all kinds of chicken EXCEPT their boneless chicken breast (having 5g carbs per piece). The Mojo Roast Pork is also free from carbs, but be careful of the added toppings, such as sauteed onions.
Out and about and craving some fast food? Let's explore all the keto-friendly options that Pollo Tropical has to offer!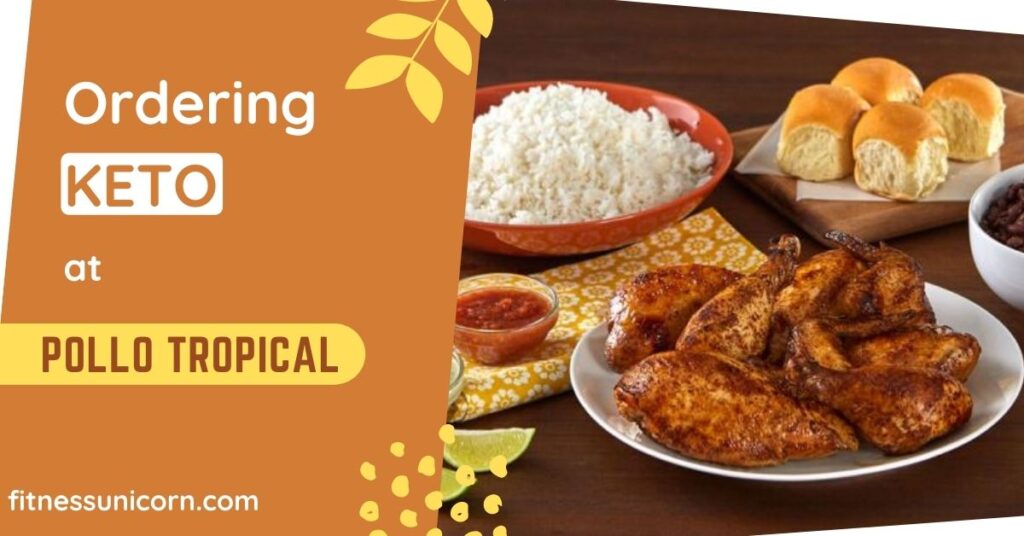 Tired of searching whether certain foods are keto? Download my keto cheat sheet with 210+ keto-friendly foods!
This post may contain affiliate links, which help keep this content free. (Full disclosure)
How to Eat Keto at Pollo Tropical
People refer to Pollo Tropical as Miami's version of Chick-fil-a. But things couldn't be further than the truth!
In Florida, when we want real chicken, we head straight up to Pollo Tropical! The long waiting queues provide justice to their juicy fire-grilled chicken! If you want to experience authentic Caribbean-style chicken, this is your fix!
The very first Pollo Tropical opened for business in 1988. Larry (one of the founders) studied various cookbooks on Latin American cuisine and started experimenting with their backyard grill. Soon enough, they decided to open a restaurant serving authentic Caribbean-style chicken!
Today, Pollo Tropical has a lot more to offer than just fire-grilled chicken. You'll find a variety of chicken, pork, and shrimp dishes with delicious sides and desserts. And not to forget their classic signature sauces!
Since chicken is pretty low-carb, eating keto at Pollo Tropical is a cakewalk! All you have to do is pick a protein option, include some toppings, and toss in some low-carb sauces!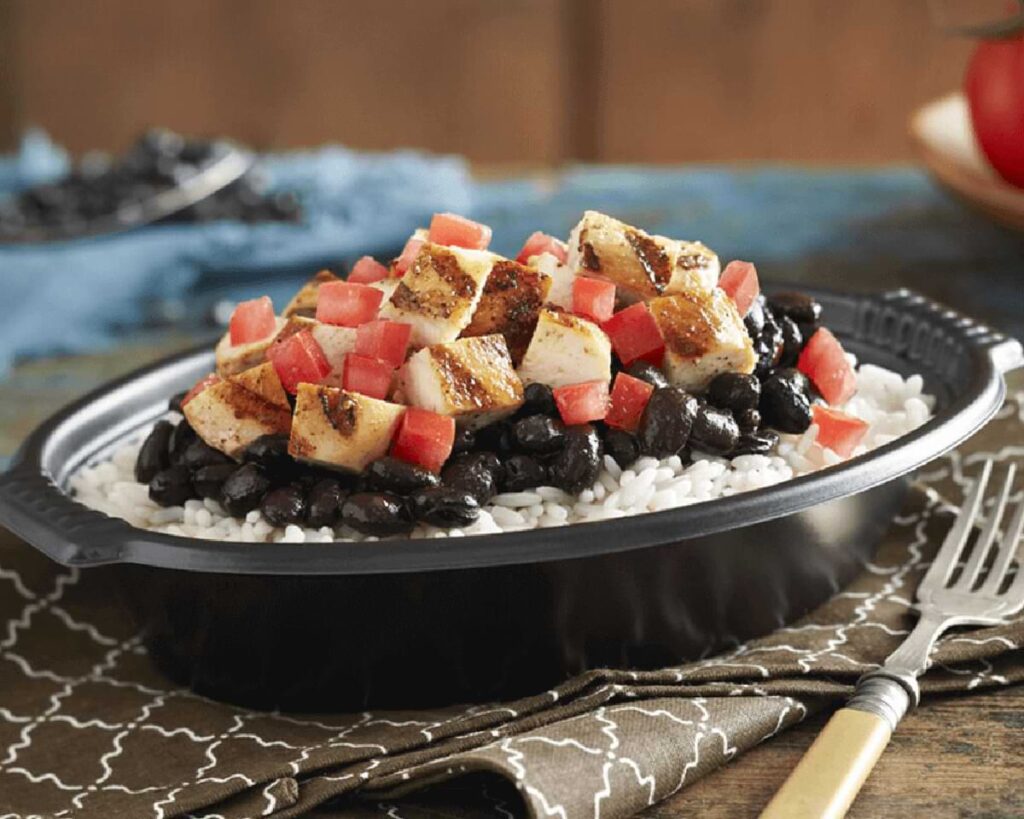 When in hurry, follow these simple strategies for an easy Pollo Tropical Keto order:
Build your own TropiChop Bowl with low-carb ingredients.
Keto-friendly protein options include fire-grilled chicken (bone-in), Mojo Roast Pork, or Shrimp Skewers.
Ditch the dinner roll or flour tortillas.
Plantains, tostones, and yucca bites are completely off the charts!
You can have as much of Curry Mustard as you want (zero carbs!)
For beverages, stick to Unsweet Tea, Mango Tea, Diet Coke, or Coke Zero.
As a rule of thumb, avoid all kinds of "crispy" chicken when dining out on keto. That extra breading adds a ton of unnecessary carbs!
Related: Flame Broiler Low-Carb Menu
Create Your Own TropiChop® Keto Bowl
The TropiChop® bowl makes it much easier for those on a keto diet! It's just like building your bowl at Chipotle. You have complete control over what goes in your bowl!
Mix and match these keto-friendly items for a low-carb TropiChop® Bowl:
Note: The servings below are as per the "regular" bowl size.
Choice of Protein:
Luckily, meat options at Pollo Tropical are pretty much keto-friendly. They are not polluted with sugary sauces hiking up your carb count!
Grilled Chicken Breast: 5g net carbs
Mojo Roast Pork: 0 net carbs
Churrasco Steak: 4g net carbs
Shrimp Skewer: 0.2g net carbs per skewer
I always prefer the bone-in chicken instead of the boneless options. The latter is often tossed in various sauces and comes with some breading (high in carbs!)
Choose Your Base
The next step is to choose a base for your bowl. And if you've been on keto for a while, you know the obvious answer i.e. Lettuce! The leafy greens might not be as delicious as Mac & cheese, but that's the rule of the keto game!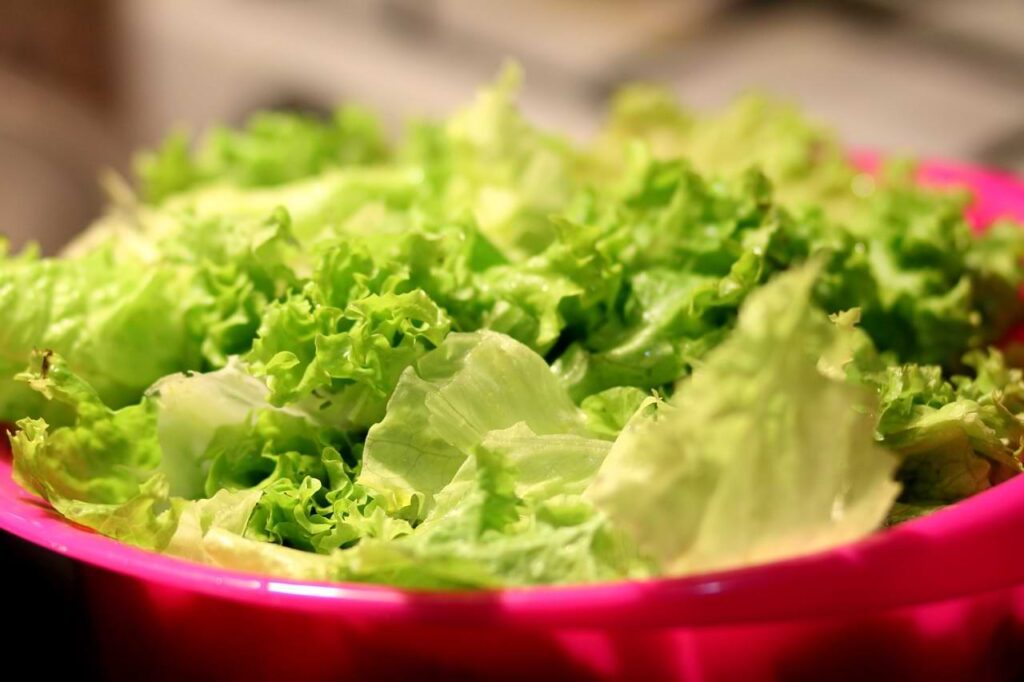 Toppings:
Add a touch of freshness and crunchiness to your bowls:
Diced Tomatoes: 1g net carbs
Sauteed Onions: 2g net carbs
Sauteed Pepper Topping: 2g net carbs
RELATED: Gluten Free options at Pollo Tropical
Low-Carb Sauces & Condiments
Pollo Tropical takes a lot of pride in their sauces! I have always loved the Spicy Poyo-Poyo which beautifully compliments the Caribbean cuisine (yumm!)
They have tons of options for low-carb folks:
Fresh Salsa, 1 oz: 2g net carbs
Garlic Sauce, 1 foz: 2g net carbs
Chipotle Mayo, 1 oz: 2g net carbs
Curry Mustard, 1 oz: 0 carbs (yay! This is super keto-friendly!)
Caesar Dressing (1.75 foz/salad): 1g net carbs
Cilantro Garlic Sauce, 1 oz: 2g net carbs
Spicy Poyo-Poyo, 1 oz: 2g net carbs
Jalapeno Slices, 1 oz: 1g net carbs
Diced Onions, 1 oz: 2g net carbs
The sauces can be really tempting but you must stay disciplined. An additional tablespoon of Salsa will cost you 2 grams from your carb quota! These numbers can easily add up if you aren't careful.
Some of the worst sauces include Guava BBQ sauce and Pineapple Rum Sauce. As the name suggests, they are full of sugar.
SUGGESTED: Muscle Maker Grill's Keto Options
What I order at Pollo Tropical on Keto
I have always been a die-hard Pollo Tropical fan. Fun fact: Half of you won't be able to pronounce it right!
My uncle lives in Miami and I spent the major chunk of my childhood there. The very first time I tasted Cuban-style chicken, I was completely hooked!
The keto diet had me cut off a lot of restaurants. But luckily, Pollo Tropical isn't one of them! Their bone-in grilled chicken is absolutely delicious with ZERO carbs. It falls into my safe-list for dining out on keto!
When I want something really filling, I'd go for a Roast Pork TropiChop Bowl:
Mojo Pork Roast
Lettuce
Sauteed Onions
Garlic Sauce
Curry Mustard
Jalapeno Slices
It's a very satisfying meal which comes out to be just 7g net carbs. You also get a lot of healthy fats from pork roast. You can further lower the carb count by replacing Garlic Sauce with Curry Mustard!
Conclusion
The fire-grilled chicken at Pollo Tropical contains zero amount of carbs! Other meat options include pork roast and shrimp, which are also keto-friendly.
However, watch out for the boneless and crispy chicken options!
NEXT: Is Cassava Flour Keto?