Looking for a new place offering an exciting myriad of flavors? If so, then Pollo Tropical might be the perfect place for you.
This fantastic Caribbean-inspired restaurant delivers authentic tropical flavors to the streets of Florida for everyone to enjoy.
While this can sound great, you might be wondering: is there anything gluten-free on the menu?
If you're skeptical or worried about your gluten-free regime—bid your worries goodbye. Pollo Tropical's amazingly customizable menu allows customers to craft a safe meal with zero gluten!
So what's Gluten-Free at Pollo Tropical?
Pollo Tropical doesn't exactly have the most explicit gluten-free selections on the menu. But this shouldn't deprive you of having a great time!
Selections with zero gluten are still fully customizable to your liking, such as their TropiChop signature bowls. Customers are free to choose their preferred protein, base, and toppings to create the perfect gluten-free bowl.
Other gluten-free options are the selection of meat platters and some fresh green salads which can be curated to accommodate your dietary needs.
Heads up! All gluten-free options found in this article are based on knowledge of gluten-containing food and other food groups. So, suppose you're someone with extreme gluten sensitivity or Celiac disease.
In that case, it's best to steer clear of Pollo Tropical since health should be your top priority.
People with Celiac disease or severe gluten allergies may be very ill after eating anything with gluten like pizza, pasta, bread, and cereals. As such, these are all off-limits for them.
Celiac disease is an autoimmune disease wherein the body's immune system attacks the small intestine upon exposure to gluten, a protein in grains such as wheat, barley, and rye.
Let's now get into the gluten-free selection at Pollo Tropical. This article will be an in-depth scrutinization of Pollo Tropical's menu.
We'll be sharing with you some pro tips about what food may be gluten-rich to stay away from by filtering out the best gluten-free options!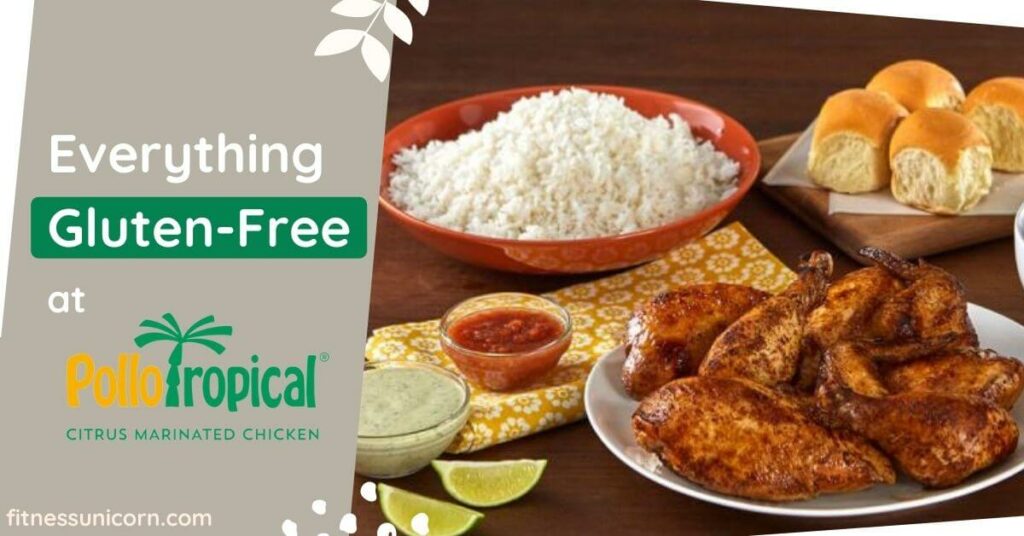 This post may contain affiliate links, which help keep this content free. (Full disclosure)
Gluten-Free Menu Items at Pollo Tropical
After looking into the ingredients used for Pollo Tropical's dishes on the menu, we offer you a detailed list of items that we believe are gluten-free and can be safely consumed for a gluten-free lifestyle:
Platters
Pollo Tropical offers an exciting selection of platters. You choose your preferred protein with each platter and two side dishes.
● ¼ & ½ Fire Grilled Chicken Platter
● Boneless Chicken Breast Platter
● Roast Pork Platter
● Churrasco Steak Platter
With the risk of cross-contamination in mind, it's best to ask your server to skip the gluten-rich bread roll for your platter and use clean gloves and utensils in preparation.
TropiChop Bowls
Eating a TropiChop Bowl will surely get you to your gluten-free dream. Thanks to its high customizability, you can easily whip up a scrumptious bowl with your top chosen gluten-free ingredients with just a few simple steps:
● Pick a base – Brown Rice, White Rice, Fresh Veggies, or Half n Half
● Add a Protein – Roast Pork, Grilled Chicken, Shredded Chicken, and Churrasco Steak
● Load up on the free toppings – Black Beans, Tomatoes, Corn, Peppers, Avocado, and Sauteed Onions
● Sauce it up – Fresh Salsa, Cilantro Garlic, Guava BBQ, Avocado Cilantro, Pollo Tropical Hot Sauce, and Spicy Poyo Poyo
Ask your server to prepare your platter with clean gloves and utensils to avoid cross-contamination. It's also best to skip the gluten-rich bread roll in the preparation.
FIND MORE: Gluten-free menu items at Hooters
Salads
Pollo Tropical has some amazingly fresh salads that you can choose from. Like the TropiChop Bowls, you can easily customize and select from the fresh ingredients you want to go into your salad for a total gluten-free experience!
● Caesar Salad (skip on the croutons and dressing to make it gluten-free)
● Chicken Avocado Salad
Sandwiches & Wraps
Take note that sandwiches and wraps are in no way gluten-free. You'll have to ask your server to wrap your sandwich with lettuce instead of bread to make your meal gluten-free.
Since bread has loads of gluten, even the slightest gluten contamination in your sandwich can trigger allergies. Thus, it is critical to ensure that your sandwich is wrapped in lettuce and has no contact with bread in any way.
● Cuban Sandwich
● Grilled Chicken Cuban
● Shredded Chicken Wrap
RELATED: Gluten-Free Options at Raising Cane's
Sides
While they can also be great to snack on alone, Pollo Tropical offers a wide range of gluten-free sides that can be enjoyed with their platters.
● White/Brown Rice
● Kernal Corn
● Caesar Salad (no croutons)
● Balsamic Tomatoes
● Red/Black Beans
● Combination of Rice & Beans
● Fried Plantains
● Boiled Yuca & Garlic Sauce
● Fried Yuca
● Tostones – Cilantro Garlic Pork & Shredded Chicken topped Tostones
Drinks
Most of their drinks are gluten-free. However, it's advisable to be sure by asking your server if the drink contains malt.
● Natural Lemonade
● Natural Mango Lemonade
● Strawberry/Mango TropiChiller
● Fountain Drinks
Pro Tips for Gluten-Free Meals at Pollo Tropical
Pollo Tropical doesn't have an official gluten-free menu. It'll be up to you to know which dishes may or may not contain gluten. But that's what we're here for!
The following pro tips will surely help in ordering delectable gluten-free meals without a dedicated menu to save you some time stressing over allergies!
Know the Restaurant
Before dining out at any place, it's highly critical to know the kind of food they serve. You should keep an eye out for fast food joints and avoid them unless they have a dedicated gluten-free menu.
Cross-contamination may be a risk for fast food places since they usually don't have the time to carefully check their ingredients. They might not be aware of gluten allergies and make little-to-no room for adjustments.
Luckily, Pollo Tropical is the perfect spot for gluten-intolerant people. Visitors can have a wholesome meal by picking from a wide variety of gluten-free, fresh ingredients for Pollo Tropical's highly customizable bowls.
Communication
It should be your topmost priority to communicate your dietary needs with the staff before placing an order. This is very important for the restaurant to know the necessary measures for serving gluten-free meals.
Informing the waiter beforehand about your condition will alert the staff of any needed precautions to avoid any sort of gluten contamination.
While most places are accommodating to ensure complete satisfaction, some places will respectfully decline your request to prevent risking your health.
Keep It Simple
Stick to items that you know are surely gluten-free such as fresh vegetables, brown rice, grilled meat, and cheese. Stay away from complexly prepared dishes containing inconspicuous gluten in thickeners and bread.
Such dishes include those with soup, sauces, or gravies.
If in Doubt, Throw it Out
When in doubt of any ingredient or dish on the menu, it's better to just skip it. No food item is worth the risk of endangering your health if you suffer from Celiac disease or extreme gluten allergy.
Avoid Rush Hours
Rush hours are the ungodly hours of restaurants. Waiters and staff won't be able to give you their full attention, and even the most attentive or accommodating waiter might make a mistake during these hours.
Thus, plan your visit accordingly to avoid this inconvenience.
Be Gracious Towards the Staff
Never fail to express gratitude to the waiters for accommodating your dietary restrictions by leaving a generous tip. This will inspire them to fully help the next gluten intolerant visitor.
Gluten Cross Contamination at Pollo Tropical
Cross-contamination should always be taken seriously when talking about allergies. Food that has come in contact with gluten-contaminated food or utensils should not be consumed, as this may pose a risk of aggravating allergies.
Unfortunately, most restaurants do not have separate assembly lines or utensils for gluten-free food. A uniform manner is used in prepping food, and the risk for cross-contamination is always relatively high.
Eateries may use the same kitchenware, like tongs or fryers, in handling gluten-rich products. Thus, if you have gluten allergies, it is best to follow these tips when ordering:
●     Let the staff know you're intolerant to gluten. 
●     Inquire about any gluten-free options available on the menu.
●     Order customizable bowls so you know exactly what's going into your meal.
●     Ask for a single server to prepare your meal from start to finish. 
●     Request the server to wash their hands and put on a fresh pair of gloves before preparing your meal.
●     Ask the server to use clean utensils that haven't been used before. 
●     Ask the server to fetch the ingredients from a fresh batch (if possible).
Following these steps ensures that there won't be any sort of cross-contamination in the meal preparation. These steps guarantee to ease your anxiety as you peacefully enjoy your next meal!
This is What The Public is Saying
We've compiled a series of reviews about people's experiences with gluten intolerance at Pollo Tropical. These reviews are from different online sources. There were only a few exceptions in most of the positive reviews.
Most visitors mentioned that the staff are pretty unknowledgeable about gluten allergies but are highly accommodating to the customer's preferences by prepping their meal according to the instructions.
One satisfied customer claims that her celiac son had no issues whatsoever despite being at Pollo Tropical multiple times.
Another satisfied customer said that the staff washed their hands and changed their gloves before prepping her meal after being alerted of her allergies.
A regular customer mentions that his celiac wife always gets the quarter chicken with green beans. He also recommended getting Pollo Tropical's cilantro garlic sauce which is gluten-free!
With all that said, Pollo Tropical is truly one of the best spots for people with gluten allergies. Nonetheless, due diligence should still be exercised since there will always be a risk of cross-contamination in the kitchen!
However, a recurring issue in the reviews was that all meals are typically served with bread rolls. So, you might want to reiterate your strong preference for not wanting a bread roll in your meal.
Words of Wisdom
Wrapping it all up, Pollo Tropical is a great place if you're in search of a quick and easy gluten-free meal.
Although there isn't a specific gluten-free menu, you can still easily curate a nice gluten-free dish by following the simple steps outlined above.
Next time, when you're quite unsure about where to get a hearty gluten-free to satiate your cravings —you might want to give Pollo Tropical a try after consulting our article to make the most out of your experience!