If you're suffering from gluten sensitivities or celiac disease, then surfing for gluten-free meals outside the confines of your home might be a luxury.
It is often difficult to find an excellent restaurant that would cater to your needs if you are gluten sensitive.
The good news here is – that we've got you covered. Like most fast-food chains, Panda Express offers its customers items that contain gluten or wheat – hence it is better to stay conscious of what you're offered.
But is there anything gluten-free at Panda Express?
Unfortunately, the answer to that is "no". The list of gluten-free options is limited, it includes Steamed Brown Rice, White Rice, Chilli Sauce, Plum Sauce, etc.
Panda Express specifically mentions on their website that their meals are prepared in the same kitchen as gluten-containing foods, it is better to steer clear if any of their foods will trigger your allergies.
In addition, it was also stated on the restaurant's website that it doesn't offer gluten-free meals. Hence, if you are craving gluten-free food, it isn't the ideal option.
That being said here are all the gluten-free options at Panda Express.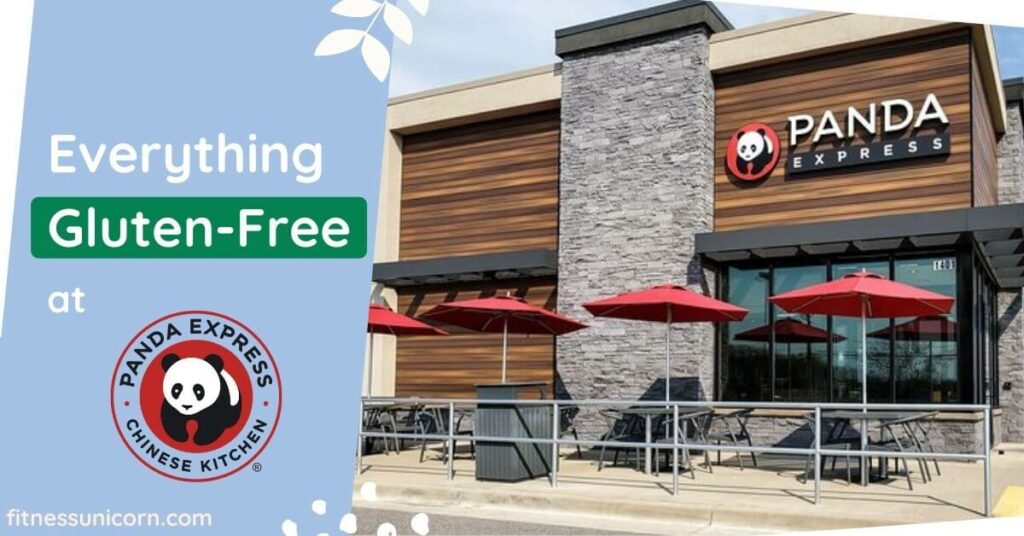 This post may contain affiliate links, which help keep this content free. (Full disclosure)
Panda Express Gluten–Free Options
Panda Express is a chain of Chinese fast-food restaurants that started in Glendale, California in 1983. The popular dishes at Panda Express includes Grilled Teriyaki Chicken, Beijing Beef, Orange Chicken, etc.
In addition to single meals and combo meals, there are a number of side dishes to choose from, including mixed vegetables, steamed rice, and chow mein.
Panda Express meals are free of artificial additives and are all-natural. It also does not use chemicals such as monosodium glutamate or other enhancers. Their gluten-free options include the following.
Sides
Steamed Brown Rice
Steamed White Rice
The rice they offer at Panda Express contains no gluten or wheat ingredients. Those who have gluten intolerances should still proceed with caution though.
Gluten-free Sauces at Panda Express
Sweet & Sour Sauce
Chilli Sauce
Hot Mustard
Plum Sauce
The sauces options at Panda express are quite acceptable for those trying to stay away from gluten. These are the sauces options – none of the ones listed above contains gluten or wheat ingredients. 
Gluten-free Beverages
Coca-Cola
Barq's Root Beer
Cherry Coca-Cola
Black Tea

Fanta Orange
Diet Coke
Coca-Cola Zero Sugar
Fanta Fruit Punch
Fuze Lemon Black Tea
Vitamin Water Squeezed Zero
Fuze Raspberry Tea
Sprite Zero
Hi-C Flashin Fruit Punch
Gold Peak Unsweetened Tea
Minute Maid Light Lemonade
Sweet Tea
Sprite
Powerade Fruit Punch
Powerade Mountain Berry Blast
Seagram's Ginger Ale
Dr. Pepper
RECOMMENDED: EVERYTHING Gluten-Free at Hooters
Tips for a gluten-free meal at Panda Express
The safest way to enjoy a gluten-free meal is by making your own. There are different recipes online to try out if you are ever in need of it. But if you can't take the DIY route, then here are some tips for a gluten-free meal at Panda Express:
Give the server a heads up
Inform the server or waiter of your gluten sensitivity beforehand. And if you do have celiac disease, it is crucial to inform them not to consume anything that will make you fall ill.
Unfortunately, most restaurants are always on the ground to listen to you if the server doesn't understand what you are talking about. Meanwhile, take time to learn about the ingredients used in making their meals.
It isn't gluten-free because they said so
The rule of thumb states that you opt for simple dishes without sauces or coatings. But the main point is – that it isn't gluten-free because they said so. It would be perfect if you never assumed anything is gluten-free.
Reiteratively, stay away from all the options not mentioned in this article due to the preparational process. Panda Express doesn't have gluten-free labeled menu items.
Stay away if you are unsure
We've highlighted that Panda Express is not your typical Gluten-Free Restaurant. However, there are some meals you can try out without worrying about getting your allergies triggered.
We believe it's better to steer clear if you are ever in doubt. No meal is worth risking your life over at the end of it all.
Even if any restaurant pride itself as a gluten-free restaurant, that shouldn't stop you from checking out the meals' ingredients. But if you're in doubt, skip it. No food on earth is worth risking your health over.
RELATED: Gluten-Free Options at Whataburger
Cross Contamination Risk
When food containing gluten is accidentally contaminated by gluten-free food, it is known as cross-contamination. Celiac disease sufferers may suffer damage to their gut due to the consumption of even very small amounts of gluten.
When you are diagnosed with celiac disease, you must avoid cross-contamination in order to maintain a strict gluten-free diet.
The restaurant can't be held accountable for cross-contamination of their meals in this context if they've previously stated clearly that they do not have gluten-free options on their menu.
Even the meals we've tagged gluten-free on their menu still stand the risk of being contaminated when they are being prepared.
It is necessary to familiarize yourself with the menu at Panda Express before dining there. We recommend that you contact the restaurant in this case in order to inform them of your dietary restrictions.
What are people saying?
Note that we've used an external source to help you compile the information stated in this section. So, what are people saying? 
A lady ordered what she thought was gluten-free. However, she turned out to be wrong.
It started with stomach aches. She says she thoroughly read the allergen menu, and they had no dessert, no side dishes, no entrée, and worse, no vegan-friendly meals.
According to Liv the only safe thing at Panda Express for gluten-sensitive people are the drinks. 
Another visitor says she discussed with an employee – and asked him what they had on their menu that wouldn't trigger her allergy.
To her surprise, the employee replied that he wouldn't recommend eating anything because their meals are prepared using the same fryers.
They had no precautions to ensure that their meals were safe for customers with celiac disease. Thus Amy wouldn't recommend the restaurant to gluten-sensitive people or anyone with Celiac disease. 
And then there are also people who enjoyed their time at panda express. She says the meal was good and wasn't contaminated. As long as you are careful and instruct the staff about your specific dietary needs there is nothing to worry about. 
One customer wonders why anyone would recommend this restaurant as gluten-free as they don't have any concessions for people suffering from gluten sensitivities. 
Gluten-Free Alternatives to Panda Express
Do you want to have an amazing meal away from home? There are other restaurants you can try out. Let's share some other popular gluten-free alternatives to Panda Express.
P.F Chang's
Every meal in P.F Chang's is made uniquely. Cooked from scratch, their meals are worthy of a chance. The diet-conscious and gluten-sensitive consumers are already perking their ears. Their menu options are appealing as well.
If you have celiac disease or allergies, that shouldn't stop you from trying out their chicken lettuce wraps, the gluten-free shrimp mixed with lobster sauce.
In addition, they've mastered the art of creating special sauces using oyster sauce, white paper, and, more importantly, chicken broth. In summary, it's an ideal place to explore Asian specialties.
Mellow Mushroom
Are you in search of a great gluten-free pizza? Look no further than the Mellow Mushroom. The gluten-free pizzas on the menu are mostly made with crust. You can also create your pizza with different toppings options that are gluten-free.
We all know that pizza is one of the quickest meals out there, but still, we want to make sure we eat healthy, which is why Mellow Mushroom restaurant is ideal.
Bonefish Grill
Bonefish Grill restaurant is known for its happy hour from 4 p.m Mondays through to Friday. Thanks to the special gluten-free menu with many healthy options for every customer, it is currently gaining traction.
First, however, please try out their house salad – a mixture of kalamata olives and hearts of palm.
They've also got rainbow trout and Chilean sea bass. These grilled fish specialties come with any of their signature sauces or the grilled lemon, but we'd recommend the mango salsa.
Red Robin
Have you tasted a gluten-free burger? If that's what you are craving, then look no further than Red Robin. This restaurant has some of the best gluten-free buns you'll ever taste. But, of course, check out their burgers too.
The burger and bun can be made gluten-free, so you need not worry about anything. One other item on their menu that's worth trying out is the hamburger and fries.
Outback Steakhouse
When restaurants started taking notes of customers with gluten sensitivity and were planning on solving the issue, the outback steakhouse was early to that scene.
They've offered many dedicated options for celiac disease or gluten sensitivity customers. The restaurant has been in the game for more than a decade.
Do you have a light appetite? Then opt for their rice and beverages. Don't forget to top your preferred choices up with gluten-free dessert – they've got that too.