Generally, in restaurants, every meal is prepared on the same platform with the same utensils by the same people. Consequently, there is the possibility of cross-contamination.
At hooters, all fried items are cooked in a shared pan. For this reason, Hooters may not be a celiac-friendly restaurant. There are a few items for people with gluten sensitivity.
So, what are the gluten-free options at Hooters?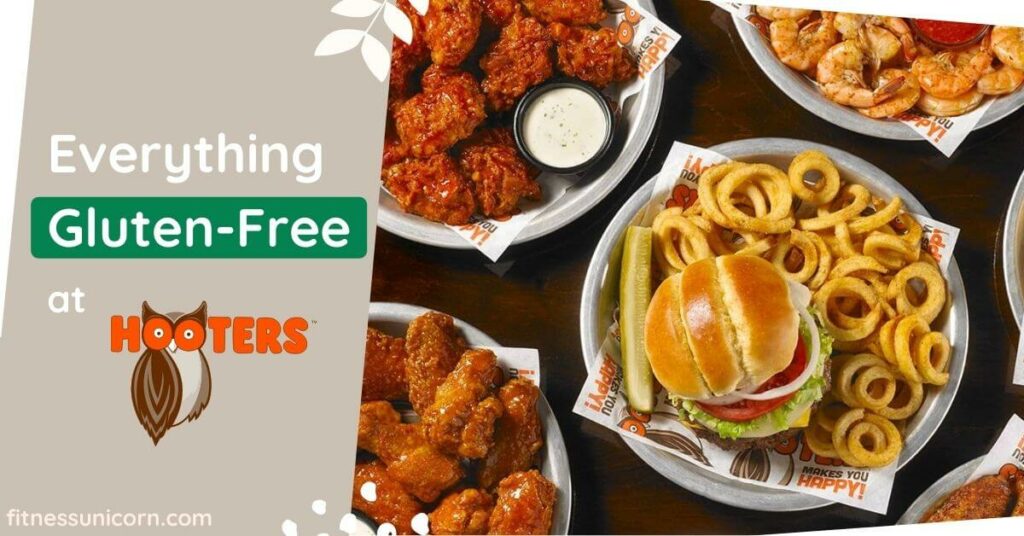 This post may contain affiliate links, which help keep this content free. (Full disclosure)
Gluten-free menu items at Hooters
Hooters is known for its hot wings. It started by selling chicken wings, and since then, they have come up with a variety of wings recipes and continue to experiment.
Apart from wings, they also serve sandwiches, burgers, tacos, salad, and seafood. In terms of beverages, they have a large array of beers, wines, Margaritas, teas, etc.
Although they have a large menu, the list of gluten-free options is small. The location also plays a role in the availability of gluten-free items.
Some items may not be available at every Hooters restaurant. Some restaurants may take extra precautions and are more accommodating, while others may not even be aware of gluten sensitivity.
Hooters doesn't have a dedicated gluten-free menu and allergen info on their website due to the regular modification in their recipes. However, the Hooters restaurant may have more gluten-free options than what's shown online.
To make your ordering experience simpler, I've compiled some dishes that are likely to be gluten-free. Here are some gluten-free dishes you may try at Hooters.
Note: The nutritional facts mentioned here are derived from the Hooters website. Please confirm with your server whether a dish is gluten-free or not before ordering.
Appetizers
#1. Chips and queso
The queso is made with a creamy blend of melted cheeses mixed with roasted red and green peppers and topped with diced tomatoes. It is served with freshly made spiced corn tortilla chips.
Nutrition information
Calories: 1200 kcal
Fat: 67 g
Carbohydrates: 124 g
Protein: 37 g
#2. Tex Mex Nachos
This dish is a blend of freshly made corn chips, cheese, tomatoes, sour cream, and jalapeno. It also comes with a choice of chicken and chili. Avoid chili and chicken if they aren't guaranteed to be gluten-free.
Or order grilled chicken instead of fried one.
Nutrition information
Calories: 1570 kcal
Fat: 82 g
Carbohydrates: 132 g
Protein: 77 g
RECOMMENDED: Gluten-Free Options at Jack In The Box
Seafood
Ask the server to prepare your seafood without a shrimp boil.
#3. Steamed shrimp (half a pound)
The steamed shrimps are available in two quantities. They are served with cocktail sauce and some butter.
Nutrition information
Calories: 360 kcal
Fat: 25 g
Carbohydrates: 13 g
Protein: 24 g
#4. Crab legs
A pound of the Alaskan snow crab legs is served with some butter on the side.
Nutrition information
Calories: 530 kcal
Fat: 48 g
Carbohydrates: 2 g
Protein: 25 g
#5. Raw oysters
This dish comes with a dozen of raw oysters along with horseradish, saltine crackers, and cocktail sauce. Ask the server to serve your plate without the saltine crackers as they are not gluten-free.
Nutrition information
Calories: 330 kcal
Fat: 7 g
Carbohydrates: 47 g
Protein: 16 g
#6. Shrimp platter
The shrimp platter comes with cocktail sauce and a choice of fries. Choose curly fries because they are fried in a separate fryer.
Nutrition information
Calories: 450 kcal
Fat: 22 g
Carbohydrates: 34 g
Protein: 30 g
RELATED: Steak and Shake Gluten-Free Options
Fries and Sides
#7. Curly fries
Curly fries are gluten-free because they are made of potatoes and are fried separately. This eliminates the risk of cross-contamination. You can order some cheese sauce to go with it.
Nutrition information
Calories: 150 kcal
Fat: 11 g
Carbohydrates: 7 g
Protein: 6 g
Some more side options are Coleslaw, Carrots, and Celery sticks. They will add some crunch and wipe the creaminess from the seafood. They will go well with some ranch.
Dressings
#8. Ranch
Nutrition information
Calories: 300 kcal
Fat: 31 g
Carbohydrates: 4 g
Protein: 2 g
#9. Blue cheese
Nutrition information
Calories: 300 kcal
Fat: 30 g
Carbohydrates: 3 g
Protein: 3 g
#10. Honey Dijon
Nutrition information
Calories: 480 kcal
Fat: 44 g
Carbohydrates: 24 g
Protein: 1 g
#11. Lite Italian
Nutrition information
Calories: 70 kcal
Fat: 3 g
Carbohydrates: 9 g
Protein: 0 g
Some tips for a Gluten-Free Meal at Hooters
Let the server know that you are sensitive to gluten. Ask them to take extra precautions while preparing your food like using a separate frying pan or covering the grill with aluminum foil before grilling your meat.
Asking the server about the ingredients inside a dish is the safest way to order a gluten-free dish at Hooters. Ask the server to recommend some gluten-free dishes. If they seem clueless, name the allergic ingredients like wheat flour, soy sauce, Barley, seasoning, etc., and ask them to recommend dishes without those ingredients. If the server still doesn't understand, call the manager and they might be able to help.
Avoid dishes that generally contain gluten as breaded, marinated, and battered items, for example, fried pickles. Some items may or may not contain gluten like tortilla chips and nachos. Confirm with your server about such suspicious dishes.
Who goes to hooters and doesn't order wings? Unfortunately, their wings aren't gluten-free because they're fried in the same oil that is used to fry breaded items. So, no wings at hooters for you.
Most of the dishes in the appetizers, burgers, sandwiches & tacos section are either made with bread, and products of wheat flour or have the risk of cross-contamination. It is best to avoid them. Opt for gluten-free bread and buns if they are available.
Avoid any dish with fried meat like their salads because they are dipped in batter or coated with bread crumbs before frying. They may also be slathered with sauces that might also contain gluten in the form of thickeners.
Steamed, grilled, or smoked meat can be consumed. Just confirm whether they are cooked separately or along with every other meat. Or ask them to cook yours separately.
Hold the desserts since they are made using refined flour which is not gluten-free.
Ordering gluten-free isn't straightforward at Hooters. You have to make many modifications and clearly explain to your server what you can and can not have.
Gluten Cross Contamination (disclaimer)
All fried ingredients at Hooters are cooked in shared fryers. So, cross-contamination of food items is possible. It is best to avoid fried items. Also, avoid items with seasoning and breading.
What people say about Hooters
This is a summary of reviews about gluten-free options at Hooters collected from around the net.
It is to give you a perspective on the experiences people with celiac or high gluten sensitivity had at Hooters so that you make a wise decision.
Reviews:
"According to the official Hooters gluten-free menu, the chicken wings aren't part of the gluten-free menu. The reason is that they are prepared in oil that is used to prepare breaded things. As a celiac, that is enough to send many over the edge."
Some people said that "the servers had no idea about gluten sensitivity and they served a dish with an allergic ingredient." Some people also said "the server was well informed and recommended appropriate items.
Some also said that "they took extra precautions while preparing the dish like preparing the food in a different part of the kitchen, using a separate frying pan and grilling on top of aluminum foil."
While many said that "the location of a hooters restaurant plays a role in the availability of gluten-free items."
Some said that "their cross-contamination measures have become strict and that their online menu doesn't do justice to the abundant gluten-free options available at the restaurant."
Some people with celiac also shared the dishes that didn't cause any reactions. Here are some of them-
Shrimp and spinach salad
Crab legs
Naked wings and fries
Most of their dipping sauces
Conclusion
Whether you will find gluten-free options at hooters or not majorly depends on the location you go to. Visiting the restaurant is better than ordering online because you can customize the dish better.
They will take extra precautions in preparing your dish in your presence than in your absence. If you go there physically you may also find the seasonal items and testing items on the menu, that they don't put on their website.
Using the tips shared here will help in your gluten-free food ordering experience.