Is there anything better than a Chick-Fil-A chicken sandwich? Well, Raising Cane is undoubtedly growing fast at the game of making more popular and tastier chicken with fast food ingredients found across the country.
But the real question is: Is there anything gluten-free at Raising Cane's?
Frankly, there aren't many explicit gluten-free options there. But, hey, no worries! There's still a handful of gluten-free options like Coleslaw and "Naked" Chicken Fingers that you can enjoy.
So, for those with celiac disease or extreme gluten sensitivity: it's best to stay away from Raising Cane's because cross-contamination is always possible regardless of the most stringent measures.
It'd be better for you to find a more suitable place for your dietary needs to avoid any unnecessary risk.
Feel bad? Let's look at why cross-contamination is risky for people with gluten intolerance.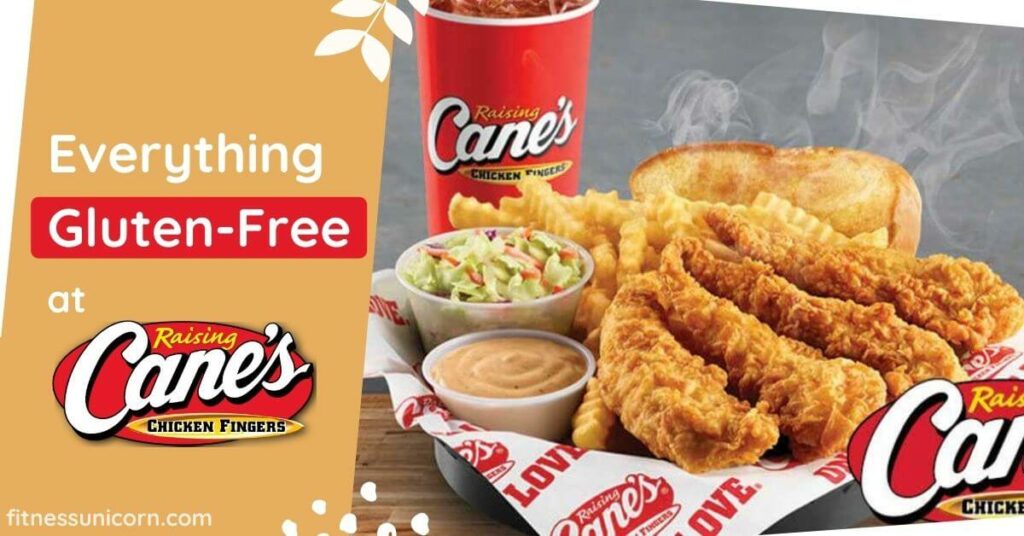 This post may contain affiliate links, which help keep this content free. (Full disclosure)
Raising Cane's Gluten-Free Menu Items:
Coleslaw
Calories – 100cal
Fats – 6g
Proteins – 1g
Carbohydrates – 11g
Did you know that pickling can extend a coleslaw's shelf-life? This popular side dish is usually made of thinly sliced raw cabbage, a bunch of salad dressings and condiments (either mayo or vinaigrette).
Raising Cane's Coleslaw comes with vinaigrette often used in its preparation.
Cane's Sauce
Calories – 190cal
Fats – 19g
Proteins – 0g
Carbohydrates – 6g
This delicious, gluten-free dipping sauce is especially the perfect match with chicken tenders.
The perfect mix of pepper and spices with a hint of acid makes it a match-made-in-heaven combination with crispy chicken tenders and French fries.
RECOMMENDED: Gluten-Free Options at Whataburger
"Naked" Chicken Fingers
Calories – 130cal
Fats – 6g
Proteins – 13g
Carbohydrates – 5g
What makes Raising Cane's Chicken Fingers the industry leader is that all of its ingredients are prepared from fresh, never-frozen chicken all fried in pure vegetable oil.
But if you want it gluten-free, it's better to just get the "naked" version of it which has no breading on it at all.
Sweet Tea – Regular
Calories – 140cal
Fats – 0g
Proteins – 0g
Carbohydrates – 36g
Unsweetened Tea – Regular
Calories – 0cal
Fats – 0g
Proteins – 0g
Carbohydrates – 0g
Lemonade – Regular
Calories – 180cal
Fats – 0g
Proteins – 0g
Carbohydrates – 46g
Milk 1% Box
Calories – 110cal
Fats – 2.5g
Proteins – 8g
Carbohydrates – 13g
FIND MORE: EVERYTHING Gluten-Free at Jack In The Box
Tips for a Gluten-Free Meal at Raising Cane's
The following tips will help you make the most of your experience at Raising Cane's:
Tell your server about your dietary requirements
Please let your server know if you have celiac disease or any gluten sensitivity or that you may have. It is critical for them to know that you may be very ill if they serve you anything with flour, bread crumbs, or soy sauce.
You can also ask the restaurant manager or chef to explain your order if the server doesn't understand.
If you have questions, ask the staff politely
Make sure to clarify your dietary requirements from the start and ask questions politely to avoid any conflict or fight about your ordered meal.
Don't assume that anything is gluten-free
It would be most practical for you to choose the simple dishes on the menu: those without coatings, sauces, or dishes that can be made without sauces or coatings.
Make sure to clarify to the staff that you can't consume anything with gluten because it'll make you ill. Be wary of assuming that everything on the menu is gluten-free.
Take egg omelets as an example. A simple pancake batter can be added to make them fluffier. Flour can also be sprinkled over baked potatoes to make their skins crispier. Barley may also be found in green tea.
Research is key
Before dining out at Raising Cane's, check their menu online first to know what you can and cannot order. If there isn't anything for you, go for an alternative place with an extensive gluten-free menu that could suit your dietary needs.
You can also ask the manager at Raising Cane's if they can gladly accommodate your gluten-free requirements.
Be Creative
While there isn't always a satisfying gluten-free option no matter how prepared and informed you are, there are still ways for you to enjoy your experience at Raising Cane's.
An ideal rule of thumb is to "pre-eat" before eating out to be less tempted with the risky items on the menu. Or you can just ask the chef to prepare gluten-free food for you!
Keep an eye out
Whenever you're eating or drinking, keep a close eye on possible ingredients containing gluten such as gravies, sauces, spices, and drinks. If in doubt, do not consume.
Gluten Cross Contamination (Important)
Let's start first by understanding cross-contact before moving on to cross-contamination. People with celiac disease cannot consume gluten-free products that come in contact with gluten-containing elements or food.
This may be a little hard since there's a lot of obvious and less obvious sources of cross-contact anywhere—at home, restaurants, and in food service locations.
Even ingredients in food making can cross-contact with each other throughout the process.
Yes, it can be hard to be aware of all possible sources of cross-contact and to be proactive right from the start. But your improved health condition will make every effort worthwhile.
Now, moving on to cross-contamination—this usually occurs when food is exposed to bacteria or other microorganisms, like Salmonella, which may result in foodborne illnesses.
In terms of science, foodservice and industry professionals are led to believe that gluten can simply be "wiped out" from food in the case of gluten contamination. However, gluten is a type of protein (not bacteria!)
which means that heat or disinfectants cannot "kill" gluten, unlike bacteria. Let's put it this way: food containing gluten cannot come in contact with gluten-free food. Hence, the term "cross-contact" is more accurate.
When having a meal outside, it's best for you to communicate about your specific food intolerance to the staff, chef, or manager before ordering.
With all that said, let's now dive into the limited gluten-free options at Raising Cane's!
This is What People are Saying
We synthesized some opinions from customers of Raising Cane's sourced from internet reviews and personal interviews, also using the information from their websites.
Some of the Positive Comments Include:
One visitor asked the staff to prepare his chicken in a separate pan without any breading. Surprisingly, the restaurant had no any sort of problem with fulfilling his request.
He happily walked out of the restaurant, satisfied with his special meal.
For those with gluten intolerance, another visitor named Julie recommended Raising Cane's Naked Wings to anyone thinking of eating there.
Julie says that not only are they dairy and gluten-free, but they are also terribly delicious with the perfect side dishes such as Raising Cane's sauce and Coleslaw—all gluten-free!
We found many other comments praising Raising Cane's chicken fingers. One visitor specifically applauded their staff for being considerate of his gluten-free dietary restrictions when placing an order.
A great part of what the restaurant does it to ensure that all their customers leave the place feeling satisfied while keeping an eye on their health.
FAQ
For your convenience, we have addressed some of the most frequently asked questions (FAQ).
What does the term gluten-free mean?
"Gluten-free" describes the consumption of food, drinks, or other products without gluten-containing grains such as wheat, barley, and rye which could all be ingested or enter the body in certain ways.
Patients with celiac disease and non-celiac gluten sensitivity (NCGS) who suffer from adverse reactions to gluten need to consciously create a wise choice of eliminating gluten in their diet for their own health.
Can you eat ketchup and mayo at Raising Cane's?
Sadly, these two condiments are some of the sauces with ingredients containing gluten despite being an essential part of some dishes.
To be safe, you might want to carefully read the packet packaging or directly ask questions to the staff about the ingredients of the ketchup.
Is the tea at Raising Cane's Gluten-Free?
Yes, provided that their tea does not contain any added flavors or ingredients other than the tea leaves. Since tea consists of leaves from the plant Camellia sinensis, it is naturally gluten-free.
Make sure to read the label of anything that you eat or drink, like tea, before consumption.
Is Raising Cane's lemonade gluten-free?
Again, it's probably best to ask the staff about the contents of their lemonade.
Although lemonade is usually marketed as gluten-free, there are still lemonades with artificial coloring and high fructose corn syrup content making them unsafe for people with sensitivity to gluten.
Is Raising Cane's Milk Gluten-free?
As long as there is no cross-contamination or additional ingredients added to milk, then it should naturally be gluten-free like almost all dairy products.
It becomes risky once cross-contamination occurs as certain grains contain gluten while other food groups are gluten-free, like dairy.
Conclusion
Dealing with any strict dietary requirement can always be a pain in the ass, like being gluten intolerant. When dining out, it's critical to be transparent with your needs and to communicate well with the staff about anything on the menu.
As such, do not assume that anything is gluten-free. Do your research beforehand, politely ask the staff, be creative while you're at it—then you'll be good to go!