Dave and Buster's is the perfect place for your next recreational outing and some lip-smacking food items. They have got one of the most American menus out there, from burgers to fries to wings, they've got it all.
But, the real question is: Do they have gluten-free options?
And the answer to that is a big "YES". Dave and Buster's is well aware of its customers' needs and wants.
They have their Tomato Feta Soup, Fire Grilled Salmon, Mango Citrus Shrimp Skewers and other gluten-free yet delicious dishes for you.
Yes, they do have some good gluten-free options. But, the risk of cross-contamination can never be ignored. Due to the normal kitchen operations and common cooking equipment, it could be a possibility.
Having said that, let me take you through all the gluten-free options that are in store for us at Dave and Buster's. I'll also tell you about other similar food chains you might want to try.
There are also some additional tips which might help you make better decisions during your next visit to Dave and Buster's.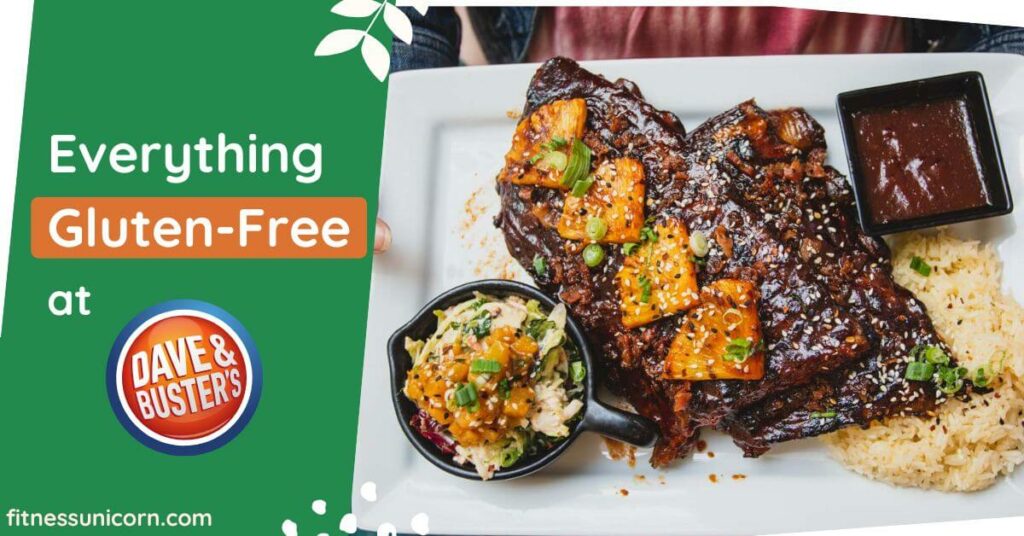 This post may contain affiliate links, which help keep this content free. (Full disclosure)
Can I Dine at Dave & Buster's on a Gluten-Free Diet?
Dave and Buster's might not be your go-to place when it comes to having a gluten-free meal outside. But, it won't disappoint you either, with some of the dishes prepared solely for customers like you.
Although, fried food items and grilled food items could absorb wheat/gluten proteins during the cooking process.
Therefore, it is recommended that individuals with these intolerances avoid ALL fried foods, grilled foods and garnishes. Due to these circumstances, it cannot be guaranteed that any dish can be COMPLETELY free of wheat/gluten protein.
I would also like to warn you here that if you cannot compromise with the quality of your food in terms of its gluten content, then it might be best to avoid visiting Dave and Buster's altogether.
Since, there is always a risk of cross-contamination during food preparation.
But before you walk away, I have some good news for you. Dave and Buster's provide us with the dedicated allergen menu. It further classifies the type of allergen and a list of food items that do not contain that particular allergen.
Without wasting much time let's time deep into Dave and Buster's menu and find all the gluten-free items that they have in store for us.
Gluten-free options at Dave and Buster's
Established in 1982, Dave and Buster's is one of the earliest places to have brought food and entertainment together in the form of its video Arcade Gaming. Today, it has spread to 145 locations across the states.
It is a perfect place for an American meal since they have it all from burgers to fries to fish and chips and whatnot.
Although as I mentioned earlier they do not have a broad variety of gluten-free items. But, they do provide us with a separate allergen menu that helps us to make better choices at their restaurant.
Now let me take you through all the gluten-free items that are in store for us at Dave and Buster's.
Tomato Feta Soup
The all-natural tomato feta soup is a twist on your favourite comfort food. Made with slow-simmered crushed tomatoes and feta cheese, this vegetarian soup is gluten-free and under 150 calories.
Bacon-Wrapped Shrimp with Lobster Sauce & Fire-Grilled Sirloin
Seasoned, fire-grilled 5 oz. sirloin steak and large grilled shrimp wrapped with applewood smoked bacon served with garlic mashed potatoes, Parmesan creamed corn and creamy lobster sauce.
FIRE-GRILLED SALMON
Center-cut Atlantic salmon rubbed with Louisiana spices, grilled and topped with our peppercorn garlic butter. Served with sautéed spinach and spicy rice medley.
Mango Citrus Shrimp Skewers
Three skewers of Louisiana spice-rubbed shrimp, grilled and basted with mango citrus glaze. Served with spicy rice and steamed fresh vegetables.
Cabo Chicken
Two 5 oz. flame-grilled chicken breasts topped with pineapple pico de gallo and served with spicy rice and steamed fresh vegetables.
The lawnmower
Our Lawnmower salad is layered using fresh romaine and green leaf lettuces, grilled chicken, diced garden vegetables, boiled eggs, bacon bits and bleu cheese crumbles. Served with your choice of dressing.
Sweet Apple Pecan Salad with Grilled Chicken
Herb-grilled chicken breast, crisp apple slices, candied pecans and crumbled bleu cheese tossed with crisp greens in Raspberry Vinaigrette.
Kid's Grilled Chicken (Server with rice)
---
Useful tips for ordering gluten-free at Dave & Buster's
Stay away from the kitchen (Quite literally)
As an added precaution, please ask to be seated away from the kitchen. There are various different items being cooked in the kitchen, and the irritating aromas coming out of them might make your outing even worse.
If you're only there for their gluten-free items, then it might not be of much concern to you but if you suffer from other severe allergies, it's best to be seated away from the kitchen.
RECOMMENDED: Are Bugles Gluten Free?
Eat your sandwiches right !!
Since Dave and Buster's does not have a gluten-free bread, you can ask to get the lettuce-wrapped version of your sandwich to make it gluten-free.
You just have to look into the fillings to check if they are gluten-free or not, and you should be good to go.
Go for the veggies
Apart from the dishes that were mentioned in the previous section, your safest bets are salads. Whenever you are hesitant about a certain dish or whether it is actually gluten-free or not, you can go for any of the salads from their menu.
Just make sure that its contents are perfectly gluten-free.
When in Doubt, Throw it Out
As I said, whenever you are hesitant about a certain dish and are not completely confident with it, it's better not to leave it. I know it's hard to leave the food which you've already paid for.
I'm not asking you to throw it away. Instead, offer it to your friends, or family, or you could also get it packed and give it to the needy ones on the roadside.
Talk it Out
Even if you are ordering a gluten-free dish at Dave and Buster's, it is still advisable to communicate to the person taking your order. You should ask them to be extra careful with your meal.
All the above tips will surely help you have a better and personalized experience on your next outing to Dave and Buster's. It is all about taking charge and ensuring yourself that your meal is as gluten-free as it should be.
YOU MAY ALSO LIKE: Gluten-Free Options at A&W
Risk of cross-contamination
Steps are taken to ensure that there is no contact between gluten-free items and items that contain gluten. But, with the use of common fryers or other kitchen equipment, there might be a problem for extremely sensitive customers.
This can also occur through contaminated gloves, utensils, pans, surfaces, and other food items. Cross-contamination is a serious health concern that restaurants must address through stringent protocols to ensure customers' safety.
Gluten-Free Alternatives to Dave and Buster's
In this part of the article, I'll take you through other similar options that you might consider on your next outing to have a gluten-free meal instead of going to Dave and Buster's.
Buffalo Wild Wings
Buffalo Wild Wings is another very famous sports bar chain in the U.S. As the name itself suggests, it is a place popular for its wings.
They also have a decent number of dishes that are gluten-free and can be consumed if you are allergic. Some of them are –
Ultimate Nachos with Chicken
Fries
Chips and Salsa
Buffalo Chips
Santa Fe Chicken Salad
Traditional Wings with Parmesan Garlic Sauce
Traditional Wings with Salted Caramel Sauce
Traditional Wings with Blazin' Sauce
Traditional Wings with Medium Sauce
Naked Tenders
Buffalo Zoo ( Drink )
Angry Orchard ( Drink )
Hooters
Famous for its "Hooter Girls", it is another sports bar famous for its American cuisine. They do have a dedicated allergen menu but do not explicitly take precautions against cross-contamination.
They very clearly state that all their deep-fried items contain the same allergens due to cross-contact since they do not use separate fryers for their allergic customers.
They have a good variety of gluten-free items on their menu that you can relish –
Appetizers- Big Dipper Fries, Fish N Chips, Fresh Mozzarella Cheese Sticks, Style Skins, Snow Crab Legs, Steamed Shrimp 1 Pound, Steamed Shrimp 1/2 Pound, Test BBQ Pork sliders, Tex Mex Nachos, Tots – Plain
Salads- Chopped Cobb Salad
Dressings- Lite Italian, Lite Ranch, Honey Mustard, Thousand Island Dressing
BBQ Sauces- Wing Sauce, BBQ Sauce, Cajun Sauce, Habanero BBQ Wing Sauce 
Burgers and Sandwiches- Baja Burger, Big Fish Sandwich, Blackened Mahi Sandwich
Sides- Broccoli, Green Chiles, Coleslaw
I have only mentioned some of the gluten-free items and not all. For more information on the same, you can definitely visit their official nutrition page.
Twin Peaks
Twin Peaks is another American chain of sports bars and restaurants. They also have a similar concept to Hooters to keep young women as their staff to attract more customers.
They also have some gluten-free items on their menu and those are –
Billionaire's Bacon
Chipotle Queso and Chips
Roasted Salsa
Crispy Beef Tacos
Brisket
Pulled Pork
Loaded Fries with Bacon and Cheese
Triple Play
Bone-In Naked Wings
Smoked and Grilled Wings
Duffy's Sports Grill
Duffy's Sports Grill is a restaurant chain that offers grill, starters, rice bowls, sandwiches, burgers and wings. They also have a dedicated gluten-free menu, which shows their care for their allergic customers.
Some of the items that you can consume are –
Chopped Drafthouse Salad, Cobb Salad, Duffy's Signature Chili, Fettuccine Alfredo, Cajun Alfredo, Shrimp Scampi, The Hangover Burger, Duffy's Cheeseburger
There are many more dishes that are gluten-free and if you want to get in deep, you can visit their official nutrition page or have a look at their allergen menu.
Conclusion
In conclusion, I'd say Dave and Buster's is definitely considerate about their customers' allergies. Especially those, who want to have a gluten-free meal even while dining out.
Although, they very well mention some of the dos and don'ts during your time at Dave and Buster's, that you will have to take care of, to enjoy your time there.