Established in 1923, A&W is one of America's oldest fast food chains. It is known for its mouth-watering All-American burgers, root beers, and root beer floats.
In its 99 years of existence, A&W has expanded to over 1000 locations worldwide, serving up quality American fast food.
Like most fast food establishments, A&W too has limited gluten-free options. You'll have to be wary about what you can and cannot order.
So what's gluten-free at A&W?
Among the limited gluten-free options at A&W, you can enjoy a selection of their sides, dipping sauces, and various milkshakes and desserts.
These items are safe for consumption only if adequate cross-contamination protocols have been implemented to ensure the safety of the food.
Other gluten-free options at A&W include burgers and hotdogs that can be ordered in lettuce wraps instead of buns.
However, this can be extremely risky since the burgers are prepared on shared surfaces, and if you're a Celiac, it's best to avoid this hack.
A&W boasts detailed allergen and ingredient profiles that mention everything that goes into their meals.
However, the guides clearly state that there is always a risk of contamination due to shared surfaces and equipment, and A&W does not ensure any certified gluten-free items.
Therefore, if you have Celiac disease or severe gluten sensitivity, it's best that you stay clear of A&W because risking your health over food is not worth the risk.
This article is going to be an in-depth scrutinization of the A&W menu. We're going to be filtering out some of the safest gluten-free options on offer, so you don't have to.
We'll also discuss some helpful tips to enjoy a good meal without worrying about contamination. So stay tuned!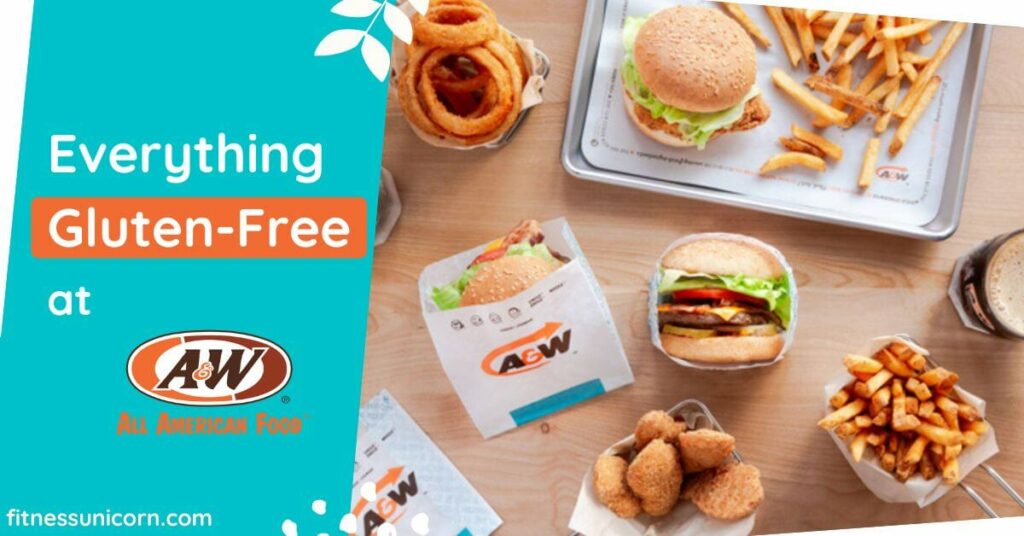 This post may contain affiliate links, which help keep this content free. (Full disclosure)
Gluten-Free Options at A&W
A&W started out with just burgers and root beer on the menu. Today their menu boasts a variety of delicious fast food items like hotdogs, chicken tenders, a selection of sides, root beer floats, and hearty milkshakes.
Unfortunately, not all of this is gluten-free.
After going through the detailed allergen and ingredient guides, we've compiled a list of gluten-free items you can enjoy on your next visit to A&W.
Remember that these items are based on the ingredient profiles, and A&W does not ensure a cross-contamination-free meal; hence, you'll need to be vigilant to enjoy a meal free of gluten.
We advise you only to visit A&W if you're a casual gluten-free eater with no serious health conditions that might affect your well-being in case of contamination. 
ALSO READ: Are Now & Laters Gluten-free?
Sides
You can enjoy a variety of sides at A&W that are gluten-free if adequate precautions have been followed. These sides are perfect for sharing if you're with a group of buddies.
You can ask the staff to prepare your fries in a separate fryer upon special request to ensure there is no contamination.
French Fries
Cheese Fries
Chilli Cheese Fries
Coleslaw
Mott's Apple Sauce
Dipping Sauces
You can enjoy your meal by complimenting it with the various delicious, flavor-packed gluten-free sauces at A&W.
Ranch Sauce
Honey Mustard
Spicy Papa Sauce
BBQ Sauce
RECOMMENDED: 12 BEST Gluten-Free Bakeries in Knoxville
Sweets & Treats
If you have a sweet tooth, then you'll be excited to know that the majority of sweets & treats at A&W are gluten-free. These are perfect on a hot summer day to cool you down.
Just remember to request the staff prepare your favorite refreshing shakes and drinks in a clean, separate blender to avoid cross-contact.
Root Beer
A&W Root Beer (available in diet)
Root Beer Floats
A&W Root Beer Float (also available in diet)
Orange Float
A&W Root Beer Freeze
Milkshakes
Vanilla Milkshake
Strawberry Milkshake
Chocolate Milkshake
Sundaes
Hot Caramel
Hot Fudge
Strawberry
Chocolate
Polar Swirl – M&M or Reese's Cup
Smoothies
Pineapple Banana
Strawberry Banana
Strawberry
Blender
Reese's Peanut Butter Fudge
Chocolate Fudge
Limeade & Slushies
Limeade – Strawberry and Cherry
Slushie – Cherry, Watermelon, Blue Raspberry, Lime, Lemon
Burgers & Hotdogs
You can enjoy the selection of famous burgers and hotdogs at A&W if you swap out the buns for lettuce wraps. The staff must follow strict precautions to ensure your burger or hotdog is free of contamination.
Papa Burger
Original Bacon Double Cheeseburger
Grilled Chicken Sandwich
Hamburger
Mushroom Onion Melt
Coney Cheese Dog
Koegel Hotdog
FIND MORE: First Watch's Gluten-Free Options
Great Tips for a Gluten-Free Meal at A&W
The A&W website has a detailed allergen guide and ingredient profile. These two crucial tools let you know what exactly goes into each dish. This will allow you to order a gluten-free dish without hassle.
However, the high risk of cross-contamination makes the ordering process tricky since even gluten-free items could be rendered unsafe due to contaminants.
We have a few great tips to help you eliminate contamination and conveniently work your way through the A&W menu for a gluten-free meal. And, remember to prioritize your health over anything else!
Knowing the Restaurant
Prior to visiting any eatery, it's crucial to research a few key aspects that will help you gauge how allergy friendly an establishment is.
Fast food restaurants like A&W aren't well-equipped when it comes to serving certified gluten-free items.
Here are a few details to look out for while visiting any new eatery;
What kind of food is being served?
Do they have a dedicated gluten-free menu?
Are there stringent cross-contamination measures in place?
Is the staff equipped to handle customers with allergies?
Is there dedicated equipment and kitchen space to prepare gluten-free items?
If you have Celiac disease or severe gluten sensitivity, you should always have these questions answered to ensure your safety.
A&W explicitly mentions the lack of certified gluten-free items and the fact that all of their food is prepared in a shared space. Hence, you should be aware of the risks to make an informed decision about what goes into your body.
Communication is Key
Communication is a crucial factor when it comes to having an optimum gluten-free experience at any restaurant. Let the manager and servers know about your allergy before ordering to eliminate any miscommunication.
Make sure the staff understands the severity of your condition and how important it is to be served a gluten-free meal. This will keep the kitchen on high alert and avoid unwanted blunders.
The staff at A&W is well trained and empathetic. They will ensure all your queries and instructions are heard to provide you with the best possible experience. However, due to the technical constraints, the risk of contamination will persist.
Keeping it Simple
Always stick to simple and basic dishes with the least amount of ingredients. This will limit the chances of contamination, making the dish safe to consume.
Avoid ordering anything you're unfamiliar with, or that seems too complicated since it might contain gluten in hidden forms like breading and thickeners.
Following Precautions
Here are a few precautions you can politely ask the staff to follow to ensure further the safety of your meal and reduced risk of contamination.
Request a single server to prepare your order from start to finish to avoid any confusion.
Ask the server to put on a fresh pair of gloves and clean the prep surfaces before prepping your order.
Request that the ingredients for your meal be fetched from a fresh batch to avoid any unwanted contamination.
Request the server to swap out the buns for lettuce wraps to eliminate any gluten.
Ask for your order to be prepped first if you're with a large group of people to avoid accidental contamination.
These precautions will give you the peace of mind of knowing that everything is prepared to your standards.
Avoid Rush Hours
Fast food joints are usually slammed with orders during rush hours. This makes precautions hard to follow for servers, leaving room for possible contamination to occur.
Hence, if you visit A&W, be sure to visit during off-peak hours so that the staff can pay attention to your needs and serve a meal free of contamination.
Cross Contamination Risk at A&W
Cross-contamination is a phenomenon dreaded by everyone with Celiac disease or severe gluten sensitivity.
It occurs when gluten accidentally comes into contact with gluten-free items through contaminated gloves, utensils, surfaces, fryers, and other foods.
This is why strict cross-contamination protocols are necessary for the safety and well-being of customers.
The allergen guide at A&W clearly states that their menu isn't designed to be gluten-free and hence isn't recommended for people with Celiac disease and severe gluten sensitivity.
The guide says that their equipment, including prep surfaces, utensils, and fryers, are all shared, which can be a source of contamination.
However, the staff is gracious enough to put in the extra effort to limit the contamination while preparing your meal.
The risk of contamination at A&W is quite significant; therefore, if you have Celiac disease, it's better to stay clear of the restaurant. Risking your health over food is never worth it.
The Publics Verdict
We conducted extensive research to see what the Celiac and gluten-sensitive community has to say about the food at A&W.
These reviews were sourced from the internet and reflect the general experience at A&W regarding ordering gluten-free.
There were mixed reviews regarding the gluten-free experience at A&W. Many customers were pleased with the sides and desserts that were free of gluten and the fact that you can swap out buns for lettuce to enjoy a burger.
In contrast, some were disappointed by the lack of variety and contamination protocols.
Overall, customers were impressed by the courteous and empathetic staff that took care of special requirements and did their best to ensure there was no contamination. Suppose you have Celiac disease or severe gluten sensitivity.
In that case, we advise you to stay cautious at A&W since the restaurant doesn't have a certified gluten-free menu or limited options from the regular menu.
Gluten-Free Alternatives to A&W
Since the gluten-free options at A&W are a bit limited, here are a few fast food restaurants where you can enjoy a fantastic gluten-free meal without worrying about getting sick.
In N' Out
In N' Out is one of America's most popular burger chains. Their menu is simple since they specialize in one thing: quality burgers. Everything on the In N' Out menu is gluten-free except for their buns.
You can order all of their protein-style burgers where the bun is swapped out for lettuce wraps. This enables you to enjoy the delicious juicy burgers risk-free.
Fries
Animal Fries
Protein Style Burgers
Thick Milkshakes
Shake Shack
Shake Shack is another gourmet fast food joint specializing in burgers, hotdogs, and more!
The best part is their gluten-free buns; these allow you to fully experience their signature Angus burgers and hotdogs without constantly worrying about gluten.
The restaurant also practices adequate contamination protocols to ensure customer safety.
Angus Burgers (gluten-free buns)
Hotdogs (gluten-free buns)
Milkshakes
Fries
Five Guys
Five Guys is best known for its burgers and the unlimited variety of toppings you can load them up with. Everything on the menu is gluten-free except for their buns.
You can opt to get your burgers and hotdogs wrapped in lettuce for a fantastic experience free of gluten. Just make sure the staff follows adequate cross-contamination protocols.
Burgers & Hotdogs (no buns)
Milkshakes
Fries
Peanuts (to snack on while you wait)