Famous for their award-winning ribs and handmade desserts, Famous Dave's is one of America's favorite places when it comes to authentic barbecue food. But, the question arises – Whether they have meals to cater to those on a low-carb diet? If you're also wondering the same, then you've landed at the right place!
So what's keto-friendly at Famous Dave's?
Their Ribs sauced with Rich & Sassy come in 4 portion sizes, with carbs as low as 1g. Along with that, they have roasted chicken for zero carbs and vegetarian options like Fresh-Steamed Broccoli for just 4g net carbs. You will also find a good number of low-carb sauces and dressings to spice up your meal.
You'll be impressed by the variety of keto-friendly options available at this barbecue chain. So let me walk you through this complete ketogenic guide for Famous Dave's.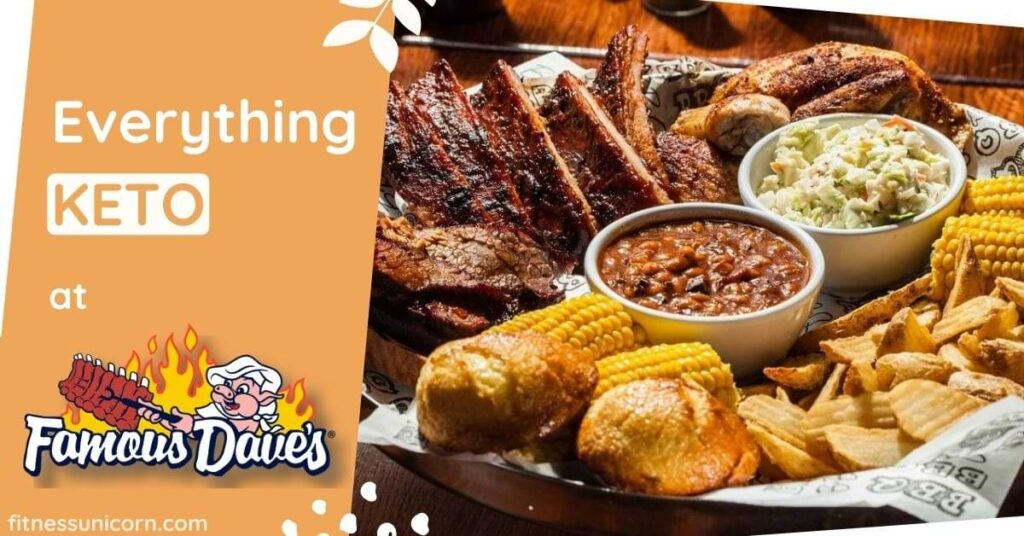 Tired of searching whether certain foods are keto? Download my keto cheat sheet with 210+ keto-friendly foods!
This post may contain affiliate links, which help keep this content free. (Full disclosure)
Surviving Keto at Famous Dave's
With a variety of different kinds of meats, ribs, burgers, sides, and dressings, Famous Dave's is one of my favorite places to dine out on keto!
But, there are a few points that you need to keep in mind. The first one is ditching the bun (or bread for that matter). Since a typical burger bun consists of around 26g net carbs and a single slice of bread contains 14g carbs, it's best to let them go and turn your sandwich into a salad bowl instead.
Their ribs and meats are mostly low in carbs, but if you lather them with sugary sauces and dressings, that's a big blunder! So, go for the low-carb dressings instead and stay under your carb limit.
The good thing about Famous Dave's barbecue is that most of their toppings are low in carbs. But some of them could lead to a keto disaster! The infamous cheese curds, for example, rake in a whopping 13g of net carbs.
At a place like Famous Dave's, you can have a giant keto meal for 13g of carbs that would keep you full for the entire day! Don't waste your carbs for a few moments of pleasure (I know it's easier said than done, but well!)
One area where they could have done better is their beverages section. There are just a couple of keto-friendly drinks (except water, of course), alongside all those sugary high-carb beverages.
Now, it seems right to take you through all the keto-friendly options you can enjoy here, at Famous Dave's.
Keto-Friendly Tips for Famous Dave's
You can apply these tips to almost any barbecue restaurant and enjoy a fantastic low-carb meal:
1. Enjoy a bite/spoonful of your favorite foods occasionally. A tiny amount of that cheesy corn you are craving won't really do any significant damage to your diet. But proceed with this only if you have enough self-control to stop after the first bite (sometimes it gets really hard to resist!)
2. Steer clear of anything "breaded" or "crispy" because that crispy coating will cost you a lot of carbs. This thick layer is made of breadcrumbs which is a strict NO for keto. Instead, opt for the naked options.
3. Choose bone-in wings over the boneless ones. The logic is the same as above – save yourself from all that breading and enjoy the juicy chicken wings for zero carbs.
4. BBQ sauces are completely off-charts. Ever wondered why BBQ sauces lean on the sweeter side? The answer is sugar, and lots of sugar again! Did you know? A spoonful of BBQ sauce has even more carbs than a spoon of tomato ketchup? So it's better that you stick to ranch or mustard and keep them to a minimum.
5. Avoid combos and platters because there aren't any "keto-friendly" platters at Famous Dave's. You will have to pick the low-carb items and reject the others. But we all know that once the food comes to your table, it's really hard to just reject it outright. Instead, order all the dishes separately, even if it costs slightly more.
6. The best keto-friendly side dishes are some celery sticks, blue cheese, or steamed veggies like broccoli. Since keto is a meat-based diet, we hardly get enough fiber, which also leads to gut issues like constipation. Cruciferous veggies like broccoli are a rich source of fiber.
Famous Dave's Low-Carb Options
They have a huge variety of keto-friendly meals, ranging from salads to burgers to ribs. Let's have a look at all the available options at Famous Dave's –
The Meats
Note: The net carbs given below are excluding any sides and muffins.
Burnt Ends (6 oz): (13g)
Cedar Plank Salmon (each): (9g)
Country-Roasted Chicken (1/4 each): (1g)
Hand-Breaded Chicken Strips (each): (5.5g)
Jalapeno Cheddar Sausage: (2g)
Shrimp Skewer: (9g)
St. Louis-Style Spareribs: (5g)
Keto-Friendly Ribs
Sauced with Rich & Sassy – 1 bone ( 1g ), 4 bones ( 6g ), 6 bones ( 9g )
Naked ( 0g for all portion sizes )
Original-style with Dave's Rib Rub & sweet & zesty ( 5g for half, 10g for full )
Memphis-style with herbs & spices & vinegar ( 0g )
These are the net carbs amounts given for the respective smallest portion sizes available.
READ MORE: 20+ Giant Food KETO Friendly Options
Low-Carb Burgers & Sandwiches
Note: The carb count given below only relates to the bun-less burgers which are served in a bowl. Add an additional one gram of carbs for the lettuce wrap.
Beef Burger ( 14g )
Grilled Chicken Breast Sandwich ( 13g )
Beyond Meat Burger ( 16g )
Toppings
Almost all the toppings for burgers and sandwiches are keto-friendly with most of them containing zero carbs. The ones to AVOID are:
Spicy Hell-Fire Pickles ( 7g )
Dave's Cheesy Mac & Cheese ( 8g )
Cheese Curds ( 13g )
Keto-Friendly Sides at Famous Dave's
Brussels Sprouts ( 5g )
Caesar Side Salad with Caesar Dressing ( 9g )
Creamy Coleslaw ( 12g )
Fresh-Steamed Broccoli ( 4g )
Garden Side Salad ( 8g )
Note: Carbs in salads are given without any sauces and dressings.
Sauces & Dressings
Ranch Dressing ( 2g )
Blue Cheese Dressing ( 1g )
Fat-Free Italian Dressing ( 4g )
Comeback Sauce ( 6g )
Georgia Mustard ( 8g )
Remoulade Sauce ( 1g )
Caesar Dressing ( 3g )
Ranch & Sassy ( 6g )
SUGGESTED: Dickey's Barbecue Pit Keto Options
Keto-Friendly Beverages
You do not have a great variety of low-carb options when it comes to drinks. But you may go for Fresh-brewed Iced tea and Diet Pepsi since they consist of absolutely no carbs.
Having gone through all the questions, you may wonder – How many carbs can I have in a single meal on keto?
And the answer is – it depends! A ketogenic diet is one where you consume less than 20-25g of net carbs. It means that you can have around 8g of carbs from each meal of your day.
But, if you have consumed even lower carbs from your other meals of the day, then it's absolutely fine to increase the carb count for the third meal as long as you meet the daily limit.
Conclusion
Famous Dave's certainly impresses with the huge keto variety they have in store for us. They have an ample amount of low-carb dishes like ribs, burgers, sandwiches, and diet Pepsi, making it a must-try for a keto head like you.
Do not forget the necessary points mentioned in the survival guide. Keep away from high-carb muffins, sauces, and drinks and it should be a walk in the park for a champ like you.
If you want to know the exact macros for all the dishes given above, check out their official nutrition guidelines.
ALSO READ: Mission BBQ Low-Carb Options