Who doesn't love a healthy alternative to fast food? Saladworks is a very well-known franchise across the United States that offers a wide array of entree salads, soups, wraps, and sandwiches! After establishing themselves in 1986, Saladworks have tested their menu over and over again to make sure it is suited to all diet types and preferences.
But the question is, are there any keto-friendly meals at Saladworks?
​​The most keto-friendly option Saladworks has on their menu is their grilled chicken Mediterranean salad and the Classic Greek salad with the perfect nutrition profile. However, you must veer away from bread, croutons, wraps, and tortillas.
More often than not, dining out on keto can feel more of a burden rather than refreshment! There are so many items on the menu to consider and you have to make sure your dinner party is accommodated for, too.
Continue reading this article as we prepare you for the perfect low-carb lunch at Saladworks!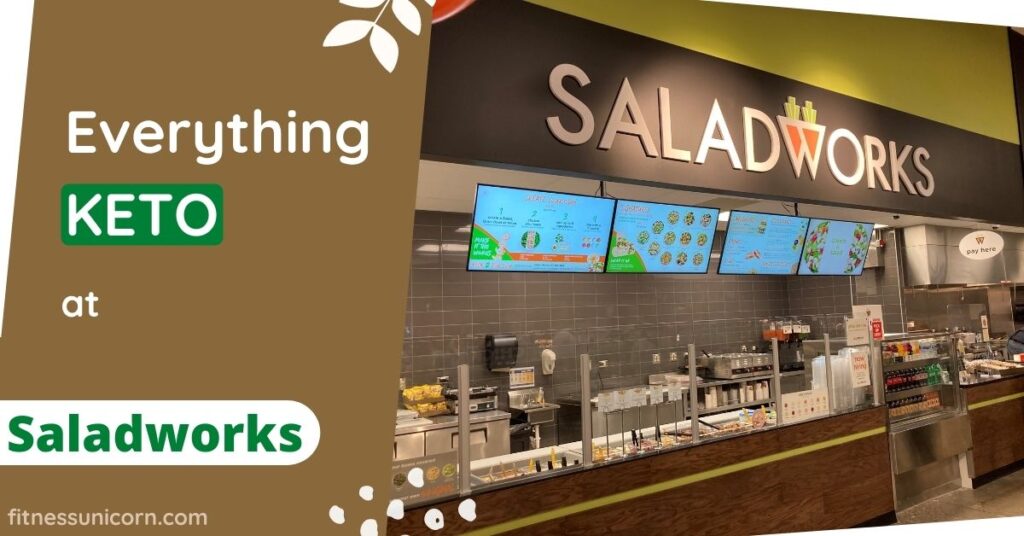 Tired of searching whether certain foods are keto? Download my keto cheat sheet with 210+ keto-friendly foods!
This post may contain affiliate links, which help keep this content free. (Full disclosure)
How To Survive Keto At Saladworks
Saladworks is a fast-and-healthier-food franchise that has been established for almost 40 years. The most loved thing about Saladworks is their chicken caesar salad or their turkey club salad which only ever receive high ratings in taste and quality.
And yes, when we think about sandwiches, our minds immediately jump to the different types of dressings and sauces that are often drenched in these toppings, but that does not always mean you can't have it. Especially if you are keto-conscious!
That does not have to be the case anywhere else either, although it may be more difficult in other restaurants, finding keto-friendly options is easy when you know the alternatives available (and how to customize them!)
Luckily for us, Saladworks has quite a wide variety of food options on its menu. If you are nervous to decide at the restaurant what to get before looking into the nutritional information, you can always go onto their website and have a look.
It offers a complete list of the ingredients in the meal and the number of calories per serving which can help you make the appropriate decision when you order your meal.
if you want to be double-sure about your choices, you can't go wrong with the grilled chicken salad! Just make sure you leave out those carb-laden croutons or tortilla chips.
However, if those don't tickle your fancy, there really is a wide array of food options available that will help satisfy your lunchtime starvation or mid-night cravings. Just like most fast-food restaurants, there are a couple of items I would steer well away from. These would be ingredients such as:
House-made croutons
Super grains blend
Tortilla chips
Sandwiches
Organic butternut squash soup
Now without any further ado, let's jump to the part you were waiting for!
SO READ: EVERYTHING Keto at The Hat
Saladworks Keto-Friendly Options
​Salads
#1 Grilled chicken Mediterranean salad
Net carbs: 11 (no croutons)
Total fats: 28g
Proteins: 20g
Calories: 380
#2 Classic Greek Salad
Net carbs: 10g (no croutons)
Total fats: 22g
Proteins: 19g
Calories: 340
#3 Grilled chicken Caesar salad
Net carbs: 7 (no croutons)
Total fats: 32g
Proteins: 33g
Calories: 520
The grilled chicken caesar salad is a crowd favorite at Saladworks. However, it has a high net carb rating compared to the other salads. This is mainly because of the house-made croutons (net carbs 20g) that are in the salad. If you request to have the salad without the croutons, your net carb rating will go down drastically and you'll be able to enjoy your salad guilt-free!
#4 Smokey BBQ crispy chicken salad
Net carbs: 17g (after replacing crispy chicken with grilled chicken)
Total fats: 32g
Proteins: 24g
Calories: 520
Crispy chicken and BBQ sauce are the two biggest keto enemies. But if you crave that smokey saucy flavor, replace the crispy chicken with grilled chicken in this salad and go easy on the BBQ sauce. You can also go for roasted turkey, which has virtually zero carbs as well.
This will bring your net carb value down drastically to 17g.
#5 Southwest Chipotle Ranch Salad
Net carbs: 15g (no croutons or tortilla chips)
Total fats: 41g
Proteins: 29g
Calories: 590
This is one of those moments where if you were worrying about having to ask for ranch dressing on the side, I come in and tell you, you don't have to!
To reduce the net carbs, order the salad without the tri-color tortilla chips (net carbs 8g) and house-made croutons (net carbs 20g) which will change the net carbs from 23g to 15g!
ALSO READ: Cafe Zupa's Keto Options
Warm Grain Bowls
#6 Grilled Chicken Mediterranean Warm Grain Bowl
Net carbs: 9g (without grains)
Total fats: 29g
Proteins: 22g
Calories: 520
If you are anything like me, all you want on a cold day is a cozy meal to warm you from the inside out. However, unfortunately for us – the grains Saladworks has in their restaurant are too high for the ketogenic diet. But that does not mean we can't have something similar!
Luckily, Saladworks offers a variety of different alternatives that you can choose from. You could request to take out the grains (worth net carbs: 34g) which holds the majority of the carbs and replace it with baby spinach (net carbs 1g).
This appears to be a pattern throughout the warm grain bowls. By finding a healthier and more suitable option, you will be able to curb that craving and enjoy your meal!
Soups
#7 Chicken noodle soup
Net carbs: 10g
Total fats: 3.5g
Proteins: 9g
Calories: 110 (small portion)
#8 Spring vegetable soup
Net carbs: 11g
Total fats: 2g
Proteins: 2g
Calories: 70 (small portion)
#9 Southwest corn chowder
Net carbs: 14g
Total fats: 4.5
Proteins: 11g
Calories: 160 (small portion)
We found that the soups were not only perfect for a rainy day but are also very keto-friendly. However, the only downfall to keep in mind when it comes to the soups – they are not very customizable.
Additionally, when deciding whether a wrap is a good option or not – it is better to opt for something else. The flour and wheat wraps are high in carbohydrates and if you request for a wrap without the base, the net carb value is still too high as it surpasses the average net carb intake.
Conclusion
Saladworks is a great place for a keto-friendly meal provided you are smart about the meal you choose. Saladworks is known for its incredibly delicious salads, sandwiches, and wraps which can include a lot of high carbohydrate ingredients, but don't let that scare you away!
If you ask for chicken grilled, they would be more than happy to oblige which is honestly just as tasteful – and guilt-free! If necessary, you can always ask for slight adjustments to the meal to make it suitable to your daily calorie count.
SUGGESTED: