Eating out can be tough if you have gluten sensitivity or are a celiac patient. And even when you decide to eat out, you need to be cautious of so many things.
A place like TGI Friday's is known for its appearance—with red-and-white stripes and caricature drawings—as well as its menu items, including pasta, chicken, fish, and steak.
However, is there anything gluten-free at TGI Fridays?
While TGI Friday's isn't a completely gluten-free restaurant, they do have a variety of menu items that are modified for gluten-sensitive guests.
Some of them include Coleslaw, Million Dollar Club, Jasmine rice, and a bunch more.
For those with food allergies or those who have given up gluten intentionally, the restaurant recommends asking for a "gluten-free menu".
Their website doesn't feature this menu, but a gluten-sensitive label is displayed with the regular menu items.
Also, even though they have some items that gluten-sensitive people will be able to eat, the risk of cross-contamination runs high.
Food to food cross-contamination may also occur anytime when gluten and no-gluten foods are kept close to each other in the kitchen.
Not only with food, but the risk of cross-contamination is also high when it comes to using shared equipment.
Gluten-free items need to have their own equipment and everything must be checked and made sure that there is no possibility of contamination. Unfortunately, TGI Fridays don't have such a strict protocol in place.
In this article, we'll go through all the tips and tactics to enjoy a gluten-free meal at TGI Fridays. Some of these suggestions will be applicable to other restaurants as well!
So read on.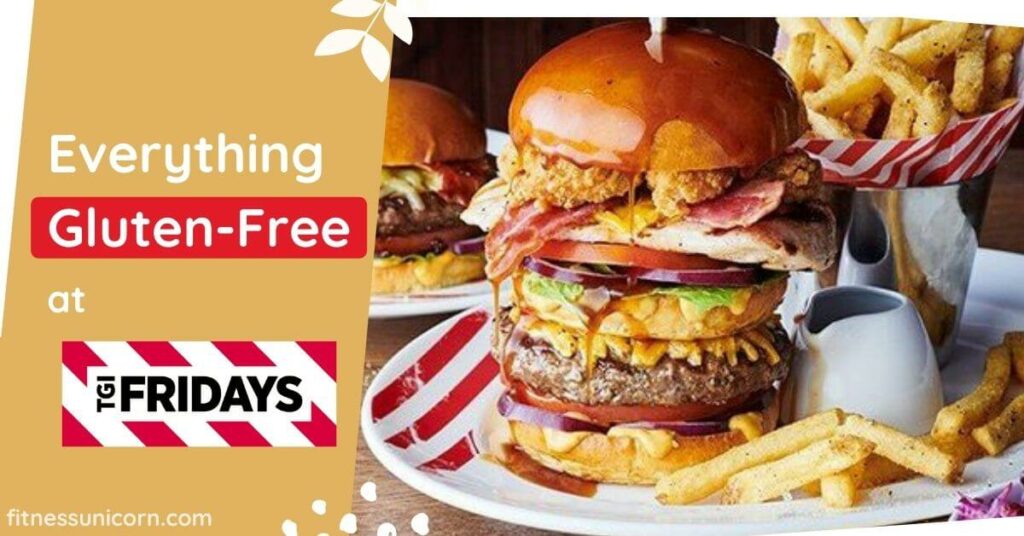 This post may contain affiliate links, which help keep this content free. (Full disclosure)
TGI Fridays' Gluten-Free Options
As one of the largest full-service casual dining restaurants in the United States, TGI Friday's also has locations abroad. There are over thousands of TGI restaurants in multiple countries.
While the company's home base is in New York, its first Australian location opened in South Yarra at the Jam Factory Chapel Boulevard in 1995.
This chain was founded in New York City's Upper East Side as a simple cocktail bar. It was started by Alan Stillman, a perfume salesman, in 1965 at 5th Avenue and 63rd Street.
By revamping the otherwise modest beer joint, he hoped to draw the attention of models and stewardesses. The man renamed his bar TGI Fridays after turning it into a restaurant success story on his own.
But now let's talk about their gluten-free arrangements:
Gluten-Free Entrees at TGI Friday's
Simply Grilled Salmon
Center-Cut Sirloin
Sizzling Chicken & Shrimp
Sizzling Chicken & Cheese
RECOMMENDED: EVERYTHING Gluten-Free at Denny's
Sides and Salads
Coleslaw
Jasmine Rice
Fruit Cup
Lemon-Butter Broccoli
Mashed Potatoes
Caesar Salad with Grilled Chicken
Million Dollar Cobb
Substitute Chicken with any preferred salad
6 OZ Center-Cut Sirloin
Grilled Salmon
Beyond meat patty
Gluten-Free Burgers at TGI Friday's
Burgers (These burgers don't contain gluten or wheat ingredients).
Beyond the border burger (without tortillas)
Cheeseburger
Bacon Cheeseburger
Spicy reaper Burger
The Beyond Meat Cheeseburger
Dressings
Blue Cheese
Honey Mustard
Caesar
Ranch
From the Kid's Menu
Ice Cream Sundae
Cherry Limeade Slush
Strawberry Lemonade Slush
Blue Raspberry Slush
Gluten-Free Alcoholic Beverages at TGI Friday's
Tito's Mule
Angry Orchard
Truly
White Wine
RELATED: Jimmy John's gluten-free options
Non-Alcoholic Beverages
Coke
Sprite
Diet coke
Dr. Pepper
Minute Maid
Vitamin Water
Cranberry Juice

Gold Peak Tea
Apple Juice
Orange Juice
Grapefruit Juice
Grape Juice
Milk
Tomato Juice

V8
Pineapple Juice
Mango Passion Smoothie
Strawberry Lemonade Slush
House Made Lemonade
Chocolate Milk

November Seabreeze
Red Bull
Red Bull Sugar-free
Red Bull Coconut
Red Bull Tropical
Cherry Limeade Slush

Blue Raspberry Slush
Freshly Brewed Hot Tea
Freshly Brewed Gold Peak Tea
Freshly Brewed Coffee
Tips for a Gluten-Free Meal at TGI Friday's
Please give them a heads up
If you are a gluten-sensitive individual or if you suffer from celiac disease, be sure to let them know when you place an order, either through the app or in person.
The TGI Friday chain is known for taking the necessary precautions to help prospective customers with allergies feel comfortable while dining there.
It's not that bad
In TGI Friday's case, the restaurant does not promote itself as a 'gluten-free' option. Ultimately, though, what they strive to do is to ensure that all their customers are well taken care of at the end of the day.
Each individual's experience may differ.
Always check the restaurant's reviews
It is best to look online for reviews of the restaurant and find out if it's safe for people with gluten sensitivity and celiac disease.
The limited options shouldn't stop you.
Even though TGI Fridays offers a limited number of gluten-free menu items, you should not worry about being unable to enjoy your favorite meal.
The only problem is that you have to order food items without buns, such as burgers, in order to avoid this. Also, be sure to try a few side dishes. Of course, the beverages here are not to be missed either. 
FIND MORE: Freddy's Frozen Custards Gluten-Free Options
Cross Contamination Risks
There's bound to be the risk of cross-contamination. Most of the restaurant's menu items have the potential for cross-contamination. The kitchen isn't gluten-friendly, so make sure your meals come with no traces of gluten.
Keeping things sterile will not be sufficient to prevent cross-contact or cross-contamination as it is not the same as food contamination with bacteria that can be avoided. Hygiene measures alone cannot effectively eliminate gluten.
It is important to keep gluten away from surfaces or areas or, if an object has been contaminated with gluten, it must be thoroughly cleaned so that the gluten is completely removed.
In the kitchen, at restaurants, and in any place where food is prepared or served, cross-contamination can occur in many ways.
Even before the ingredients reach your kitchen, during their cultivation, harvesting, processing, or manufacturing processes, cross-contamination can occur.
Even before walking into a restaurant, it is better to make sure that these risks have been minimized by the restaurant.But how do you ensure that? Giving them a heads up while ordering is the right way to go.
What People Are Saying
Taking internet opinions and personal experiences into account, we have compiled the list below regarding this restaurant.
One visitor gave the restaurant three stars. It turns out things didn't go as planned. He went there hoping the items on their menu would have lots of gluten-free options.
Unfortunately, none of the sides he was offered was gluten-free. But he talked about how impressive the gluten-free bun was. He experienced no cross-contamination, though he was very disappointed no thanks to the burger he got.
The burger wasn't ideal, according to him.
Another user gave it a poor rating. The user spent the second night of his honeymoon in the toilet, with no thanks to his meals at TGI. In his word, the restaurant specified gluten-free on arrival.
Unfortunately, after being given the menu, coupled with the conversation he had with the waitress, the meal they served wasn't gluten-free. So he was still triggered at the end.
He won't be returning to the branch, and he would also advise anyone visiting the restaurant or ordering their meals online not to try it.
A lady had a positive experience with the branch near her house. The order was carried out as promised. She had a plain hamburger with gluten-free buns, topped with mashed potatoes and one of their side salads.
Overall, they got her order right and, unlike the previous review we highlighted, she didn't have to spend the next day sitting in the bathroom!
Another user pointed out that the waitress confirmed whether he was just going gluten-free or had an allergy. Which is quite impressive! It is good to know that they care about their prospective customers' health.
The waitress made sure the manager provided her with gluten-free meals.
How the waitress attended to her was one of the highest points of her night. Finally, the meals turned out great and there was no contamination.
Gluten-Free Alternatives to TGI Fridays
Of course, other alternatives are worth trying if you don't find TGI Fridays interesting enough (or safe enough?). These alternatives include:
Senza Gluten
Senza Gluten is a gluten-friendly restaurant that offers gluten-free Italian meals. Sure, they have the usual pizza, a wide variety of pasta, classic desserts, and lasagna.
But, if you're tired of staying indoors and eating homemade gluten-free meals and would love to try out new meals, then Senza Gluten is one option.
Bob's Clam Hut
Are you going to Maine? Then chances are, you'll be eating a lot of seafood. People with gluten sensitivity can try the awesome steamed plate of corn, clams, and lobster.
Are you craving creamy clam chowder? A whole belly fried clams? Or the most requested lobster troll? Then check out Bob's Clam Hut. They serve lobster rolls with buttery and gluten-free bread.
Cultured Caveman
There's something about Cultured Caveman that attracts all the hungry-heads to one place! Nothing in Portland, Oregon beats the gluten-, soy-and dairy-free meals they offer.
The items on their menu are quite diverse – from fish tacos, a chicken broccoli ranch wrap, Korean Beef, and shepherd's pie.
Wheat's End Café
Chicken, waffles, biscuits, and gobble pancakes are some foods you'll enjoy without hassles. How about the brunch? The restaurant will cater to all your breakfast needs –particularly biscuits, gravy, and cinnamon rolls.
This Chicago restaurant accommodates all allergies, so you've got nothing to worry about.
Joe's Steaks and Soda Shop
Joe's Steaks and Soda Shop are situated in Philadelphia. Without a doubt, it has transcended what the city has become. However, this restaurant has the Fishtown and Torresdale spots.
Have you tried out the cheesesteak? The chicken? These options are served atop gluten-free roll. Hence, you can enjoy some of the cheesesteaks in the United States. While there, you shouldn't forget to try the milkshakes
Ground Breaker Brewing
Celiac patients often get triggered when they go out drinking and eating. But this shouldn't be the case with you at this place. At Ground Breaker, the beers are gluten-free, so you've got nothing to worry about!
The hearty dishes and grass-fed burgers are other interesting items on their menu. Classic sandwiches such as chowder, buttermilk fried chicken, and Cubano are some of the best pub fare options.
Mason Dixon
Mason Dixon is one classic restaurant in Alabama that stands out of the crowd. So when you travel to Huntsville, don't forget try out their sandwiches.
The meats, for instance, are cured in-house, and the entire fixings such as veggies, chips, sweet potato chips, and gluten-free options are amazing.
There's also a giant list of bread made from maple cinnamon raisin, the traditional white, southern biscuits, and jalapeno cheddar. It's worth every bite!