If you're a fan of traditional fast-food like burgers, desserts, and fries, you'll surely love Freddy's menu. The restaurant houses nostalgic decor along with its unique, old-school food items.
There's a lot to enjoy at Freddy's– whether you're in for some hotdogs, chicken, sandwiches, or burgers! Although many of these are quite high in calories, sodium, and fat.
Do they offer anything gluten-free, though?
You can still enjoy a meal with a few smart choices, regardless of the limited options. Interestingly, Freddy's signature is gluten-free. So, there's nothing to worry about at the end of a nice meal.
Freddy's Frozen Custards offers a special lettuce-wrapped menu for diners with gluten sensitivity or celiac disease. The menu also features gluten-free items like bun-less steakburgers, custard, fries, and hotdogs, to name a few.
Fries may not be the best choice for visitors with celiac disease or gluten allergy. The lack of a dedicated fryer used for onion rings and chicken strips may cause cross-contamination.
Most of their dishes are free of allergens such as tree nuts, peanuts, shellfish, and fish. Heads up for our diners allergic to eggs, milk, and soy! You may want to check the restaurant's allergen menu for more information. It's best to discuss this more with the restaurant's staff.
You can order different items, like the Hot Dog Steakburgers, wrapped in "protein style" or with a bed of lettuce as an ideal salad. Freddy's signature seasoning is also gluten-free, which should alleviate your worries.
Chili, anyone? Make sure to order some, as it's one of the gluten-free options on the menu. It contains oats and modified starch water.
Let's now look into the gluten-free options available at Freddy's.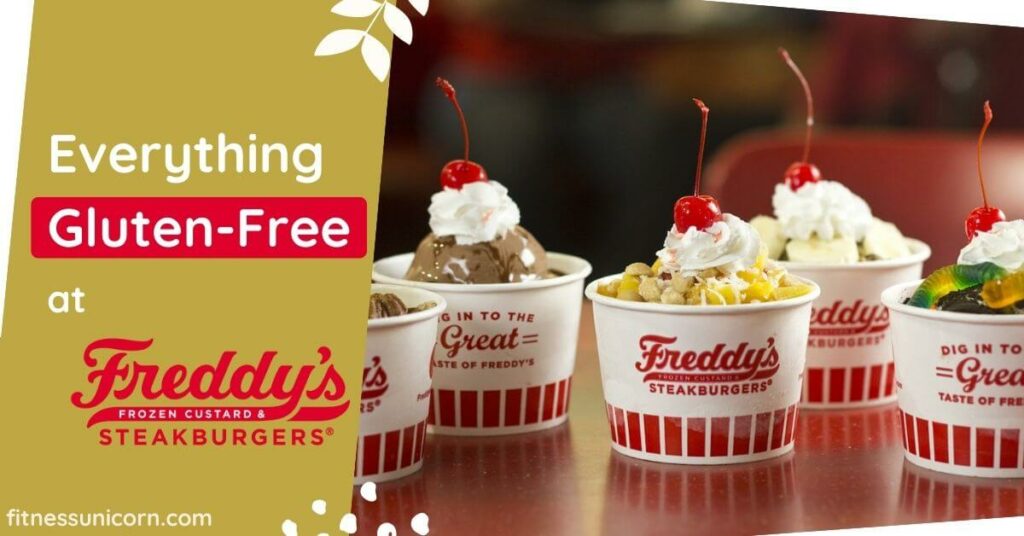 This post may contain affiliate links, which help keep this content free. (Full disclosure)
Freddy's Frozen Custards Gluten-Free Options
Brothers Rill and Randy Simon founded the restaurant along with restaurateur Scott Redler. The restaurant's name was actually inspired by Freddy Simon, the brothers' father who was a 95-year-old World War II veteran.
In 2002, Freddy's was founded in Wichita, Kansas, with the first franchise location being in Hutchinson, Kansas. The company now operates over 300 locations across 32 states.
Gluten-free Burgers and Sandwiches at Freddy's Frozen Custards
● Patty Melt (no bun)
● California Style Steakburger (no bun)
● Grilled Chicken Breast Sandwich (no bun)
● Steakburger (no bun)
● Hot Dog (no bun)
These items are traditionally served in a lettuce wrap or on top of a lettuce bed, which makes them perfect when creating your own salad.
Gluten-free Dessert and Toppings at Freddy's Frozen Custards
● Chocolate Shake
● Bananas
● Banana Syrup
● Butterfinger
● Butterscotch Syrup
● Caramel Fudge
● Hot Fudge Sundae
● Turtle Sundae
● PBC&B Sundae
● Almonds
● Cashews
● M&M's
● Macadamia Nuts
● Marshmallow
● Reese's PB Cup
● Reese's Pieces
● Snickers
● Strawberry Topping
● Toasted Coconut
● Mint Flavoring
● Peanut Butter
● Peanuts
● Pecans
● Chocolate Fudge
● Coffee Flavoring
● Gummi Worms
● Pineapple Topping
● Rainbow Sprinkles
● Icing
● Whipped Cream
● Whipped Topping
● Chocolate Syrup
● Vanilla Cup
● Chocolate Cup
● Vanilla Shake
● Cherry Topping
● Chocolate Chips
ALSO READ: What's gluten-free at Baskin Robbins?
Gluten-free sides and sauces at Freddy's Frozen Custards
● Baked Lay's Original
● Chili Cheese Fries
● Freddy's Fries
● Cheese Fries
● Chili Bowl
● Relish
● American Cheese
● Swiss Cheese
● Freddy's Sauce
● Fry Sauce
● Mayonnaise
● Bacon
● Sauteed Onions
● BBQ Sauce
● Cheese Sauce
● Shredded Cheese
● Honey Mustard Dressing
Foods to avoid at Freddy's Frozen Custards
● Cheeseburger
● Triple Jalapeno Pepper Jack
● Signature Turtle Concrete
● Chili Cheese Dog
● Large Cheese Curds
Tips for a Gluten-Free Meal at Freddy's Frozen Custards
Small Servings Will Do
Going to Freddy's isn't only about eating healthy as someone with gluten sensitivity or celiac disease. Who wouldn't want a savory burger and a delicious custard, too?
That's fine! No matter how health-conscious we are, we all want the same thing– a hearty, appetizing meal.
Make sure to eat in moderation. Try not to eat in excess and cut down your calories! Go for a small serving or split your meal with a friend.
RECOMMENDED: What's Gluten-Free at Dutch Bros?
Always Start With A Heads-Up
Although Freddy's prides itself as a gluten-free and gluten friendly restaurant, nothing beats giving the waiter a heads up.
Not only would this alert the staff to be extra careful during meal preparation, but this also ensures that the staff attends to you appropriately.
Take Note of The Gluten-Free Diet Options
The Chicken Breast Sandwich wrapped in lettuce is Freddy's most nutritious meal on the menu. The best part? It's gluten-free! The condiments also have zero gluten, making them perfect for enhancing your dish.
However, you should watch out for the crispy chicken sandwiches since they aren't really gluten-free.
So, here are other gluten-free options to try out for your next meal:
● Patty Melt with no try
● Lettuce-wrapped steakburger
● Lettuce
● Lettuce-wrapped grilled chicken breast sandwich
● Vanilla or chocolate shake or custard
● All-beef chili with no crackers
Cross Contamination Risks
First, let's understand what cross-contamination is for those who aren't aware of it.
Cross-contamination occurs when food comes into contact with bacteria or other microbes, causing foodborne illnesses like Salmonella infection.
In short, this can lead people in the food service or other industries to believe that if food gets contaminated with gluten, it can simply be "destroyed."
Take note that gluten is a protein, not bacteria. So, traditional bacteria-killing ways such as heating, boiling, or disinfecting agents cannot eliminate proteins like gluten.
It would be more accurate to say that "avoiding cross-contact" means that gluten-containing food should never interact with gluten-free food.
Gluten can sneak inside your house in many ways. While some can keep their homes completely gluten-free, this is not an option for many.
Factors like budget and cupboard space play an essential part in the decision-making process for this step.
When eating at Freddy's, be careful with the steakburgers as they are served with Freddy's Frozen Custard buns. There could be a high risk of cross-contamination, especially with the milk used.
Instead, order any of the burgers in a lettuce wrap. You shouldn't worry about the patties because they're allergen-free, so feel free to try them out!
What People Are Saying
We compiled the following list of opinions about Freddy's based on some online reviews and personal interviews:
One user says that Freddy's Frozen Custards doesn't have gluten-free buns or a dedicated fryer for gluten-sensitive diners. She adds that the baked potato chips and lettuce-wrapped burgers were offered instead as side options.
The allergen information also clearly states that the custard, chili, and several toppings have no gluten. She also talked about informing the staff that she has celiac disease. 
One user was delighted with the manager who attended to him. According to him, the manager was great, attentive, and did her best to meet the high level of care for celiac diners. Interestingly, the staff had to repeat the order several times when something wasn't done well.
The user got sick after eating the fries despite being gluten-free. He adds that the steakburger wasn't as good as advertised, with less meat too. As expected, this user won't seem like a repeat guest.
One visitor we asked said that Freddy's staff seemingly had no clue what gluten-free meant, and this says a lot. The lettuce wrap was also quite depressing. On the bright side, he confirmed that the custard was great. Regardless, there's a slim chance for this visitor to order again.
Another commentator said that the location he visited had no dedicated fryer for the fries. The burgers he ordered were also wrapped in lettuce. This overall experience left him with doubts about the restaurant's safety for gluten-sensitive or celiac diners. 
One satisfied reviewer says that he often eats at Freddy's without ever getting sick! The staff immediately notifies the kitchen and tags your order instantly when they learn about your gluten sensitivity.
The waiter also changed gloves while bringing his meal to avoid cross-contamination. This level of care and attention motivates him to frequently visit Freddy's! He also adds that the plain custard was one of the best options on the menu.
Gluten-Free Alternatives to Freddy's Frozen Custards
Freddy's isn't the only restaurant worth trying out, no matter how delectable their food can get.
If you still can't find a restaurant that's good enough, we've got some worthy alternatives for you as seen below.
A25
A25 takes native dining to a whole new level. The gluten-free pizza is, by far, one of the best gluten-free options they got on the menu. Don't worry, though!
These pizzas are certified by Coeliac Australia, so there's no need to worry about eating healthy.
Some of A25's best bases include the famous 'Bunga Bunga', an Italian delicacy and an homage to Italy's former president.
Elwood
Elwood features a 100% packed gluten-free menu, perfect for any fan of South American dishes and margaritas!
Play around and enjoy some of the restaurant's delicacies while exploring their creative takes on staple dishes like the Jackfruit Fritas and House-made Chorizo Croquettes stuffed with Manchego cheese.
The Vintage Tavern
Situated in the heart of Seattle is Vintage Tavern, an independent cider bar on the state's Capitol Hill. It's one of the largest ones in the country.
The Vintage Tavern functions as a full bar, a bottle shop, and a restaurant. They offer richly packed gluten-free meals for its diners, which means you have nothing to worry about! The bar's beer and cider options are also worth exploring.
Just Be Kitchen
Are you health conscious? If you are, then Just Be Kitchen is the perfect place for you, thanks to their gluten-free menu pack with some of your favorite dishes, from brunch to cocktails.
Nothing beats eating healthy while still enjoying your favorite dish.
Brunswick
Brunswick isn't your typical "traditional Italian" restaurant. It, undoubtedly, has one of the most dietary inclusive menus you can't find anywhere in the United States.
In fact, the restaurant is also accredited by Coeliac Australia, which makes this place more of a healthy option.
Some gluten-free dishes on the menu are Fettuccine, Casarecce, Carbonara, Amatriciana, and other traditional pasta shapes.
Gluten-Free Goat
It's one of the only few restaurants that you could say is entirely vegan and gluten-free. Well, it launched in 2017 with the goal to create inclusive options for diners with gluten sensitivity and other dietary restrictions.
Since then, Gluten-Free Goat has focused on sourcing seasonal, local, and organic ingredients whenever and wherever possible.
Visitors can stop by for a fresh and healthy lunch or for a simple nice treat! A professional chef can also help you if you're looking for something specific, so don't hesitate to ask!