The best thing that happened to humans was sugar. Custards are one way to consume it and Andy's Frozen Custard makes them for us. But, can custards ever be keto-friendly? Let's find out.
You can enjoy your favorite dessert here for as low as 5g carbs. Be it the BootDaddy Concrete or their James Brownie Jackhammer, you can enjoy these without panic.
They also have some zero-carb drinks to go with whatever you wish to eat at Andy's Frozen Custard.
Keto and Custard might appear to be opposites. But guess what, opposites attract right?
With just the slightest of modifications in terms of portion size you wish to consume, you can definitely enjoy the wide variety of desserts they have for you.
The menu is loaded with carbs, this article becomes a prerequisite. Since we are directly playing with sugar, every bite becomes critical and that's where I come in. I'll guide you about how much of what you can eat.
So, without further adieu, let's hop in and talk about all the keto-friendly options at Andy's Frozen Custard.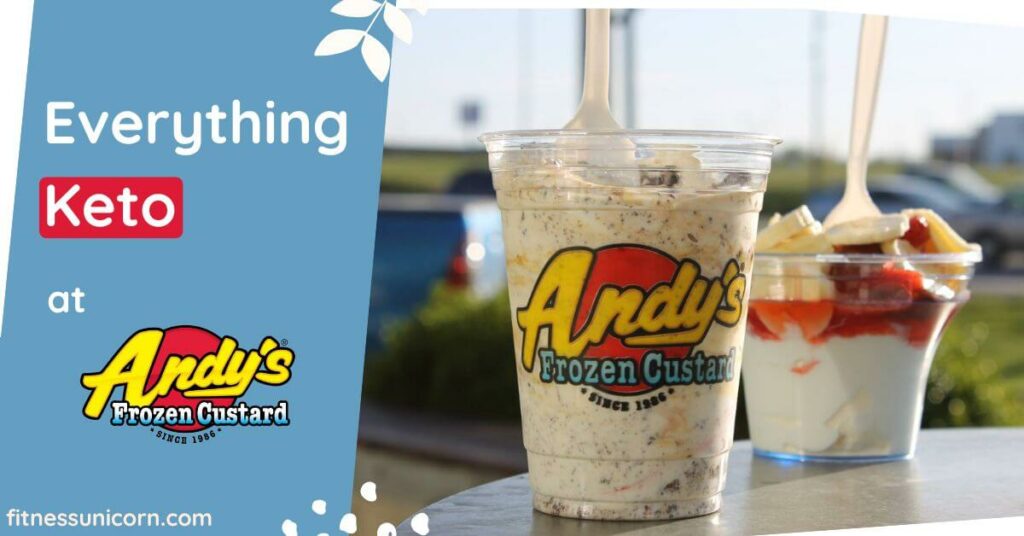 Tired of searching whether certain foods are keto? Download my keto cheat sheet with 210+ keto-friendly foods!
This post may contain affiliate links, which help keep this content free. (Full disclosure)
How to survive Keto at Andy's Frozen Custard
Established in 1986, Andy's Frozen Custard is a chain of American frozen custard stores with stores at 117 locations across the USA. For more than 35 years now, they believe in using only the freshest ingredients for their frozen custards.
It serves Sundaes, Concretes, JackHammers, Splits, Floats, Cones, Cups and also drinks like Old fashioned Sodas and Freezes.
Andy's does not have any savoury dishes on the menu and they only have desserts, so definitely not many keto-friendly options here. It might not be your first bet while picking one for your next keto dinner.
But, it certainly can become one. If you know the right amount that's safe for you to consume, it will not affect your keto streak much.
They also have some zero-carb drinks for you. These drinks can both, save you calories and satisfy your sugar cravings. The good thing is, that you have quite a few options with low-carb toppings.
Even a cheesecake as a topping will cost you just 11g of carbs. Also, the toppings include different fruits and nuts which help you maintain your health and nutrition levels.
Further in the article, I will mention all the keto-friendly options in order of tablespoons. Each dish is mentioned with its quantity which constitutes approximately 5g of carbs. Although, you can go above this mark if you add toppings.
But, it also depends on the carbs you've consumed throughout your day.
A keto diet will allow you to consume 25g of net carbs throughout the day. If all the other meals add up to 15g, then automatically adjust the amount of your custard. I leave the calculation part to you.
With that being said, let us roll over to the main part of this article. Now, you will get to know the things that are safe to consume to rock your keto diet at Andy's Frozen Custard.
Andy's Frozen Custard Keto Friendly Options
As I said, custards are not the most keto-friendly eatables out there. Desserts need to be handled with care, when on a low-carb diet.
So here, I have mentioned how much portion constitutes 5g carbs ( in terms of tablespoons ), for that particular dish.
Concretes
Andy's Vanilla Custom Concrete – 2 tbsp
Andy's Chocolate Custom Concrete – 2 tbsp
BootDaddy Concrete – 1 tbsp
Triple Chocolate Concrete – 1.5 tbsp
Snow monster Concrete – 1.5 tbsp
Butten Pecan Concrete – 1.5 tbsp
RECOMMENDED: Is Beef Jerky Keto?
Jackhammers
The Jackhammer Vanilla – 2 tbsp
The Jackhammer Chocolate – 2 tbsp
James Brownie Jackhammer – 1.5 tbsp
Splits
Andy's Banana Split – 1 tbsp
Andy's Turtle Split – 1.5 tbsp
Floats
Vanilla Float with Root Beer – 1.5 tbsp
Vanilla Float with Cream Soda – 1.5 tbsp
Vanilla Float with Coca-Cola – 1.5 tbsp
Vanilla Float with Diet Coke – 4 tbsp
-> Freezes and Floats come in similar combinations. You can choose any of the freeze combinations to their corresponding float combination.
Old-Fashioned Sodas
Cherry Old-Fashioned Soda – 2 tbsp
Chocolate Old-Fashioned Soda – 1.5 tbsp
Key Lime Old-Fashioned Soda – 1.5 tbsp
Raspberry Old-Fashioned Soda – 2 tbsp
ALSO READ: How to Shop Keto at 7-11
Cones and Cups
Vanilla Cone – 2 tbsp
Chocolate Cone – 1.5 tbsp
Vanilla Cup – 2 tbsp
Chocolate Cup – 1.5 tbsp
Malts and Shakes
Vanilla Malt – 2tbsp
Vanilla Shake – 3 tbsp
Chocolate Malt – 2 tbsp
Chocolate Shake – 3 tbsp
Frozen To Go
Zarlengo's Italian Ice ( Any Flavour ) – 5 tbsp
Milk Chocolate Custard Bar – 4-5 tbsp
Dark Chocolate Custard Bar – 4-5 tbsp
Fountain Drinks
When it comes to fountain drinks, I'd suggest you stick to zero-carb drinks. Those are Diet Coke and Unsweetened Iced Tea.
Toppings
Almonds – 2g
Banana – 12g
Brownie – 9g
Cheesecake ( Small ) – 11g
Crushed Nuts – 2g
Espresso – 0g
Melted Chocolate Chip – 9g
Peanut Butter – 4g
Peanuts – 2g
Pineapple – 9g
Reese's Pieces – 9g
-> These are the various keto-friendly options available at Andy's Frozen Custard. You only have to do a bit of maths and eat the carbs left in the day's quota.
LEARN MORE: Hopdoddy Keto-Friendly Options
Tips for ordering Keto at Andy's Frozen Custard
The best part about going keto at Andy's is that you can almost eat anything from the menu. Just cut the size a bit, and you're good to go. But, you surely can not drink everything on the menu.
What I mean by that is, that sugary drinks are very high on carbs. You can cross your day's quota just by drinking half a glass.
Their zero-carb or 'Diet' options become crucial in this case. These low-carb drinks will provide you with the dopamine you were wanting, without increasing carbohydrates in your body.
There might also be some sugar syrups that you should be wary of. Instead, choose any of the low-carb toppings that I have mentioned in the previous section of this article.
I also have another piece of advice for you. Although you have landed on this page because you were craving Andy's Frozen Custard but I have a few things to share.
During keto, your priority should be to stay away from sugar as much as you can. And if you can't, go for its healthier alternatives i.e. Fruits. Fruits are the best source of both, sugar and fiber.
Fruits serve 2 purposes. Firstly, they help regulate your sugar cravings. While dieting, it's quite normal to have sugar cravings more than usual. You keep away from delicious food and it calls for more feel-good hormones.
In such as case, you can easily get off track and fruits will save you from that. They are low on carbs, but the sugar will calm down your desire.
Secondly, they are an amazing source of fiber. Dietary fiber makes your stomach feel fuller. Due to this, you do not feel hungry all the time and that is one of the most important things while dieting.
It definitely helps you in maintaining your calories throughout the day.
Alternative Restaurants to Andy's Frozen Custard
Dairy Queen
Founded in 1940, Dairy Queen is a chain of soft serve ice cream and fast food restaurants. Being an ice cream and fast food place, even they do not have the most keto-friendly menu.
But, there are a few options for you that can be given a try.
They got a shake 'Make It A Malt Adds' that consists of only 12g for a small-sized one. Then, they have DQ sprinkles for just 6g carbs.
Their mobile add-ons like American Cheese, Applewood Smoked Bacon, Brownie Pieces, and Burger Patty, all come under 10g carbs.
Freddy's Frozen Custard & Steakburgers
Freddy's Frozen Custard & Steakburgers is a fast-casual restaurant chain based in Kansas. Founded in 2002, it is now open at over 450 locations across the country.
This is a good alternative to Andy's Frozen Custards since it has a good variety of keto-friendly options.
Apart from the frozen custards that are filled with sugar, here you can even enjoy burgers wrapped in lettuce to avoid carbs from the bread.
Their burgers contain beef patty that's high fat and high protein, making it a perfect keto meal. They also have low-carb drinks that can be enjoyed instead of sugary ones.
Freddy's can be a good substitute in case you are flexible with your approach.
Conclusion
Andy's Frozen Custard certainly helps to satisfy our sugar cravings. But, it's easier said than done. That's where this article has provided you with the right approach and knowledge about how you can order a keto meal here.
I do feel that with more investments into their R&D, they can come up with more health-conscious options for people like us who want to eat keto even while dining out.
I suggest you read the article carefully and not miss any of the sections.
I have supplied you with adequate knowledge to have an amazing keto outing at Andy's Frozen Custards. If you still wish to know more about the nutritional info, visit their official nutrition guide on their website.