Waffles are like pancakes in an overwhelming syrup trap. It is a classic must-have on every breakfast platter. Luckily, Waffle House offers it all day! Its extensive menu guarantees something for anyone— a meal at any time of the day.
However, does Waffle House have anything Gluten-Free?
This isn't an ideal place to get something entirely gluten-free. It can be challenging to think of something safe to eat or how to tweak the available items to your liking.
Fret not because some foods still contain zero gluten, like their egg breakfasts without any toast or biscuits, hash browns and steak, and the available beverages.
Main dishes like toast and waffles are generally very gluten-rich. Thus, you should avoid Waffle House if you suffer from gluten sensitivities or celiac disease due to the overlying risk of cross-contamination, regardless if you observe the strictest methods.
Read on to know the gluten-free options at Waffle House and good alternative places to ease your struggles.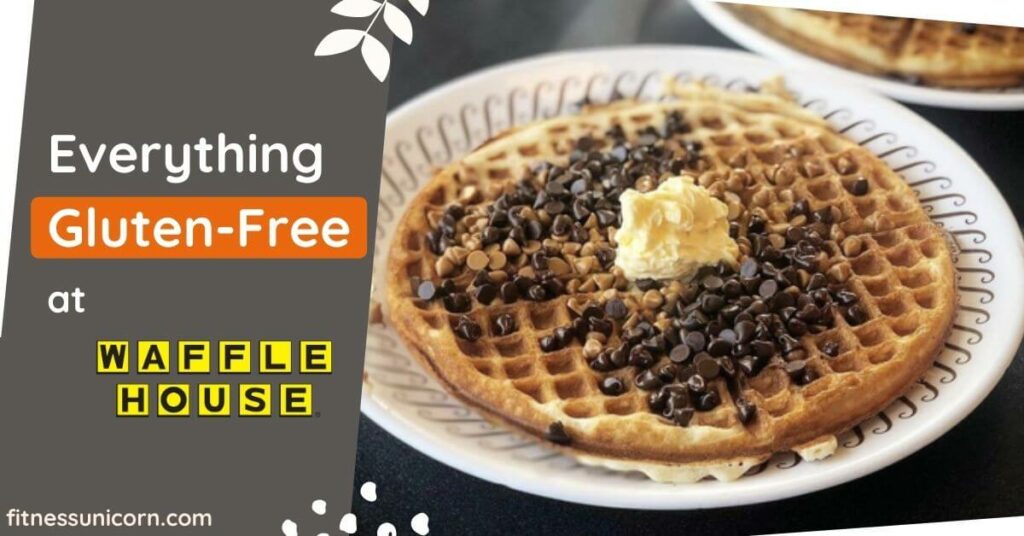 This post may contain affiliate links, which help keep this content free. (Full disclosure)
Waffle House Gluten-Free Options
Founders Joe Rogers Sr. and Tom Forkner originally established Waffle House in 1955 as a simple all-day, sit-down restaurant in Georgia for their friends and neighbors.
This simple venture opened the door for the company to operate over 1900 locations across 25 states of the country, with most locations in the South, where it is viewed as a regional cultural icon.
Their headquarters are currently in Georgia in the metropolitan area of Atlanta.
If you're in for a breakfast craving at midnight, then Waffle House is the perfect place for you, as it operates 24 hours a day all week— offering sumptuous breakfast all-day, ranging from waffles, melts, hash browns, salads, steak, and kids' meals.
Here are some gluten-free options for our gluten-intolerant readers. Note that these are from the available allergen information found on Waffle House's website.
Egg Breakfasts With Hash Browns Or Sliced Tomatoes Only
Egg breakfasts at the Waffle House are totally customizable to your preference! Start with how you want your eggs cooked, then go through a bunch of toppings and sides. The menu houses a delectable myriad of egg breakfast options.
Although you may want to cross the toasts, grits, and biscuits off your list along with their Bert's Chili and Sausage Gravy toppings since they are gluten-containing additionals.
Breakfast All-Star Special Plus Your Choice of:
Hash Browns
Sliced Tomatoes
Bacons
Sausage
City Ham
Country Ham
This is the ultimate go-to choice at any time, anywhere— work, home, or play. Forego the toasts, biscuits, grits, and waffles additional option.
RELATED: Are there any gluten-free options at White Castle?
Hash Brown Bowls
A crazy version of breakfast in a bowl that's totally 100% American. It contains a packed combination of gigantic hash browns, melted American cheese, and your choice of either sausage, bacon, or Hickory Smoked Ham.
All of which have zero wheat in them!
Hash Browns
Sure, it's a 'waffle house' but they still have other unique meals that customers crave every minute! Luckily, all the Waffle House hash browns are gluten-free.
Toddle House Omelet Breakfasts With Hash Browns Or Sliced Tomatoes Only
What makes this dish special for both customers and the company is that its recipe is based on what original omelet founder Joe Rogers, Sr., learned at Toddle House. Customers can build their light, fluffy omelets to their delight.
You should also dodge every other additional item for this one except hash browns and sliced tomatoes.
Toppings
Sauteed Onions
Melted American Cheese
Hickory Smoked Ham
Grilled Tomatoes
Jalapeno Peppers
Grilled Mushrooms
Breakfast Sides
a way to complete your meal!
Bacon
Sausage
City Ham
Country Ham
Tomatoes
Kid's 1 Egg Breakfast with Bacon or Sausage With Hash Browns Or Sliced Tomatoes
Garden Salad
Grilled Chicken Salad
Beverages
Coffee
Soft drinks
Lemonade
Iced Tea
Orange Juice
Apple Juice
Milk
Tea
RECOMMENDED: Gluten-Free Options at Baskin Robbins
Tips For A Gluten-Free Meal At Waffle House
Despite the seemingly broad range of available gluten-free options we've shared, don't forget to take appropriate measures for your health.
But how can anyone have a complete gluten-free experience at a restaurant that isn't built for gluten intolerant people? No worries, here are some handy tips you probably need before dining out at Waffle House.
Know Your Allergens
We're giving Waffle House a thumbs-up for sharing their allergen information online. Though their meals are customizable, you should still keep a heads up on which toppings or sides are safe.
As a general tip, stay away from their waffles and any meal with bread, biscuits, or buns. For their sides, keep a lookout for the gravy and grits. All toppings should be safe except the Bert's Chili and Sausage Gravy.
The meat, eggs, hash browns, and sliced tomatoes should definitely be good-to-go.
However, don't be complacent despite knowing the safe options because cross-contamination is always a risk, especially for restaurants that do not claim to be gluten-free.
Do Your Part, Research Online
Yup, it's essential to do your part in ensuring a zero-gluten experience at any restaurant. So, tip #1 is to research about your restaurant of choice.
Study their menu, any possible allergens the meals contain, or past visitors' reviews with the same condition as yours.
Remember that gluten hides in the most unexpected places, so you must know what you can and cannot consume at a restaurant.
Avoid Overcomplicating
Since Waffle House's meals are easily customizable, overly decorating your meals with tons of toppings or sides is possible, increasing the risk of cross-contamination.
It's best not to add heaps of sides or toppings to be safe. You should also watch out for the sauces used in the preparation since most of these are processed with wheat flour. The best option is to stick with simple meals.
Communicate Before It's Too Late
You wouldn't want to tell the staff about your dietary restrictions after you're served with your meal, right?
So, when ordering online or personally at the restaurant, it's best to let the server know of your allergies or if you have celiac disease prior to ordering.
You can let the kitchen staff know about the bits of gluten sensitivity and how they can avoid cross-contamination for your meal preparation.
Let them know how important it is to use dedicated utensils and kitchenware for your "special" gluten-free meal.
Communicating your needs alerts the staff if special preparation is feasible or not. They can be honest that preparing a dedicated meal is too complex– so, consider an alternative.
Nothing Is Ever Worth The Risk
No matter how mouth-watering the menu looks, your health should always be your top priority.
If you still have doubts about the restaurant and the gluten-free options offered, opt to go to an alternative breakfast place like the ones we'll share with you in a bit.
Cross Contamination Risk
One of the biggest dangers hiding in commercial food preparation is cross-contamination.
Gluten cross-contamination occurs when gluten-containing food or ingredient comes into contact with supposedly gluten-free food.
Gluten particles can be transferred through inadequately cleaned surfaces or by using the same equipment for gluten-free and gluten-rich food.
As a breakfast place, grains are an inevitable ingredient for meals. Toast, bread, biscuits, flour. You name it. Almost every item can be at risk for cross-contamination.
For instance, a cook uses the same grill for your steak and another toast for a different customer. You may expect gluten particles to contaminate your steak and cause big trouble.
Yes, it can be a bane in one's life, but such an inevitable problem is common among these restaurants.
The best thing you could do is to communicate your needs in advance with the staff, know the menu before visiting, or just stay away from restaurants with a risk of cross-contamination.
For this reason, let's look at what other gluten intolerant people have to say about Waffle House.
What People Are Saying
We gathered some of the most relevant reviews online from different sites to know the opinions of those who have eaten at Waffle House. So, what do they think?
The general opinion of most users is that there are no specific gluten-free options on the menu, which could be a bummer because customers have no idea of what goes into their meal.
One celiac visitor says that his usual order is scrambled eggs with a hash brown and bacon. However, the cheese could be dangerous since he felt sick after eating the Ham and Cheese Omelet.
There is a divided opinion about Waffle House being receptive to gluten intolerance due to different locations having varying services.
One visitor says that the staff was very attentive to her dietary needs. Her meal's eggs, meat, and hashbrown were all cooked separately. A celiac user agrees and says that the staff was very careful with food preparation.
Another visitor with a celiac son was happy and appreciated how the cooks wore fresh gloves after being alerted of the situation. According to another review, all food is cooked on the same surface with shared utensils.
Thus, gluten particles from bread and pancakes can contaminate gluten-free ingredients. The user also says that nothing on the menu is safe for someone with high gluten sensitivity.
One user says that she got sick twice after eating at Waffle House, so gluten intolerant people should watch the cook slowly while preparing their food because gluten-rich ingredients like bread crumbs are very close to gluten-free items.
Gluten-Free Alternatives to Waffle House
If Waffle House isn't your thing and you still fear for your health, you can opt to go for alternatives like the ones we'll share with you:
1. Egg Harbor Cafe
Satiate your cravings at any hour at the Egg Harbor Cafe– specializing in crafting high-quality organic food for their guests using 100% sustainable ingredients.
The best thing about this place is its dedicated gluten-free menu, alleviating the concerns of gluten-intolerant diners.
2. Bantam and Biddy
Another one in Georgia is Bantam and Biddy, a casual and family-friendly restaurant providing Atlantans with a unique Southern dining experience.
Their menu has specified gluten-free items and alternatives, which can be very convenient for gluten intolerant people. If you're in for a sandwich or bread for your breakfast, Bantam and Biddy offers gluten-free bread at request!
3. Atlanta Breakfast Club
Although they don't claim to be completely gluten-free, the breakfast options can also be good alternatives if Waffle House doesn't work for you. What's great about this place is that they offer more unique lunch meals with seafood.
They encourage anyone with dietary restrictions to commute their needs with the staff for an optimal dining experience.
4. Hell Yeah Gluten Free
If you're thinking of going for something sweeter for your palate, then this gluten-free bakery is for you. All the delectable sweets on the menu contain zero gluten– they're even safe for other food allergies!