Miller's Ale House is a sports-themed casual restaurant serving a variety of mouth-watering appetizers, entrees, burgers, salads, and much more!
People love the huge portions and courteous service accompanying the restaurant's chill vibe. Miller's is the perfect place to hang out with friends and rejoice over a ball game and drinks!
So what's gluten-free at Miller's Ale House?
Miller's Ale House doesn't have a dedicated gluten-free menu or allergen guide. They offer modifications to dishes from the regular menu to make them gluten-friendly.
You can order various delectable items from their expansive menu ranging from scrumptious wings, appetizers, salads, burgers, and sandwiches to mouth-watering steak and seafood entrees.
The Miller's Ale House team is accommodating and ensures the customer's needs are heard. They will ensure your instructions are followed to the T and adequate measures are taken to limit contamination as much as possible.
However, the risk of cross-contact is imminent due to the lack of a certified gluten-free menu and shared kitchen space.
If you have Celiac disease or severe gluten sensitivity, it's advisable to avoid Miller's due to the high contamination risk. Risking your health over a meal is never worth it.
Yet, if you still decide to visit, remember to stick to the safest options, like grilled meats and vegetables, to minimize the risk of gluten contact.
This article is going to be an in-depth analysis of the Miller's Ale House menu. We'll filter out all possible gluten-friendly options after thoroughly studying the menu, so you don't have to.
We will also discuss a few practical tips to avoid contamination and ensure a meal that won't make you sick. Next time you're at Miller's, just go through our write-up, and you'll be good to go!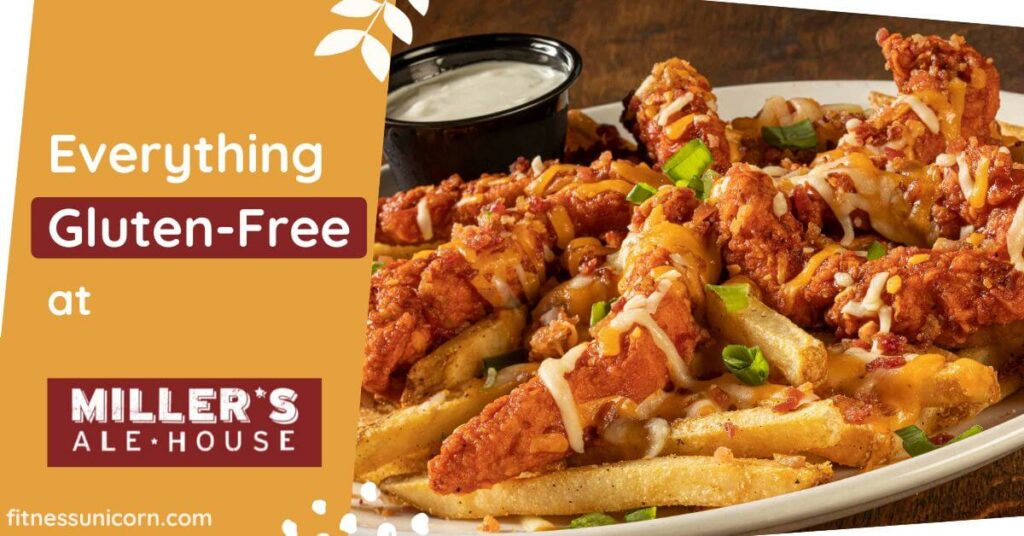 This post may contain affiliate links, which help keep this content free. (Full disclosure)
Gluten-Free Options at Miller's Ale House
Miller's Ale House is famous for its chill atmosphere and outstanding service, where you can enjoy televised sports along with mouth-watering menu offerings.
It is a popular hangout spot for people looking to have a drink and unwind with friends or family. This popularity has led to Miller's expanding to over 90 locations across the USA since its conception in 1988.
Since Miller's does not offer a gluten-free menu or allergen guide, there is no way of guaranteeing that any dish is free of gluten.
The restaurant clearly mentions the possibility of cross-contact because everything is prepped in the same kitchen space.
Keeping all these hurdles in mind, we've compiled a list of possible gluten-free dishes that can be modified to ensure safety.
Using our knowledge of food groups and ingredients, we narrowed down a few dishes that are free of gluten, barring any cross-contact.
Disclaimer: If you have Celiac disease or any severe form of gluten sensitivity, we advise you to avoid dining at Miller's due to the possible risk of contamination that could aggravate your condition.
Starters & Appetizers
Miller's is known for its massive portions, and yes, that translates to its appetizers too. You can order these phenomenal gluten-friendly appetizers to enjoy with friends while watching a ball game.
Just make sure adequate contamination measures are followed.
Fresh Bone-In Chicken Wings
Fully Loaded Cheese Fries
Garlic Parmesan Chips
Wing Sauces – Mild/Medium/Hot, Garlic, Honey BBQ, Garlic Parmesan, Spiced Honey, Caribbean Jerk, Hot Garlic, Mango Habanero, Korean BBQ, Mt. St. Helens, Nashville Hot, 5 Pepper Fire
Salads & Dressings
If you want to go with a healthier option, the fresh salads at Miller's are made fresh with top-quality ingredients. Just order the salads without croutons to make them gluten-free. You can add some extra oomph to your salad with the fantastic gluten-free salad dressings on offer.
Chicken & Pear Salad
Chimichurri Steak Salad
Cobb Salad With Blackened Shrimp & Chicken
Chicken Caesar Salad
House Salad
Gluten-Free Salad Dressings – Balsamic Vinaigrette, Ranch, Caesar, Blue Cheese, Cajun Ranch
RECOMMMENDED: Texas De Brazil Gluten Free Options
Entrees
Miller's Ale House offers huge portions of mouth-watering entrees that satisfy even the biggest appetite. These entrees can be made gluten-free with a few tweaks.
Make sure you remind the servers to follow adequate contamination protocols while prepping your entree and choose gluten-free sides with your dish.
House Favorites
Grilled BBQ Chicken Melt
Cilantro Lime Chicken
BBQ Baby Back Ribs
Fajitas (without the flour tortillas)
Pork Osso Buco (without the gravy)
Chicken & Mahi Tacos (in lettuce wraps)
Seafood
Grilled Atlantic Salmon
Mahi Mahi
Steaks
Filet Mignon
Center Cut Sirloin
Ribeye
ALSO READ: Gluten-Free Options at Bruegger's Bagels
Sides
Miller's has delicious gluten-friendly sides that perfectly complement your main dish.
Baked Potato/Loaded Baked Potato
Chips
Mashed Potatoes (without gravy)
Garlic Broccoli
Cilantro Lime Rice
Vegetable Medley
House Salad
Burgers & Sandwiches
Unfortunately, Miller's does not offer any gluten-free buns or bread. This means if you want to enjoy their mouth-watering burgers and sandwiches, you'll have to ask the server to have them wrapped in lettuce.
Smashed Queso Burger
Classic Cheeseburger
Bacon Cheeseburger
Prime Burger (without onion rings)
Mahi Mahi Sandwich
Grilled Chicken BLT
Philly Cheese Steak
Chicken Philly
Slow-Roasted Prime Rib French Dip
Drinks
Miller's offers an expansive range of both alcoholic and non-alcoholic drinks for customers to enjoy while watching televised sports. The majority of these drinks are gluten-free and can be enjoyed stress-free.
Signature Cocktails
Margaritas
Mules
Non-Alcoholic Beverages
Practical Tips for a Gluten-Free Meal at Miller's Ale House
Since Miller's Ale House does not offer a dedicated gluten-free menu and has a shared kitchen space for meal prep, the risk of contamination is ever-present.
We've listed a few practical tips that will help you avoid cross-contact and ensure a gluten-free meal to enjoy.
Do A Little Research
All possible information about a restaurant is accessible on the internet. Doing a bit of research before visiting any restaurant will help you gauge how gluten-friendly it is.
Full menus and allergen guides are available online, allowing you to decide while considering various eateries.
Some key aspects to look for while researching a restaurant are;
Is there a dedicated gluten-free menu?
Is the eatery known for its gluten-friendliness?
Are there dedicated utensils and prep stations?
Are the servers trained to implement strict contamination protocols?
Did other gluten-sensitive customers have a good experience?
Miller's Ale House is an excellent eatery but doesn't offer a gluten-free menu, making it difficult for people with gluten allergies to get the true Miller's experience.
Inform The Staff
Informing the manager about your gluten allergy or Celiac disease is crucial, especially at a place like Miller's that doesn't have a gluten-free menu.
This allows the team to understand the importance of serving you a gluten-free meal and makes everyone alert.
Miller's has some of the most accommodating servers who will make sure to follow all your instructions to avoid contamination. But, due to the shared prep spaces, the risk of contamination cannot be fully eliminated.
Therefore, practice caution whenever you visit Miller's.
Stick To The Safest Options
Whenever you visit a restaurant that doesn't have a dedicated gluten-free menu or allergen guide like Miller's, it's essential to stick to the safest possible options to reduce the risk of contamination.
Scan the menu thoroughly and ask the staff about cooking procedures to deduce what is the safest option from the menu.
For instance, grilled meats like steaks with minimal contact with possible contaminants or fresh vegetables in the form of salads are usually the least likely to get contaminated.
This is especially important if you have Celiac disease or severe gluten sensitivity.
Request Extra Precautions
Due to the lack of a dedicated gluten-free menu, you'll have to instruct the servers on some necessary precautions to avoid contamination at Miller's.
Request a single chef to prep your order from start to finish
Request the chef to put on a fresh pair of gloves before prepping your order
Ask the server to clean and disinfect the prep surface, grill, and utensils to avoid unnecessary contamination
Ask for your ingredients to be fetched from a fresh batch
Ask the server to eliminate any components that are made from wheat like buns, bread, croutons, tortillas, etc
These precautions will help you trust the food and have a stress-free experience when followed accurately.
Cross Contamination Risk at Miller's Ale House
Cross-contamination is something every Celiac dreads. This phenomenon occurs when gluten particles come into contact with gluten-free items through contaminated gloves, surfaces, pans, utensils, and other food items.
Restaurants must address this issue by having stricter cross-contamination protocols and certified facilities for gluten-free meal prep.
Miller's Ale House doesn't have a dedicated gluten-free menu or allergen guide; they modify their regular menu items to make them gluten-friendly.
This means that everything is prepped in the same kitchen space, which is a considerable risk for possible cross-contact.
The lack of established protocols and dedicated spaces makes it extremely risky to dine at Miller's Ale due to the uncertainty regarding cross-contamination. Hence, if you're a Celiac, you should probably avoid dining at Miller's.
However, the manager and servers are extremely helpful and will follow any instructions you give them to avoid contamination. This might be sufficient for people who follow a gluten-free diet without any health risks.
What is the Public Saying?
The gluten-friendliness of a restaurant can be accurately judged by the reviews of people with gluten allergies and Celiac disease.
Since these customers are well informed and can accurately judge a restaurant's practices to ensure gluten-free meals, it is helpful to scan a few reviews prior to visiting.
After going through numerous reviews on the internet, we found that the majority of the feedback ranged from average to poor. Celiac and gluten-sensitive people criticized the lack of a gluten-free menu and the limited options on the menu.
Most dishes needed to be modified to fit the gluten-free standard. Moreover, people were disappointed that everything was prepared on the same grills and surfaces, which was a significant contamination risk.
A few people had a pleasant experience who didn't mind the extra hassle and enjoyed their meal without getting sick.
People also appreciated the helpful staff that was accommodating and made sure to do everything possible to serve a safe meal.
Gluten-Free Alternatives to Miller's Ale House
Even though Miller's Ale House has a fantastic menu, much of it is off-limits for people with Celiac disease because they don't offer a dedicated gluten-free menu.
The lack of allergen information makes it trickier to order something you can be sure of.
Here are a few alternatives to Miller's that offer gluten-free menus along with adequate safety protocols.
TopGolf
TopGolf is a great establishment to visit with friends and family. They offer driving ranges where you can compete with friends in various games while enjoying their fantastic gluten-free dishes.
Queso Blanco & Chips
Harvest Hummus
TopGolf Bone-In Wings (Plain, Buffalo, Lemon Pepper, Garlic Parmesan)
Flatbreads (with a gluten-free crust)
Tres Tacos
Burgers & Sandwiches (with a gluten-friendly bun)
Fresh Salads
Cheese Fries
French Fries
Tater Tots
Bob Evan's
Bob Evan's is a rustic casual restaurant chain perfect for a hearty meal with friends and family. It offers an expansive menu with a detailed allergen guide that you can use to narrow down gluten-free options.
You'll need to be wary of possible cross-contact to ensure a pleasant gluten-friendly experience.
Sweet & Spicy Bacon
Banana Berry Oatmeal
Pot Roast Hash
Omelets
Fresh Garden Salads
Pot Roast
Sirloin Steak
Grilled or Roasted Chicken
Turkey
Lemon Pepper Sole
Soups & Sides
Dressings & Condiments
A Wide Selection of Beverages
TGI Fridays
TGI Fridays is an All-American casual restaurant chain with global recognition and over 860 locations worldwide. The restaurant offers an impressive gluten-free menu, a fun casual atmosphere, and great service.
The only thing you need to look out for is cross-contact since the kitchen spaces are shared.
Entrees – Center-Cut Sirloin, Newyork Strip, Sizzling Chicken & Shrimp, Grilled Salmon
Salads – Million Dollar Cobb, Caesar Salad, Grilled Chicken Pecan & Blue Cheese Salad
Salad Dressings
Burgers & Sandwiches (served on a gluten-free bun or lettuce wraps)
Soups & Sides
Desserts
Beverages