Bruegger's Bagels is a famous bakery serving some of the finest authentic New York-style bagels that are kettle-cooked before being baked in a real stone oven.
These signature bagels are complemented by original made-in-Vermont cream cheese spreads that make for the perfect bagel experience.
So what's gluten-free at Bruegger's Bagels?
Bruegger's Bagels does not offer any certified gluten-free items, nor does it have a dedicated gluten-free menu.
A limited number of items that are prepared without wheat can be classified as gluten-sensitive, including cream cheese spreads, coffee, beverages, and limited sides.
You can also enjoy Bruegger's lunch and breakfast sandwiches by swapping out the bread for lettuce wraps.
Unfortunately, the gluten-free options are Bruegger's Bagels are extremely limited.
Moreover, since Bruegger's is a bakery, the risk of contamination is significantly high, which poses a significant health risk for people with gluten allergies.
If you have Celiac disease or severe gluten sensitivity, we advise that you stick to grabbing a coffee or any other gluten-free drink from Bruegger's Bagels to stay safe.
Avoid having any of the food items since they're not certified and are very likely to be contaminated with gluten from the kitchen space.
However, Bruegger's is a great place to experience great food and a traditional old-school atmosphere for the casual dieter who doesn't mind contamination.
This article is going to be an in-depth scrutinization of Bruegger's Bagels menu, where we'll be filtering out all of the possible gluten-free items and discussing the contamination risk associated with them.
We'll also look at some practical tips to avoid contamination and ensure a safe meal.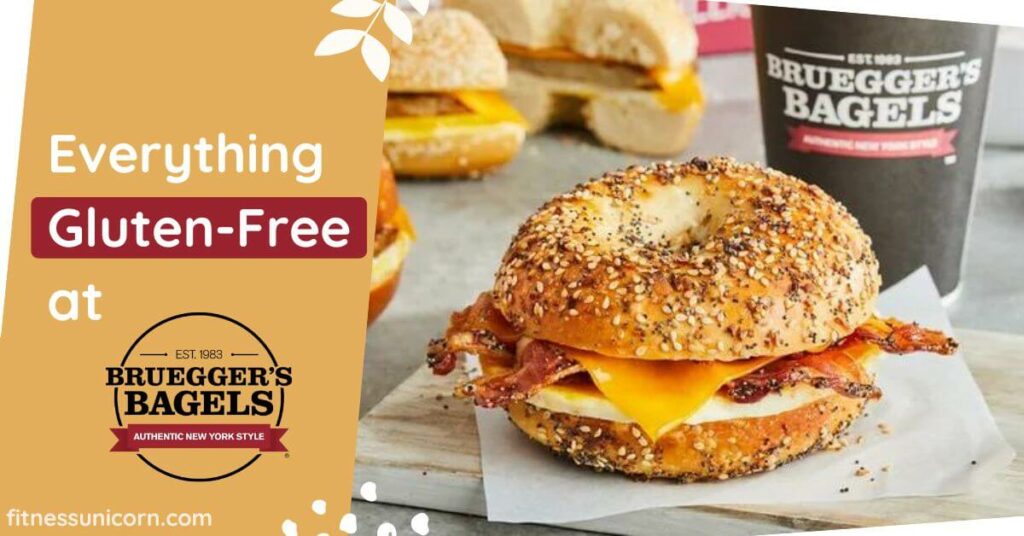 This post may contain affiliate links, which help keep this content free. (Full disclosure)
Gluten-Free Options at Bruegger's Bagels
Bruegger's has expanded to over 260 locations since its conception in 1983. With over 35 years of experience, Bruegger's has become a leading figure in the bagel industry.
They produce almost 70 million bagels annually and hold the world record for the world's largest bagel. With time the bakery has added various items to its menu to cater to a wider range of people across America.
Before we list down the gluten-free options at Bruegger's, it is essential to remember that Bruegger's does not offer certified gluten-free items nor claims that any of their dishes are safe for customers with gluten allergies.
The following list is based on the official allergen guide on their website, and we've included items that are free of wheat. Remember, gluten can be found in other items other than wheat.
Therefore, if you have severe gluten-related health issues, you should stay clear of Bruegger's Bagels because risking your health is not worth it.
Let us take a look at some of the possible gluten-free items you can enjoy at Bruegger's Bagels if you're a casual dieter.
RECOMMENDED: In-N-Out Gluten-Free Options
Cream Cheese Spreads
The made-in-Vermont cream cheese spreads are a part of what makes Bruegger's Bagels so well known.
Unfortunately, you won't be able to enjoy these satisfying spreads with bagels, but you can take some home to try with the gluten-free bread of your choice!
Some of the mouth-watering gluten-free spreads include;
Bacon Scallion
Garden Veggie
Honey Walnut
Jalapeno
Light Herb Garlic
Light Plain
Onion & Chive
Smoked Salmon
Strawberry
Whipped
Coffee
The safest option, in my opinion, is Breugger's coffee. It's brewed in-house and is the perfect pick-me-up to start your day. You can order various gluten-free coffees depending upon your preference.
Cafe au Lait
Cafe Latte
Cafe Mocha
Cappuccino
Espresso
Flavored Coffee
House Blend Coffee
House Decaf Coffee
Iced Coffee
YOU MAY ALSO LIKE: Pizza Ranch's Gluten-free Menu Items
Other Beverages
You can also enjoy a variety of other gluten-free beverages if you're not big on coffee.
Chocolate Milk
Naked Juice
Chai Tea
Regular Tea
Herbal Tea
Decaf Tea
Iced Tea
Hot Chocolate
Orange Juice
Soft Drinks
Salad Dressings
You can add extra flavor to your salads with Bruegger's various gluten-free salad dressings.
Balsamic Vinaigrette
Caesar
Champagne Vinaigrette
Feta Olive Oil
Ranch
Lunch & Breakfast Sandwiches
If you're a casual gluten-free dieter who doesn't mind the possible risk of contamination, then you should definitely try the lunch and breakfast sandwiches at Bruegger's. Just ask the server to swap the bread with lettuce wraps, and voila!
Remember, if you have Celiac disease, you shouldn't experiment and avoid the sandwiches.
Breakfast Sandwiches
Bacon, Egg & Cheese
Ham, Egg & Cheese
Sausage, Egg & Cheese
Smoked Salmon Sandwich
Sriracha Honey Sunrise Egg Sandwich
Pastrami & Swiss Egg Sandwich
Western Egg Sandwich
Smokehouse Brisket Egg Sandwich
Lunch/Deli Sandwiches
BLT
Garden Veggie
Ham
Turkey
Pastrami
Herby Turkey
Leonardo da Veggie
Western Brisket
Turkey Chipotle
Sides
The gluten-free sides are limited and very basic.
Twice Baked Hashbrowns
Veggies
Whole Eggs & Egg Whites
Practical Tips for a Gluten-Free Meal at Bruegger's Bagels
A lack of gluten-free items and contamination protocols at Bruegger's Bagel House might lead to contamination and aggravation of gluten allergies.
Therefore, we've come up with a few useful tips that will help you minimize the risk of cross-contact and assess the safety level at the restaurant.
Know The Eatery
It's important to assess the contamination risk associated with dining out at any new eatery. A few crucial aspects of the restaurant will define how gluten-friendly a restaurant is and whether it is safe to eat at or not.
Is there a dedicated gluten-free menu?
Are there stringent cross-contamination measures in place?
Is the staff trained and equipped to handle food allergies?
Are there dedicated prep stations and utensils for gluten-free meal prep?
What kind of restaurant is it? Fast food? Bakery? Bistro?
Is the eatery known for its gluten-free food?
Unfortunately, Bruegger's Bagels does not rank well in this assessment criteria. It's a bakery specializing in Bagels, and serving gluten-free meals is not its priority.
The bakery only has an allergen guide with a few items made without wheat that doesn't even encompass the whole range of possible gluten-containing items.
Communicate Your Concerns
Always inform the manager and wait staff of your allergies before placing your order. This will allow the team to make adequate arrangements to cater to your needs.
If the restaurant cannot provide what you're looking for, the manager will let you know so you can stay safe.
The Bruegger's Bagels staff is helpful and accommodating, but due to the lack of gluten-free items and equipment, they cannot serve food that is guaranteed to be safe.
If you have Celiac disease or severe gluten allergies, it's best to avoid Bruegger's or just order a coffee to stay safe.
Specify Instructions
Since there is no gluten-free menu and no specific protocols to address cross-contact at Bruegger's Bagels, you'll have to specify instructions for the servers to follow to ensure a gluten-friendly meal.
Request that the kitchen staff put on fresh gloves before prepping your meal
Ask for a single server to prep your order from start to finish to avoid confusion
Request the server to clean and disinfect the prep surfaces and utensils before prepping your order
Ask for your ingredients to be fetched from a fresh batch to avoid contamination
Ask for the bread to be swapped with lettuce wraps if you're with a group of people
Avoid Rush
Rush hours usually mean that the influx of orders frazzles the staff, leading to mistakes that can contaminate gluten-free food items.
In a place like Bruegger's, where there's already no gluten-free policy, rush hours can prove to be disastrous if you have gluten allergies. Hence, it is wise to visit during off-peak hours to reduce the risk of contamination.
Avoid Bakeries
Predominantly, bakeries aren't very gluten-friendly since the kitchen is filled with flour, which means it flies around everywhere and can possibly contaminate anything in the space.
With such a high risk of contamination, you should avoid bakeries because risking your health is never worth it, especially if you have Celiac disease or severe gluten allergies.
Cross Contamination Risk at Bruegger's Bagels
Cross-contamination is a troubling phenomenon for Celiacs and people with severe gluten allergies.
It occurs when gluten particles come into contact with gluten-free food items through contaminated utensils, surfaces, gloves, pots and pans, and other food items.
This is a serious health concern for many customers, which is why it is crucial to have stringent cross-contamination measures to ensure customer safety.
The risk of cross-contamination at Bruegger's Bagels is significantly high, and you should avoid eating there if you have Celiac disease or severe gluten allergies.
This is because Bruegger's is a bakery specializing in bagels, which means the kitchen is always filled with flour particles that can contaminate your food.
Moreover, there are no specific contamination protocols to ensure safe gluten-free meals.
Therefore, everyone with serious health concerns should stay clear of Bruegger's Bagels or grab a coffee which is your safest bet.
What is the Public Saying?
The opinions of people from the Celiac community matter when it comes to deciding on where to eat out.
People with similar health conditions leave reviews online to help other people with the same conditions know what the gluten-free experience will be like.
We found limited reviews on Bruegger's Bagels on the internet, due to which we couldn't form an informed opinion on the bakery.
A Celiac stated that the place wasn't Celiac-friendly, and the only option was the eggs. Another Celiac complimented the gluten-free coffee selection and hashbrowns on offer, making a good quick breakfast.
He also found the server to be really helpful. A casual gluten-free dieter mentioned Bruegger's had some delicious sandwiches if you swap out the bread for lettuce.
Gluten-Free Alternatives to Bruegger's Bagels
Since Bruegger's Bagels doesn't have any gluten-free bagels and the options free of gluten are limited, here are a few bagel spots with some of the best gluten-free Bagels.
Superbloom Bakery
Superbloom bakery is a very modern, plant-based, allergen-free bakery that aims to serve high-quality products that you can enjoy without worrying about your allergies.
The founders wanted to make the comfort of bread products more accessible to people with allergies and diseases which restrict them from enjoying regular bread.
Gluten-Free Bagels
Gluten-Free Bread Loaf
Gluten-Free Beet Bread
Gluten-Free All Purpose Flour
Knead Love
Knead Love is a spectacular bakery in New York that serves all kinds of gluten-free bakery items.
It was founded to address the need for baked goods for people with auto-immune diseases who couldn't digest gluten and were missing out on the joys of life as a result of it.
Using fresh, nutrient-dense grains, Knead Love offers a variety of baked goods that you can enjoy stress-free.
Classic Oat Gluten-Free Sourdough
Nutty Gluten-Free Sourdough
GF Sourdough Olive Oil Focaccia
OLIVEYOUSOMUCH GF Sourdough
Cinnamon Raisin GF Sourdough
GF Bagels – Everything, Raisin, Sesame, Plain
Gluten-Free Donuts
Gluten-Free Brownies
Gluten-Free Cookies
Modern Bread & Bagel
Modern Bread & Bagel is a trendy and popular spot amongst Celiacs due to its unique gluten-free baked items. Everything is gluten-free at Modern Bread & Bagel and prepared with fresh gluten-free flour formulated in-house.
This place is every Celiacs dream!
Bagels – Plain, Everything, Sesame, Superseed, Raisin
Bread – Focaccia, Multigrain, Rustic Loaf, Brioche Buns, Naan, Brazilian Cheese Buns
Pastries – Banana Bread, Black & White Cookies, Chocolate Zucchini Bread, Chocolat Rugelach, Funfetti Cupcakes