Brazilian food tastes great, and we know you love it. Texas De Brazil is a Brazilian steakhouse or churrascaria that is well known for serving multiple delicious menu items.
But is there anything gluten-free among all the options at Texas De Brazil?
Because Texas De Brazil is a steakhouse, which means it has a lot of meat-based dishes that are naturally free from gluten.
What's more, they also have a dedicated gluten-free menu for you to select from confidently. Just make sure that you ask for it.
But if you have extreme gluten sensitivity or celiac disease, you might want to avoid Texas De Brazil because there's always a risk of cross-contamination despite the most rigorous measures.
Let's take a dive into Texas De Brazil, to explore all you can eat there as someone who can't consume gluten. Amongst many other questions, you might be asking, "Are there any delightful options for me to choose from?"
Keep reading to find out.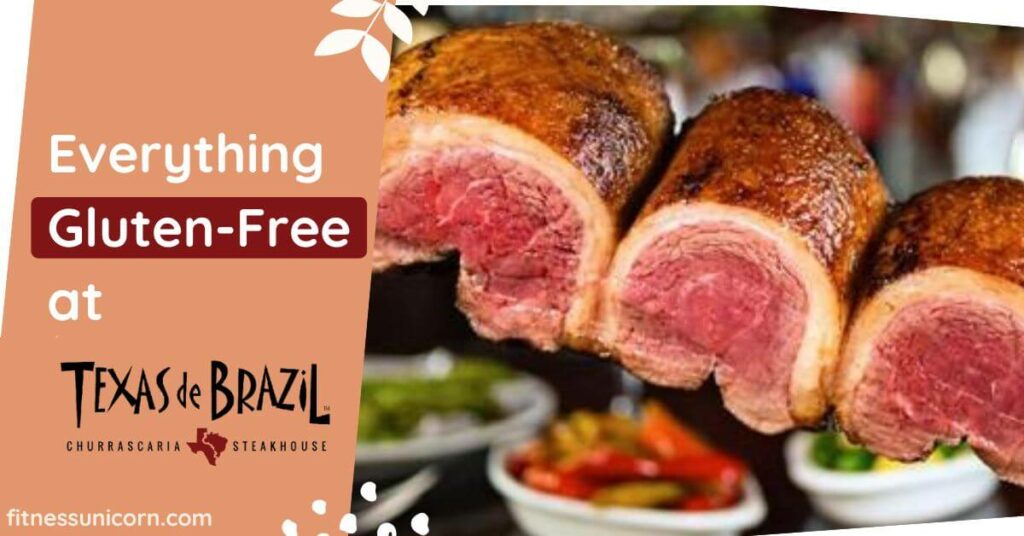 This post may contain affiliate links, which help keep this content free. (Full disclosure)
Texas De Brazil Gluten Free Options
Texas de Brazil is a Brazilian steakhouse that was founded in 1998 in Addison, Texas, a suburb of Dallas. They launched a second branch in Texas in 1999. In America, there are now 46 locations, with an additional six locations abroad.
The restaurant is based on the Brazilian churrascaria, or steakhouse, where meat is cooked over an open flame and served Brazilian-style, with a variety of sides and sauces.
The meats at Texas de Brazil are grilled to perfection and include classics like picanha (sirloin), filet mignon, lamb chops, and chicken.
In addition to the meats, Texas de Brazil also offers an impressive salad bar with over 50 items, including Brazilian specialties like hearts of palm, dried beef, and roasted garlic.
For those with a sweet tooth, the dessert selection features Brazilian classics like chocolate mousse, flan, and papaya cream. Surprisingly, they do not serve chicken hearts, which is one of the most famous traditional Brazilian dishes.
Texas de Brazil has been recognized as one of the best steakhouses in the United States, and it has won numerous awards.
If you are a meat lover, a lover of Brazilian salads, and other traditional dishes, there is surely something for you at Texas De Brazil. Churrascarias do not use lots of gluten-filled ingredients, and Texas De Brazil isn't an exception.
They even go the extra mile to provide separate menus for customers with different nutritional needs and restrictions including a dedicated gluten-free menu.
Meats
These include Alcatra
Barbecued Pork Ribs
Braised Beef Ribs
Brazilian Sausage
Chicken Breast Wrapped in Bacon
Filet Mignon Filet Mignon Wrapped in Bacon
Flan steak
Garlic Pichana
Herb Marinated Pork Loin
Lamb Chops
Lamb Pichana
Leg of Lamb
Parmesan Chicken Drumettes
Parmesan Crusted Pork Loin
Pichana
RECOMMENDED: Gluten-Free Options at Which Wich
Salad Bar
American Grana Cheese
Bacon Wrapped Jalapenos
Beets
Brazilian Potato Salad
Brazilian Salad
Buffalo Mozarella
Cabbage Salad
Caperberries
Capers
Caramelized Sweet Onions
Cherry Tomatoes
Chicken Salad
Chimichurri Sauce
Cipollini Onions
Cornichons
Creole Mustard Sauce
Crispy Bacon
Dressing – Bleu Cheese
Dressing – Brazilian Vinaigrette
Dressing – Italian Balsamic Vinaigrette
Dressing – Ranch
Farofa
Giardiniera Salad
Ginger
Goat Cheese Terrine
Grape Salad
Green Bean Salad
Grilled Peppers – Red & Yellow
Grilled Provolone Cheese
Hearts of Palm
Horseradish
Hummus
Malagueta Peppers
Manchego Cheese
Marinated Artichoke Heart
Mint Sauce
Mixed Field Greens
Olives – Green and Kalamata
Orange Vinaigerette
Pepperoncini
Pineapple Carpaccio
Piquante Pepper
Prosciutto
Quinoa Salad
Roasted Garlic Cloves
Romaine
Salami
Shrimp Salad
Smoked Salmon
Steamed Asparagus
Summer Tomatoes
Sun-Dried Tomatoes
Sushi
Wasabi
Whole Jalapenos
ALSO READ: Everything Gluten-Free at Miller's Ale House
Hot Items
Brazilia Cheese Bread
Jasmine Rice
Sweet Fried Bananas
Desserts
Brazilian Flan
Creme Brulee
Papaya Cream
Signature Cocktails
Absolut Mandarin Crush
Brazilian Mojito
Brugal Mojito Royale
Caipirinha
Caipirinha – Coconut
Caipirinha Mango
Caipirinha Passion Fruit
Caipirinha Strawberry
Expresso Delight
Grey Goose Caipiroska
Langley's Strawberry Limeade
Tropical Cream Dream
Wine and Spirits
Red Wine
White Wine
Cabernet Sauvignon
Rose
Pinot Grigio
Merlot
Pinot Noir
Chardonnay
Sauvignon Blanc
Tips For a Gluten-Free Meal at Texas De Brazil
Inform your server of your dietary needs.
You must let them know if you have celiac disease or gluten intolerance. They must be aware that even a tiny amount of gluten will leave you feeling really unwell.
This would encourage them to take further safety measures to further avoid cross-contamination.
Be prepared to discuss your dietary limits with others.
They frequently order shared meals at Texas De Brazil when dining with coworkers, relatives, or friends. Don't be shy in expressing your dietary needs. Tell them that in order to prevent getting sick, you must keep your food away from theirs.
Ask for the meal-specific gluten-free menu
Be prepared to ask for the gluten-free menu. Select only what is on the gluten-free menu if you're unsure about the items on other menus.
Ask your server if you have any questions regarding potential gluten sources in a dish
They should be able to inform you which ingredients are gluten-free and whether a dish may be made gluten-free.
Avoid placing hurried orders
The waiters and staff frequently work in a rush to take orders and deliver meals. As a result, they can mix up orders or put the wrong things in yours.
If you inform them that you have special medical needs and that they should take their time with your order, they could delicately prepare your gluten-free lunch.
YOU MAY ALSO LIKE: Smashburger's Gluten-free Menu Items
Cross-Contamination Risk
One way that gluten cross-contamination can occur at Texas de Brazil is if the meat is cooked on the same grill as pizzas or other items that contain gluten.
If the grill is not properly cleaned between uses, the meat can become contaminated with gluten.
Another way that gluten cross-contamination can occur at Texas de Brazil is if the utensils that are used to cook the meat are not properly cleaned.
If the utensils have been used to cook items that contain gluten, they can transfer the gluten to the meat.
Finally, gluten cross-contamination can occur at Texas de Brazil if the salad bar is not properly managed.
If gluten-containing items are placed on the salad bar, people with celiac disease or gluten sensitivity can become sick if they eat the contaminated food.
If you have celiac disease or gluten sensitivity, it is important to let the staff at Texas de Brazil know about your condition.
The staff can then take steps to avoid cross-contamination and make sure that you have a safe and enjoyable dining experience.
What People Are Saying
We have sourced some public views of gluten-free options at Giordano's from all over the internet along with some personal interviews.
"Woah! What an amazing adventure. We had no idea what we were into. We planned to get a little appetizer and beverage. didn't realize it was an entire lunch experience! A lovely surprise, nevertheless.
I used the extensive GF menu available online as I made my salad bar selections. Almost all meats are GF. really good Zero response."
"The server was outstanding. He made me a list of items to stay away from at the salad bar and sides after going to the chef. There weren't many of them. Only two of the meats could not be consumed.
The only thing that let me down was the lack of even a single type of gluten-free wine. Wine is a must with steak!"
"Excellent service was provided. During the reservation process, I requested a gluten-free menu, and when I arrived, I was given a handwritten list. The server went above and beyond to inquire with the kitchen about any item I requested.
The majority of the cold bar products, including the cheesy bread, and all the meat were gluten-free. Nothing bothered me at all. Wonderful experience!"
"Excellent gluten-free location! They have a list of allergens if you inquire. All of the meats are gluten-free, and the buffet's salad, potato salad, tomatoes, rice, and a ton of other items are among the many gluten-free alternatives.
There are many choices, but I'd ask for the list of gluten-free vs. non-gluten-free meals to acquire specifics (although less so for vegetarians). Due to its proximity, I visited this restaurant twice, and neither time did I become sick.
Although lunch is less expensive than dinner and had a somewhat different and smaller assortment of meats, it was nonetheless excellent."
"The staff has excellent knowledge. I spoke with the boss. She recalled having a former server with celiac disease who frequently consumed Brazilian bread. It was excellent. Moreover, the Filet Mignon was delicious!
It's not completely gluten-free because a few of the side dishes contain gluten. I would undoubtedly return."
Gluten Free Alternatives to Texas De Brazil
Fogo de Chão
Brazilian steakhouse Fogo de Chao opened its doors in 1979. Each table is visited by specialized waiters who place slices of meat on your plate.
It might be wise to stay away from the salad bar as there are only a few items on there that contain gluten.
There is little chance of cross-contamination at Fogo de Chao because nearly everything on the menu is gluten-free.
They offer a wide range of meats including- lamb, pork ribs, pork loin, prime part of top sirloin, beef tenderloin, rib eye, top sirloin, bottom sirloin, beef ribs, etc.
Seafood includes smoked salmon, mango Chilean sea bass, jumbo shrimp cocktails, and grilled shrimp spice skewers.
Sides like Pao De Queijo aka Warm Cheese Bread, Garlic Mashed Potatoes, and Caramelized Bananas.
The A La Carte menu includes Picanha Sirloin Sliders, Warm Hearts Of Palm & Spinach Dip, Charcuterie Board, Jumbo Shrimp Cocktail, Grilled Beef Tenderloin Skewers, Grilled Spiced Shrimp Skewers, and Crispy Parmesan Polenta Fries.
Soups and salads include Hearts Of Palm & Avocado Salad, Brazilian Spiced Chicken Salad, Grilled Picanha Sirloin Salad, and Side Salad.
Goat Cheese & Vegetable Sandwich, Brazilian Spiced Chicken Sandwich, Linguica Sandwich, Trio So Cup of Soup, Sede Salad & Choice of Half Sandwich, The Churrasco Plate, Brazilian Spice Rubbed Chicken, Fish of The Day Pan Seared W/ Grilled Asparagus, and Pan Seared Sole W/ Lemon Butter & Capers & Sauteed Spinach
Desserts like Papaya Cream, Strawberry Cream, Flann, Creme Brulee, Chocolate Ice Cream, Vanilla Ice Cream, Strawberry Ice Cream, and Caramelized Pineapple.
Estância Churrascaria
Their gluten-free menu includes
Picanha: Cut from the sirloin, seasoned with sea salt and also served flavored with garlic.
Alcatra: This is a delectable, tender, and very flavorful cut from the top sirloin.
Costela: Tender and juicy beef ribs slowly cooked and seasoned to perfection.
Fraldinha: The most flavorful and juicy cut from the bottom sirloin.
Filet mignon: This delicious cut from tenderloin is full of flavor. Also served wrapped in bacon.
Cordeiro: Young leg of lamb sliced off the bone. Also served as chops.
Linguica: Our traditional pork sausage is slow-roasted and seasoned to perfection.
Lombo de Porco: Appetizing pork tenderloin served with parmesan.
Costela de Porco: Flavorful and tender pork ribs cooked to perfection.
Frango: Slow roasted chicken legs seasoned to perfection and chicken breast wrapped in bacon.