Did you know how easy it is to turn Red Robin into a low carb eatery and savor those delicious burgers? Find out everything in this complete Red Robin Keto guide!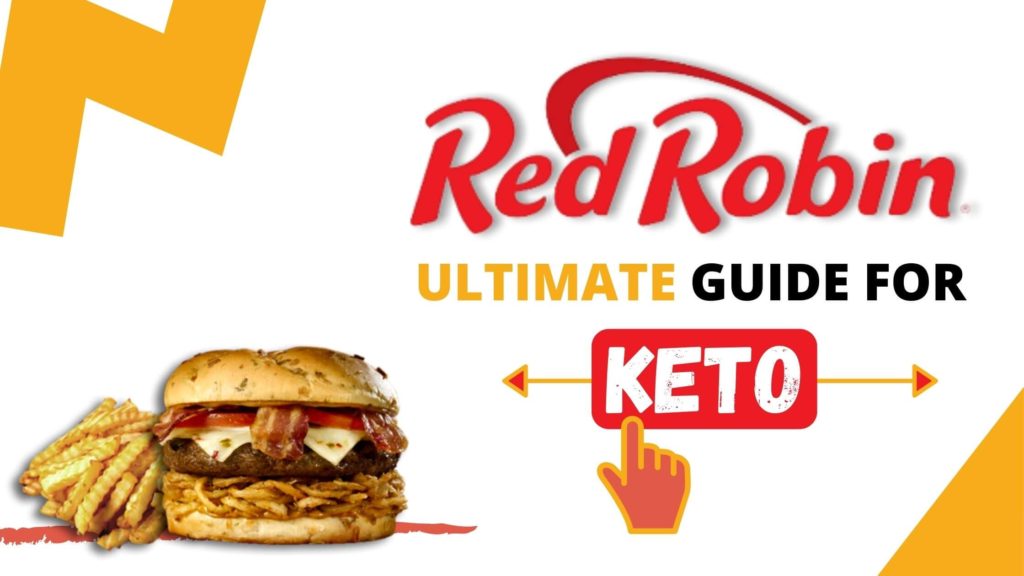 Tired of searching whether certain foods are keto? Download my keto cheat sheet with 210+ keto-friendly foods!
Any fast-food chain seems like a strict no for the low carb diet! What else do they offer other than buns, carbs, and sugar?
But the Keto experts would tell you otherwise!
A great philosopher once said that there is nothing completely black and completely white in this world. Everything is black and white. Similarly, there are no keto-only or junk-food-only restaurants out there.
With just a few tricks down your sleeves, you can turn any damn restaurant in this world into a keto-friendly one!
This post may contain affiliate links, which help keep this content free. (Full disclosure)
Is Red Robin Suitable for a Low Carb Diet?
Red Robin is one of the oldest restaurant chains (since 1979) that has constantly improvised their menu.
Though they don't have a huge fleet of restaurants popping up in every nook and corner, those who know about this gem are very loyal to the brand. Your quest for a quick keto bite could be completed at a nearby Red Robin with all the right customizations.
(As I always say, there's nothing better than organic home-cooked food because you know what exactly goes into it!)
Their current menu contains: Boxed Lunches, Appetizers, Bottomless Beverages, Milkshakes, Burgers, Sides, Entrees, Sandwiches, Soups, Desserts, Beer, Pizza & Hot Wings
Red Robin's official website also provides you with an easy way to check the allergen menu. When ordering via their website, select the items you want to avoid, and they will give you a list of menu items that are "safe" for you.
I have found all their outlets to be very customization friendly! They do not hesitate when you ask for the fillings as a side dish, or when you ask them to replace that chipotle mayo with a simple bleu cheese dressing (0 carbs).
You can always get steamed broccoli instead of carb-laden fries or onion rings.
Without any further adieu, let's quickly jump to the Red Robin Keto menu so that you can enjoy your outings without worrying about ketosis!
Keto Menu for Red Robin
I have been a burger guy all my life! And hence Red Robin has been in my list for the best hangout places with my pals.
But things changed soon when I picked up this high-fat low-carb diet. My favorite burger was no longer just a burger but it became the biggest enemy to my diet!
So I did some digging and found the perfect way to enjoy all the good stuff without extra carbs (hint: drop that bun!)
I analyzed each food item to curate this perfectly keto-friendly Red Robin menu, just for you guys.
While scanning the menu, these are the categories that you need to strictly avoid: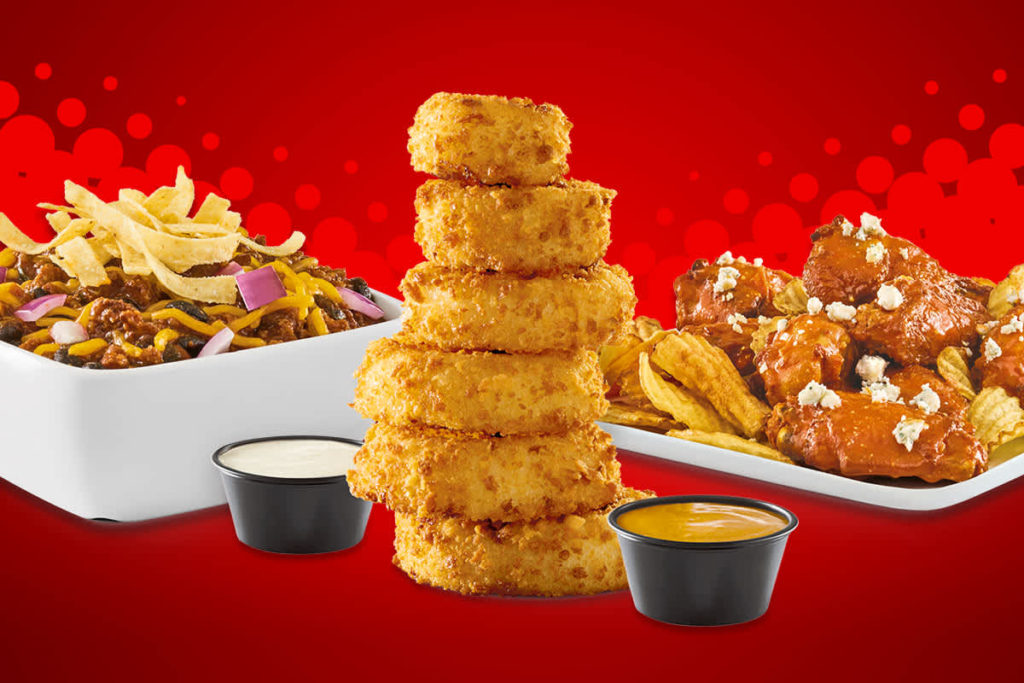 Boxed Lunches
Appetizers
Milkshakes and Malts
Most Entrees
Desserts
Donatos Pizza
After clearing the air, now let's discuss the foods that you can enjoy with slight customizations:
Keto Burgers at Red Robin (without the bun)
Burgers are symbolic of huge amounts of white carbs! But ditching the bun will make sure you eliminate most of them.
Our keto version of Red Robin burgers would include a delicious meaty patty, a good amount of cheese, and finally some lettuce to replace the bun.
(Check out my faux buns recipe for the Keto diet!)
Guacamole & Bacon Burger (No Bun):
You can never go wrong with Guacamole or Bacon when on the low carb diet!
In fact these are the two most versatile foods that make it to my list of favorite keto quick-snacks.
The burger is loaded with guacamole, bacon, swiss cheese, and the basic vegetables. It is one hell of a satisfying meal that will curb your hunger even if you haven't eaten anything for hours.
Black and Bleu (No Bun):
Black and Bleu has a juicy patty, sautéed mushrooms and onions, bleu cheese bits, and garlic aioli. The taste blends so well that it seems like a god-made combination!
However, I'd ask to lower the amount of onions and mushrooms and also get rid of the sauce.
Citrus Harissa Salmon (No Bun):
How about a juicy, pan-seared and slightly darkened salmon fillet with some red pepper harissa aioli, tempura lemon wheels, beautifully marinated tomato and onion, and some fresh arugula?
Well, that exactly sums up this offering. However, to comply with keto norms, you'd want to skip the breaded lemon wheels, aioli, and the tomatoes.
Royal Red Robin Burger (No Bun):
The best thing about Royal Red Robin is the fried egg on top! Egg is one of the best superfoods and it also compensates for the unhealthiness of junk food!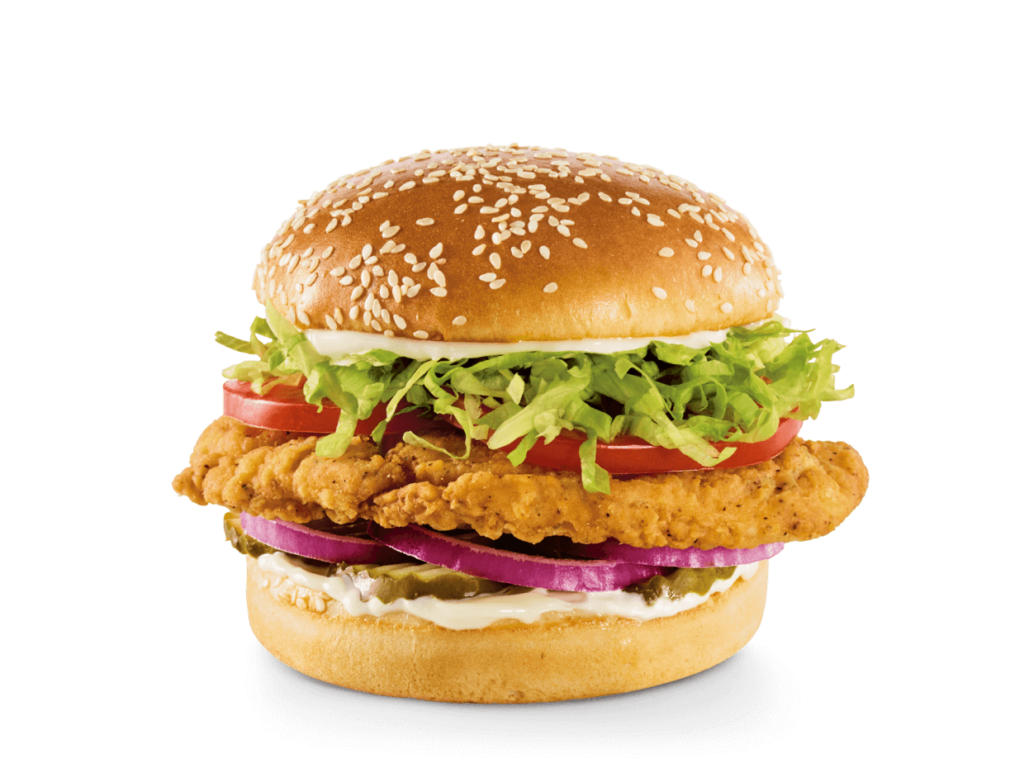 It is also one of the breakfast-friendly grabs and there is nothing much extra ordinary about it, other than the fresh toppings and patty.
Marco Pollo Burger (No Bun):
If you are a chicken lover, Marco Pollo will come as a delight to your taste buds! This gourmet burger from Red Robin comes loaded with a chicken breast.
You may want to skip the sundried tomato spread in order to keep it low carb!
Bruschetta Chicken Sandwich (No Bread)
This amazing blend of garlic and pesto leaves you craving for more! The crispy Romaine lettuce accompanied with cheese and pesto is a treat to your taste buds.
Even with so many kinds of ingredients inside, they don't over power the meat and you get a well balanced taste.
Ask for the salsa and aioli on the side to cut extra curbs.
(Check out: How I turned Wendy's into a super low carb restaurant)
Red Robin Gourmet Cheese Burger (No Bun)
The gourmet cheese burger contains comes with their pickle relish, red onions, pickles, lettuce, tomatoes, mayo, and your chosen cheese.
Ditch the relish and choose any of the following zero carb cheese slice: Cheddar, Provolone, Pepepr Jack or Swiss
Keep it Simple Burger (No Bun):
Made with a delicious and juicy patty, pickles, red onions, lettuce and tomatoes, this burger goes by it's name.
The burger without bun isn't so rich in carbs, but if you really want to cut down more, get rid of the onions and tomatoes.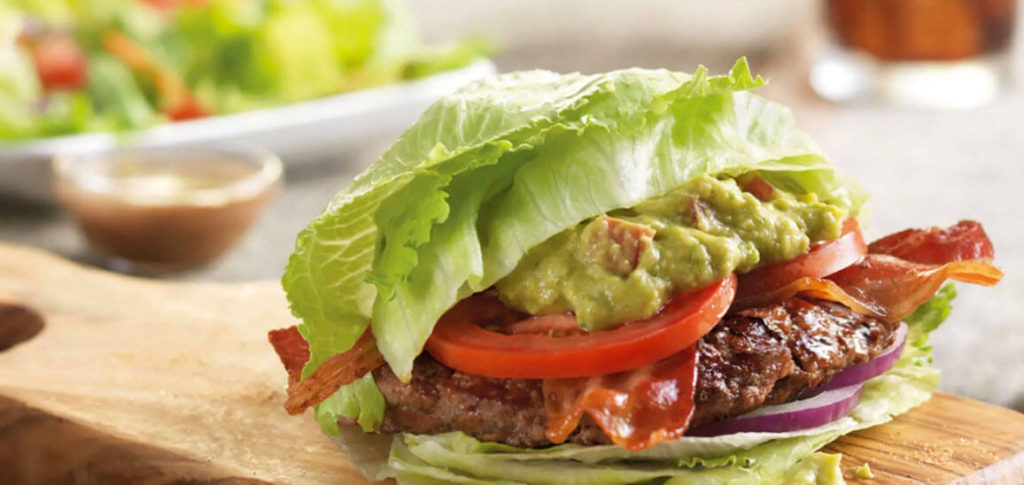 Grilled Turkey Burger (No Bun):
Whether you are doing Keto or just trying to eat healthy, this grilled turkey burger ticks pretty much both the checklists!
It has a juicy turkey patty, some lettuce, tomatoes, and chipotle aioli. Take out the tomatoes to eliminate extra carbs and enjoy this burger wedgie style!
The Wedgie Burger (No Bun):
Think of the Wedige Burger as Red Robin's tribute to the keto diet, lol!
This is actually the same Guacamole Bacon burger that we made without the bun. As usual, you may want to eliminate the onions to save a few carbs.
Pig Out Style Tavern Double (No Bun):
A Red Robin Tavern is simply a gourmet burger with double the meaty patty. Pit out style means that this burger is loaded with bacon.
It has bacon pieces and the bacon sauce as well. Even though it's a double patty burger, it's not so hugely filling and works just fine on your appetite. Get this bad boy as-is without the bun and enjoy a healthy Keto meal!
Red Tavern Double (No Bun):
The Red Tavern Double is a double patty burger served with their Secret Tavern Sauce™, American cheese, tomato, and lettuce. Given the price ($6.99), it's hard to find a competing offer in the market!
Just ditch the secret Tavern sauce and you have a good meal to satisfy those sudden hunger pangs.
Simply Grilled Chicken (No Bun):
Simply grilled chicken falls under their Other Fun on a Bun category (for us ketoers, it's Other Fun Without the Bun!).
You can have it either as a wedgie burger (with lettuce wrap) or a salad. Make sure you ditch the croutons to eliminate excess carbs. When in doubt, enjoy this plain chicken breast patty with some cheese and bacon which has effectively no carbs.
Meat Patty
Patties are a delight for someone struggling to minimise carbs on a keto diet! Most of the meat patties have negligible carbs but are a hell lot delicious!
Choose from the below patties to make a low carb meal at Red Robin (or add them to your existing order):
Turkey Patty (2g carbs)
Grilled Chicken Patty (0 carbs)
Gourmet Burger Patty (0 carbs)
Tavern Patty (0 carbs)
Sub a Salmon Fillet ((2g carbs)
Note: Stay away from Crispy Chicken Patty as it has more than 20g of carbs! A lot of breading goes into making it crispy, lol.
Toppings
Mayonnaise: 100 calories & 0 carbs
Mustard: 5 calories & 0g carbs
Pickles: 0 calories & 0 carbs
Fresh Jalepeno: 0 calories & 0 carbs
Bleu Cheese Dressing: 320 calories & 0 carbs
Bacon (1 strip): 70 calories & 1g carbs
Guacamole: 50 calories & 3g carbs
Onion: 4 calories & 1g carbs
Lettuce: 0 calories & 0g carbs
Tomato (single slice): 5 calories & 1g carbs
Buzzard Dipping Sauce: 140 calories & 2g carbs
Cheeses
Choose from Cheddar, Pepper Jack, Provolone or Swiss cheese as all of them has roughly 100 calories and 0 carbs.
American and Bleu Cheese have 2g of carbs each.
Salads
Salads are ideal for getting in that much-needed protein without the added carbs of a bun or bread.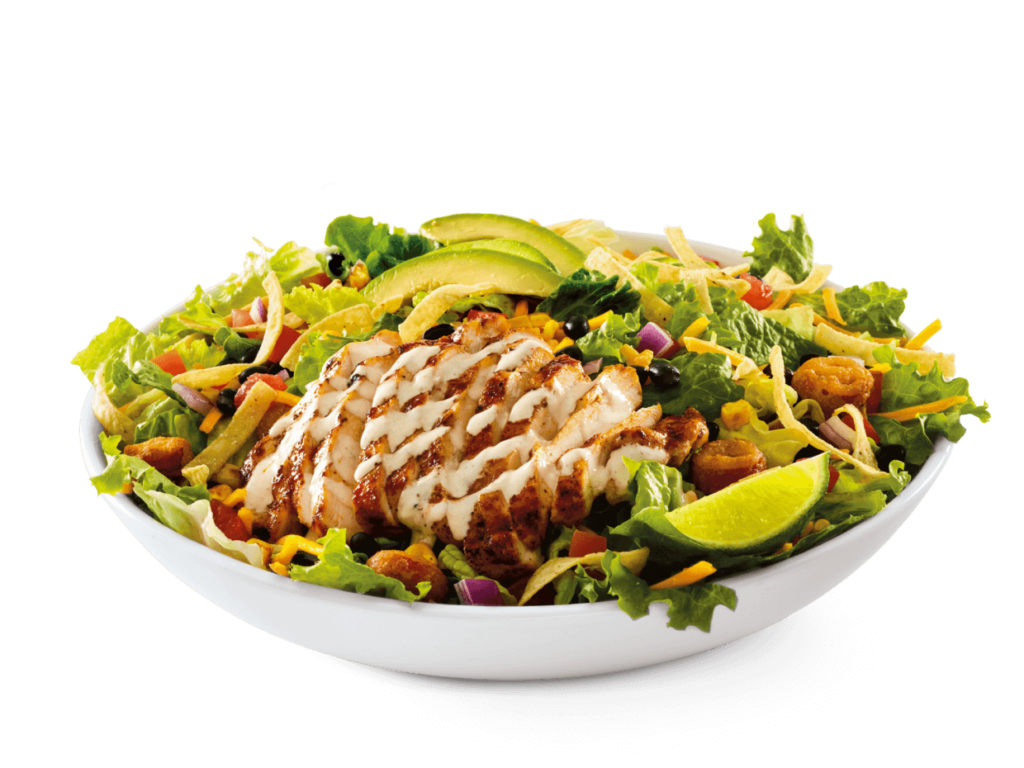 And if you think that salads are just a bunch of bland tasting veggies, you couldn't be further from the truth! Healthy foods can also be enjoyed deliciously.
These are the salads to pick if you find yourself in Red Robin on Keto diet:
Side Salad Without Dressing: 20 calories & 1g net carbs
Steamed Broccoli: 30 calories & 3g net carbs
Avo-Cobb-O Salad: Ditch the garlic toast and you've got a delicious salad for roughly 8g carbs.
Simply Grilled Chicken Salad: 280 calories and 14g net carbs
House Salad: Ditch the croutons and you have a super low carb salad!
Mighty Caesar: Ditch the toast and you are looking at just 9g carbs
Dressings
Did you know that you can easily mess up a salad by choosing the wrong dressings? By "wrong" I mean the choices that could kick you out of ketosis in no time!
Have a look at these stats and always watch out for the portion sizes!
Balsamic Vinegar (3 oz): 160 calories & 9g carbs
Salsa-Ranch (3 oz): 240 calories & 6g carbs
Italian (3 oz): 330 calories & 9g carbs
Ranch (3 oz): 390 calories & 6g carbs
Bleu Cheese (3 oz): 470 calories & 1g carbs
Caesar (3 oz): 530 calories & 5g carbs
Entrees
Last but not the least, let's look at the Entrees from Red Robin's menu. I have good news and bad news for you!
So the bad news is that most of their Entrees are filthy rich in carbs!
But the good news is that there are two options that can be enjoyed with some alterations.
Here you go:
Sear-ious Salmon
You can never go wrong with Salmon on a keto diet (unless you pour sinful sugar syrup all over it!)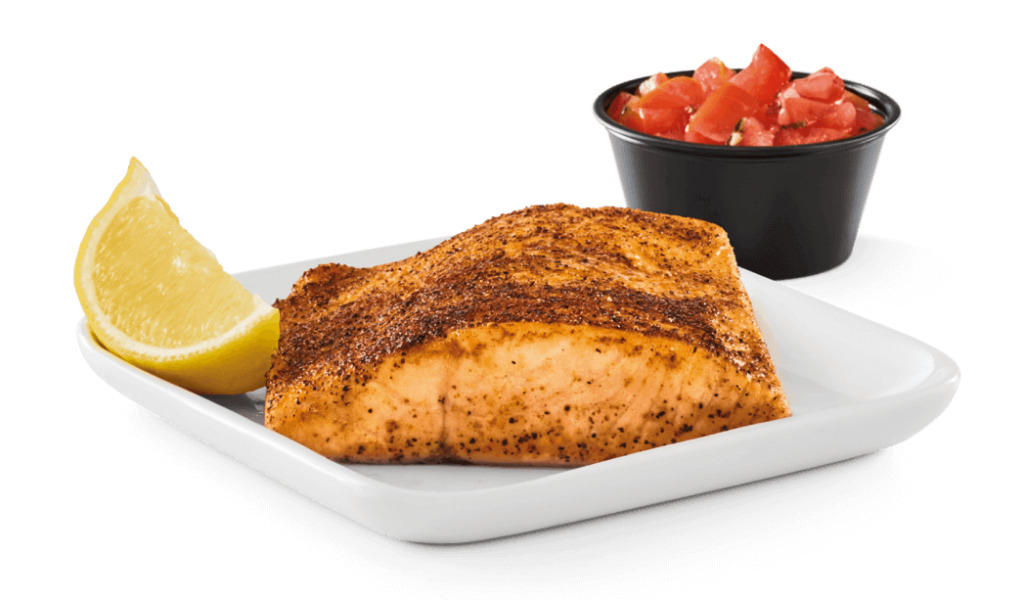 Get it with steamed broccoli on the side instead of rice or coleslaw. This would give you roughly 480 calories, 37 g fat, and 12g of carbs.
Prime Rib Dip
This heavenly delight has a sliced prime rib on a cheesy baguette with some onions, horseradish sauce, Provolone cheese, and au jus for dipping.
I guess you pretty much know all the rules by now! So nix the onions and the coleslaw and you are good to go!
Are Red Robin Wings Keto Friendly?
Who doesn't love hot sizzling chicken wings with a spicy dip on the side? But what if you are on the low-carb diet?
As explained in my Wingstop guide to keto, you have to be very cautious because chicken wings have a lot of carbs and might kick you out of ketosis!
But Opwyn, chicken has zero carbs, then how come wings are filthy rich in carbs?
Well, it's not the wings that contribute to those carbs, but it's actually the breading that causes all the trouble for us keto dieters. And boneless wings in particular have the most amount of sinful carbs!
Red Robin offers two kinds of Wings: Red Bold Boneless Wings & Bone-in Bar Wings served with various sauces and dips
Ditch the boneless ones and stick to the Bone-in wings with no sauces or side dishes. Ask for minimum breading if possible!
Eating Out on A Keto Diet
Eating out on the ketogenic diet doesn't have to be an all-water meal! With the right tips and tricks you can stick to the diet wherever you go!
So the next time your colleagues are heading out for lunch, you don't have to say "Nah, I'm fine", instead you'll be able to enjoy every social gathering without compromising on your diet.
Here are some golden tips to follow when heading out to eat on a Keto diet:
Plan in Advance
The enormous amounts of food choices available in fast food restaurants can be quite overwhelming! The moment you look up the menu card, you are bombarded with hundreds of options.
Heck, even the chicken wings could have 50 varieties based on different sauces and breading!
Thanks to this digital era, you can always look up the menu online well ahead of your visit. If you can't find it online, simply call the restaurant and enquire. Don't forget to ask them if they are open to customizations because some fast food joints have ready-to-cook items that can't be altered.
Breakfast
Eggs, meat, bacon, and veggies (non-starchy) are pretty much all you need for a hearty breakfast on Keto diet.
You can go for any meat steaks served on a bed of vegetables like spinach or lettuce or some fresh made guacamole (yumm!)
Lunch
A good lunch has to be filled with lots of protein and fats with a minimum amount of carbs.
Your ideal lunch should be filling enough to fuel you for the day and not so heavy to make you too groggy at work. You can have salads or bunless burgers (with lettuce wrap) with meat patties.
Make sure you nix any sauces and stick with low carb veggies and keto-friendly dressings like low carb mayo, avocado oil, mustard, ranch, etc. Pickles, lettuce, and Jalapenos are your best friends when it comes to keto-friendly burgers.
For example, if you find yourself at Chipotle on Keto diet, here's a good lunch option:
Opt for a salad or burrito bowl without beans/rice.
Select any from steak, carnitas, chicken, barbacoa
Now add low carb veggies to your bowl
Throw in some Monterey jack cheese (1g carbs) or sour cream (2g carbs).
To spice things up, you may add a dash of tomato salsa (1g carbs).
Dinner
We are often used to eating heavy dinner meals and stuffing our bellies to the point of exhaustion!
Whether you want to go all-in or just want to satisfy those hunger pangs at night, here's how you can enjoy a keto-friendly dinner at various restaurants.
As you might have guessed, there is no room for rice, fries, risotto, noodles or even pasta when it comes to keto dinners. So what do you do?
If it were any other low-calorie diet, you'd have been stuck with plain chicken breast for dinner. Thanks to keto, you can enjoy high-fat (even deep-fried) meats like ribeyes, pork bellies, baby back ribs, or t-bone steaks.
However, the healthiness of fried food depends on the oil that has been used in it. Ideally, you should stay clear of soybean oil or corn oil and opt for healthier ones like avocado oil.
You can make some healthy swaps like replacing mashed potatoes with guacamole. Or if you are looking to replace the sides, go for some non-starchy veggies like shredded spinach, kale, or lettuce.
Just because you've taken the Keto pledge doesn't mean you will always be stuck with home-cooked meals! You have all the rights to experiment and have fun while losing weight like a charm. You'll often be surprised how understanding and accommodating these restaurants are in terms of customizations!
Beverages
Beverages are a great way to pass time when your friends are hogging on junk food with filthy carbs. It makes you "fit" into the group without making you feel like the odd one out.
If you happen to find yourself at a fast-food restaurant with no customizations available, it's easy to spend 1-2 hours with just a can of diet coke or unsweetened tea in your hand. You could also use sugar-free beverages to fill your belly so that you have less cravings for non-keto foods.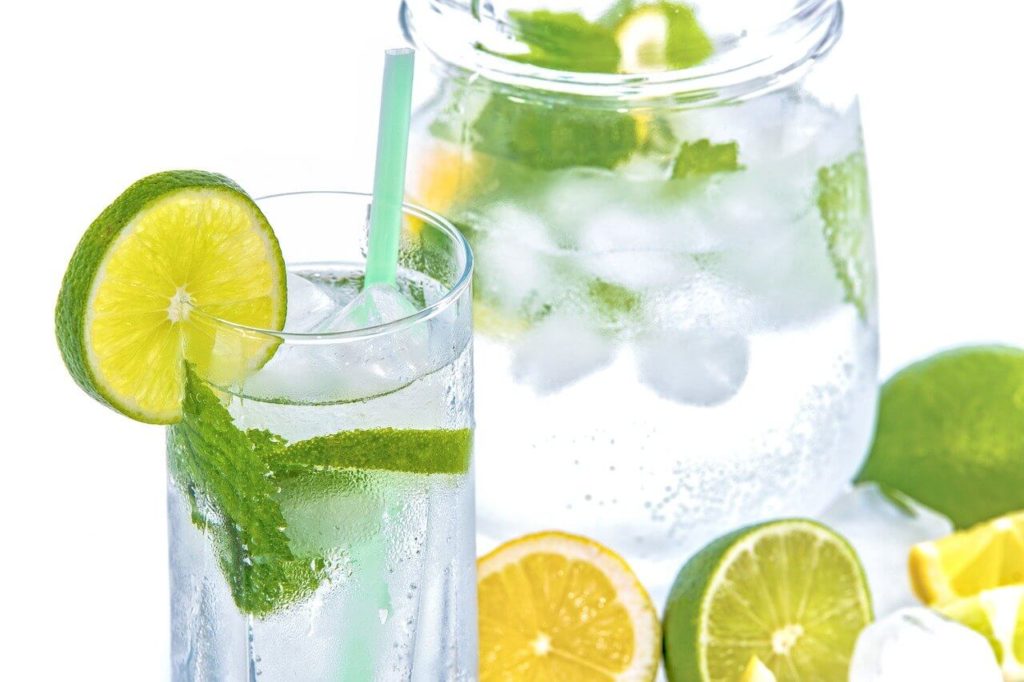 As you must be knowing, most of the commercial beverages are sugar-laden and filled with additives that can quickly end your keto game!
Here are a few keto-friendly beverages:
Green tea, coffee or herbal teas (no sugar)
Diet sodas
Sparkling water
Vegetable juice from veggies like kale, spinach, celer, cucumber
Unsweetened nut milk like coconut milk
Electrolyte drinks
Keto-friendly seltzer
You must avoid beer, tonic water, and other mixed drinks as they have lots and lots of carbs. Most beers have gluten inside when is a strict no for keto. Opt for wine or hard liquor like dry red wine, champagne, gin, vodka, etc.
(READ: Zevia and Other Keto Beverages)
Keto Restaurant Guide Section
An informed keto dieter is the one who can turn any situation or event in their own favor and stick to their diet at all times (with a few hiccups here and there!)
Imagine this: You are out on a commute on a big highway and your hunger pangs are giving you a hard time. The only option you have is a local restaurant you have never been to!
From the looks of it, it seems like a fast food joint catering to hungry passer bys. Would you simply walk up to the counter and ask them: Do you have something keto-friendly?
Chances are that they never even heard about this term! Good luck trying to explain what you want.
Instead of speaking gibberish to the guy taking your order, what if you scanned the whole menu and customized it for the low-carb diet, right then and there? (trust me it feels like a superpower!)
Don't worry! I have made the restaurant guide section just for situations like these.
Conclusion
If I could sum up Keto ordering at Red Robin, here are the rules:
Avoid buns, wraps, tortillas, and fries (basically any form of white carbs or starch).
Ketchup and dressings need to be carefully analyzed, simply ditch them when in doubt.
No beverages other than unsweetened tea or coffee (without milk)

The latest updates can be found on their official

nutrition page.
With this Red Robin Keto guide, you are now well equipped to own the menu. Enjoy a lovely meal with your loved ones, but remember not to get carried away with cravings!
And if you don't want to risk eating out while on the commute, always keep snacks like Keto beef jerky in your bag to avoid temptations.