The Habit is quite different from your regular burger chains. And what makes them stand out is their cooking method. While most restaurants try to fake those grill marks and the smoky flavors, The Habit Burger Grill is all about authentic flame-grilled burgers.
So what's keto-friendly at The Habit Burger Grill?
If you are on a low-carb diet like keto, just glancing at the menu can send chills down your spine!
We know how bun and bread are the biggest enemies of keto. To give you an idea, a regular charburger with the seeded bun contains a whopping 34g of net carbs.
But the good news is that The Habit can convert any burger into a lettuce wrap for a fraction of the carbs!
Simply swap out the bun with a lettuce wrap and you can have the classic charbroiled burger for just 7g net carbs.
But that's not all.
The Habit Burger Grill has a lot more in store for those on keto! Read on to find out all things keto at The Habit Burger Grill.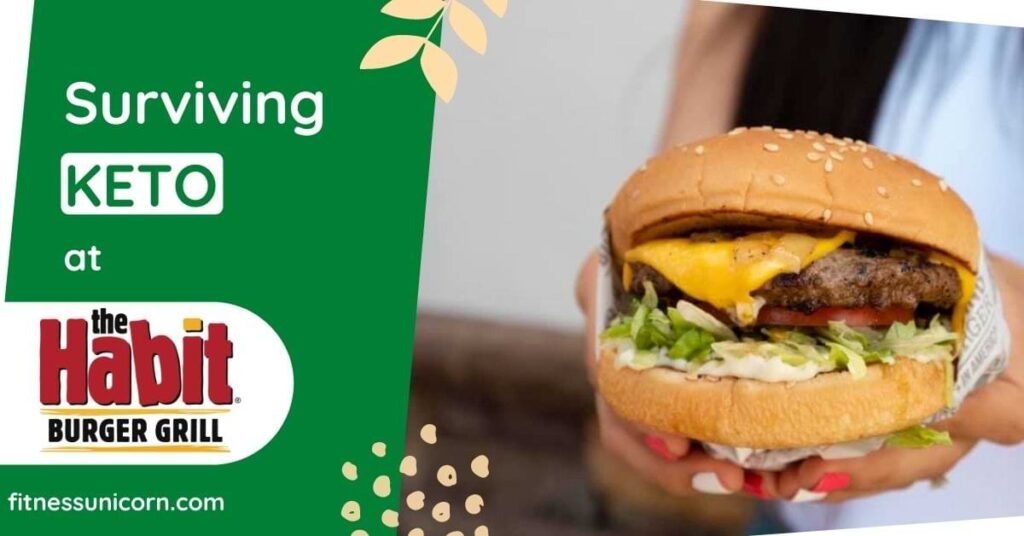 Tired of searching whether certain foods are keto? Download my keto cheat sheet with 210+ keto-friendly foods!
This post may contain affiliate links, which help keep this content free. (Full disclosure)
How to Order Keto at The Habit Burger Grill
Habit Burger is one of those rare restaurants that favor low-carb diets.
Now I don't mean that you can simply walk in and order ANY item from the menu (It could be a major Keto blunder!).
But what I mean is that they give you all the tools and weapons to design your own meals with the right ingredients.
Want to add more avocadoes? Sure. Want some bacon strips between those patties? You got it. Want to get rid of mayo? No problem.
Heck, you can even pick your own patties and toppings and have them served inside a lettuce wrap. So you can try the weirdest of combinations and no one would judge!
Looking for a quick bite on the go? Just order a charburger with a lettuce wrap. No customizations, no repeating your order 5 times until the waiter gets it.
The keto charburger contains crisp lettuce, fresh tomato, caramelized onions, pickles, and mayo inside a neatly packed lettuce wrap. And the total comes out to be just 7g of net carbs and 19g of fat.
Want more fat with NO extra carbs? Double down on the beef patty or throw in a few strips of bacon. That's how you manage your macros the smart way!
When it comes to dressings, The Habit Burger Grill has quite a lot of diversity. You'll be shocked to know that a single serving of BBQ sauce contains 15 grams of carbs!
On the other hand, you can add crumbled blue cheese or White American cheese for almost zero net carbs.
I know you are going there for the burgers. But don't let those desserts and shakes tempt you. Even the least-carb option – Coffee shake with Whipped Cream – rakes in a whopping 99g of carbs! And things only get worse from there.
If you are thirsty or craving a refreshing beverage, a can of Diet Coke is all it takes!
And what about the sides? Does The Habit have low-carb sides?
The sides and other snacks are really high in carbs. They are either made of potatoes or contain heavy breading (e.g. onion rings).
But if you really want a side dish, one or two pieces of crispy chicken bites are doable! Keep in mind that a single bite contains 3g of net carbs (thanks to the breading).
Tip: Pulling off the breading can minimize your carb intake.
MORE: Low-Carb Options at Lazy Dog
The Habit's Keto-Friendly Salad
The Santa Barbara Cobb Salad is super keto-friendly and you don't need to make any customizations whatsoever!
It contains crisp shredded iceberg & romaine lettuce, diced tomatoes, avocado, blue cheese crumbles, and crisp bacon & egg. The salad's taste is enhanced with red wine vinaigrette and it is further topped with grilled chicken breast.
The Santa Barbara Cobb Salad is a complete wholesome meal in itself. And you aren't just limited to the set ingredients. In fact, you can easily tweak the recipe and request your own customizations (such as caramelized onions or ranch dressing, more on this later).
According to the official website, The Habit uses California fresh avocadoes wherever possible.
The croutons can be really tempting, but you are better off without them. Those crunchy little balls are super high in carbs and highly easy to overeat.
You can also have a side salad for 9g net carbs (excluding the dressings).
RECOMMENDED: Baja Fresh Keto Menu
Keto-Friendly Ingredients at The Habit
By now you know the basics of ordering keto at The Habit. If you are in a hurry, simply order a lettuce charburger or the Santa Barbara Cobb salad.
But there's a lot more to experiment with and take your keto game to the next level!
You can choose from different patties, toppings, dressings, and other condiments and turn them into a salad or a lettuce wrap.
Here's the complete list along with the net carbs.
Meat & Patties:
Bacon (2 strips): 0g
Seasoned, Chargrilled Ahi Tuna: 7g
Seasoned, Grilled Beef Patty: 0g
Seasoned, Grilled Chicken Breast: 2g
Seasoned, Grilled Tenderloin Steak: 6g
Their iceberg lettuce wrap contains 7g of net carbs. You could also have your burgers in a bowl and save up all those carbs.
Toppings & Condiments:
American Cheese (1 slice): 0.5g
White American Cheese (1 slice): 0g
Sauteéd Portabella Mushrooms: 2g
Roasted Garlic Aioli: 1g
Pickled Red Onion: 0.5g
Crumbled Blue Cheese: 0.5g
Crumbled Feta Cheese: 1g
Caramelized Onions: 2g
Avocado (1 scoop): 1g
Also Read: Bareburger Keto-Friendly Options
Dressings & Sauces:
Note: The serving size for all dressings is 2 tbsp.
Blue Cheese Dressing: 1g
Butter Blend Spread: 0g
Caesar Salad Dressing: 1g
Cilantro Lime Ranch: 2g
Fat Free Italian Dressing: 3g
Hidden Valley® Ranch Dressing: 2g
House Dressing (balsamic & olive oil): 2g
Kale Pesto Vinaigrette: 1g
Spicy Red Pepper Sauce (Boom): 3g
Tartar Sauce: 1g
Thousand Island Dressing: 3g
Whipped Cream: 1g
Mayonnaise: 0g
Thanks to the restaurants like The Habit, I've almost stopped stocking avocadoes at home.
You run a keto blog and you don't buy avocadoes?
Yup. But hear me out.
You see, the prices of avocadoes have rocketed in recent years by up to 129%. A single avocado now costs upwards of two dollars. So buying in smaller quantities (1 or 2) is just crazy expensive.
You can get the right price only with bulk purchases. But that also has its own caveats.
I can definitely eat 2 avocadoes a day. But when buying in bulk, you have to pick a mix of the hard ones and the ripened ones. This is to ensure that by the time your reach day 4, the hard ones have ripened perfectly.
But all this is just too much pain for someone who wants a simple life (that's me!). I can't even remember how many avocadoes have gone bad just sitting in my refrigerator.
So when a restaurant offers avocadoes as a topping, I go all in!
The Habit Burger Low-Carb Drinks
I know. A meal at a restaurant feels quite incomplete without a drink.
So here I present you with the most keto-friendly beverages at The Habit Burger Grill:
Note: The carb count below is based on an 8 oz serving size.
Black Tea: 0g
Citrus Green Tea: 0g
Diet Coke®: 0g
Minute Maid® Light™ Pomegranate Lemonade: 1g
Tropical Tea: 1g
Pro tip: Always carry a bottle of liquid stevia in your bag or your car. It can sweeten your tea or any other beverage without any added carbs.
Conclusion
Here's how you can survive keto at The Habit Burger Grill:
Ditch the bun and have your burgers in a lettuce wrap.
Santa Barbara Cobb salad is highly keto-friendly with just 7g net carbs.
Use the list of keto-friendly ingredients (mentioned above) to make your own salad or a lettuce burger.
For drinks, stick to water, tea, diet coke, or sugar-free lemonade.
Follow the offical nutrition guide to track your macros.