With 100% natural American Angus Beef Burgers, Burgerfi is for sure a place concerned about its customer's health and well-being. They serve chef-created, 100% fresh food in an eco-friendly environment.
But what we're looking for today, is whether it's a safe place for a keto dinner or just another fancy place with carbs all over the menu!
So what's keto-friendly at Burgerfi?
You can have the Burgerfi Beyond Burger & Ketofi Burger for just 3g and 2g net carbs respectively. Enjoy their dishes with low-carb dressings and toppings such as urban style, cajun seasoning, and different types of cheese. They also have keto-friendly dogs and mix-ins to help you stay on the right track.
This is just the tip of the iceberg (note the lettuce, lol!) This article talks about EVERYTHING keto at BurgerFi so that the next time you order your meal like a BOSS.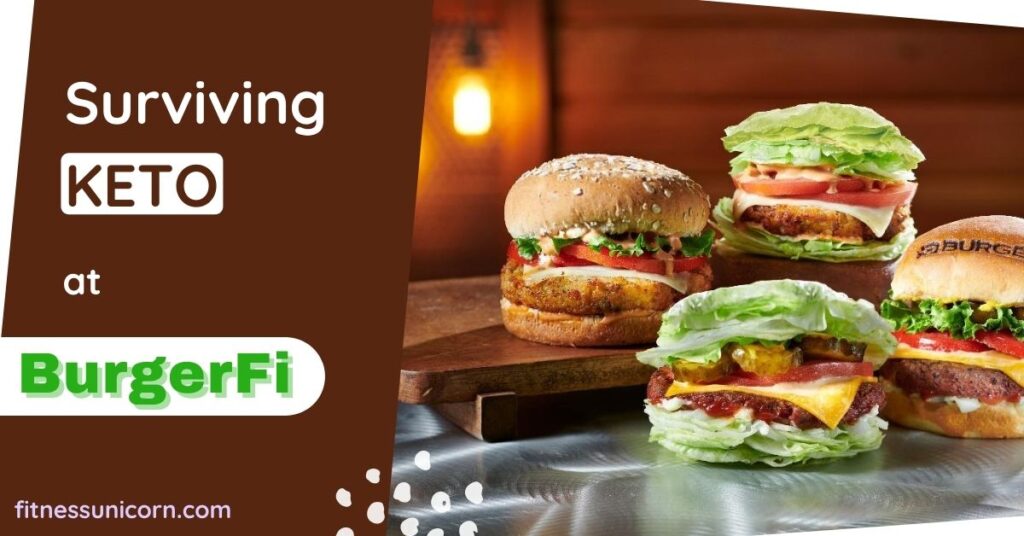 Tired of searching whether certain foods are keto? Download my keto cheat sheet with 210+ keto-friendly foods!
This post may contain affiliate links, which help keep this content free. (Full disclosure)
Surviving Keto at BurgerFi
Some people have a love for wine, while some are beer-fanatics. And then there are people like me who just live for burgers! If I could only eat one thing for the rest of my life, it would be burgers!
That's also the reason why I got a little chubby (in fact, a lot chubby!) in the first place.
But when I started keto, I had to break up with my childhood love because it's so high in carbs (thanks to the bun). That's when I switched to bun-less burgers.
The only problem back then was explaining your order to the waiter. Literally, no one understood why I would ask for a burger, WITHOUT the bun. Now thankfully times are changing and most restaurants are open to customizations.
BurgerFi is one such modern-day restaurant that takes it a step further.
They launched the KetoFi burger, which comes with two all-natural Angus beef patties, some bacon, and a fried egg. The bun is swapped with a lettuce leaf which brings the total carbs to just 2g net.
BurgerFi is an American hamburger chain that offers "better" burgers that are wholesome and environment-friendly as well. For example, they use only cage-free, all-natural chicken and also offer plenty of healthy options.
They even have a Vegan burger which is 100% plant-based but tastes just like its non-veg counterparts.
Keto options at Burgerfi range from their lettuce burgers to Hot Dogs to their low-carb toppings and dressings. If you're willing to cut some corners, Burgerfi is an amazing place to eat keto.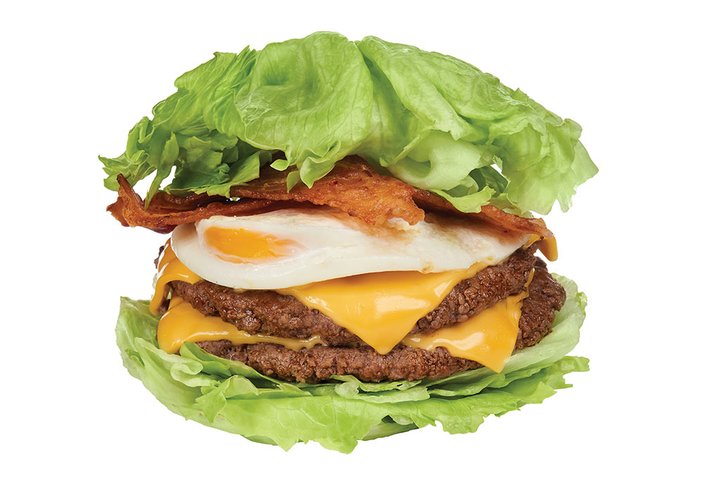 As far as their burgers are concerned, simply toss away the high-carb bun (having 26g net carbs) and you are golden. Enjoy the burgers in a bowl as salads, or have them wrapped inside lettuce. Keep in mind not to lather them with high carb and sugary sauces (I know how tempting gets!)
Their hot dogs can also be consumed in a similar fashion to their burgers. Ditching the high-carb bread (25g net carbs – approx) makes it pretty easy to enjoy the dogs while honoring your carb limit.
They also have a huge variety of keto-friendly toppings to add to your burgers and dogs (think cheese, fried eggs, garlic aioli). The majority of these contain zero carbs and the others you can enjoy in moderation. To summarize, I would say avoid anything that tastes sweet or starchy.
(Did you know that BBQ sauce is one of the biggest keto blunders you can make?)
Another great keto find at BurgerFi is their chicken tenders. A single piece of this crunchy chicken breast has 8g net carbs. That's all you need in case you are not in the mood for a KetoFi burger.
Considering the breading in this crispy delight, I would highly recommend not having more than 1 piece, even if it fits your daily carb limit.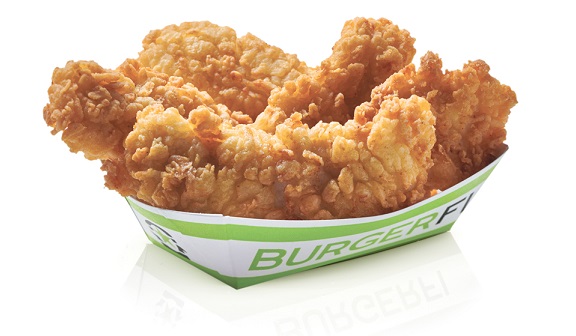 (Check Out: Low-Carb Bojangles Meal)
Burgerfi also has desserts but unfortunately, none of them are keto-friendly since they contain buckets full of sugar. But, if you really got a nagging sweet tooth, I have a little hack for you – try a spoonful of whipped cream for some relief!
Having said that, here's a list of all the keto-friendly options available at BurgerFi.
FIND MORE: Everything Keto at Rooster's Wing's
Keto-Friendly Options at BurgerFi
Burgerfi has a good variety of keto-friendly burgers, toppings, dogs, and sauces. Let's go through all the available options here:
Keto-Friendly All-Natural Burgers (Bunless)
Burgerfi Burger (17g)
Burgerfi Cheeseburger (17g)
Burgerfi Bacon Cheeseburger (16g)
Beyond Burger (3g)
Fi'ed Chicken Tenders (16g)
Ketofi Burger (2g)
Although the above-mentioned burgers are slightly on the higher side, you can still consider them till your net carb intake for the day is less than 25g.
Mind you, the carb count above is AFTER you have removed the bun. Add in another 1g carb if go the lettuce wrap route.
YOU MAY ALSO LIKE: Keto-Friendly Options at Friendly's
Keto-Friendly Toppings
Almost all the Burgerfi toppings are Keto-Friendly with most of them containing zero carbs.
Just the ones that contain carbs are:
Tomatoes (1g), Diced Onions (1g), Grilled Diced Onions (1g), Pickles (1g), BBQ Sauce (3g), Bacon (1g), Grilled Mushrooms (2g), Burgerfi Chili (2g), Truffle Aioli (1g), Bacon Tomato Jam (5g), Ketchup (4g), BurgerFi Sauce (2g), Mayonnaise (1g).
Don't go overboard with the sauces because you might end up ruining the sole purpose of a bun-less burger (i.e. minimizing carbs).
Keto-Friendly Dogs (Without Bread)
Vienna Beef Dog (5g)
New York Style (5g)
Texas Style (8g)
These carbs are calculated after excluding the high carb bun that consists of around 21g net carbs (via a third-party source).
Fry Toppings
Urban Style (2g)
BurgerFi Chili & Cheese (5g)
Cheese Sauce (6g)
BurgerFi Chili (4g)
Cajun Seasoning (0g)
Salt & Vinegar (0g)
Keto-Friendly Toppings & Mix-Ins
Whipped Cream (1g)
Peanut Butter (4g)
Strawberries (9g)
Oreo Cookies (10g)
Brownie Chunks (12g)
Red Velvet Cake (6g)
Keto-Friendly Beverages
As far as their beverages are concerned, there are no low-carb drinks on the menu. The general keto drinks include coffee, tea, water, or any other packaged drinks like diet coke if you can find them at a nearby store.
It's really sad that BurgerFi doesn't offer any diet or sugar-free beverages for the keto folks. But then again – packaged drinks like Diet Coke wouldn't go well with their "fresh food" approach.
So it's just water for us guys! (or carry a keto-friendly beverage in your car.)
Final Tip: Any diet that puts you into ketosis can be called a "keto diet". There isn't a fixed carb count given by the founders of keto, but most people see results with 20-25g of daily net carbs.
So stick to your daily carb limit no matter what. It means you can even have a 15g carb meal if you compensate the carbs in other meals of the day.
Conclusion
You're most likely to feel that there are not enough keto options available here for you. But, for a place known for its juicy burgers and sugary sauces, it still feels manageable going keto at Burgerfi.
Simply follow the low-carb strategies discussed above, and you are sure to enjoy a satisfying keto meal at BurgerFi.
Happy Ketoing 🙂