When it comes to our taste buds, it seems like our mouths have a mind of their own. As a result, being on a strict keto diet is quite a hard nut, especially when you eat at a restaurant like PDQ.
Who thought you could run a whole restaurant revolving around chicken tenders? That's PDQ, my friends! Their juicy chicken tenders and homestyle sauces have a huge following of their own.
In fact, it's the first thing that comes to mind when you think of chicken tenders. But since you've jumped on the keto wagon, can you still enjoy these nuggets? What's keto-friendly at PDQ?
PDQ offers plenty of low-carb options for those on the keto diet. Avoid the crispy chicken (breading), and go with the grilled chicken since it has zero carbs. For sauces, stick to Buffalo Bleu Cheese and Ranch sauce as they are the only two low-carb options.
That's not all. PDQ has a wide range of low-carb options ranging from salads and going all the way to beverages. I've covered them all in this article. So let's begin!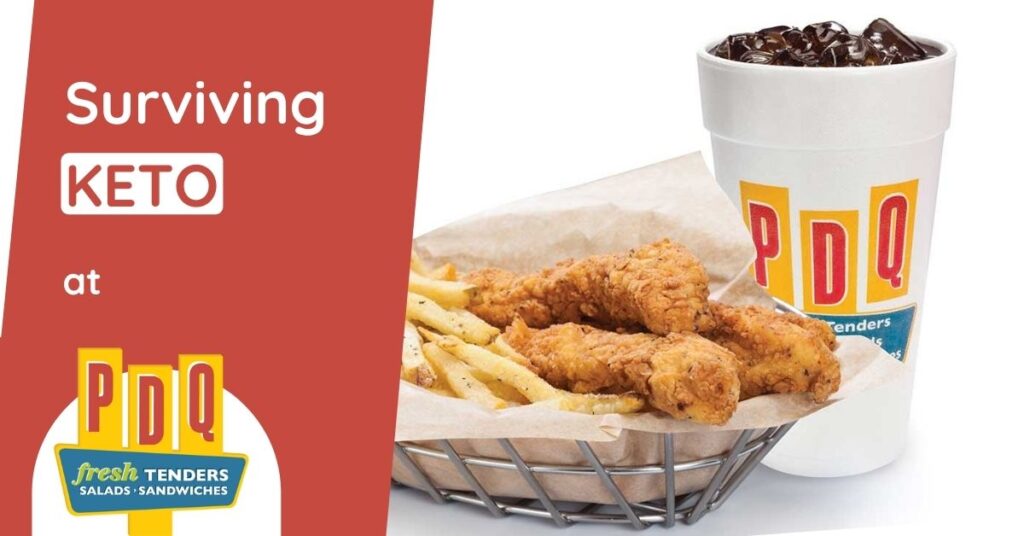 Tired of searching whether certain foods are keto? Download my keto cheat sheet with 210+ keto-friendly foods!
This post may contain affiliate links, which help keep this content free. (Full disclosure)
How To Survive Keto At PDQ Restaurant
Being on a keto diet means your every meal has to be below 25-30g of carbs. When you come in to eat at PDQ, the enticing and mouth-watering dishes are splendid but not always keto-compliant.
While chicken is free from carbs and highly keto-friendly, it's that "crispy" breading that spikes up the carb count.
So eliminating the crispy chicken already cuts your options by half. Now the good news is that you can have most of the dishes made with the grilled chicken (non-breaded). And guess what? It has exactly ZERO carbs (yay!)
Now all you have to care about is what you pair with the grilled chicken.
For example, a spoonful of Honey BBQ sauce will take your carbs through the roof (21g net carbs). While on the other hand, you can have the Bleu Cheese dressing for just under 2g carbs.
Similarly, you can mix and match different ingredients to make your own keto-friendly salads at PDQ. But always remember, go with the grilled chicken instead of the crispy one!
Here's my usual order at PDQ: I order a Mediterranean salad and ask them to remove Lemon Chile Vinaigrette and Hummus. Then I add a generous amount of Bleu cheese dressing to soak in those fats.
The end result is a healthy and wholesome salad (and delicious too!) with 36g fat and just 8g of net carbs.
And if your server is kind enough, he might throw in some broccoli as well on your request.
I know you've been craving PDQ's shakes and desserts. But sadly, none of them fit the keto bill. You can seek respite in an unsweet tea though (bring your own liquid stevia). Or maybe grab a cup of green tea for those super-good catechins.
Without any further ado, let's go through the PDQ's menu and look at what you can (and can't) have on keto.
RECOMMENDED READS:
PDQ's Keto-Friendly Options
#1. Tenders
Chicken tenders are the spirit of PDQ Restaurant chain. It's short for tenderloins and it's NOT the same as chicken strips or chicken fingers.
PDQ offers 100% fresh and juicy chicken pieces in two options: Crispy and Grilled. If you are on the ketogenic diet, pick the latter one (with zero carbs). You can have a 2 ct, 3 ct, 4 ct, or even ct servings of the grilled chicken.
But the more you order, the more sauces you're like to pour upon. That's why you should watch your portion sizes even with these no-carb tenders.
YOU MAY ALSO LIKE: Keto-friendly at Boar's Head
#2. Salads
PDQ offers three salads, namely PPQ salad, Mediterranean Salad, and Spicy PDQ salad.
Here's how they fair in terms of nutrition and ingredients:
1. PDQ Salad (Grilled): Grilled chicken, mixed greens, red cabbage, cucumbers, tomatoes, cheddar & jack cheeses.
This is the most keto-friendly salad by default. However, it comes with honey mustard dressing which is a major carb disaster! Swap it out with some bleu cheese and you have a nutritious salad for just 8g net carbs.
2. PDQ Salad (Crispy): This one has exactly the same ingredients, but comes with crispy chicken that is breaded. As a result, this one has 20g of net carbs, which doesn't pass the keto test! So you are better off without it.
3. Mediterranean Salad: Ah, my favorite! This one comes with Grilled or crispy chicken, mixed greens, red cabbage, carrots, cucumbers & tomatoes, kalamata olives, pepperoncini, feta, hummus, lemon-chile vinaigrette
To make it keto-compliant, ditch the Vinaigrette and Hummus, and throw in a serving of Bleu Cheese dressing. The final carbs come out to be 8g net.
YOU MAY ALSO LIKE: Keto-Friendly Options at Friendly's
#3. Sandwiches
I'd rather call it lettuce-wich and not instill fake hopes in you! The potato bun that comes in PDQ sandwiches has 26g of carbs, which is a big no-no on keto.
Even if you toss out the bun, all the sandwiches contain breaded chicken, which is again high-carb.
Your sandwich options narrow down to just a grilled chicken sandwich and that too without the bun (enjoy it in a crunchy lettuce wrap!) It contains tomato, lettuce, Italian Dill, and our favorite – juicy grilled chicken breast.
All of it comes for just 3g net carbs excluding the sauces
#4. Sauces & Dressings
Here's a list of all the sauces available at PDQs:
Bleu Cheese: 1g
Buffalo Cheese: 2g
Honey BBQ: 21g
Honey Mustard: 5g
PDQ Sauce: 2g
Ranch: 2g
Sweet Sriracha: 4g
Note: The carb count above represents the serving size of a "sauce". PDQ's "dressings" have double the portion size of a "sauce".
So the clear keto winners are Bleu Cheese (of course!), buffalo cheese, PDQ sauce, and the Ranch. Always keep in mind that any sweet-tasting sauce is never keto-friendly because it's probably loaded with sugar.
#5. Sides
I always prefer to have a side of greens whenever having chicken. It prevents your mouth from getting dry because you are already having a minimal amount of sauces.
Parmesan Broccoli: Broccoli with butter, garlic and parmesan cheese.
Side Garden Salad: Mixed low-carb greens (ditch the carrots)
Grilled Chicken Tender
Steer clear of the fries and rice, but you may order a small portion of green beans.
#6. Beverages
When it comes to the drinks, PDQ doesn't have any diet soda or sugar-free cola to support your thirst on keto.
You can instead order Unsweet Tea or Green Tea to sip through your chicken tenders. I always carry a pack of liquid Stevia for times like these. Just pop open the cap and a few drops are enough to lighten up your tea!
Conclusion
PDQ has a pretty small menu that primarily revolves around chicken tenders! But still, you have plenty of keto-friendly snacking options if you follow the tips given in this article.
In a nutshell, ditch the crispy chicken for the grilled counterpart and avoid any sugary sauces – you'll be alright.
Most Important: You're supposed to eat under 25g of net carbs per day to stay in healthy ketosis. So even if you mess up your order and end up with a 20g carb meal, make sure you compensate for it throughout the day. It means you can't have more than 5g carbs in the remaining meals.
If you still have any doubts, use this official nutrition calculator given by PDQ on their website. It gives you the exact nutritional information of your order.