Most people have a tendency to automatically assume certain food items are gluten-free and thus 'safe' for those with Celiac Disease or a gluten intolerance.
Chicken salad is gluten-free, right? Where could the gluten be lurking in chicken and lettuce?
Enter the restaurant 'Chicken Salad Chick,' that specializes in offering a wide array of options for their hungry patrons. So what's gluten-free at Chicken Salad Chick?
Even if you are avoiding gluten, you can enjoy a wide array of options at Chicken Salad Chick including chicken salads, pimento cheese, sides, and some green salads as well!
As always, those with severe gluten intolerance, allergies, or Celiac Disease should consult or contact the restaurant prior to dining to ensure they can enjoy their meal with peace of mind, as no one can confirm the absolute safety of environments where other gluten-containing foods are being prepared.
Those looking to avoid gluten — whether due to allergies or personal health reasons, are entitled to enjoy a meal at a restaurant without having to worry about problematic ingredients in their food making them sick.
In this article, we bring you the best alternatives – both menu-wise and restaurant-wise.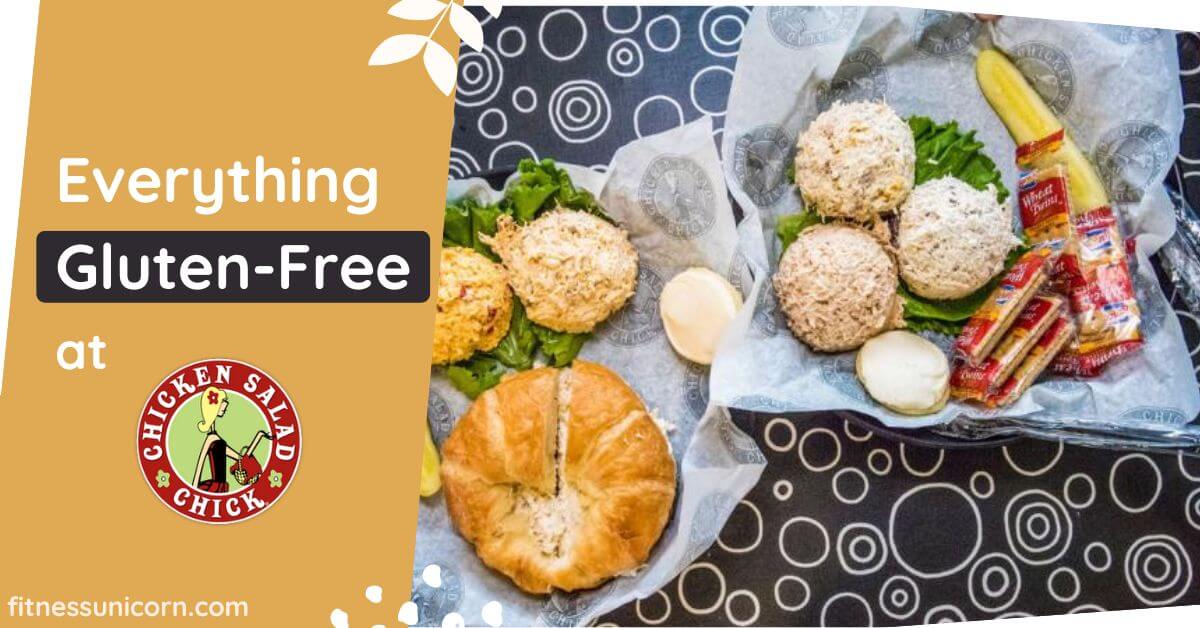 This post may contain affiliate links, which help keep this content free. (Full disclosure)
Gluten-Free Options at Chicken Salad Chick
While not a dedicated gluten-free dining environment, Chicken Salad Chick offers a wide range of gluten-free options for diners with allergies, intolerance, or those who simply want to avoid gluten for health reasons.
Chicken Salad Chick (as the name implies) specializes in offering fun, flavorful spins on the traditional chicken salad.
Borne out of a love for perfecting the simple chicken salad, Chicken Salad Chick started out of Stacy M. Brown's home with her then-to-be husband, and expanded upwards from there with multiple locations across the U.S. from origins in Tennessee and Alabama.
Below we detail and highlight the primary ingredients in every gluten-free option available at Chicken Salad Chick. Soft drinks and iced tea are also noted as being gluten-free.
Chicken Salads
"Classic Carol": White meat chicken, shredded; paired with celery, mayo, and a 'secret' seasoning – the secret seasoning is confirmed with the restaurant to be gluten-free.
"Olivia's Old South": White meat chicken, in a 'Southern' style dish, paired with sweet pickles and eggs.
"Fancy Nancy": A fruitier chicken salad – white meat, paired with Fuji apples, grapes (seedless), and pecans. This is gluten-free, but not nut free.
"Fruity Fran": A spin on "Fancy Nancy," with the pecans swapped out for the addition of refreshing, tropical pineapple.
"Cranberry Kelli": A chicken salad with white meat combined with dried cranberries and almonds. Gluten-free, but contains nuts.
"Lauryn's Lemon Basil": A chicken salad featuring fresh basil, lemon & lemon juice, and chopped pecans.
"Dixie Chick": Deemed by the restaurant to be their "most offensive" salad – a chicken salad loaded up with onions.
"Sassy Scotty": Chicken salad with ranch, bacon, and shredded cheddar cheese. The bacon is gluten-free, as is the ranch dressing.
"Barbie-Q": Want a BBQ-flavored, smoky chicken salad? This is the go-to for your hickory smoked needs, sure to please.
"Buffalo Barclay": Chicken wings in the form of a chicken salad. Buffalo spicy, but mild enough for the casual fan.
"Jalapeno Holly": Plenty of diced jalapenos on this chicken salad to turn up the heat – for moderate spice fans.
"Kickin' Kay Lime": For the spice and heat connoisseur. A chicken salad combo, featuring buffalo sauce, jalapenos, sriracha, cheddar cheese, ranch, and bacon. All sauces are gluten-free.
YOU MAY ALSO READ: What's Gluten-free at Fogo De Chao?
Pimento Cheese & More
"Pimento Cheese": A mix of fresh, grated sharp cheddar and pepper jack cheese, combined with a creamy made-in-house dressing. The dressing is gluten-free. Meal is also vegetarian.
"Spicy Pimento Cheese": Vegetarian and gluten-free. Pimento cheese with a jalapeno twist, this is the 'spicy' take on their pimento cheese dish.
"Egg Salad": Classic egg salad – eggs, sweet pickles, mayo.
Sides
"Broccoli Salad": Broccoli florets, in a sweet vinegar-based dressing, paired with shredded mozzarella and cheddar, and topped with crispy pieces of bacon.
"Grape Salad": Red + white seedless grapes, mixed in a sweet and savory cream cheese, then topped with brown sugar and crumbled pecans.
"Fresh Fruit": Chilled, fresh-cut fruit – strawberries, blueberries, red + white seedless grapes.
'Green' Salads
"Classic Salad": Your choice of any 'scoop' from a chicken salad or pimento cheese dish, paired atop a bed of spring lettuce and greens blend, with grape tomatoes and cucumbers.
"Seasonal Salad": A seasonal side salad pairing the season's freshest greens, fresh fruits, cheese, and "crunchy" toppings. The dish seems to vary by the season, but was indicated by the restaurant as being gluten-free.
So, there you have it – a fairly large number of gluten-free options at one of the most popular chicken salad restaurants in North America.
Chicken Salad Chick themselves state explicitly on their menu that they cannot confirm 100% allergen-free environments. All their food is prepared in house, where gluten is also present.
They offer BLT sandwiches, Mac & Cheese, and dessert items (Buttercream Flower Cookie) which are all wheat-based, and do contain gluten.
Those with Celiac Disease or a severe gluten-intolerance would be better off avoiding the restaurant, stating their concerns directly to the restaurant prior to their food being prepared, or seeking out alternative dining.
ALSO READ: Gluten-Free Options at Fazoli's
Tips & Tricks for Enjoying a Gluten-Free Meal at Chicken Salad Chick
As we mentioned previously, never automatically assume a food or dish prepared in a restaurant is gluten-free. While it may seem 'obvious' that things which are not made from wheat or barley are 'safe' – this just is not the case.
Restaurants often prepare gluten-containing foods in the same kitchen, using the same utensils. This is in addition to 'hidden' ingredients that could be derived from wheat or barley, and thus trigger a reaction.
Ensure Proper Communication with Staff About Your Dietary Needs
This extends far beyond just going gluten-free. If you have any sort of allergies, food preferences, or dietary requirements (such as a strict vegetarian or vegan diet), it is essential you let staff know prior to ordering.
As such, they can either advise you on what to avoid (or if it is possible to accommodate you), or ensure the food is prepared isolated from potential problem ingredients.
This tip applies not just to Chicken Salad Chick, but to any restaurant you would be dining at.
If the server has difficulty understanding your concerns, it is best to ask to speak to a manager, kitchen staff, or a supervisor to adequately address your concerns.
You should never feel guilty or critical for doing this, as it is the staff's job to accommodate their customers and ensure their safety. Not yours. You should never feel like a burden for advocating for your health or dietary needs.
Look for Potential 'Problem' Ingredients; Stick to 'Simple' Foods
Never trust that all the ingredients in a dish are listed on the menu.
If you are still unsure of what to order based on menu descriptions (which often will not accurately list all the ingredients), stick to food that is simple and straightforward.
Gluten, from wheat or barley-related products, may be hidden in things labeled as "house dressing," "sauce," or "marinade."
Look for dishes with a designated 'gluten-free' icon next to them, always ask the waiter or staff prior to ordering, and stick to things that are a 'safe bet.'
This means things like fries or a fruit salad – these are incredibly unlikely to have any sort of gluten due to the preparation process.
It is also extremely unlikely that these dishes would have come into contact with wheat or barley and been 'cross-contaminated.'
On Chicken Salad Chick's menu, this means opting for a salad without a 'secret' dressing, fruit salad, pimento cheese, or an egg salad. If the menu lists a 'sauce' or 'dressing' – double check with staff to see what it contains.
"Cross-contamination" is also a huge concern for people with severe allergies – not just to gluten, but to other problematic allergens like shellfish.
What Does "Cross Contamination" Mean, and Should I Be Worried?
Cross-contamination is not a gluten-specific term. The Department of Health actually qualifies cross-contamination as "the physical movement or transfer of harmful bacteria from one person, object, place or [location] to another."
This usually applies to things like raw meat contaminating, say, a salad – which may result in food poisoning due to improper handling techniques.
This terminology, however, also extends to gluten and other allergens.
Cross contamination is a risk factor for anyone with a gluten allergy, intolerance, and especially those with Celiac Disease.
While you should have a healthy level of concern over cross-contamination (especially when your safety depends on it), many times it is difficult to fully know how food is prepared – whether in a facility producing pre-packaged food, or in a restaurant.
Studies also offer conflicting information on this.
While one study indicated that there is minimal or no gluten transfer between tools like toasters and knives when used for both gluten-containing and gluten-free foods, other studies indicate a major risk to those with Celiac Disease.
Despite researchers finding 'low' gluten transfer between things like toasters, knives, and pans – there were still high concerns over things like using the same cooking water for gluten-free pasta after cooking wheat pasta.
The same applies to major restaurant appliances like fryers. This is why it is always in your own best interest to check with restaurant staff. Always ensure optimal safety, depending on your level of concern.
What The People are Saying About Chicken Salad Chick
We have scoured the internet and external sources to compile a comprehensive review of information on Chicken Salad Chick from restaurant goers that adhere to a gluten-free specific diet.
This is done to give you the best, unbiased, information possible on the restaurant.
Only then can you can make an informed decision about dining there – both in terms of the safety of the restaurant for those avoiding gluten, and to speak to the quality of the food itself.
What are the people saying about Chicken Salad Chick? Generally, it seems like people love Chicken Salad Chick. Many of these patrons are indeed gluten-free, and specify that in their reviews.
One review excitedly states that upon ordering, they were told by the waitress that it would be easier for them to explain what's 'not' gluten-free on the menu, because the majority of things are.
The staff were described as extremely accommodating to allergy concerns, and helpful with choosing the best and most suitable menu items.
Multiple different locations have patrons and customers saying reassuring comments that the vast majority of foods prepared there are gluten-free, and they do try to ensure everything is kept (or prepared) separately.
A manager at one of the Tennessee locations exclaimed that he personally has Celiac Disease, and safely eats at the restaurant all the time.
While most of the reviews explicitly mention that they have no fear of cross-contamination, and this is not a concern with Chicken Salad Chick, we still advise expressing a healthy amount of caution eating anything that may have come into contact with gluten as we cannot assure this: only the restaurant can.
There are many popular restaurant chains with increasing numbers of gluten-free options.
As the public has become more conscious and aware of the concerns people have over gluten, the need for safe dining environments and menu options has grown exponentially.
Gluten-Free Alternative Options to Chicken Salad Chick
110 Grill
For those looking for a completely gluten-free experience dining out, '110 Grill' – with locations across the U.S., is committed to offering a 100% of their main menu prepared completely gluten-free.
No food comes in contact with gluten that is designated as gluten-free.
This also means keeping their fryers completely free of any potential allergens, the GF options being cooked and prepared separately and prepared exclusively by management staff at the restaurant (with rigorous training for all employees).
They were even recognized as a "Top Ten Allergy-Friendly Restaurant" multiple years in a row, while being supporters and donors to the Boston Children's Hospital for Celiac Disease program.
Their menu is expansive, and offers options such as soups (tomato soup with garlic and parmesan), BBQ Chicken Nachos (corn tortilla, pulled BBQ-chicken, black beans, salsa, banana peppers, ranch, and scallions), and chicken salad (fried chicken, corn, grape tomatoes, smoked bacon, cheddar cheese, ranch, and corn).
Anna's House
Again, for those seeking an extremely reassuring and confident gluten-free dining experience, 'Anna's House' offers dedicated gluten-free kitchens where food is prepared entirely separate from anything that may be cross-contaminated.
They also offer gluten-free 'options' for traditionally gluten-free meals, where menu options such as the 'avocado toast' can be served on gluten-free bread.
Most of the menu is geared towards gluten-free patrons, and is marked and indicated very clearly on the menu.
As opposed to other restaurants, the staff is trained extensively on allergens, and knowledgeable on Celiac Disease and gluten-free measures in place.
Offering 'classed up' traditional diner food, Anna's House has a menu featuring a gluten-free chicken salad (lettuce, grilled chicken, avocado, bacon, tomato, blue cheese, dressing), among oatmeal, potato hash, veggie burgers, waffles, pancakes (GF), and even a gluten-free lasagna!
Based on consumer feedback and research into their menu and food items – you could do a lot worse than Chicken Salad Chick for gluten-free meal options.
Staff and customers report the minimal risk of cross-contamination, and they have a menu that features predominantly gluten-free options except for their sandwiches and a couple of sides.
Still, for those with a severe allergy or Celiac Disease, there are always other options with extremely stringent measures – separate kitchens, and dedicated gluten-free grills, utensils, and fryers.