Fazoli's is a fast-casual Italian restaurant chain specializing in all kinds of Italian-American cuisine. The restaurant is focused on serving quality food with amazing service where the customer always comes first.
Their vast Italian menu encompasses everything you could imagine, from fresh green salads to pasta, pizzas, wings, and decadent desserts.
So what's gluten-free at Fazoli's?
Fazoli's has a dedicated gluten-free menu that enables you to satiate your pasta cravings without risking your health.
You can enjoy their devour-worthy gluten-friendly chicken pesto rotini or the gluten-friendly rotini with a selection of sauces, including marinara, alfredo, and meat sauce.
Other scrumptious gluten-free options at Fazoli's include their refreshing green salads that you can complement with their salad dressings. Moreover, you can enjoy a selection of sides and juicy wings that are free of gluten.
All you need to do is make sure to inform the staff about your gluten allergy so that adequate cross-contamination protocols are followed.
Unfortunately, Fazoli's doesn't have dedicated prep stations for their gluten-free items. This increases the risk of contamination since most of the menu contains gluten-rich items like pasta, pizza, bread, and much more.
If you have Celiac disease or severe gluten sensitivity, we would ask you to stay cautious and remind the staff of the importance of cross-contamination measures while prepping your order.
We're going to be diving deep into Fazoli's menu to filter out all of the possible gluten-free options available for you to enjoy. We'll also be going over some fantastic tips to safeguard your meal from the potential risk of contamination.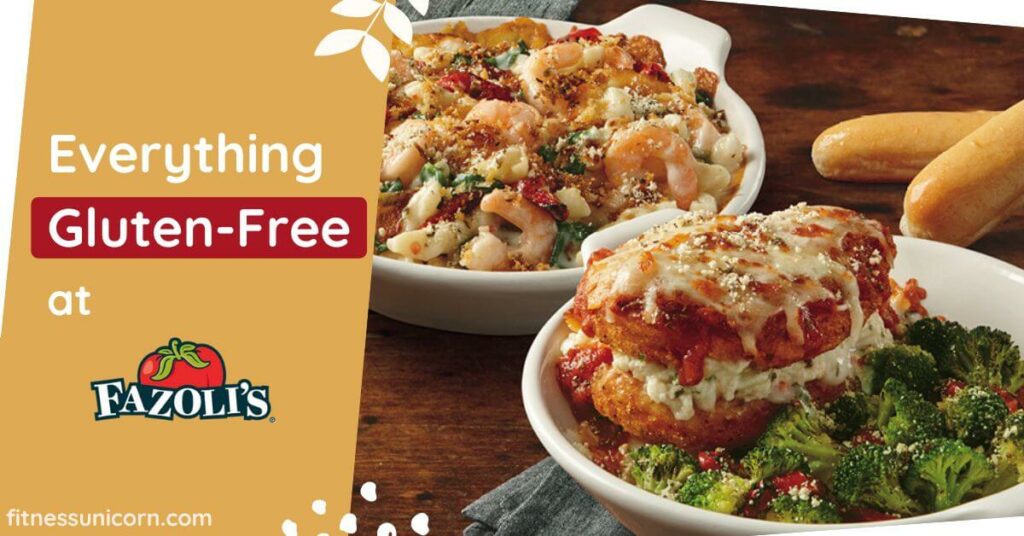 This post may contain affiliate links, which help keep this content free. (Full disclosure)
Gluten-Free Options at Fazoli's
Fazoli's has been serving some of the best Italian-American food since 1988. The restaurant has expanded to over 220 locations across the USA, signifying its popularity amongst the public.
They boast the best customer service and an amazing atmosphere for family dinners.
The expansive menu at Fazoli's can be broken down with the help of their comprehensive allergen guide available on their website.
All you need to do is enter the allergen you're avoiding, and it'll give you all the possible options you can consume. This user-friendly guide will make it extremely easy to place your order.
However, Fazoli's does not have dedicated kitchen space to prepare gluten-free items; hence there is still a risk of cross-contamination. The staff is meticulous and will take all necessary precautions on being informed of your allergies.
Therefore, be proactive and let your concerns be known before you order.
Let us now look at all the gluten-free Italian dishes Fazoli's offers!
Salads
You can enjoy the refreshing House Salad at Fazoli's that is made with fresh crunchy vegetables to order. If you're not up for something heavy, this is the perfect gluten-free snack to satiate your appetite.
Salad Dressings
Add some oomph to your choice of salad with Fazoli's housemade gluten-free dressings. There's a variety of dressings to choose from to amp up your experience.
Caesar
Honey French
Ranch
Red Wine Balsamic
Fat-Free Italian
House Italian
FIND MORE: Gluten-Free Options at Fleming's Steakhouse
Gluten-Friendly Pasta
Fazoli's has a special gluten-friendly rotini pasta that is made with brown rice instead of wheat. This makes it completely free of gluten, and you can enjoy it with various gluten-free pasta sauces on offer.
Perfect for satisfying those pasta cravings!
Gluten-Friendly Chicken Pesto Rotini
Gluten-Friendly Rotini with Marinara, Alfredo, or Meat Sauce
Sides
Fazoli's boasts a variety of delicious gluten-free sides that you can enjoy with a meal or devour on their own.
Italian Sausage
House Roasted Chicken
Sauteed Mushrooms
Marinated Tomatoes
Parmesan Roasted Brocolli
Bone-In Wings
The wings at Fazoli's are a little controversial since they're fried in a shared fryer with all the other breaded items. If the staff can ensure clean oil to fry your wings, you can munch down on these deliciously juicy wings.
Mild/Medium/Hot Buffalo
Sweet Honey BBQ
Hot Honey BBQ
Parmesan Garlic
RECOMMENDED: Gluten-Free Options at Chicken Salad Chick
Fantastic Tips for a Gluten-Free Meal at Fazoli's
The gluten-free options at Fazoli's are limited to a single dish. If you're looking to order something from their regular menu, we have some fantastic tips to help you avoid contamination and enjoy a safe and satisfying meal.
These tips will supplement the existing information in the detailed allergen guide available on Fazoli's website.
Know the Eatery
It's essential to do your research before visiting any restaurant. This will help you assess how allergy-friendly a restaurant is. This is especially important when it comes to Italian restaurants since the majority of their menu is pasta.
Here are some of the main questions you should have answered before visiting any eatery;
What type of cuisine is being served?
Is there a dedicated gluten-free menu and prep station?
How strict are the cross-contamination protocols, if any?
Are there dedicated utensils, pans, and blenders for gluten-free use?
Is the staff knowledgeable enough to guide you accurately?
Fazoli's is an Italian restaurant, meaning the kitchen is flooded with gluten, and the risk of contamination is high. The staff follows adequate precautions to avoid contamination if you order from the gluten-free menu.
Communicate your Concerns
It's paramount to inform the manager and wait staff about your Celiac disease or gluten allergy before placing your order. Go into depth about the severity of your condition to dispel any possible misunderstanding.
This will keep the kitchen staff alert and make the extra effort to avoid contamination.
The team at Fazoli's is extremely helpful and accommodating; they will ensure you're comfortable and try to limit contamination as much as possible with the equipment available.
The staff is knowledgeable and prepared to answer all of your queries. Overall, you'll be in good hands if you visit Fazoli's because their top priority is always the customer.
Follow Precautions
You can ask the staff to abide by a few precautions to avoid any mistakes and possible contamination further.
These precautions will give you the peace of mind of knowing that your meal was prepared with proper protocols and contamination was limited as much as possible.
Request that a single chef prepares your meal from start to finish to avoid any confusion.
Request the chef to wash their hands and wear a pair of new gloves before prepping your order.
Request the chef to use a clean pan and utensils to prepare your order.
Ask for the ingredients to be fetched from a fresh batch to avoid unnecessary contamination.
If you're with a group of people, ask for your meal to be prepped first to avoid cross-contact.
If you're a Celiac or someone with severe gluten allergies, implementing these precautions is crucial for your safety.
Keep it Simple
Remember to keep things simple when ordering at Fazoli's. Stick to their gluten-free menu for the safest dining experience. Try to order items that need the least prep and are free of wheat and wheat-derived products.
Avoid complex items that might contain gluten in the form of thickeners, breading, etcetera.
If in Doubt, Throw it Out
Only order and consume dishes that you're certain about. Keep away from any ingredient or dish that you're unsure of. Risking your health over something you're already doubtful of is not worth it.
Visit During Off-Peak Hours
The risk of contamination and blunders goes up during rush hours when the orders start to pile up. It's wise to visit during off-peak hours when the staff is relaxed and can better accommodate your order.
Cross Contamination Risk at Fazoli's
Cross-contamination is a phenomenon that occurs when gluten particles come into contact with gluten-free food items through contaminated utensils, gloves, surfaces, pans, and other foods.
This poses a significant threat to Celiacs since dishes that seem gluten-free could still cause an adverse reaction due to contamination. Hence, the need for stringent cross-contamination protocols at eateries is paramount.
Fortunately, Fazoli's has a dedicated gluten-free menu that is prepared while keeping cross-contamination protocols in mind. The staff is well trained and does their best to avoid contamination.
However, due to the lack of dedicated prep stations, the risk of cross-contact is still present at Fazoli's.
If you're a Celiac, remember to stay vigilant and inform the staff of your health condition so they can prepare a contamination-free meal for you.
What is the Public Saying?
We scoured the internet for reviews on Fazoli's to get a better picture of how allergy-friendly the restaurant truly is.
Before visiting any restaurant, it's essential to know what the Celiac and gluten-sensitive community have to say about the establishment. Hence, we've sourced a series of reviews from the internet to aid in your decision to visit Fazoli's.
The majority of the reviews we came across were positive and mentioned the delicious gluten-free pasta on the menu, which was prepared while keeping all cross-contact precautions in mind.
They also mentioned the courteous staff that was well equipped and trained to handle food allergies. Even some Celiacs claimed to not get sick after enjoying a meal from the gluten-free section.
The only reservations people had with Fazoli's were the lack of gluten-free variety, and the possibility of cross-contamination as the restaurant's menu was primarily pasta and bread items.
Overall, customers reported the experience at Fazoli's to be pleasant. If you have Celiac disease or severe gluten sensitivity, we would advise you to stay cautious while visiting Fazoli's.
Gluten-Free Alternatives to Fazoli's
Even though Fazoli's has some fantastic gluten-free items, the variety is limited. Here are a few excellent alternatives to Fazoli's if you're craving some gluten-free Italian cuisine.
Olive Garden
Olive Garden is an incredibly popular Italian-American restaurant serving up some of the best kinds of pasta. The best part is they have a dedicated gluten-sensitive menu that includes various gluten-free pasta dishes.
The staff is courteous, and adequate cross-contamination measures are in place.
Zuppa Toscana
House Salad without Croutons
Herb-Grilled Salmon
Sirloin Steak
Pasta – Grilled Chicken Parmigiana, Rotini Pasta with Marinara, or Meat Sauce
Biaggi's Ristorante Italiano
Biaggi's might just be the Holy Grail of gluten-free Italian food. With a gluten-free menu larger than regular menus at most places, Biaggi's will leave your cravings more than satisfied.
The amazing staff and strict cross-contact measures make it a must-visit restaurant.
Gluten-Free Pizza – Made with their special gluten-free dough with various flavors to choose from.
Gluten-Free Pasta – The brown rice penne allows you to order all of your favorite pasta dishes completely free of gluten.
Gluten-Free Salads – Enjoy a variety of scrumptious leafy green gluten-free salads if you're looking for a light snack.
Gluten-Free Entrees – Enjoy a unique variety of delicious gluten-free entrees
Gluten-Free Sauces – Three-Cheese Alfredo, Italian Salsa, Bolognese, Mac & Cheese Sauce, Marinara, Marsala, Scallion Cream, and Pesto
Johnny Carino's
Johnny Carino's is another popular US-based Italian restaurant serving up some delicious gluten-free Italian dishes. You can order off of their extensive gluten-free menu and have a great time with friends and family.
House Salad & Caesars Salad
Soups
Chicken Marsala
Steaks & Pot Roast
Chicken Scallopini
Seafood Pasta Medley
Lettuce Wrapped Burgers
Pizza with Gluten-Free Crust