Donatos has been satisfying pizza cravings all across the USA since 1963. It specializes in thin crust pizza that is topped edge to edge and cut into square slices instead of traditional triangles.
The expansive menu offers a vast range of pizza flavors, salads, wings, appetizers, subs, and calzones. Everything is prepared with fresh premium ingredients, and customer satisfaction is their utmost priority.
So what's gluten-free at Donatos?
Donatos has the answer to all your pizza cravings that you haven't been able to satiate due to your gluten restrictions.
The pizzeria offers certified gluten-free crust and cauliflower crust that can be topped with all your favorite toppings to make the most satisfying pizza.
You can also choose from the fantastic preset flavors and have them on a certified gluten-free crust.
Other gluten-free options at Donatos include their fresh, green salads, traditional bone-in wings, and salad dressings. All of these perfectly compliment the amazing pizza on offer.
Donatos also offers 'take & bake' pizzas that are prepared and sealed at a certified gluten-free facility, thereby eliminating all chances of contamination.
Donatos has gone the extra mile to ensure customer safety and satisfaction. The pizzeria boasts a detailed gluten-free menu, allergen guide, and FAQ section on their website that will answer all of your queries.
The strict cross-contamination measures further enhance this, and the staff is well-trained to handle gluten-free orders.
If you have Celiac disease or severe gluten sensitivity, Donatos is a pretty decent place to visit where you can enjoy a safe and delicious meal. Be careful and remind the staff of your condition since the kitchen space is shared, unfortunately.
This article will be an in-depth analysis of the gluten-free experience at Donatos. We'll be dissecting the menu to filter out all the possible gluten-free options and discuss a few tips to limit any possible contamination.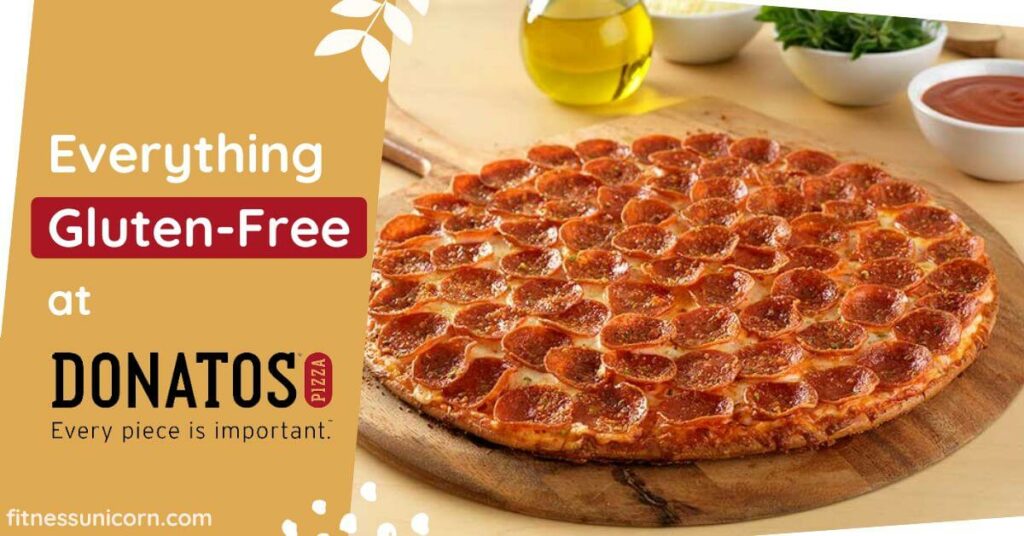 This post may contain affiliate links, which help keep this content free. (Full disclosure)
Gluten-Free Options at Donatos
Donatos Pizza sources the freshest, top-quality ingredients to prepare their pizzas so you can devour them and keep coming back for more.
Its primary focus is customer satisfaction, and that reflects in its courteous staff and attention to detail when it comes to serving people.
This passion has allowed them to expand to over 375 locations across America to feed hungry Americans nationwide.
Donatos has a detailed gluten-free and allergen guide that enables you to select your order conveniently. We've compiled a list of all the possible gluten-free dishes they offer.
Note: Donatos advises customers to inform the manager of their dietary restrictions before placing an order, so the servers take adequate measures to ensure a gluten-free meal. 
RECOMMENDED: Benihana Restaurant and their Specialized Gluten-free Menu
Gluten-Free Crusts
It's a miracle if pizza places even have a single gluten-free crust. But, at Donatos, they offer two types of gluten-free crusts that you can choose from to adjust the pizza to your liking further.
Both of these crusts are certified gluten-free, and you can top them up with your favorite toppings and cheese to chow down on some tasty cheesy pizza.
Standard Gluten-Free Crust
Gluten-Free Cauliflower Crust
Signature Gluten-Free Pizzas
You can create your own pizza by choosing gluten-free toppings of your choice, or you can order a preset gluten-free signature pizza flavor. If you're going to order a preset pizza, here are the options you can choose from;
Pepperoni
Serious Cheese
Chicken Spinach Mozzarella
Margherita
Very Vegy
Serious Meat
The Works
Classic Trio
Hawaiian
Founder's Favorite
Mariachi Chicken/Beef
Gluten-Free Toppings
Donatos offers a wide variety of gluten-free toppings to amp up your pizza. Here are the toppings on offer;
Sauce – Olive Oil, Thin Sauce Thick Sauce
Meats – Pepperoni, Ham, Bacon, Family Recipe Sausage, Ground Beef, Salami, Chicken
Cheeses – Aged Smoked Provolone, Asiago, Pepper Jack, Fresh Mozzarella, Bleu Cheese Crumbles
Veggies – Banana & Green Peppers, Onions, Spinach, Roma Tomatoes, Mushrooms, Olives, Jalapenos, Pineapple
Tradition Bone-In Wings
Among other gluten-free items, the scrumptious traditional bone-in wings stand out. You can enjoy these in multiple flavors and with a dressing of your choice.
Plain
Sauced – Hot, Mild, and BBQ
Dry Rub – Hot Chicken, Italian Parmesan, Roasted Garlic, Woodfired Chipotle
Salads
Donatos offers refreshing green salads that are prepared with fresh hand-cut vegetables and made to order. The gluten-free salads are the perfect choice if you're looking for something light and flavorful to munch on.
Chicken Caprese Salad
Chicken Harvest Salad
Italian Chef Salad
Salad Dressings
If you're looking to add some oomph to your salads or dip your wings, these gluten-free dressings are a perfect choice.
House Italian
Balsamic Vinaigrette
Ranch
Fat-Free Ranch
Lite Italian
Honey French
Bleu Cheese
Apple Cider Vinaigrette
Practical Tips for a Gluten-Free Meal at Donatos
Donatos has a detailed gluten-free menu, allergen, and ingredient profile to help you order the perfect meal that is both delicious and free of gluten. Here are a few practical tips to further elevate your experience and limit contamination.
Find Out More About the Eatery
Conducting proper research to assess how allergy-friendly a restaurant is, is paramount prior to visiting. When visiting a pizza place, you should know precisely how gluten-friendly the place is for your health and safety.
Here are a few aspects that should be on your radar when planning to visit a pizzeria;
Is there a gluten-free menu or allergen guide available?
Do they offer gluten-free crust options?
Are there dedicated pans, surfaces, and pizza boards?
How stringent are the cross-contamination protocols?
Is the staff accommodating and trained to handle allergies?
Donatos checks out on all of these aspects except the dedicated prep surfaces. This is compensated by their 'take & bake' pizzas that are prepared in a certified gluten-free facility.
Communicate your Concerns
Informing the manager about your allergy or Celiac disease before ordering is crucial. This will convey that gluten-free is necessary for you and not just a dietary preference.
The manager will alert the kitchen staff and ensure proper protocols are followed for your order.
Donatos always advises their customer to inform the staff about any dietary restrictions so they can prepare the meal accordingly. Moreover, the servers are courteous and accommodating; they will ensure your food is free of contamination.
Specify Instructions
Instructing the servers on how you want your meal prepared will further reiterate the need for contamination control and supplement the existing measures to combat contamination.
Below are a few special instructions you can ask the servers to follow;
Request a single server to prep your gluten-free pizza from start to finish to avoid confusion
Ask the server to put on a fresh pair of gloves before prepping your order
Request the server to clean the prep surface and use clean utensils and pans
Ask the server to fetch the ingredients from a fresh batch to avoid unwanted contaminants
Ask for your pizza to be sliced with a clean cutter
These instructions, when followed, will give you peace of mind and limit contamination.
Avoid Rush Hours
Rush Hours see an overflow of orders; this means the prep stations and other utensils are constantly covered in the flour used for regular pizzas. The staff might not have time to clean these in between orders properly.
Hence, it is wise to avoid rush hours so that the staff can properly attend to you to make sure your meal is safe for consumption.
Cross Contamination Risk at Donatos
Cross-contamination can ruin even the best dining experiences for a Celiac. It occurs due to gluten particles coming in contact with gluten-free foods through contaminated utensils, surfaces, gloves, and other food items.
Even the slightest contamination can invoke an adverse reaction, which is why there is a dire need for strict cross-contamination control across all restaurants.
Donatos gives utmost importance to the safety of their customers. The staff is very well trained in cross-contamination protocols and will ensure you're served a gluten-free meal.
Moreover, if you inform them of your health condition, they will fetch everything from new batches to further reduce contamination.
Both the gluten-free and cauliflower crust at Donatos are safe to consume since they're prepared in a dedicated facility.
However, the kitchen space is shared, which is a risk of possible contamination but rest assured the staff does everything possible to avoid this.
If you're still doubtful, Donatos has 'take & bake' gluten-free pizzas that are prepared in a dedicated gluten-free facility and arrive at the store in sealed packages ensuring zero contamination.
You can take these home and bake them at your convenience, guaranteeing a contamination-free pizza.
With all this being said, you should still be cautious and inform the team of your health condition because mistakes can always occur even with the best contamination control setups.
What is the Public Saying?
If you want to gauge how allergy-friendly a restaurant is, just check the reviews left by the Celiac and gluten-sensitive community. This will give you a very clear picture of what the food and service are like.
We sourced numerous reviews from Celiacs on Donatos Pizza from the internet to see how allergen-friendly the restaurant is.
The majority of the reviews were highly positive, showcasing why Donatos is one of the best places to get a gluten-free pizza.
Celiacs and gluten-sensitive customers raved about the fantastic servers who made sure there was no contamination by following strict protocols.
Moreover, people were satisfied with the expansive gluten-free variety and the final product itself.
Countless Celiacs had a pleasant experience without getting sick and loved that there was a choice of crusts to choose from because it's not often you get to be picky with gluten-free options.
People were also delighted with the 'take & bake' option, which allowed you to take packaged certified gluten-free pizzas and bake them at home.
However, like any place, Donatos isn't free of mishaps. A minority of people reported mix-ups by the staff and contaminated prep surfaces, but these were only a few and far between.
Hence, you'll still need to be cautious despite all the raves about Donatos.
Gluten-Free Alternatives to Donatos
Donatos is one of the top pizzerias for gluten-free pizza. But, if, due to some unfortunate reason, you're not able to visit, here are some great alternatives if you want to fend off those glutenous pizza cravings.
Dominos
Dominos is an international pizza chain that we're all familiar with. Recently they introduced their gluten-free crust that enables you to enjoy all of your favorite pizzas at Dominos without the risk of getting sick.
Just stay cautious since the shared prep surfaces can lead to contamination.
Gluten-Free Pizza (GF Crust)
Chicken Wings – Roasted, Hot, & BBQ
Fresh Green Salads
Salad Dressings & Dips
California Pizza Kitchen
CPK is a modern-day pizzeria that is pushing the boundaries of what's called a traditional pizza. It offers certified gluten-free pizzas that are prepared on dedicated surfaces to eliminate any risk of contamination.
It's a fantastic place to take your gluten-sensitive friends and family for a scrumptious slice of gluten-free pizza.
Gluten-Free Pizza – Original BBQ, Pepperoni, Margherita, Pepperoni Sausage Mushroom, and traditional cheese
Salads
Cedar Plank Salmon
Banh Mi Bowl
Check out our gluten-free guide to California Pizza Kitchen here.
Pizza Hut
Pizza Hut recently rolled out its certified gluten-free crust. This means all you pizza hut lovers who haven't been able to satisfy your cravings because of gluten allergies can finally enjoy a cheesy pizza hut pizza.
However, you'll have to stay cautious due to the shared prep surfaces.
Gluten-Free Pizza – Pepperoni, Cheese, Create Your Own
Marinara Pizza Sauce
Variety of GF Toppings
Bone-In Wings