There are many customizable options at Giordano's Pizza! There is more to it than just pizza-they provide subs, salads, soups, wings, and many more options!

Fitness-conscious folks and keto dieters alike will like Giordano's flexible menu. Does it have anything low-carb on it though?
What are the keto-friendly options at Giordano's Pizza?
Giordano's offers fully customizable salads, which are the best keto-friendly dishes. Toppings can also be customized based on your preferences. Besides pizza, salads and chicken wings are some of the other low-carb options that are available.

In order to stay on a keto diet, you have to limit the number of carbs you consume per day to no more than 20-25g. Compare that to the number of carbohydrates the average American consumes in a day, which is around 300g per day!

Eating out on a keto diet can be very challenging, especially with the small carb allowance. Furthermore, Giordano's Pizza offers an endless array of toppings and dressings that you can eat and lose yourself in a carb binge.

However, you have nothing to worry about! We will walk you through some of Giordano's Pizza's low-carb options, and we will also discuss some tips and tricks for ordering low-carb at Giordano's Pizza.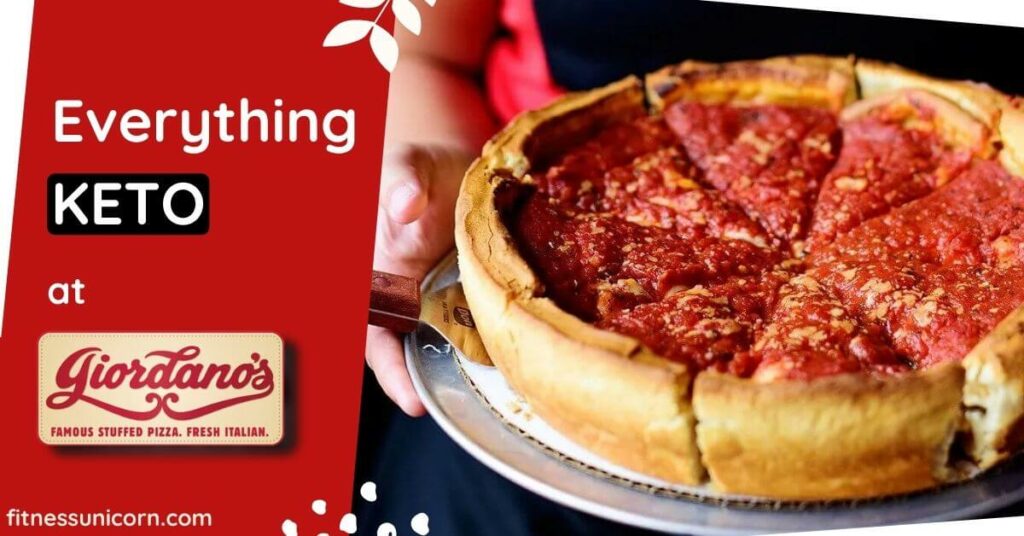 Tired of searching whether certain foods are keto? Download my keto cheat sheet with 210+ keto-friendly foods!
This post may contain affiliate links, which help keep this content free. (Full disclosure)
Surviving Keto at Giordano's Pizza
Giordano's is a chain of pizzerias specializing in Chicago-style stuffed pizzas. Giordano's was founded in Chicago, Illinois in 1974 by brothers Efren and Joseph Boglio.

Today there are more than 65 Pizzerias in Arizona, Colorado, Florida, Indiana, Iowa, Minnesota, Ohio, Nevada, and Wisconsin.
Also offering catering and frozen pizza delivery in the US, the chain has been expanding its operations.
If you hear the word Pizza, you immediately think of carbohydrates. In any case, you can rest assured that pizzas, and especially pizza crusts, are loaded with carbs and are not suitable for anyone following a ketogenic diet.

In order to cater to the needs of a fitness-conscious audience, Giordano's has done an excellent job with its salads and topping options.
As well as chicken wings, both soups, and salads, they offer well-balanced diet beverages such as water and diet sodas to help you remain on track while dining out.

Pizza contains around 20g of net carbs in one slice. The addition of the toppings and sauces will make it sure to surpass the 25 grams of carbs that you are permitted to consume daily.
You can't consume more than 25 grams of net carbs per day, which equates to approximately 7-8 grams of carbs per meal in order to stay in ketosis.

If you're at Giordano's for their pizza, you can ask them to avoid the crust to cater to your keto needs. You can customize the toppings as per your need, to keep your carb intake to a minimum.

While it may be tempting to stack on all the delicious toppings available at Giordano's, keep in mind that not all toppings are low carb so you must be picky with what toppings you choose.

Beef, bacon, pork, chicken, and ham are all low-carb meat options that are staples on keto.

Nonetheless, the salads and toppings are what make Giordano's stand out! There are so many toppings you can choose from and you can adjust the salad according to your tastes. It is delicious and low in carbs, as well!

Sadly, there are no keto-compatible desserts here, which may disappoint those with sweet teeth. They still have a lot of zero-carb drinks.
There is absolutely nothing better than a zero-carb drink when it comes to satisfying your sugar cravings.

With that in mind, let's see what Giordano's has to offer keto folks.
Keto-Friendly Starters at Giordano's Pizza
Traditional Chicken Wings – BBQ ( 7g )
Traditional Chicken Wings – Buffalo ( 10g )
Traditional Chicken Wings – Naked ( 7g )
Although the above meats are keto-friendly, be careful with high sugar sauces and instead choose low-carb sauces such as Ranch sauce or Lemon pepper instead.
ALSO READ: Keto Friendly options at Jet's Pizza
Keto-Friendly Soups at Giordano's Pizza
Soup Of The Day – Minestrone Cup ( 14g )
Soup Of The Day – Tomato Basil Cup (11g )
Keto-Friendly Salads at Giordano's Pizza
Giordano's House Salad ( 7g )
Caesar Salad ( 11g )
Greek Salad ( 12g )
Salads can be made more protein-rich by including more meat without increasing carbohydrates.
Keto-Friendly Pizza at Giordano's Pizza ( Small, Per Slice )
Thin – The Special ( 18g )
Thin – Chicago Classic ( 18g )
Thin – Bacon Bbq Chicken ( 16g )
Thin – Fresh Spinach ( 17g )
Thin – Chicken Sausage Deluxe ( 17g )
Extra Thin – Chicken Pesto ( 10g )
Extra Thin – Spinach, Artichoke & Feta ( 11g )
Extra Thin – Classic Margherita ( 10g )
The net carbs mentioned are only based on per slice, Sadly for all the Keto dieters, you cant eat the whole pizza.
Keto-Friendly Vegetable Toppings at Giordano's Pizza
Pineapple – Thin (2g)
Green Peppers (1g)
Onions (1g)
Tomatoes (1g)
Jalapeno Peppers (0g)
Black Olives (0g)
Mushrooms (0g)
FIND MORE: Everything Keto at Chopt Creative Salad Co.
Keto-Friendly Meat Toppings at Giordano's Pizza
Pork (1g)
Ham (1g)
Beef (0g)
Sausage (0g)
Chicken (0g)
Anchovies (0g)
Bacon (1g)
Keto-Friendly Drinks at Giordano's Pizza
20oz Bottle – Diet Mountain Dew ( 0g )
20oz Bottle – Diet Pepsi ( 0g )
20oz Bottle – Iced Tea ( 0g )
Bottomless – Club Soda ( 0g )
Bottomless – Diet Pepsi ( 0g )
Hot Tea ( 0g )
Lemonade ( 0g )
San Pellegrino ( 1g )
Tips for Ordering Keto at Giordano's Pizza
It would be a good idea to look at their menu online before visiting their restaurant. This way you can see all the ingredients which go into every dish that you order. You will find it easier to find keto-friendly dishes this way. Additionally, it will also make it easier for you to order at the restaurant without being confused.
In case someone in your party has a food allergy, let your server know before placing your order. This will allow them to take the necessary precautions when preparing the meal for that individual.
While there is a wide selection of toppings on the menu, including meat and non-meat options, most of the topping ingredients are low in carbs, it is important to not overdo the toppings.
Make sure to avoid dressings that taste sweet because you can never be sure how many sugars are in them.
Is Pizza Keto Friendly?
It is not a secret that for some people, a life without pizza is a life that does not matter. So we are not surprised if you are wondering whether you can still enjoy pizza if you are embarking on a low-carb or keto diet.

There will have to be changes made, but the answer is yes. This is due to the fact that one slice of regular crust pizza contains over 20g of carbs, which is virtually the maximum amount of carbs you could consume in one day.
RECOMMENDED: Crustless Pizza at Mellow Mushroom
Is ordering Keto dishes at Giordano's Pizzas easy?
This restaurant is extremely flexible with customizations, so ordering low-carb is a breeze.

All you need to do is provide your staff with your requirements and they will handle the rest. There is always a courteous and thoughtful staff at Giordano's Pizza who will satisfy your keto needs.
RELEVANT ARTICLE: Keto at Mazzio's Pizza for Low-Carb Diet
Conclusion
Thanks to their easy-to-customize options, ordering keto at Giordano's pizza is a piece of cake! A wide range of low-carb toppings and sauces is available to suit everyone's tastes.
However, their whole pizza does not fit the ketogenic diet.

In addition to their pizza bowls, the restaurant offers chicken wings and salads, that are keto-friendly.
If you are craving sauce really bad, swap out the traditional tomato sauce for a keto-friendly creamy garlic sauce and you instantly eliminate your carb intake!

You now possess all the necessary knowledge in order to indulge in a guilt-free meal at Giordano's. Do you have any questions about the menu? Feel free to view their nutrition guide.