Don't we all love authentic Italian food? Giordano's is an amazing restaurant that specializes in delicious Italian food and drinks. They are also known for adjusting to all their customers' dietary needs.
But does Giordano's have a gluten-free menu?
Giordano's has a dedicated gluten-free menu with a fair range of options. You can order a gluten-free thin crust pizza with your desired toppings for a satisfying wholesome meal.
They also offer gluten-free pasta along with gluten-sensitive marinara and meatballs.
If you have extreme gluten sensitivity or celiac disease, it's best to steer clear of Giordano's though, because there's always a risk of cross-contamination despite the most rigorous measures.
Let us fill you in on what they serve and which menu items are suitable to you if you follow the gluten-free diet. Keep reading to learn more about all you can eat at Giordano's on a gluten-free diet.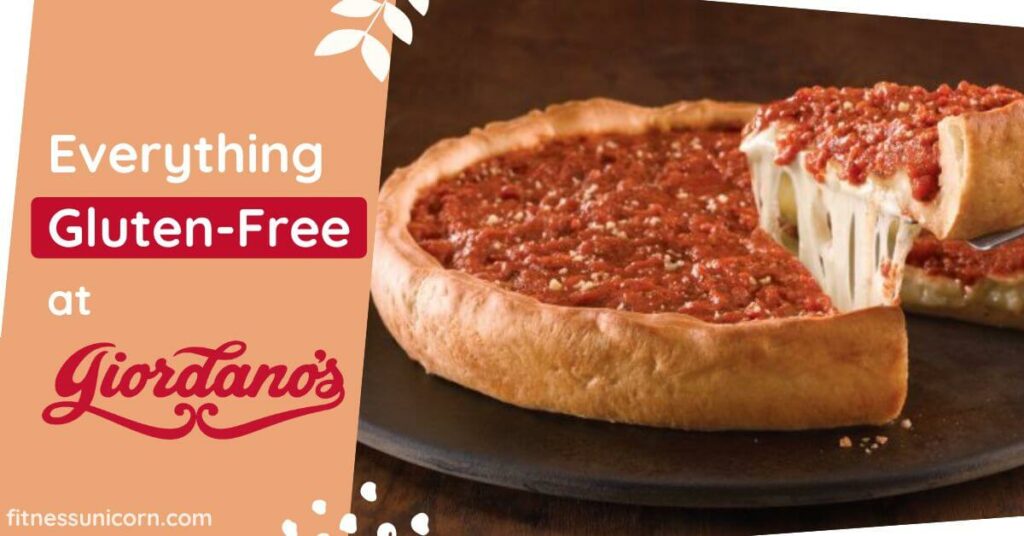 This post may contain affiliate links, which help keep this content free. (Full disclosure)
Giordano's Gluten-Free Options
Founded in 1974 from humble beginnings as a small store in the Little Italy neighborhood of Chicago, Giordano's has grown into one of the city's favorite restaurants.
The company serves up delicious deep-dish pizza with fresh ingredients that you won't find at any other restaurant.
At Giordano's, you'll find authentic Italian food that your taste buds will thank you for. There are currently over 30 locations throughout the United States, Canada, and Kuwait; but the first location is still their flagship store.
Their original location is conveniently located near plenty of bars and nightlife so you can end your night with something sweet and juicy. Now let's break down this pizza parlor's gluten-free menu.
If you're going to a pizza parlor, you would surely want some pizza. Luckily, Giordano's has a dedicated gluten-free pizza menu with lots of topping options.
Gluten-Free Thin Crust Pizza
This 11-inches pizza definitely understands your needs. While it might not be the classic Chicago deep-dish, you can still satisfy your craving with this gluten-free pizza.
There are many topping options including Cheese for $13, Cheese plus 1 ingredient for $15, and a small, medium, or large side of onions for around an extra $1 – $1.50.
Spaghetti
Giordano's provides gluten-free pasta, and it's absolutely scrumptious. You can pair this with their gluten-free marinara and meatballs. Get it for only $10.95.
Greek Salad
While this salad isn't listed as gluten-free, it is probably already one of your go-to options in restaurants. Greek salads are well-known for their lack of gluten, and they're still really flavorful.
You can get this side item to start off your meal at $6.25. Just be sure to tell your waiter about your gluten-free diet before ordering.
RECOMMENDED: Gluten-Free Options at Bahama Breeze
Tips For a Gluten-Free Meal at Giordano's
There are further steps that you should take on your own (end especially if you are gluten-sensitive) to ensure that you don't consume any gluten.
Tell your server about your dietary requirement
You have to inform them of your gluten sensitivity or celiac disease. They have to know that consuming even the slightest bit of gluten will make you very ill.
This would prompt them to take extra precautions and further prevent cross-contamination.
Ask for a meal-specific gluten-free menu
After telling the server about your gluten sensitivity, you should go ahead and order directly from the gluten-free menu.
You can also order specific salads that are most likely to be gluten-free but remember to always ask for an ingredient list. Ensure that there is no soy sauce, bread crumbs, flour, or fried ingredients present in the meal.
Be prepared to speak up about your food preferences
It's common for everyone at the table to want to share meals with each other at Giordano's. If your family or friends want to share with you, don't be afraid to speak up about your dietary restrictions.
Explain that you need to keep your food separate from theirs so you can stay safe and healthy.
Don't eat it if you doubt it
If you find yourself doubting any ingredient or dish on the menu, the best option is to simply skip it. A part of staying healthy is compromising.
No food is worth the suffering associated with eating gluten when you have Celiac disease or extreme gluten sensitivity.
Tell your server to take their time
Waiters and staff often rush to take orders and deliver your food as soon as possible. This can cause them to mix up orders or put the wrong things in yours.
Reminding them to take their time on your order because of your specific health needs would enable them to calmly prepare your gluten-free meal.
YOU MAY ALSO LIKE: Gluten-Free Options at Café Zupas'
Cross Contamination Risk
Gluten cross-contamination risks at Giordano's can occur in a number of ways. First, if food items that contain gluten are not properly labeled or stored, they may come into contact with other food items that do not contain gluten.
This can happen if, for example, gluten-containing flour is used to dust a cutting board and then used to cut vegetables that will be served without gluten-containing sauces or breading.
Second, cross-contamination can occur during food preparation if utensils or other food items that have been in contact with gluten are not properly cleaned before being used for gluten-free cooking.
For example, if a knife that was used to cut a pizza with a wheat-based crust is then used to cut a salad without being washed in between, the salad could become contaminated with gluten.
Third, cross-contamination can occur if food items are cooked in the same pot or pan without being properly cleaned in between uses.
For example, if pasta with a wheat-based sauce is cooked in the same pot as pasta with a gluten-free sauce, the gluten-free pasta could become contaminated with gluten.
Finally, cross-contamination can occur if food items are served on the same plate or platter without being properly separated.
For example, if a gluten-free pizza is served on the same plate as a regular pizza, the gluten-free pizza could become contaminated with gluten.
The best way to avoid gluten cross-contamination risks at Giordano's is to be aware of the potential risks and to take steps to avoid them.
Make sure to ensure that they check labels carefully, wash utensils and cooking pots thoroughly, and keep gluten-free and separate foods separate.
What People Are Saying
We have compiled some public views of gluten-free options at Giordano's from all over the internet along with some personal interviews.
Someone said, "Although we are from another city, whenever we are close to Chicago, we visit Giordano's. I adore their loaded pizza, hands down!
Unfortunately, I can no longer consume gluten, so I had to order a gluten-free pizza rather than the Chicago's renowned stuffed deep-dish pizza.
Although their gluten-free pizza tastes wonderful, I just hope they could find a method to give me the real thing. While my son ate his own gluten-filled pizza, I gasped jealously.
Additionally, when we ordered takeaway, they neglected to give us the plates, parmesan, and pepper packets we asked for. Although not ideal, we will return.
Maybe by then, someone would have discovered the proper method for stretching the gluten-free dough and to stuff it."
Another commenter said, "While they always have gluten-free pizzas and pasta, I was told that none of them were safe for people with Celiac. Apparently, they cook the so-called gluten-free pasta in the same water as their regular pasta.
I had a feeling coming to this large pizza place, that this would be the case so I'm not even disappointed. It just seems to me like they only have a gluten-free menu to sell fake inclusivity to their customers.
I decided to order a Greek salad instead."
On the other hand, someone else said, "This is hands-down the most delicious deep-dish gluten-free pizza I have ever had! They have gluten-free marked on the menu, and their gluten-free crust is so scrumptious.
My daughter who is not gluten-sensitive liked it a lot. I didn't mention that I have an extreme case of Celiac, and I didn't get a reaction."
A food critic said, "Look, everything here is freaking delicious and safe to eat. I ordered all the recommended dishes including the thin crust pizza, pasta, and Greek salad, and they all tasted like heaven.
I thought that the dishes were too good to be actually gluten-free, but to my surprise, I ate them all without falling sick. Highly recommend!"
Gluten-Free Alternatives to Giordano's
There are many other Italian restaurants that taste great and offer gluten-free options. These can serve as alternatives to Giordano's if you want a different taste, or just don't trust them enough.
Tommy Lasagna
Tommy Lasagna is known for its diverse menu options. They claim to offer a wide variety of delicious and nutritious menu options to accommodate all their guests' dietary needs and preferences.
Some of their gluten-free options include:
Margherita Pizza, made with their homemade gluten-free crust and topped with mozzarella, tomatoes, and basil
Bolognese Lasagna, layered with their homemade gluten-free pasta, ground beef, and a rich tomato sauce.
Chicken Parmesan, made with their gluten-free breaded chicken breast, served with their homemade marinara sauce and topped with mozzarella and parmesan cheese.
They also offer a variety of salads and slides that are possibly gluten-free, including:
Garden Salad, made with fresh mixed greens, tomatoes, cucumbers, and any choice of gluten-free dressing.
Caesar Salad, made with fresh romaine lettuce, croutons, and parmesan cheese tossed in homemade Caesar dressing
Roasted Brussel Sprouts, served with balsamic vinegar and shaved parmesan cheese
Roasted Sweet Potatoes, served with maple syrup and rosemary.
No matter what you're in the mood for, there is always something for you at Tommy Lasanga.
Picazzo's
Picazzo's gluten-free menu is definitely one of the most comprehensive and delicious gluten-free menus in the country. All the options in this restaurant are listed as gluten-free by default. This isn't something that we see everywhere.
You are able to choose from a wide variety of starters, salads, pizzas, pasta, entrees, and desserts. Just remember to always ask your server ahead and take the necessary precautions to ensure that your meal is gluten-free as planned.
Here is a list of some recommended gluten-free dishes at Picazzzo's:
Starters include Baked Wings, Baked Rice, Vegan Chicken Strips, Mama's Meat-za Balls, Humus Platter, Avocado Toast, Sriracha Slaw, Roasted Mixed veggies, Chilled Quinoa Salad, Gluten-free Focaccia Bread, and many others.
You have a wide variety of salads to choose from including Picazzo's Original Wedge, Spinach, Award-Winning Greek, and many others.
There is a wide range of delicious and organic gluten-free pasta options.
Some recommended pastas include Spaghetti And Meatball Bolognese, Uncle Louies Favorite, Chicken Picatta, Chipotle Rotelli Pesto & Chicken, Wild Mushroom Rotelli, Smoked Ham & Cheese, Spicy Thai Peanut And Chicken, Avocado Delish, etc.
There are also so many delicious pizza options to choose from; Classico, Diavola, Pizza Bolognese, Hawaiian, Thai Chicken Pizza, and many more.