Lazy Dog is an American Restaurant chain with locations in California, Nevada, Colorado, Texas, Florida, Illinois, Virginia, and Georgia. From burgers to tofu teriyaki bowls, Lazy Dog is sure to have something for everyone.
But is Lazy Dog a gluten-free friendly restaurant?
Thankfully, Lazy Dog does have plenty of gluten-sensitive options that are labeled as "GS".
These include soups, salads, hamburger, chicken breast, rice, along with multiple side dishes. And of course, there's drinks and cocktails too!
However, Lay Dog is not a dedicated gluten-free restaurant. While they do have a GS marked menu, there is always a slight risk of gluten cross-contamination due to the food cooking and handling practices.
For this single reason, people with Celiac disease or other extreme gluten sensitivities should exercise due caution and inform the restaurant about their allergies (or skip it altogether).
In this article, we'll go through all the gluten-sensitive items and I'll also share some tips & strategies for a better gluten-free dining experience.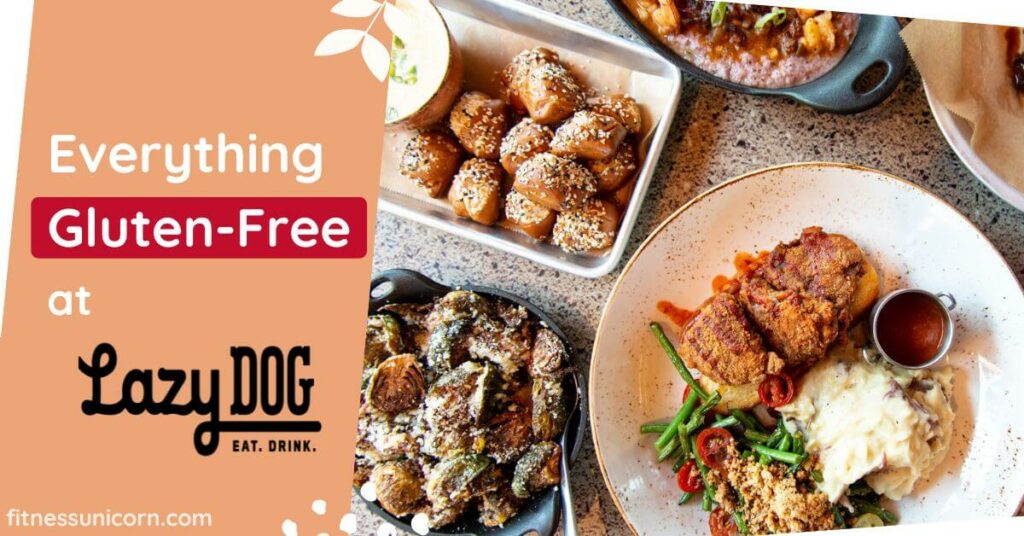 This post may contain affiliate links, which help keep this content free. (Full disclosure)
Lazy Dog Restaurant Gluten Sensitive Options
Lazy Dog Restaurant was founded by Chris Simms in 2003 and opened its first location in Huntington Beach, California.
The creation of Lazy Dog was inspired by Simms' childhood summers spent in the Rocky Mountains and features a rustic, farm-fresh menu with a warm, mountain-inspired ambiance.
It's a great place to gather with your family or friends to eat, drink, and be merry in a welcoming, authentic environment.
Conveniently, all of Lazy Dog's gluten-sensitive options are listed on their website.
Let's take a look at exactly what's available.
Soups and Salads
Start your meal off right with these yummy soup and salad options.
GS Chicken Tortilla Soup

Soup with chicken, cheddar cheese, and tortilla strips

GS Tex-Mex Salad

Avocado, tomato, corn, black beans, chicken breast, corn, tortilla strips, BBQ sauce, chipotle ranch

GS Cobb Salad

Bacon, blue cheese, egg, tomato, avocado, chicken breast, house-made blue cheese balsamic dressing 
FIND MORE: Gluten-Free Options at Café Zupas'
Sandwiches
The only gluten-sensitive sandwich on Lazy Dog's menu is the hamburger. While the burger is gluten free, it does not come with a gluten free bread bun. Instead, it's wrapped in lettuce.
This makes it great for those on the keto diet, but if you're interested in a burger on gluten-free bread, Lazy Dog does not offer this.
GS Hamburger

½ lb patty with tomato, red onion, pickle, wrapped in lettuce; comes with one side
Meals
These meals feature a focus on protein with either rice or signature sides.
GS Sweet & Spicy Wok

Your choice of tofu or chicken, onion, garlic, broccoli, ginger; comes with white or brown rice
GS Grilled Chicken Breast

Boneless grilled chicken breast with your choice of two sides
GS Grilled Salmon

Filet of grilled salmon with your choice of two sides
GS Flat Iron Steak

10oz of angus beef flat iron steak with your choice of two sides
RECOMMENDED: Giordano's Gluten-Free Options
Sides
All of these sides are offered by Lazy Dog as gluten-sensitive. While no products containing gluten are used to make the sides, it's wise to be cautious and double-check with the restaurant staff before choosing to order one with your meal.
Veggies and Fruit
Pickled Cucumber Salad
Steamed Spinach
Cilantro Black Beans
Red Skin Potato Mash
Sliced Tomatoes
Fresh Fruit
Rice
Steamed White Rice
Steamed Brown Rice
Drinks and Cocktails
There are plenty of options for refreshments at Lazy Dog that can be enjoyed by those with gluten-sensitivity. Some of these include:
Lemonade
Lazy Dog offers a selection of refreshing house-made lemonades.
Soda
All of the Sodas offered at Lazy Dog are gluten-free. These include coke, diet coke, sprite, barq's root beer, dr. pepper, orange fanta, and minute maid light lemonade.
Wine
All wine is naturally gluten-free as long as it doesn't have any flavor additives. All of the wines served at Lazy Dog are gluten-free.

Distilled Spirits
All distilled spirits, AKA liquors, are gluten free. If you order a shot of liquor neat or on the rocks you can rest assured that it does not contain gluten.
Cocktails
Lazy Dog boasts plenty of cocktail options, from mojitos, to margaritas, to sangrias, to mules. Most of these should be fine for those who are gluten-sensitive, however always check with your bartender.
Alternatively, since all cocktail ingredients are listed on the Lazy Dog website, you can check for yourself whether each ingredient is gluten-free and safe for consumption.
One cocktail that we would advise for gluten-sensitive individuals to skip is the Michelada. This is because this cocktail contains beer, which contains gluten.
Tips For A Gluten-Free Meal At Lazy Dog
When going out to eat for a gluten-free meal, you should always be prepared to do some research on the restaurant you're planning on eating at. This is especially important if you have Celiac disease or a severe gluten allergy.
If you are simply avoiding gluten as a preference or have a mild intolerance, you may be able to be more lenient with your choices in restaurants and meal selections.
Avoid Sandwiches
Sandwiches are an automatic "no" for those on a gluten free diet who are dining at Lazy Dog. This is because all of the bread at Lazy Dog contains gluten, and there are no options for gluten-free bread at this restaurant.
The only sandwich available to those who are avoiding gluten is the gluten-sensitive hamburger on the GS menu. This burger comes wrapped in lettuce instead of on a bread bun.
Don't Order a Beer
Lazy Dog has plenty of beer options, and they even have a beer club, which includes quarterly beers and special monthly samples among other perks.
Unfortunately, beer is not gluten-free and has a gluten content of over 20 parts per million. For this reason, you definitely shouldn't be getting a beer at Lazy Dog if you're trying to avoid gluten.
Thankfully, Lazy Dog offers plenty of other beverage options that are safe for gluten-sensitive individuals. Try a glass of wine, a specialty cocktail, or liquor on the rocks.
Tell Your Server Of Your Concerns
Always make it known to your server or bartender that you are trying to avoid gluten, especially if you have a gluten allergy.
Your server is the one who will be entering your order information into the computer and talking to the kitchen staff about any allergies or preferences you may have. Make sure you let them know that your meal needs to be gluten-free.
Your server or bartender can also answer any questions you have about the menu and make suggestions to you if you're having trouble deciding on what to order.
Ask Management
If you're feeling uncomfortable after talking to your server, ask to speak with a manager about the item you are interested in. The manager will likely have the answer to your questions.
It's also a good idea to call ahead of your visit and ask about gluten-free items.
A manager should be able to explain to you more about the preparation and ingredients that go into the dish, making you feel more comfortable with the experience.
Check The Online Gluten-Sensitive Menu
Before you head to the restaurant, be sure to check out the online gluten-sensitive menu available on Lazy Dog's website.
Here you will be able to make a selection before you dine at the restaurant, and you'll be prepared to ask any questions you may have.
Cross Contamination Risk
When dining out in any restaurant, there is always a risk of cross-contamination. Despite the efforts of the restaurant staff to avoid this, there is a chance that cross-contamination might still happen.
What is Cross-Contamination?
Cross-contamination happens when harmful bacteria unintentionally gets transferred from one object to another. In the case of cross-contamination regarding gluten, it's not about harmful bacteria, but the gluten protein.
Gluten is naturally present in grains such as wheat and barley. While harmless for some people to ingest, consuming gluten can have negative consequences for others.
How does Cross-Contamination happen?
Cross-contamination can occur when the person preparing your food uses the same bowl or utensil that they previously used to prepare a gluten-containing food item.
It can also happen if the person uses the same cutting board that they previously cut a gluten-containing food item on.
Cross-contamination can even happen if food is prepared on the same griddle or grill that gluten-containing food has been cooked on. As you can see, there are lots of ways that improper food preparation can lead to cross-contamination.
Food prep error isn't the only way that cross-contamination with gluten can occur. It can occur even within the preparation of the ingredients in factories and packaging plants.
Unfortunately, when eating at a restaurant, there's no way to always know the exact ingredients in a dish or the procedures of the ingredient manufacturer to prevent cross-contamination in the factory.
As for Lazy Dog, it is not a fully gluten-free restaurant. Lazy Dog states that cross-contact may occur during prep and storage of their gluten-sensitive menu items.
For this reason, those avoiding gluten are advised to use caution when eating at this restaurant.
What People Are Saying
To help you get a better understanding of eating gluten-free at Lazy Dog restaurant, we've scoured the internet and also approached people for their unique opinions about dining here.
A lot of people who dined at Lazy Dog from the gluten-free menu had great things to say about the experience. Most of them enjoyed the taste of the food and reported not getting sick or having any allergen symptoms.
However still, many people also reported that they were served items containing gluten or that they turned out to be cross-contaminated. A small segment of people with Celiac disease reported getting sick while others did not.
At the same time, other diners praised the restaurant's thoroughness in taking extra care to implement cross-communication precautions and serve a gluten-free meal.
It appears that the location, server, manager, and other factors can influence how careful the staff is in preparing a gluten-free, not cross-contaminated meal, and your experience may vary.
Many people also remarked that the gluten-sensitive menu was rather small, and wished that the restaurant had more options to choose from.
People's favorite dishes seem to be the salmon, chicken, beans, and the cobb salad.
Gluten-Free Alternatives to Lazy Dog Restaurant
Here are a few other restaurants with gluten-free menus to try out.
Ted's Montana Grill
Ted's Montana Grill is an American chain restaurant serving American-style food since 2002. This restaurant has a similar menu and vibe to Lazy Dog. They also offer burgers with gluten-free buns!
A huge range of salads, entrees, and even fries are on the gluten-free menu.
Here are some of their best items from the gluten-free menu:
Balsamic Blue Steak Salad (ordered without fried onion straws)
Cedar Plank Salmon
Prime Rib
Ted's Bacon Cheeseburger
Fries
Parmesan Roasted Broccoli
Garlic Mashed Potatoes (no gravy)
Red Robin
Like Ted's Montana Grill, Red Robin also offers gluten-free burger buns! Red Robin is one of America's most favorite burger joints. Other than burgers, they also have salads, entrees, desserts, and appetizers.
Red Robin can modify many of their menu items to make them gluten-free. Make sure to tell your server that you want your order gluten-free so they can prepare it correctly.
Here's a few of the best items you can get from the gluten-free menu at Red Robin:
Loaded Baked Potato Fries (with modifications)
Burnin' Love Burger (with modifications)
Monster Cheeseburger
Savory Steakhouse Burger (with modifications)
Southwest Chicken Salad
Chocolate Milkshake
Cheddar's Scratch Kitchen
Cheddar's Scratch Kitchen is another American restaurant with lots of gluten-sensitive options.
Here are some of our best picks from the gluten-sensitive menu:
Lemon Pepper Chicken
Baby Back Ribs
Top Sirloin Steak
Grilled Chicken Pecan Salad
Cheese and Bacon Mashed Potato
Red Beans and Rice