Café Zupas is famous for their made-from-scratch food which is as fresh as it can get! But did you know they use a staggering 203 total ingredients across their kitchens?
With this increased amount of ingredients, comes a vastly increased risk of gluten cross-contamination – even despite the most stringent of precautions.
This is why eating gluten-free at Café Zupas might not be so clear-cut or obvious, even to someone with experience of dining in restaurants while having a gluten allergy, intolerance, or just a will to give up gluten in general.
So, what are the gluten-free options at Café Zupas? Is it possible to be truly gluten-free while dining there?
We've explored the entire menu, ingredients, and people's feedback to equip you with the right knowledge while dining out there.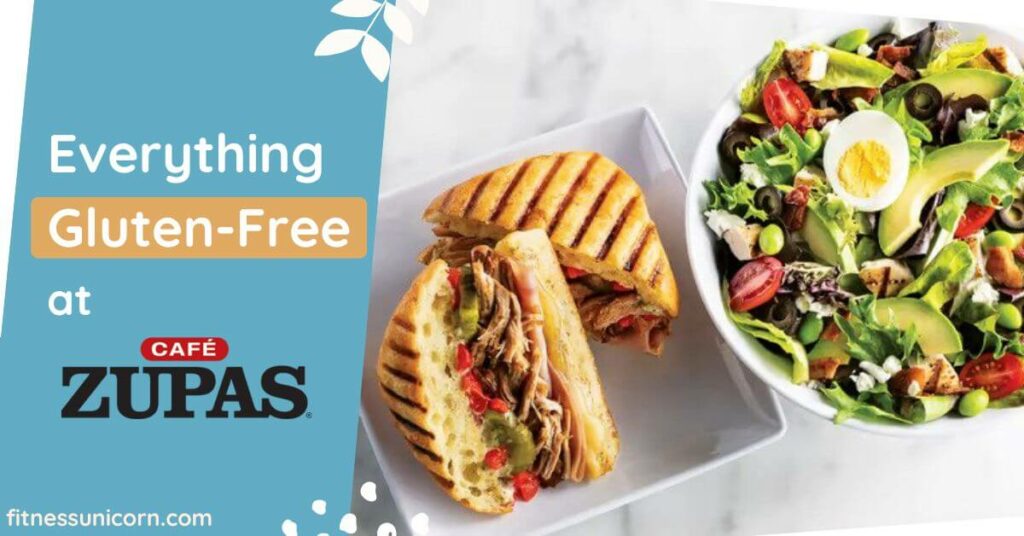 This post may contain affiliate links, which help keep this content free. (Full disclosure)
Gluten-Free Options at Café Zupas'
Café Zupas does offer gluten-free options.
However, even on their website they specify that: "even with strict adherence toward maintaining clean and organized kitchens, we have too much wheat and gluten present to be able to eliminate the cross-contamination on our equipment and food preparation areas.
If you are highly allergic or intolerant to gluten, we ask you to exercise judgement regarding your individual needs."
This means that for those individuals with severe reactions to gluten, especially those with Celiac Disease.
We recommend either contacting the restaurant directly prior to arriving, informing them of your concerns while there, or simply avoiding the restaurant all-together, and opting for dedicated gluten-free establishments.
That being said, some of the consumer feedback indicates that they never had any reaction despite all the food being prepped in an 'open' kitchen, within the same environment.
Let's explore the actual designated gluten-free options at Café Zupas.
The salads, 'protein' bowls, and some of the soups are indicated as being gluten-free.
The problem with the menu is that they do not specify ingredients, and when asked employees are not fully aware of all the ingredients contained in the dish (see reviews left online)
– this makes it much more difficult to verify a 'true' gluten-free option.
Please note, if you opt for the soups, ensure they do not add croutons. With salad-based dishes, stick with vinaigrette dressings instead of the creamier, ranch-based dressings.
The designated 'gluten-free' items are as follows, and based on feedback from patrons and Café Zupas staff. Again, note that they do not actively list all the ingredients contained in these dishes on the menu.
*Ensure Corn Tortillas are used; cannot verify the gluten-free certainty of the dressings, marinades or ranch, but have been told by employees that they are gluten-free.
You can also always opt-out of ranch dressings, or vinaigrettes if you or staff is unsure.
RECOMMENDED: What's Gluten-free at Bahama Breeze?
Gluten-Free Soups at Café Zupas
Chicken Enchilada Chili
(Red and Green Enchilada Sauce, Cheddar Cheese, Corn Tortillas, Roma Tomatoes, Black Beans, Fire Roasted Corn, Cumin, Grilled Chicken).
Chickpea and Vegetable Soup
(Broccolini, Roma Tomatoes, Chickpeas, Onions, Celery, Leeks, Roasted Vegetable Broth).
Tomato Basil
(Vine Ripened Tomatoes, Fresh Basil, Chopped Garlic, Parmesan Cheese, Sauteed Celery, Onions, Extra Virgin Olive Oil, and 'Spices' in a "Creamy Broth*").
Gluten-Free Protein Bowls at Café Zupas
Garden Protein
(Baby Butter Lettuce, Cage-Free Chicken, Crispy Bacon, Sliced Avocado, Cage-Free Egg, Fresh Herb Broccolini, Tomatoes, Baby Cucumbers, Fontina Cheese, Sherry Vinaigrette).
Steak Cobb
(Baby Butter, Marinated Steak*, Cage-Free Egg, Sliced Avocado, Pickled Red Onions, Tomatoes, Baby Cucumbers, Bacon with Ranch* or Blue Cheese Dressing*).
Asian Steak & Quinoa
(Baby Butter Lettuce, Quinoa, Marinated Steak*, Edamame, Fresh Herb Broccolini, Tri-Color Peppers, Baby Cucumbers, Chopped Cashews with Thai Peanut Sauce*, and Thai Basil Vinaigrette*).
Harvest Quinoa
(Baby Kale Blend, Quinoa, Cage-Free Chicken, Golden Beets, Sliced Avocado, Watermelon Radish, Tomatoes, Pearl Mozzarella, Toasted Seeds, Sherry Vinaigrette).
Mediterranean
(Baby Kale and Greens, Cage-Free Chicken, Artichoke Hearts, Cage-Free Eggs, Watermelon Radish, Kalamata Olives, Grape Tomatoes, Baby Cucumbers, Goat Cheese, Avocado Herb Dressing*).
Southwest
(Baby Butter Lettuce, Braised Pork, Sliced Avocado, Pickled Red Onions, Tomatoes, Tri-Colored Peppers, Fontina Cheese, Bacon, Chipotle Ranch*).
YOU MAY ALSO LIKE: Newk's Eatery's Gluten-free Menu Items
Gluten-Free Salads at Café Zupas
Nuts About Berries
(House-Chopped Mixed Greens, Blueberries, Strawberries, Raspberries, Blackberries, Cinnamon Almonds, and Poppyseed Dressing*).
Thai Steak
(Baby Field Greens, Thai Basil Vinaigrette*, Thai Marinated Steak*, Sugar Snap Peas, Grape Tomatoes, Broccolini, Baby Cucumbers, Tri-Color Peppers, Roasted Cashews, and Micro Greens).
Chipotle Glazed Salad
(Cage-Free Chicken or Braised Pork Shoulder, House Chopped Mixed Greens, Red Onions, Tomatoes, Fire-Roasted Corn, Black Beans, Tri-Color Peppers, Cheddar Cheese, Hass Avocado, Tortilla* Strips with Chipotle Ranch* and Honey Cilantro Glaze).
Mango-berry
(House-Chopped Mixed Greens, Blueberries, Strawberries, Mangos, Cinnamon Almonds, with Mango Yogurt Dressing*).
Avocado Chicken Chop
(Baby Butter Lettuce, Cage-Free Chicken, Sliced Avocado, Fresh Herb Broccolini, Sugar Snap Peas, Tomatoes, Baby Cucumbers, Fontina Cheese, Applewood-Smoked Bacon, Ranch* or Blue Cheese Dressing*).
Strawberry Harvest
(House-Chopped Mixed Greens, Cage-Free Chicken, Strawberries, Fontina Cheese, Gala Apples, Dried Cranberries, and Candied Pecans, Strawberry Champagne Vinaigrette*).
California Cobb
(Cage-Free Chicken, Baby Lettuce, Cage-Free Eggs, Applewood-Smoked Bacon, Edamame, Grape Tomatoes, Black Olives, Goat Cheese, Sliced Avocado, Buttermilk Ranch* or Fresh Herb Vinaigrette*).
Gluten-Free Desert Options at Café Zupas
Fresh Strawberries and Cream Crème Brûlée
(Whole fresh strawberries blended into a vanilla bean custard and topped with sweet raspberry coulis, a strawberry, chopped pistachios, and whipped cream).
Salted Caramel Crème Brûlée
(Vanilla bean custard topped with salted caramel, whipped cream, white and milk chocolate).
Chocolate Dipped Strawberries
(Hand dipped in Belgian Milk Chocolate).
That surmises the available 'dishes' at Café Zupas that are believed to be gluten-free, as discerned both by staff, listed menu ingredients, and patrons of the restaurant.
As you can see, we've made a special indication under all the sauces, marinades, dressings, and broth
– this is to ensure you're aware that these items could potentially contain gluten-ingredients, gluten, or gluten by-products, as the ingredients of these are not disclosed openly on the menu, nor or these dishes explicated stated to be gluten-free anywhere on Café Zupas' website.
All of the food at Café Zupas is prepared in a kitchen that has a prominent number of gluten-containing items, and they also state that they do use the same equipment and utensils when handling food.
Those with Celiac Disease or a severe gluten-intolerance would probably be wise to ensure they're eating food made without any dressings, toppings, or additives – or simply opt for another dining establishment that is more explicit in their food handling.
Café Zupas prides themselves on being crafted from real, fresh food and ingredients (all prepared in house) the "way you would at home."
For those wanting to avoid gluten, this doesn't necessarily provide any sort of reassurance, does it?
As such, we've provided you below with some other restaurant alternatives that are similar in style, menu options, and experience to Café Zupas, as well as how you can best avoid gluten when dining out at restaurants where you simply cannot have the same level of control.
Be Aware of Cross-Contamination and the Risk Involved: Tips for Enjoying a Gluten-Free Meal at Café Zupas
As touched on before, cross-contamination is not a term that is specific to gluten-free dining. This is defined as any sort of transfer of bacteria or potential contaminant from one person (object or place) to another person (object or place).
We can think of this occurring with raw fish or raw meat the same as we can think about this happening with gluten-containing grains (wheat, barley, rye, durum semolina) coming into contact with other ingredients, cooking utensils, or cookware itself.
This extends to other allergens and contaminants as well.
Cross-contamination is a huge risk factor for those with any level of severity of gluten allergy or intolerance, but especially those with Celiac Disease.
Often restaurants who are not explicitly gluten-free, as in dedicated to being entirely gluten-free, have some sort of risk factor for gluten cross-contamination in their kitchen.
It is difficult to know how food is prepared when you are not directly preparing yourself, which is why it is essential that you speak with restaurant staff and verbally communicate your needs or concerns.
You need to advocate for yourself.
Communicate Dietary Needs to Staff, Talk to the Restaurant, and Stick to 'Simple'
Beyond doing research online yourself – which is the appropriate first step to take in educating yourself and being safe, it is vital you advocate for your dietary needs whenever you eat at a restaurant.
This can apply to Café Zupas or any other restaurant you may dine at. This also extends beyond gluten. If you have a dairy intolerance:
be it a shellfish allergy, peanut allergy, or you are simply vegan – these are all things you need to actively inquire about to staff.
If the server is not understanding of your concerns or has minimal knowledge of allergens or gluten in particular, you need to ask for management (or kitchen staff) and never feel ashamed or embarrassed for doing so.
When we talk about sticking to simple foods, this doesn't have to necessarily mean limited ingredients, like a single-ingredient item. You can opt for a salad. You can opt for a rice-based dish.
This just means paying an appropriate mind to what could potentially be in the dish – including what is not listed.
Have that salad, but opt to go without a "creamy" secret dressing and stick to things like a honey lemon vinaigrette or olive oil.
Proteins like eggs, chicken, beans, tofu, beef, fish, etc. are all typically safe unless they're prepared in some sort of sauce or breaded in a wheat-based panko. The same applies to vegetables, gluten-free grains (quinoa, corn, rice), and fruit.
What Are the Customers Saying About Café Zupas?
Unfortunately, the customer and patron feedback for Café Zupas is incredibly mixed, meaning it doesn't really help determine the safety of the restaurant for other diners.
As with any other chain, this likely fluctuates wildly depending on the location you go to and which region you're in.
Some reviews state that the food was great – with zero sort of allergic/digestive reaction, even as someone with Celiac Disease.
At the same time, there are review pages for Café Zupas littered with comments about staff's complete lack of knowledge when it comes to ingredients in the dish (especially sauces or soups) and an attitude of apathy (total disregard) for those with legitimate allergy concerns over gluten.
We were able to find a location manager that addressed gluten concerns in response to a review, and informed the public that all of the salad dressings are gluten-free, and do not contain any gluten-containing ingredients or additives.
Gluten-Free Alternative Restaurants to Café Zupas
Costa Vida
Looking for similar options with a more Mexican twist – that are also gluten-free? Look no further than Costa Vida, who also crafts all their meals from 'scratch,' using fresh and sustainably sourced ingredients.
Gluten-free items are clearly indicated on the main menu as opposed to Café Zupas, so you know what you're getting into.
Staff also appear to be extremely supportive and helpful towards patrons with concerns over gluten, as people have expressed online that servers are prompt to wash hands and wear gloves when they change handling.
It is clearly communicated what is explicitly gluten-free and not cross-contaminated, with steps and precautionary measures taken to avoid cross-contamination from happening in the first place.
This includes dedicated gluten-free fryers and cooking appliances, as well as staff protocol (storing corn tortillas separate from flour tortillas).
Above all else, the quality of the food itself gets glowing reviews and has been highly regarded by countless people online across multiple dedicated gluten-free websites.
They offer gluten-free tortilla options, and an expansive menu that features tacos, bowls, nachos, corn chips, refried beans, and rice-based dishes.