Did you know that eating meat was forbidden until recently in the Japanese culture? And here we are, talking about a Japanese Barbeque restaurant lol.
But, the main concern is whether they have any keto-friendly options at Gyu Kaku, let's find out.
Frankly speaking, I find Gyu Kaku to be keto heaven. Main course dishes like Angus Beef Ribs and Filet Mignon contain almost zero carbs. Appetizers like Fried Bacon Chips and Hakusai Kimchi also cost less than 5g of net carbs.
There are so many other low-carb options, you can enjoy during your next outing at Gyu Kaku.
However, it's easier said than done. You will have to keep in mind a few pointers that I'll share throughout the article. For instance, stay away from any sugary drinks as they are loaded with carbs.
Also, do not indulge in high-carb side dishes or dressings as they too are anti-keto.
Let us now take a deep dive into the survival guide for a keto-friendly meal during your next visit to Gyu Kaku.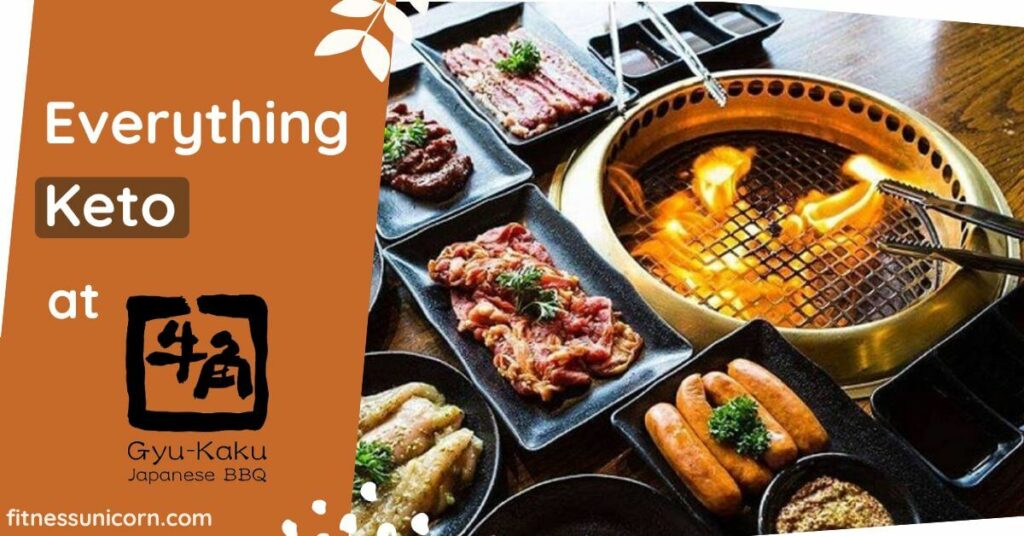 Tired of searching whether certain foods are keto? Download my keto cheat sheet with 210+ keto-friendly foods!
This post may contain affiliate links, which help keep this content free. (Full disclosure)
How to survive Keto at Gyu Kaku
A multinational food chain that was established in 1996 with its first franchise opened in 1997, Gyu Kaku is one of the top Japanese restaurants in the US.
They have an extensive menu with a range of appetizers, meat dishes, soups, vegetables, beers, cocktails and other traditional Japanese drinks.
Every sub-section of their menu has a good variety of low-carb dishes if you are practising a keto diet or want to have a low-carb meal while eating outside.
Generally, the sauces in a barbeque restaurant are more sugary than normal. Sugary sauces and dressings contain high carbs and are certainly something to be avoided.
Therefore, you should enjoy low-carb dressings like Miso Sauce, Crunchy Garlic sauce and others mentioned in the next section.
Japanese food has two main ingredients, that are unfortunately not keto-friendly, Rice and Noodles. Rice and Noodles both accommodate loads of carbs.
A 100g bowl of noodles contains 25g of carbs, which is more than you can afford on a keto diet.
Rice even outshines Noodles in this case. A 100g bowl of rice carries 28g of carbs and has to be walked passed without paying heed.
Some Rice and Noodle dishes at Gyu Kaku hold up to 100g of carbs or even more and your diet goes for a toss if you enjoy any of them.
Gyu Kaku has some vegetable meals too. Firstly, they are low on carbs and a perfect fit for a keto meal. Also, veggies hold a lot of fiber with them. Fiber helps in making your stomach feel fuller.
How that helps on a diet is that the fuller you feel, you are less likely to get off track to eat more carbs.
They also have a wide range of beverages to go with your meal, both alcoholic and non-alcoholic. Avoid packaged drinks since they carry lots of sugar and are unfit for keto. Go for the ones I have mentioned in the next section.
Apart from beverages, they also have desserts but unfortunately, all of them contain butt loads of sugar and can not be eaten on a keto diet.
These are enough tips for you, I guess. So, without wasting further time, let us now have a look at all the keto-friendly options Gyu Kaku has for us.
Gyu Kaku Keto-Friendly Options
As I told ya, Gyu Kaku has a good range of low-carb meals. Appetizers, Meat Items and condiments are sub-categories with the most keto-friendly options. Let us have a look at all of them –
Appetizers
Addicting Cabbage Salad ( 6g )
Edamame ( 7g )
Fried Bacon Chips ( 4g )
Fried Calamari ( 4g )
Hakusai Kimchi ( 1g )
Miso Chili Wings ( 8g )
Seaweed Salad ( 14g )
Shio Negi Tofu ( 7g )
Shrimp & Mushroom Ahijo ( 5g )
Spicy Addicting cucumber ( 8g )
Spicy Cabbage Salad ( 9g )
Spicy Cold Tofu ( 9g )
-> You have quite a few options when it comes to starters. Do not drizzle them with too much sauce; you should be ready.
RECOMMENDED: Wahlburgers Keto-Friendly Options
Condiments
Basil ( 2g )
Cheese Fondue ( 7g )
Crunchy Garlic Sauce ( 4g )
Garlic Butter ( 6g )
Hot & Spicy Sauce ( 9g )
Miso Sauce ( 5g )
Spicy Gochujang ( 9g )
-> Some other low-carb condiments are Sweet Soy Momi Tare, Premium Sweet Table Sauce, White Soy ( Shio ), and Yuzu Ponzu Sauce. Do some calculations and find out which condiment fits under your left quota of carbs.
Meat
Horumon Intestine
Angus Beef Ribs
Beef Tongue
Bistro Hanger Steak
Chateaubriand
Filet Mignon
Garlic Shoyu Rib Eye
-> Other meat products include Gyu-Tan Negi, Harami Miso Skirt Steak, Kalbi Chuck Rib Tare Sweet Soy, Kobe Style Toro, and Pork Belly. Actually, you can choose almost any dish from the meat section but only their smallest portions.
Soup and Vegetables
Motsu Nabe ( 8g )
Egg Plant ( 8g )
Enoki Mushroom ( 5g )
Garlic Mushroom ( 12g )
Garlic Shio Cabbage ( 9g )
-> This section is a good fit for people who are either vegan or wanna have a light meal on their keto diet. 
FIND MORE: Eat'n Park Keto-Friendly Options
Beer
Asahi Black ( 14g )
Corona ( 14g )
Kirin Ichiban Draft ( 12g )
Sapporo Draft ( 10g )
Sapporo Light ( 9g )
Stone IPA ( 10g )
-> Beers are slightly on the higher side. Again, do some calculations before indulging in them.
Cocktails
Geisha ( 11g )
Lychee Bellini ( 6g )
Lychee Gin Mojito ( 14g )
Moscow Mule ( 6g )
Tokyo Tower ( 8g )
Mimosa ( 11g )
Samurai Rock ( 9g )
Shochu Mule ( 10g )
-> Rarely do you see so many low-carb options in beverages. Gyu Kaku has done a good job here.
Beverages ( Sake, Shochu and Wine )
Ginjo Sake ( 10g )
Shochu Potato ( 0g )
Sparkling White Wine ( 1g )
Cabernet Sauvignon ( 4g )
Chardonnay ( 4g )
Merlot ( 4g )
Pinot Noir ( 4g )
Riesling ( 6g )
Rose ( 6g )
Sauvignon Blanc ( 3g )
-> Sake is a Japanese alcoholic beverage. If you want this experience while dieting, Gyu Kaku surely provides you with that.
Now, in the next section, I'm gonna give you some alternatives to Gyu Kaku if you are still not satisfied with all the options above.
Alternatives Restaurants to Gyu Kaku
Kura Sushi
Kura Sushi is a Japanese sushi restaurant chain. Its headquarters are in Sakai, Osaka Prefecture. It has 451 locations in Japan, 22 in Taiwan, and 30 in the United States.
It's famous for dishes like Nigiri, Hand Rolls, Gunkan, Soups and Noodles and much more. They do not have any barbeque items, and if you want to barbeque, you might as well skip to the next alternative restaurant.
Almost all the Nigiri dishes contain less than 15g of carbs and can be consumed while on keto. Even their hand rolls, made of seaweed and soy paper are below the 15g mark.
From the soups and noodles section, nothing is really keto-friendly except their Miso Soup. Along with low-carb beverages on the menu, Kura Sushi can not be ignored here.
Sonny's BBQ
Sonny's BBQ is well-known for its salad bar, where you can customize your salads accordingly to make them keto-friendly.
Apart from that, Sonny's BBQ has some amazingly low-carb "BBQ-by-the-pound" dishes and keto-friendly sidekicks.
They have a wide range of keto-friendly salads for a healthy meal. Apart from that, barbeque items like chopped brisket, sliced pork, smoked turkey and others are some options if you are a meat lover.
As far as the keto-friendly drinks are concerned at Sonny BBQ, you can choose from zero-carb drinks such as Coca-Cola Zero, Diet Coke, Sprite Zero, Sonny's Unsweet Tea and Dasani Water.
Conclusion
Barbeque food always tops the list while looking out for a keto-friendly place. With Gyu Kaku serving some delish low-carb meals, along with all the side dishes and beverages, it can not be ignored at any cost.
Honestly, just with a few pointers in mind, one can easily ace their keto diet at Gyu Kaku. They have quite a few low-carb sauces to drizzle over their dish, unlike many bbq sauces that are loaded with sugar.
They also have traditional Japanese drinks and even they don't cost you much ( in terms of the number of carbs ).
Although, rice and noodles that make up the base of Japanese food are something that you will have to miss in order to have a keto meal.
With all the information I have provided you in this article, the game has gotten simpler for you now. You can wisely choose the right low-carb dishes on your next visit to Gyu Kaku.
If you still have any doubts in your mind or want to know more about the nutrition info of your favorite dish, you can visit their official nutrition page here.