Eat'n Park is a place well known for its Smiley Cookies. No, I'm not saying you can have those on a keto diet. But is there anything else available at Eat'n Park that's keto-friendly? Let's find out.
Their 'Herb Crusted Chicken' contains just 5g of carbs, one of their main course dishes. Other keto-friendly dishes include Ham Steak, Chargrilled Chicken Sandwich and Cream of Broccoli Soup.
However, you should stay away from white bread and sugary sauces.
There are a lot of things that you'll have to keep in mind. The menu is filled with high-carb dishes and sugary dressings. Even a slice of bread contains 14g of carbs, and its consumption might be very costly to you.
But that's where I come in. In this article, I'll tell you about all the keto ordering strategies at Eat'n Park.
So, without wasting further time, let's hop into the keto survival guide at Eat'n Park for a smooth and satisfying outing.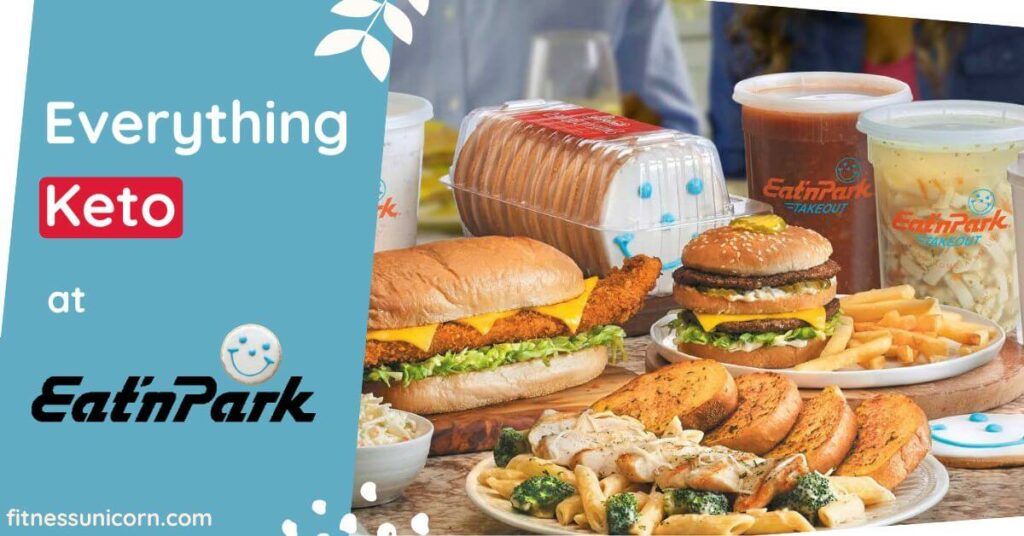 Tired of searching whether certain foods are keto? Download my keto cheat sheet with 210+ keto-friendly foods!
This post may contain affiliate links, which help keep this content free. (Full disclosure)
How to survive Keto at Eat'n Park
Founded in 1949, Eat'n Park is a family-owned restaurant chain serving guests across Pennsylvania, Ohio and West Virginia. With an extensive menu of breakfast, lunch, and dinner favourites, they have something for everyone.
They have a different soup, salad and fruit bar menu for an all-around experience. With such a wide variety of high-carb dishes, dining here on keto might sound overwhelming.
But trust me, almost everything can be turned into keto with just a few changes.
There are various types of dressings and sauces to drizzle over your meal. You need to be careful since most of them contain sugar and carbs.
You should consume only the low-carb dressings like Ranch Dressing, Italian Dressing and others mentioned in the article.
Eat 'n Park also has a wide variety of sandwiches on its menu. Bacon, Turkey and American Cheese are some of them. Now, there are two issues with sandwiches.
First is the one mentioned above, i.e. sugary dressings will have to be avoided at any cost. The second is the sandwich bread. Just a couple of slices of bread will send your keto diet packing.
Two pieces of white bread contain approx 28g of net carbs. This amount is even more than your whole day's permitted quota. Some of the varieties also come wrapped in a tortilla.
Now tortilla again is anti-keto. A 100g tortilla consists of 50g net carbs, and you can not afford it.
In such a case, you can choose either of the two options. You can choose to get the fillings and condiments of the sandwich as a bowl. Or, you can ask if lettuce wrap is available at the store.
Lettuce will act as the perfect substitute for high-carb bread. For instance, 100g of lettuce contains just 2.9g of carbs. Therefore, it acts as an ideal low-carb substitute.
The same is the case with their burgers. Eat'n Park allows you to customize your dish as you want. You can, and you'll have to ditch whichever bun comes with your burger.
In the next section, I have mentioned the carb count of burgers, excluding the bun carb amount for your convenience.
Let's talk about beverages at Eat'n Park. Like any other restaurant chain, it also has a good range of sugary drinks. So, you'll have to pick the low-carb ones since sugar is a no-no.
Eat'n Park Keto-Friendly Options
Almost every item can be made keto-friendly using some alterations. Using the above tips, Eat'n Park indeed becomes a place of consideration for your next keto outing.
Let us now look at all the keto-friendly options Eat'n Park has in store for us.
Appetizers
You do not have many choices when it comes to appetizers. Most of them are either bready or drizzled with too much sauce, and you might as well avoid them.
Dinner
Herb Crusted Chicken ( 5g )
Grilled Chicken Breast ( 0g )
Chicken Tenders – 2 pieces ( 16g )
Breaded Shrimp ( 12g )
Grilled Chicken ( 0g )
Ham steak without cinnamon apples ( 2g )
Onion Rings ( 4g )
Grilled Italian Bread ( 9g )
Nantucket Cod ( 10g )
Dinner options come with various customizations of their own. You can add the dressings mentioned below till the carb count is under your allowed limit.
RECOMMENDED: Lupe Tortilla Keto Friendly Options
Sandwiches
American Cheese( 4g )
Bacon ( 0g )
Buffalo Chicken Wrap ( 10g )
Chargrilled Chicken Sandwich ( 3g )
Chicken Bacon Club Sandwich-Grilled ( 4g )
Chicken Bacon Ranch Wrap ( 13g )
Philly Cheesesteak ( 7g )
Santa Fe Turkey Wrap ( 5g )
Shredded Pot Roast Sandwich ( 8g )
Turkey Club ( 4g )
All these sandwiches mentioned here are without the portion they are wrapped in. They come with either bread or tortilla. Consume them as a salad bowl, or a lettuce wrap ( if it's available at the store )
Burgers
American Grill Burger ( 7g )
Bacon Cheeseburger ( 2g )
Black Angus Superburger ( 6g )
Cheeseburger ( 5g )
Classic Burger( 3g )
Eat'n Park Beyond Burger ( 10g )
Mushroom and Onion Burger ( 5g )
Original Superburger ( 6g )
Similar to the sandwiches, the carb count of the burgers is also mentioned without the high-carb burger bun. You can relish them as salad bowls or lettuce wraps.
YOU MAY ALSO LIKE: Gyu Kaku Keto-Friendly Options
Soup
Chicken Noodle Soup – Cup ( 16g )
Chili – Cup ( 9g )
Cream of Brocolii Soup – Cup ( 18g )
Stuffed Pepper Soup ( 14g )
Wedding Soup ( 13g )
Soups are slightly on the higher side, so you should do some math before eating your soup. If you've had fewer carbs from other meals of your day, you can certainly eat soups here.
The total amount of your day's net carbs should not exceed 25g.That's it.
Beverages
Chai Tea ( 13g )
Coffee ( 0g )
Diet Pepsi ( 0g )
Iced Tea ( 1g )
There are not many low-carb options for beverages, but still all the different kinds to be enjoyed with your meal.
Breakfast
Broccoli & Cheese Omelet ( 5g )
Cheese Omelette ( 4g )
Ham & Cheese Omelet ( 6g )
Ham Steak & Eggs ( 3g )
Meat Lover's Omelette ( 6g )
Spinach & Tomato Omelet ( 7g )
Omelettes, scrambles and frittatas are high in both protein and fat. It makes them perfect dishes for a keto diet. You only have to avoid any type of bread served with it.
Salad & Dressings
Chicken Bruschetta Salad ( 16g )
Italian Dressing ( 3g )
House Ranch Dressing ( 5g )
Bleu Cheese Dressing ( 3g )
Cheese Sauce ( 8g )
Asiago Cheese ( 0g )
Marinara Sauce ( 7g )
Grated Parmesan Cheese ( 0g )
Ranch Dressing ( 5g )
Country Gravy ( 5g )
Tartar Sauce ( 8g )
While choosing sauces, remember the final carb count they will take your dish to. It should be as low as possible.
Condiments
Mozzarella Cheese ( 1g )
Parsley ( 0g )
Baked Cod ( 3g )
Broccoli ( 2g )
Bruschetta Topping ( 2g )
Italian Seasoned Ricotta Cheese ( 3g )
Now, in the next section, I'm gonna give you some alternatives to Eat'n Park if you could not already find the dish you were looking for.
Alternatives Restaurants to Eat'n Park
Denny's
Denny's is another restaurant you might want to consider. It is an American table service diner-style restaurant chain, and it operates over 1,700 restaurants in many countries.
They also have different kinds of omelettes, along with a customization option to make your omelette. Many breakfast condiments are low-carb, like bacon strips ( 2g ) and grilled ham slices ( 3g ).
Serving salads, soups, starters, burgers and much more, Denny's is a place not to be missed.
Lupe Tortilla
Although Lupe Tortilla is a Tex-Mex institution, they have a similar menu. They use the freshest in-house tortillas, biscuits, sauces, and dressings.
They start in the morning and go on till night. Lupe Tortilla also serves hard liquor, and most of the cocktails are tequila-based, though.
They have all kinds of tacos, which can be consumed without the tortilla. They serve omelettes, frittatas, and benedicts for egg lovers. Lupe Tortilla also has veggie options. They have a better beverage menu, with more varieties of coffee.
Conclusion
I don't know about you, but I'll visit Eat'n park ( if I am on a keto diet ). They have so many options in almost all of their sub-menus. From appetizers to sandwiches to burgers and even beverages, they certainly do not disappoint.
It gets a bit overwhelming sometimes when you see the buttery buns or sugary sauces. But with the customization option Eat'n Park provides, it becomes effortless to check your meal's carb count.
Eat'n Park has quite a few low-carb dressings as well. Pick sauces that are not sugary since sugary sauces contain a hell lot of carbs.
I think you are now a keto ninja now (at least at Eat'n Park) with all the information I have given you. ALWAYS confirm the preparation procedures and ingredients with the restaurant before placing your final order.
Happy Ketoing 🙂