Did you know that the most edible insects are found in Mexico? No, you won't find any insects at Lupe Tortilla, but will discover scrumptious keto-friendly dishes during your next visit there?
I was amazed to see the amount of high-fat and high-protein meals Lupe Tortilla offers. Breakfast items like Barbacoa Benedict and Salmon Sencillo are some of the least-carb dishes on the menu.
Ensalada with Mushroom is a vegetarian keto-friendly option and a Hatch (Hatch Chilly) menu filled with low-carb alternatives.
It's easier here than in most places. You must have the correct knowledge and tricks to ensure an actual keto experience. I'll take you through all the keto-friendly options available at Lupe Tortilla, along with some life-saving tips.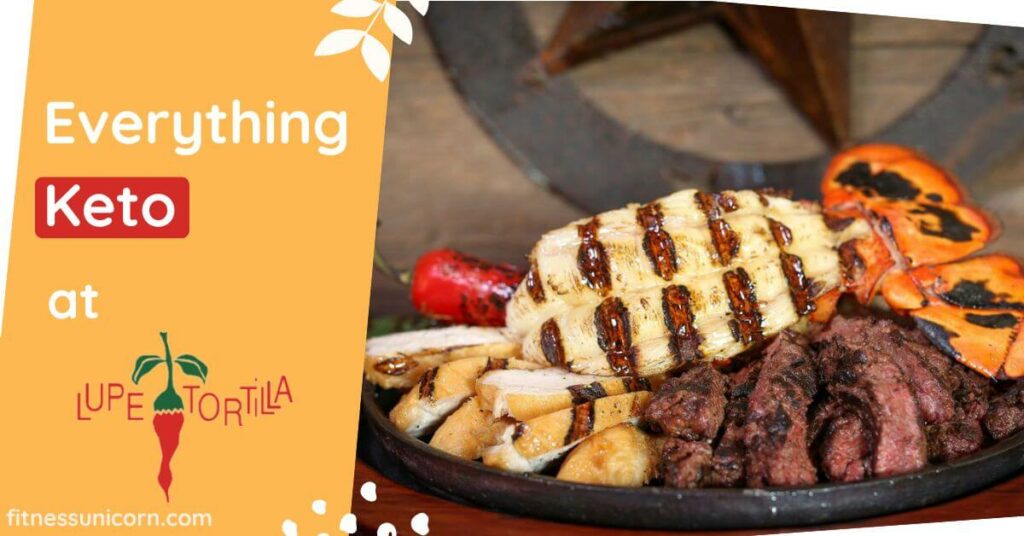 Tired of searching whether certain foods are keto? Download my keto cheat sheet with 210+ keto-friendly foods!
This post may contain affiliate links, which help keep this content free. (Full disclosure)
How to survive Keto at Lupe Tortilla
Lupe Tortilla is a Tex-Mex institution serving fabulous Mexican food made from scratch. They use the freshest in-house tortillas, biscuits, sauces, and dressings.
They start in the morning and go on till night. Lupe Tortilla also serves hard liquor, and most of the cocktails are tequila-based, though.
Lupe Tortillas' menu is further divided into five different sections. Brunch, Dinner, Cocktails, Vegetarian and Hatch are the sub-sections of their menu.
All these sub-menus are filled with a wide range of keto-friendly options if you know what is to be avoided and what to consume.
Tortillas are the basis of Mexican Food. But they are loaded with a hell lot of carbs. A 100g tortilla contains 50g of carbs, and this amount is more than double the carbs you can eat during ketosis.
You will find that more than half the menu items are wrapped in a tortilla or have a tortilla as an ingredient. Therefore, it becomes essential to have those dishes without the tortilla.
You can have the burrito or taco filling as a salad bowl. Or you can also ask them if lettuce wraps are available, which will act as an excellent substitute for high-carb tortillas.
Mexican Food is also about a lot of rice and beans. As you know, both of these are very high on carbs. Just one serving has enough carbs to pull your body out of Ketosis.
100g of rice contains 28g of net carbs, which is 3g more than your daily limit. You will have to avoid them at any cost.
Sauces and dressings too contain loads of sugar. Many Mexican dishes are drizzled with BBQ sauce. BBQ sauce can have as much sugar as chocolate sauce. So obviously, it's a big no.
Also, tomato sauce is anti-keto. But, dressings like Ranch Dressing and Jalapeno Dressing are low on carbs and can be consumed on a keto diet.
As I told you, they also have drinks on the menu, both hard and soft. Some alcohols are indeed low on carbs, but when made into a cocktail, the carb count goes higher.
I would advise you to choose non-alcoholic drinks like coffee or diet drinks, which assure being low-carb.
With this much knowledge, let's deep dive into all the keto-friendly options Lupe Tortilla serves us.
Lupe Tortilla Keto Friendly Options
There are plentiful low-carb options for you here. Keep the tips in mind, and it shouldn't be that difficult. Following are the keto-friendly options at Lupe Tortilla –
Brunch
Egg Tacos
-> In the case of Egg Tacos, avoid the tortilla. It is filled with carbs, but except that all the fillings are keto-friendly.
E.B.L.T. Tacos, Chorizo, Bacon, Jalapeno Sausage, Avocado, Al Carbon, Carne Molida, Barbacoa, Carnitas. These are the tacos that can be consumed on a keto diet.
If you see some sugary sauces in the ingredients, ask them not to drizzle them over your taco bowl.
Texas' Mex Classics
-> For the dishes that have either nachos, tacos, or burritos in their names, you can make a bowl of your own. You can eat the respective fillings without including the high-carb sauces.
Also, avoid any side dish that has potatoes or any other high-carb veggie.
Breakfast Nachos, Breakfast Buritto, Chilaquiles, Eggs Lupe, Huevos Rancheros, Eggs and Enchiladas, Carne Asada & Eggs, Avocado Toast ( without the toast, obviously ), Two Eggs and Carne.
These are the classics that you can enjoy when on a keto diet.
Omelettes, Scrambles and Frittatas
-> Almost all omelettes come along with some kind of sauce. You only have to avoid those sauces and any kind of bread that is served with it.
Omelettes, scrambles and frittatas are high in both protein and fat. It makes them perfect dishes for a keto diet.
Benedicts
-> All available Benedicts can be consumed without worry. The same tips as above apply here as well.
Cafe
-> Espresso, Cappuccino and Iced Coffee are the safest keto-friendly options to kick start your morning at Lupe Tortilla.
FIND MORE: Wahlburgers Keto-Friendly Options
Dining
Appetisers
-> In the case of appetisers, whenever you find a high-carb sauce, like BBQ or tomato, avoid it. All the appetisers are keto-friendly if not drizzled over by sugary sauces.
Soups and Ensaladas
Spicy Shrimp and Rice Stew
Ensalada Verde
Shrimp and Avocado Salad
Seafood
Tilapia Veracruz
Pepper Shrimp Brochette
Shrimp and Poblano Enchiladas
Cedar Plank Grilled Salmon
Salmon Sencillo
Grilled Mahi-Mahi
-> Along with all the above options, you can have items from Texas' Mex, Sizzling Fajitas, Carne Asadas, Chicken and Ribs, Vegetarian and Lunch sub-menus.
Avoid any sugary sauces and anything that's got to do with bread. Also, your dish might contain high-carb veggies like potatoes and corn. All of these are to be avoided for a keto-friendly experience. 
RECOMMENDED: Gyu Kaku Keto-Friendly Options
Cocktails
-> Most of the cocktails at Lupe Tortilla are made of tequila. Tequila contains 0g carbs and seems perfectly keto-friendly. But, when mixed with other juices and mocktails, it becomes a sugar disaster.
Therefore, I suggest you stick to their low-carb coffees or other packaged diet drinks.
Vegetarian
Ensalada with Mushroom
Spinach and Artichoke Enchiladas
Grilled Mushroom Lupe
-> Apart from these 3, there are other dishes as well. But they are all wrapped in tortillas. So, if you can ditch the tortilla, the whole menu becomes keto-friendly.
Hatch
-> Again, all the items under the Hatch section are keto-friendly if you do the needful. The same mantras as above apply here.
Alternative Restaurants to Lupe Tortilla
Although Lupe Tortilla has a wide variety of low-carb dishes for us, if you still feel dubious, I will provide you with a couple of alternatives that you can visit.
Chipotle Mexican Grill
Often known as Chipotle, it is a fast-casual Tex-Mex restaurant. Since Mexican cuisine has many high-protein and high-fat options, it is a place to watch out for. They have a fantastic range of burritos, bowls, tacos, salads and quesadillas.
They provide you with a customisation option for your dish. This feature makes it much easier to pick up items that suit keto. Choose the low-carb ingredients, ditch the tortilla, stay away from sugary sauces and ace your keto outing.
On The Border
OTB is yet another famous Tex-Mex restaurant, and they have all the Mexican dishes that Lupe Tortilla and Chipotle have.
On The Border has a lot of savoury keto-compatible dishes, but unfortunately, there are no desserts for your sweet tooth.
If you crave sugar during your visit, you can instead go for the low-carb drinks they serve here (Not many, but still do the job).
Conclusion
To be honest, Tex-Mex food is the most keto-friendly food I have ever encountered. Especially at Lupe Tortilla, there are dishes with as low as 5g of carbs.
Not just a couple, but many, and of various types. Tacos, Quesadillas, Nachos, Burritos, Cocktails and vegetarian options are all on their menu.
Mexican food mainly consists of rice, beans, and a lot of meat, and the latter is what we need to concentrate on. Avoid the sugary sauces and dressings, and enjoy your meat and veggies.
All the sub-categories from the menu have a vast number of low-carb options. You just have to play around with the ingredients. Side dishes can also escalate the carb count, so they must be avoided.
Lastly, they have cocktails too. But, they can be substituted with other low-carb drinks, just to be on the safer side.
I am confident in the knowledge I have provided you with in this article. If you still wish to know more about all the menu items at Lupe Tortilla, you can visit their official website here.
Happy Ketoing 🙂