A household name that started in Alabama, Jack's serves some delish food of almost all kinds. From breakfast to salads to desserts, they have them all. But do they have keto-friendly meals as well? Let's find out.
You can have 'Scrambled Eggs with Cheese' for as low as 1g.
Also, salads like 'Side Salad' come for just 5g of net carbs. Jack's also has a whole variety of low-carb sandwiches, dressings, sauces and beverages to cater to your keto needs.
But it's always easier said than done. You will have to keep some key points in mind while ordering keto here. For instance, you definitely can enjoy their sandwiches but you will have to ditch the bread at any cost.
I'll elaborate on this further, in the next section.
Having said that, let's now hop into the keto survival guide that you'll need on your next visit to Jack's for a keto-friendly meal.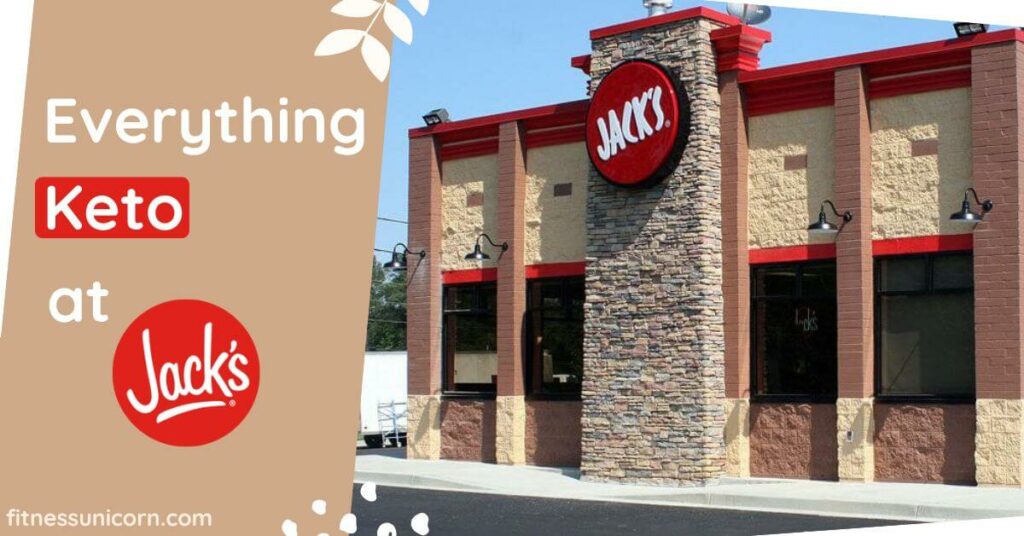 Tired of searching whether certain foods are keto? Download my keto cheat sheet with 210+ keto-friendly foods!
This post may contain affiliate links, which help keep this content free. (Full disclosure)
How to survive Keto at Jack's
Founded in 1960, Jack's Family Restaurant is an American fast-food restaurant chain, headquartered and based in Birmingham.
Their menu includes everything from breakfast, chicken fingers, sandwiches and fried chicken to desserts and beverages.
And almost every sub-menu has some or the other keto-friendly dish for you to relish. You'll just have to go by the following rules to keep your keto streak going.
There are various types of dressings and sauces to drizzle over your meal. You need to be careful since most of them contain sugar and carbs.
You should consume only low-carb dressings like Ranch Dressing, Buffalo and others mentioned in the article.
Jack's also has a wide variety of sandwiches on its menu. Big Bacon, Big Jack and Hamburger are some of them. Now, there are two problems with having sandwiches on keto.
First has already been mentioned above, i.e. sugary dressings will have to be avoided at any cost.
The second is the sandwich bread. Just a couple of slices of bread will send your keto diet packing. Two pieces of white bread contain approx 28g of net carbs. This amount is even more than your whole day's permitted carb limit.
In such a case, you can choose either of the two options. You can choose to get the fillings and condiments of the sandwich in a bowl. Or, you can ask if lettuce wrap is available at the store.
Lettuce will act as the perfect substitute for high-carb bread. For instance, 100g of lettuce contains just 2.9g of carbs. Therefore, it acts as an ideal low-carb substitute.
Jack's is also known for its chicken wings. But, as you know, wings are submerged in sugary sauces and covered in high-carb bread which makes them highly anti-keto.
Just a couple of wings will get you off track even before the wings reach your stomach.
Now, if you are someone who craves sugar, especially while dieting, you surely won't be disappointed here. Since they do have a good number of low-carb drinks. They'll come into play when you get those sudden sugar cravings.
Jack's Keto-Friendly Options
At this stage, you're halfway to becoming a keto ninja at Jack's. Now, you'll get to know about all the available options that will fit under your daily allowed carb quota.
I've mentioned them below as-
Breakfast
American Cheese – 1 slice ( 0g )
Bacon ( 0g )
Bologna ( 2g )
Breakfast Chicken Fillet ( 13g )
Eggs, Folded ( 0g )
Eggs, Scrambled ( 1g )
Eggs, Scrambled with Cheese ( 1g )
Breakfast Gravy Chicken ( 8g )
Grits ( 12g )
Ham ( 0g )
Pancakes( 6g )
Smoked Sausage Link ( 1g )
Sausage Patty ( 2g )
Sausage Gravy/Pepper Gravy ( 9g )
You'll have to admit, these are some good numbers for just the low-carb breakfast options.
YOU MAY ALSO LIKE: How to survive Keto at Hopdoddy
Chicken Fingers / Dipping Sauces
Chicken Fingers – 1pc ( 16g )
BBQ ( 15g )
Buffalo ( 1g )
Comeback ( 4g )
Honey Mustard ( 12g )
Ranch ( 3g )
As I told ya, chicken fingers are not something you should eat on keto. But still, if you're having a hard time controlling your cravings, you can have some of the above options.
Fried Chicken
Chicken Fried Drumstick 1pc ( 12g )
Chicken Fried Wing 1pc ( 10g )
Same as chicken fingers, fried chicken is coated with high-carb bread and hence, you won't get many options in this case.
Salads/Dressings
Dijon Honey Mustard ( 5g )
Raspberry Vinaigrette ( 11g )
Thousand Island ( 6g )
Garden – No dressing ( 12g )
Grilled Chicken – No dressing ( 12g )
Side – No dressing ( 5g )
Although these are low-carb dressings, you should still calculate the whole meal's carb count and make sure that it fits well under your budget.
Sandwiches
Big Bacon ( 6g )
Big Jack ( 12g )
Bigger Jack ( 13g )
Cheeseburger ( 9g )
Grilled Chicken ( 6g )
Hamburger ( 9g )
Grilled Chicken Breast Fillet only ( 0g )
As mentioned earlier, sandwiches are only keto-friendly if the bread's ditched. Eat it either as a salad bowl or wrap it in lettuce for a low-carb meal.
RECOMMENDED: Glory Days Grill Keto-Friendly Options
Sides
Coleslaw ( 11g )
Green Beans ( 11g )
Not many options, but would still do the job of a keto-friendly side dish ( I guess )
Drinks
Diet Coke ( 0g )
Diet Dr. Pepper ( 0g )
Whole Milk ( 15g )
Minute Maid Light Lemonade ( 7g )
Iced Tea ( 6g )
Coffee Decaf ( 0g )
Coffee ( 0g )
This part of the menu impressed me the most. You do not get many low-carb drinks at fast food places but Jack's surely doesn't disappoint.
Now, in the next section, I'm gonna give you some alternatives to Jack's if you could not already find the dishes you were looking for.
Alternatives Restaurants to Jack's
Wahlburgers
Wahlburgers Franchising LLC, doing business as Wahlburgers, is a casual dining burger restaurant and bar chain. There are around 50 Wahlburgers locations in the United States, two in Canada and one in Germany.
Along with Burgers, Wahlburgers also serves delish salads, sandwiches, appetizers, side dishes and both, alcoholic as well as non-alcoholic drinks.
All of these require little alterations to turn them into low-carb meals and I'll tell you how it can be done. Clearly, they have a broader menu as compared to Jack's.
The best part is that Wahlburgers allows you to customize your meal. In their official menu, they have stated that customers can ask for the buns to be removed if they are allergic.
Gestures like these certainly show their interest in the consumer's liking and make Wahlburgers a perfect alternative to Jack's.
FIND MORE: BEST Keto & Low-Carb Bakeries in Houston, TX
Schlotzsky's
Schlotzsky's is an American franchise chain of restaurants, specializing in sandwiches and pizza. The company is headquartered in Atlanta, Georgia.
Schlotzsky's has more than 330 franchised and company-owned locations throughout the United States.
They have a huge variety of keto-friendly sandwiches on their menu along with low-carb salads and dressings. Be careful with dressings, since they might add some unwanted carbs to your meal.
Instead, go for their keto-friendly alternatives like Blue Cheese, Caesar etc.
Remember at all times, go for a 15g carb meal only when you've eaten only around 10g carbs from the other meals of your day. Otherwise, your body won't be in a Ketosis state and convert energy from carbs instead of body fat.
Whataburger
Whataburger is an American regional fast food restaurant chain, headquartered and based in San Antonio, Texas, that specializes in hamburgers. They currently serve at over 880 locations across the United States.
Other than their trademark burgers, they have low-carb salads like Cobb Salad and side dishes like Apple Slices, that hold less than 10g of carbs.
Various Add-ons and dressings also contain fewer carbs, making them absolutely keto-friendly.
Conclusion
With a good variety and a mix of both savoury and sweet dishes, Jack's is a good option to consider on your next outing. As far as keto is concerned, every sub-menu has low-carb options for you to relish.
Although, there are a few pointers to be kept in mind. They have been mentioned throughout the article and are not to be ignored at any cost. For instance, pick sauces that are not sugary since sugary sauces contain a hell lot of carbs.
With that being said, I've finally made you a complete keto ninja now. Sometimes the restaurant comes up with seasonal items and new offerings that might not be included in this guide.
If you really have to try them, make sure you scan the nutrition data as well.
Happy Ketoing 🙂