Sports and Food are the deadliest combinations out there. Glory Days Grill is the place that serves you both. But the real question is, do they serve keto-friendly meals as well, let's find out.
You can enjoy Chicken wings, or their Homemade Guacamole, just for 3g and 6g of carbs each.
They have a variety of low-carb dishes like Smothered Chicken, Chicken Noodle Soup, and Turkey BLT Wrap among many others. You also get alcoholic and non-alcoholic keto-friendly drinks to go with your meal.
However, it's not as straightforward as it sounds. There are items on the menu that are loaded with carbs. A small mistake can very well lead to a keto disaster. But that's where I come in.
In this article, you will find the best keto ordering strategies at Glory Days Grill.
So, without wasting further time, let's hop into the keto survival guide at Glory Days Grill for a smooth and satisfying outing.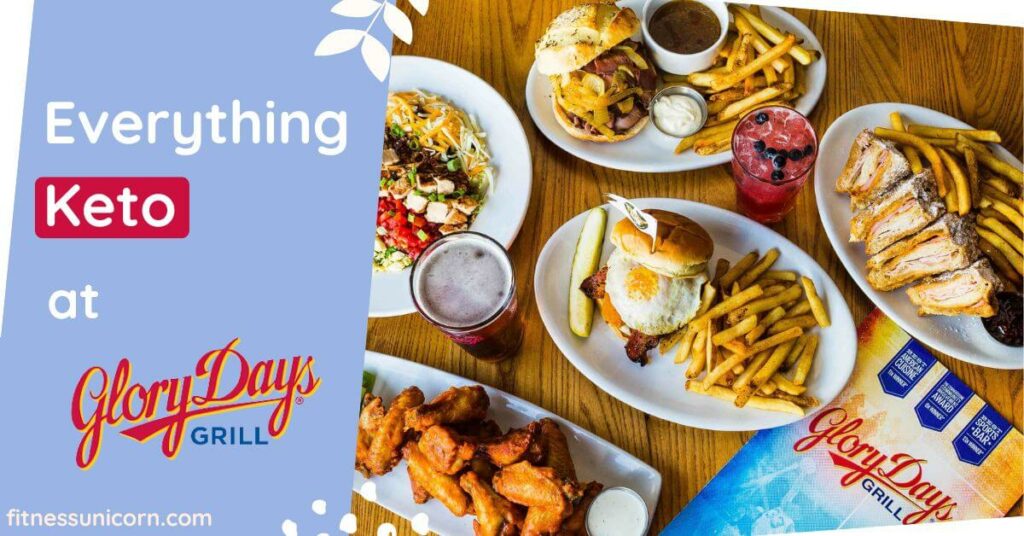 Tired of searching whether certain foods are keto? Download my keto cheat sheet with 210+ keto-friendly foods!
This post may contain affiliate links, which help keep this content free. (Full disclosure)
How to survive Keto at Glory Days Grill
Glory Days Grill is a sports themed family-friendly American grill and bar that combines an award-winning menu of freshly prepared appetizers, entrees and sandwiches with entertainment that appeals to all ages.
The menu also has chicken wings, tacos, wraps, desserts and beverages. It might appear slightly overwhelming at first but trust me, there are good enough options to enjoy a keto-friendly meal.
There are various types of dressings and sauces to drizzle over your meal. You need to be careful since most of them contain sugar and carbs.
You should consume only the low-carb dressings like Bacon Ranch, Balsamic Vinaigrette and others mentioned in the article.
Glory Days Grill also has sandwiches on the menu. Now, there are two problems with sandwiches. First is that high-carb dressings will have to be avoided at any cost. The second is the sandwich bread.
Just a couple of slices of bread will send your keto diet packing. Two pieces of white bread contain approx 28g of net carbs. This amount is even more than your daily allowed carb limit.
Some of the sandwiches also come wrapped in a tortilla. Now tortilla again is not keto-friendly. A 100g tortilla consists of 50g net carbs, and you can not afford it.
In such a case, you can choose either of the two options. You can choose to get the fillings and condiments of the sandwich in a bowl. Or, you can ask if lettuce wrap is available at the store.
Lettuce will act as the perfect substitute for high-carb bread. For instance, 100g of lettuce contains just 2.9g of carbs. Therefore, it acts as an ideal low-carb substitute.
I'd suggest you try and eat as many veggies and salads as you can. The high fiber content helps maintain calories by making you feel fuller. You are less likely to cheat your diet when your stomach already feels full.
Coming to their beverages now. Glory Days Grill gives you so many alcoholic and non-alcoholic drinking options. But, most of them are high on carbs so choose only the ones mentioned in the next section.
They are picked only for their low-carb content.
Let us now have a look at all the keto-friendly options available at Glory Days Grill.
Glory Days Grill Keto-Friendly Options
They have a huge variety of low-carb options. Using the above tips, Glory Days Grill indeed becomes a place of consideration for your next keto outing.
Let us now look at all the keto-friendly options Glory Days Grill has in store for us.
Wings
-> Wings are the perfect keto dish in my opinion. They are high in protein as well as fat and contain very few carbs. This gets them on the top of my list.
Main Events
-> If you want to add any sauces to these items, go for the low-carb ones. I have explicitly mentioned them below.
Sandwiches, Wraps & Tacos
-> As I told you, sandwiches, tacos and wraps should be enjoyed with their respective coverings. Eat them either as a salad bowl, or wrap them in lettuce to lower the carb content.
Field Of Greens
-> Salads are your best friend while dieting. They contain veggies that are high in fiber and make you feel fuller. It increases your chances of not cheating on your diet.
RECOMMENDED: How to Break a Fast on Keto SAFELY for BEST Results
Salad Dressings
-> Dressings are a bit tricky, to be honest. You'll have to do some calculations and check whether the added carbs from the dressings do not increase the overall count above the allowed limit.
There are a lot of low-carb options and they shouldn't pose much threat.
Sides & Extras
-> Not many places have low-carb side dishes. Glory Days Grill has done a good job here and has served us with quite a few good options.
ALSO READ: Lupe Tortilla Keto Friendly Options
Soups and Chili Items
-> You can also try other soups but only their cup portions. It should cost you around 10g of net carbs per cup on average.
Sauces
-> While choosing sauces, remember the final carb count they will take your dish to. It should be as low as possible.
Refreshment Stand Items
Diet Coke
Freshly Brewed Iced Tea
Hot Tea
Sparkling Water
Alcoholic Beverages
Now, in the next section, I'm gonna give you some alternatives to Glory Days Grill if you could not already find the dish you were looking for.
Alternatives Restaurants to Glory Days Grill
Buffalo Wild Wings
Buffalo Wild Wings is an American casual dining restaurant and sports bar franchise headquartered in the United States, They specialise in Buffalo wings and sauces. As of November 2020, it had 1,279 locations across all 50 U.S. states and DC.
They serve classic chicken wings drizzled along with their signature sauces. Low-carb sauces like Nashville Hot, Parmesan Garlic and Spicy Garlic should be your preferences.
Most of their seasonings are low-carb so you can add them without hesitation.
They also have burgers, sandwiches and wraps. All these should be avoided because of the reasons mentioned throughout the article. Lastly, you can go for low-carb cocktails and packaged drinks instead of sugary ones.
Hooters
Established in 1983, Hooters is quite a popular sports bar now. Not only in the USA, but it also has stores in over 430 locations throughout the world.
The menu includes hamburgers and other sandwiches, steaks, seafood entrees, appetizers, and the restaurant's speciality, chicken wings.
Almost all Hooters restaurants hold alcoholic beverage licenses to sell beer and wine, and where local permits allow, a full liquor bar.
Steaks, Chicken wings and seafood entrees have quite a few low-carb options. Apart from that, almost all the above rules apply here as well while choosing a keto-friendly dish.
Conclusion
Glory Days Grill will surely make a place on my keto list. They have it all covered for you.
Starting from low-carb appetizers and going up to keto-friendly beverages, along with everything in between, this place certainly doesn't disappoint.
One might argue that they do not have dedicated customizations available for diet-conscious people. But the tips and tricks I gave you will come in handy to counter this.
Avoiding high-carb dressings, bread, tortillas and sugary drinks are the highlights of what things are to be avoided. But apart from that, it should be a smooth ride.
It seems to me that I have been able to make the process easier for you now to enjoy a keto meal at Glory Days Grill. If you still wanna know more or have any doubts, you're most welcome to visit their official nutrition page here.