Missing out on your favorite foods because you're counting carbs? Then Huhot Mongolian Grill should be your next stop for keto-friendly foods.
They offer a wide assortment of over a dozen types of keto-friendly ingredients, meaning that you can choose what goes into your food bowl with no worries about being too carb-heavy.
Can you get keto-friendly food at Huhot Mongolian Grill?
You will find a variety of delicious keto-friendly dishes on the Huhot Mongolian Grill menu across all food categories. The menu offers numerous low-carb sensational vegetables, delicious proteins, and non-alcoholic beverages.
By eliminating any high-carb ingredients (listed below), you can fully customize your food bowl.
There are many challenges associated with a keto diet due to the fact that you need to be careful about every single ingredient in your dishes. You'll find carbs everywhere!
We've compiled a list of the best low-carb choices at Huhot Mongolian Grill, along with tips on how to follow a keto diet while at the restaurant.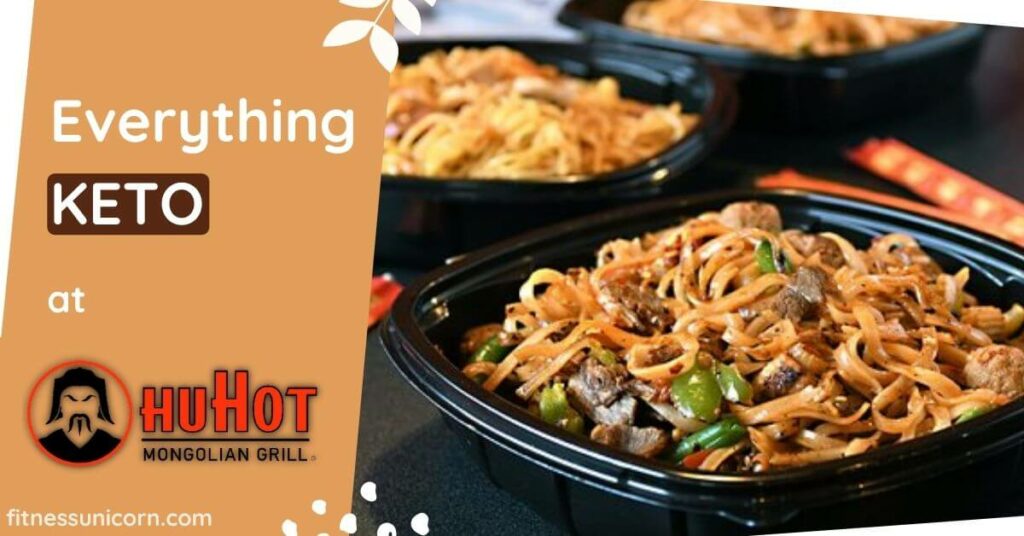 Tired of searching whether certain foods are keto? Download my keto cheat sheet with 210+ keto-friendly foods!
This post may contain affiliate links, which help keep this content free. (Full disclosure)
How To Survive Keto at Huhot Mongolian Grill
At Huhot Mongolian Grill, surviving keto won't be hard since you can modify and alter the menu based on what you want. Many keto-approved options are available at your disposal, you can pick and choose like a king.
As long as you stick to the keto rules, you'll be fine. You should avoid bread, pasta, rice, and tortillas as these foods contain a large number of carbohydrates.
Almost all sauces on the menu are keto-friendly, Although some are high in sugar, which you must avoid.
There is an array of keto-friendly veggies available for you at this restaurant. There are several different spices you can use for your foods to enhance their flavor, and as a side dish, you can eat veggies.
Thankfully, most vegetables on the menu are low in carbohydrates so you dont have to worry about them ruining your ketosis.
Keep your distance from the appetizers because they all contain a plethora of carbs. The best part about this restaurant is that you have total control over your plate even if you wanted to build your own bowl from scratch.
Just dont think about having those sugary desserts and you ll be fine.
We found a bunch of drinks that were good enough to satisfy your sweet cravings and also comply with the keto rules. However, just like with any other restaurant, there are many sugary drinks on the menu as well which you must avoid.
Without further ado, let's jump into all the keto-friendly options at Huhot Mongolia Grill.
Huhot Mongolian Grill Keto Options
Keto-Friendly Soups and Salad at Huhot Mongolian Grill
Egg Drop Soup ( 7g )
Garden Salad w/Ranch ( 10g )
HuHot & Sour Soup ( 13g )
Keto-Friendly Sauces at Huhot Mongolian Grill
Bekter's Ginge ( 5g )
Burn-Your-Village BBQ ( 8g )
Feed the Hordes Hoisin ( 7g )
Five Village Fire Szechuan ( 3g )
Khan's Favorite ( 3g )
Khan's Revenge ( 7g )
Kung Pao Yow ( 7g )
MeSo Garlic ( 4g )
Mongol Mustard ( 8g )
Nomad's Green Curry ( 3g )
Samurai Teriyaki ( 7g )
Garlic Broth ( 1g )
Garlic Chili Sauce ( 0g )
Garlic Oil ( 0g )
Ginger Broth ( 0g )
Hot Chili Oil ( 1g )
Jalapeno Juice ( 0g )
Lemon Juice ( 0g )
Lime Juice ( 1g )
Sesame Oil ( 0g )
Sherry ( 2g )
Soy Sauce ( 0g )
Sweet Chili Sauce ( 4g )
Keto-Friendly Meat and Seafood Options at Huhot Mongolian Grill
Beef ( 0g )
Calamari ( 2g )
Chicken ( 0g )
Cod ( 0g )
Egg ( 0g )
Hot Sausage ( 1g )
Meatballs ( 3g )
Mild Sausage ( 0g )
Mussels ( 2g )
Pollack ( 0g )
Pork ( 0g )
Salmon ( 2g )
Seafood Medley ( 2g )
Shrimp ( 0g )
Tilapia ( 0g )
Keto-Friendly Noodles at Huhot Mongolian Grill
Chinese Noodles ( 8g )
Yakisoba Noodles ( 11g )
Chow Mein Noodles ( 9g )
Keto-Friendly Veggies at Huhot Mongolian Grill
Asparagus ( 1g )
Baby Corn ( 1g )
Bamboo Shoots ( 1g )
Bean Sprouts ( 1g)
Broccoli ( 1g )
Brussels Sprouts ( 2g )
Cabbage ( 1g )
Carrots ( 2g )
Celery ( 1g )
Cilantro ( 0g )
Cranberries ( 2g )
Edamame ( 5g )
Green Beans ( 2g )
Green Onions ( 1g )
Jalapeños ( 1g )
Kale (2g )
Mushrooms ( 1g )
Onions ( 2g )
Peppers ( 1g )
Snow Peas ( 1g )
Spinach ( 0g )
Tofu ( 2g )
Tomatoes ( 2g )
Water Chestnuts ( 3g )
Yellow Squash ( 1g )
Zucchini ( 1g )
Keto-Friendly Beverages at Huhot Mongolian Grill
When it comes to drinks, it may depend on the location. Not every outlet of Huhot has the same menu.
Nonetheless, They do have drinks like unsweetened iced tea and diet Pepsi which contain no carbs, so you can be on the safe side by choosing them.
ALSO READ: EVERYTHING Keto at Lou Malnati's
Honor Your Carb Limit
When it comes to keto's golden rule, the key is adhering to the daily carb limit that you set for yourself! The number of carbs you should be consuming each day shouldn't exceed 25g.
As a matter of fact, you ought to spread out the carbohydrates evenly throughout the day so that you avoid a massive blood sugar spike in one meal.
Combine any of the above items to come up with your favorite combination. You should, however, count the carbs you put on your plate as every single gram counts.
Maybe you just want a spoonful of ice cream, or you'd like a glass of beer. You need to watch your carbs because anything over your daily limit will throw your body out of ketosis.
RELATED: Keto-Friendly Options at MAD Greens
How to Eat Keto at Huhot Mongolian Grill
To eat keto at Huhot Mongolian Grill, have your meats only with the keto-friendly sauces mentioned above.
All meats at this restaurant are low carbs, but with added sauces and other items, your carb intake might creep over the daily limit. So just be mindful of this fact.
Meat and seafood are known as the most keto-friendly foods because they have minimal to nothing carbs. However, fried meat can often be loaded with a huge amount of carbs.
This is why you should avoid the appetizer section completely because they are all carb-rich. And the majority of those carbohydrates are from sugar, which is not good for you at all.
You could very well end up being kicked out of ketosis if you take eat these dishes, as it will likely spike your blood sugar levels.
So how can you enjoy low-carb at Huhot Mongolian Grill?
We can help with that! At Fitness Unicorn, we're all about making your keto life easier!
Follow these easy strategies to stay in ketosis at Huhot Mongolian Grill:
Stick to the keto-friendly sauces listed in this article which are mostly under 10g per serving.
Prepare your own bowl by using carefully chosen low-carb ingredients.
For sides, you can have a serving of Egg Drop Soup which only has 7g of carbs.
Add a portion of low-carb veggies for a more filling meal.
When in doubt, use their nutritional information for exact nutritional details.
FIND MORE: EVERYTHING Keto at Juice It up
Conclusion
Essentially, the above list has compiled all of the keto-friendly choices that can be found on the Huhot Mongolian Grill menu. We wish to keep you within the carbohydrate limits, so all of this has been explained in detail.
For people following a low-carb diet, if there were any dessert items that could be made to be keto-friendly, the place would be even better. Apart from that, this is a treat for anyone following a keto diet.
As a final note, you should always be aware of meals and drinks containing more than 15g net carbohydrates and keep your portion sizes in mind.