Located in Northbrook, Illinois, Lou Malnati's Pizzeria is a chain of American-style pizza restaurants. This restaurant chain was founded by Rudy Malnati's son, who developed the Chicago-style pizza recipe.
It's one of the best-known local chains in the Chicago area.
The Chicago-style pizza from Lou Malnati's is referred to as a "pie" and it is a prototype of Chicago-style pizza. It is traditionally prepared by laying thin dough in a deep-dish pizza pan and raising it up on the side.
On Chicago-style deep-dish pizzas, the ingredients are placed in the opposite order to thin-crust pizzas.
On top of the dough, thick slices of mozzarella cheese are laid out. On top of the cheese, additional ingredients like sausage, onions, and mushrooms are added.
A tomato sauce topped with whole chunks of tomato is applied to the pizza as topping.
Unlike the more traditional crumbled sausage, a Lou-Mal pie features a sausage patty instead of the more traditional tomato chunks or sauce.
As good as Lou Malnati's is for its continued tradition of creating traditional pizzas, it has also made a lot of advancements to its menu to appeal to a different type of audience.
What are the low-carb options at Lou Malnati's?
You will be surprised at the array of keto-friendly options on Lou Malnati's menu, which include crustless pizzas, salads, appetizers, soups, wings, and many others.
Lou Malnati's offers numerous low-carb options, so you will have a great selection to choose from on your visit.
It's important to choose your food from the menu wisely. Having too many options makes you more likely to fall into overeating. Here is your comprehensive guide to everything Keto at Lou Malnati's.
Okay, so let's dive right into it!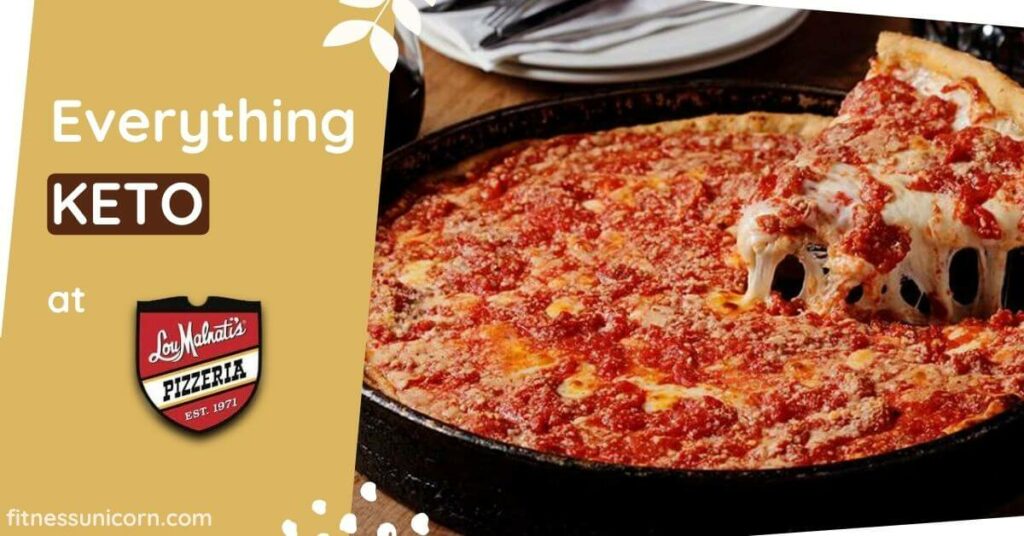 Tired of searching whether certain foods are keto? Download my keto cheat sheet with 210+ keto-friendly foods!
This post may contain affiliate links, which help keep this content free. (Full disclosure)
How to Survive Keto at Lou Malnati's
There may be particular concerns you have about eating at a pizza outlet if you are on a keto diet. It is obvious that pizzas are high in carbohydrates, which may not be suitable for a keto diet.
You might be surprised to learn, though, that Lou Malnati's has keto-friendly crustless pizzas.
There are quite a few keto-friendly options available at Lou Malnati's, so those following the keto diet will not have a problem finding a fix here.
It would be quite simple for a Keto dieter to survive at Lou Malnati's since the dining process will be smooth as butter. The experience of eating at Lou Malnati's is not one you will need to endure, but rather one you will love.
On the contrary, you won't have to make too many concessions at all while you are at this restaurant.
To cater to their customers' changing tastes and preferences, they've introduced a bunch of keto-friendly dishes.
One of the most important things about their menu is that they serve crustless pizza. Several competitors had already introduced low-carb versions of their regular pizza, similar to Lou Malnati's.
It took Lou Malnati's no time to follow suit as well, offering a customizable pizza bowl!
If you're a low-carbohydrate enthusiast, then this is the thing for you! You can add anything and everything you like, without feeling guilty! Create your own bowls or select one of their pre-sets.
The following sections will provide you with an overview of some of Lou Malnati's popular keto-friendly dishes.
Keto-Friendly Options at Lou Malnati's
Appetizers

Bar-B-Lou Wings ( 15g )
Buffa-Lou Wings ( 11g )
Calamari ( 8g )
RECOMMENDED: EVERYTHING Keto at Corner Bakery Cafe
Keto-Friendly Sauces

Cocktail Sauce ( 8g )
Marinara Dipping Sauce ( 8g )
Reduced Calorie Ranch Dressing Dipping Sauce ( 4g )
Reduced Calorie Ranch Dressing Dipping Sauce (for Wings) ( 3g )
Keto-Friendly Soups at Lou Malnati
Clam Chowder – Cup ( 12g )
Minestrone – Cup ( 12g )
Beef Barley – Cup ( 10g )
Meatball – Cup ( 6g )
Santa Fe Chicken – Cup ( 7g )
Salads at Lou Malnati (Medium Size)
Caesar Salad ( 8g )
Caesar Salad with Grilled Chicken ( 8g )
Spinach Salad with Pear & Chicken ( 14g )
Spinach Salad with Strawberry & Chicken ( 9g )
Salad Dressing
Balsamic Vinaigrette ( 12g )
Thousand Island ( 11g )
Reduced Calorie Ranch ( 9g )
Creamy Lemon Garlic ( 5g )
Gorgonzola Dressing ( 5g )
Don't overdo it with sauce, and make the most of what you have. Sauces and dressings are always one of the risk factors when people are dining out on a keto diet. Because it can be tempting to overdo them.
RECOMMENDED: Keto-Friendly options at Huhot Mongolian Grill
Keto-Friendly Pizzas Dressing at Lou Malnati
1. Deep Dish Pizza – Individual (1 Slice = 1/2 Pizza)
2. Thin Crust Pizza – Small (1 Slice = 1/4 Pizza)
Cheese ( 15g )
Deluxe ( 17g )
Lower Fat Cheese ( 15g )
Lower Fat Cheese, Pepperoni ( 15g )
Lower Fat Cheese, Sausage ( 15g )
Pepperoni ( 15g )
Sausage ( 15g )
The Lou ( 18g )
Sides at Lou Malnati
Celery ( 1g )
Meatballs ( 7g )
Greens with Cornbread (Lawndale only) ( 9g )
Candied Yams (Lawndale only) ( 13g )
Chicken Wings (Lawndale only) 3.5g )
Keto-Friendly Beverages at Lou Malnati
Coke Zero ( 0g )
Diet Coke ( 0g )
Unsweetened Iced Tea ( 0g )
Despite the fact that the options for keto-friendly beverages are limited, you can still maintain your ketosis with the options mentioned above.
ALSO READ: Keto-Friendly Options at Taco Casa
Keto-Friendly Pizza Toppings: Is It Okay To Eat Them?
Obviously, when you're at a party and you are wondering if you can eat the toppings off a regular pizza without derailing your keto diet.
Let's start with a word of advice: don't be stressed. As for eating the toppings or cheese of the pizza, yes, you can. Hawaiian pizzas, however, may be better without the pineapple.
In general, toppings are relatively low in carbohydrates, including cheese. A few places may use fillers here and there, but they don't add enough carbohydrates to make a difference.
Be Aware Of High-Carb Toppings
The type of vegetables you eat can make a difference in terms of your ability to follow a ketogenic or low-carb diet. A number of the toppings are high in carbs, such as onions, sweet peppers, and pineapple.
There are many tasty and healthy alternatives that are great choices to help reduce the overall amount of carbohydrates in your diet, such as olives, mushrooms, green peppers, and broccoli.
Do Pizza Toppings Have Carbs?
The ingredients used in the toppings of a pizza usually do contain carbs, and even cheese contains a few trace carbohydrates, but they are not excessively high that a person would be thrown out of ketosis.
We'd say that most pizza toppings fall in the keto-friendly category since meats and veggies are the most common ingredients.
FIND MORE: La Madeleine Keto Friendly Options
Conclusion
In the launching of the Pizza Bowls, Lou Malnati's completely changed the keto game. This is one of the few restaurants that offer a crustless pizza which is an attractive option for all the keto folks out there.
This restaurant offers a very good selection of keto-friendly foods, such as crustless pizza, chicken wings, soups, salads, and many other dishes. In general, it appears to be a great place for keto outings.
As long as you stick to the keto-friendly dishes mentioned above, you are sure to be well on your way to reaching your ketogenic diet goals.
It would be great if they could modify their dessert options to make them keto-friendly, as that might push more people to visit there, but aside from that, it is a great option for those on a low-carb diet.
Despite this, we've equipped you with everything you need to keep your diet Keto-friendly while walking into Lou Malnati.