Are you craving a taco so badly but don't know where to get one? Well, if you've thought of eating at Taco Casa, then you've already solved half of your problems.
But if you're on a keto diet, you might wonder whether you can have anything on their menu or not.
So, is there anything Keto-friendly at Taco Casa?
Taco Casa offers a very limited variety of tacos under 15 grams of carbs. The most keto-friendly options on the menu are the classic Taco, Soft Taco, diet coke, and unsweetened teas.
Everything else is well above 15 grams of net carbs, with the most carb-heavy option being the Super Nacho.
Thus, would you like to know more about selecting from through the menu without exceeding your carb limit? If yes, keep reading as I've explained how to do so in this article.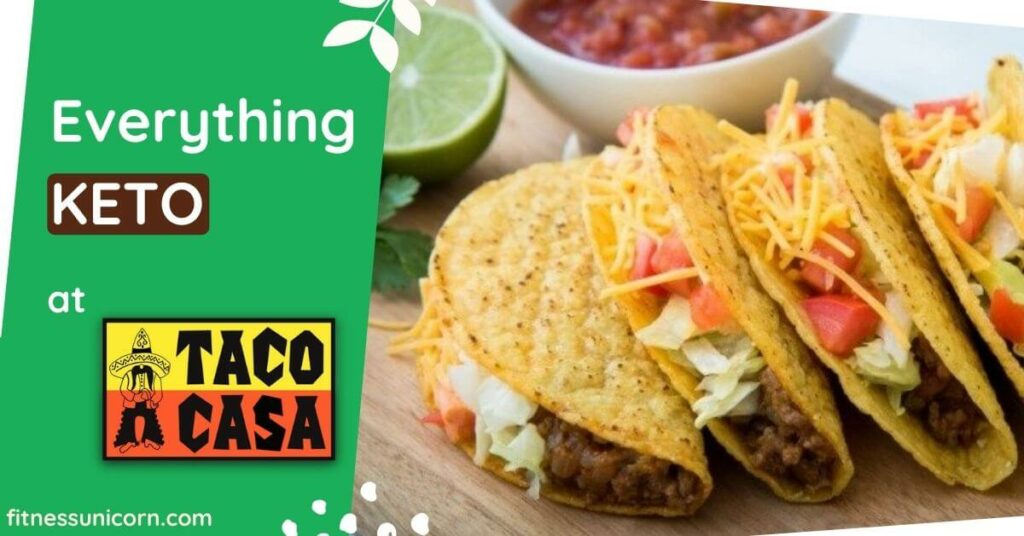 Tired of searching whether certain foods are keto? Download my keto cheat sheet with 210+ keto-friendly foods!
This post may contain affiliate links, which help keep this content free. (Full disclosure)
How to Survive Keto at Taco Casa
As aforementioned, Taco casa isn't exactly keto-friendly. Nonetheless, a few options on their menu are pretty low carb.
Most of their dishes are quite carb-dense because they're made of flour. Nachos, tacos, burgers, and everything else yummy and crunchy all have different amounts of highly processed, low-fiber dough that increases the carb content.
Nonetheless, the classic Taco and soft Taco are quite low in carbs because they're very thin. So, not much flour is used in making them.
They come in 9 and 14 grams of net carbs, respectively. And while they are great options, you can be tempted to have more. But one more serving of any of these would deprive you of your Ketosis for the day.
But while most of the other foods are not exactly keto-friendly, you can still practice portion control on some relatively low carb foods but pass the keto limit.
The tostada, frijoles, and chili burger average at about 20 grams of carbs. So, if you divide the portions into two-thirds of their original amounts, you should be pretty safe. 
Furthermore, sweetened teas, soda, and lemonade are drinks you should avoid. While they're pretty much low-carbon on their own, the added sugar makes them unsafe for your Ketosis.
Also, it would be best if you ran away from the super burrito and casa deletes because they're highly carb-dense. Portion control won't work with these meals, so you should look away from that section.
Keto Options At Taco Casa
#1. Taco (Classic)
Carbs: 10g
Fiber: 1g
Net Carbs: 9g
Total Fats: 13g
Protein: 14g
Calories: 210 Kcal
The Classic Taco is one of my favorites on the menu. Apart from being a Mexican delight, it's relatively low carb and makes you crave more. Downing this with some diet coke goes a long way in rejuvenating you.
#2. Soft Taco
Carbs: 15g
Fiber: 1g
Net Carbs: 14g
Total Fats: 14g
Protein: 17g
Calories: 260 Kcal
The soft Taco lives up to its name as it's less crunchy than its predecessor. What's more? It's tasty and has that Mexican goodness that you can find nowhere else.
ALSO READ: EVERYTHING Keto at Cook Out
#3. Tostada
Carbs: 22g
Fiber: 5g
Net Carbs: 17g
Total Fats: 14g
Protein: 12g
Calories: 250 Kcal
Tostada has that crunchy goodness of toasted tortillas that you can't quite get enough of. Taco casa goes a step further by adding flavored veggies upon request.
But then, it comes with 17 grams of carbs, so you should be sure to leave some uneaten to maintain your Ketosis.
#4. Frijoles
Carbs: 38g
Fiber: 13g
Net Carbs: 25g
Total Fats: 19g
Protein: 19g
Calories: 390 Kcal
Although Taco Casa's Frijoles exceed the 15g limit, they're really tasty and spicy. Eating about two-thirds of this dish won't harm you in any way. 
#5. Super Tostada
Carbs: 27g
Fiber: 6g
Net Carbs: 21g
Total Fats: 24g
Protein: 22g
Calories: 410 Kcal
The Super Tostada is even tastier than the normal version. But it comes with the drawback of having 21g of carbs. So, just like its predecessor on this list, smart portions control should solve this issue.
RECOMMENDED: EVERYTHING Keto at MAD Greens
#6. Chili Burger
Carbs: 30g
Fiber: 2g
Net Carbs: 28g
Total Fats: 8g
Protein: 15g
Calories: 70g
This spicy Mexican-style burger will leave you hungry for more, but it's loaded with carbs. You'll have to divide the burger into two to have a good experience while keeping your Ketosis.
#7. Child
Carbs: 30g
Fiber: 5g
Net Carbs: 25g
Total Fats: 28g
Protein: 27g
Calories: 480 Kcal
Taco Casa's spicy pasta-esque enchiladas are one of the best treats you can have at their restaurant. Apart from being just tasty, they provide enough energy for the day. Nonetheless, portion control should be to maintain a keto diet.
RELATED: EVERYTHING Keto at PDQ
#8. Super Taco
Carbs: 16g
Fiber: 2g
Net Carbs: 14g
Total Fats: 23g
Protein: 24g
Calories: 380 Kcal
Taco Casa's super Taco is incredibly low carb while being super tasty. Who doesn't enjoy that creamy goodness of melted cheese?
RELATED: EVERYTHING Keto at Maggiano's Little Italy
#9. Taco Lite
Carbs: 23g
Fiber: 2g
Net Carbs: 21g
Total Fats: 30g
Protein: 26g
Calories: 470 Kcal
Like the original Taco, the Taco lite gives you that Mexican taste that you never get tired of. It comes with 21 grams of net carbs, which means you'll have to splice the Taco to maintain your diet restrictions.
Beverages
#10. Diet Coke Small: 0g
#11. Diet Coke Medium: 0g
#12. Diet Coke Large: 0g
Teas
Tea Unsweetened Small: 0g
Tea Unsweetened Medium: 0g
Tea Unsweetened Large: 0g
RECOMMENDED: EVERYTHING Keto at The Keg
Conclusion
Eating at Taco Casa can be tricky when you're on a strict keto diet. Nonetheless, some meals they offer stay within your restrictions like the Classic, Soft and Super Tacos.
On the other hand, you have to be careful when eating other dishes on the menu.
As for drinks, diet cokes and unsweetened teas are the only low-carb options for drinks. So, with what's in this article, I believe you should have no problem eating at the restaurant.