Taco Bueno is a popular fast-food joint serving up some delicious Tex-Mex style food. It first opened its doors in 1967 in Texas, USA, and quickly rose to popularity.
For the last 52 years, Taco Bueno has been serving many people fresh Mexican food that is neither packaged nor processed.
So what's Gluten-Free at Taco Bueno?
From quesadillas made with brisket that is smoked slow and low to crunchy nachos and a bowl of beans. Taco Bueno offers various gluten-free Mexican dishes that will satisfy your cravings.
Other gluten-free options include the fantastic tacos, burritos, and delicious sides on offer.
Since there isn't a dedicated gluten-free menu, make sure to order everything in a corn tortilla. Even though most of the ingredients at Taco Bueno are gluten-friendly, there is always a risk of contamination due to the shared prep surfaces.
If you have Celiac disease or severe gluten sensitivity, we advise you to stay clear of Taco Bueno due to the possible risk of cross-contact.
The staff will accommodate you, but it isn't the best regarding contamination protocols and safety. Therefore, risking your health is not worth it.
This article is going to be an in-depth scrutinization of Taco Bueno's menu, where we'll try to filter out the possible gluten-free options while steering clear of cross-contact.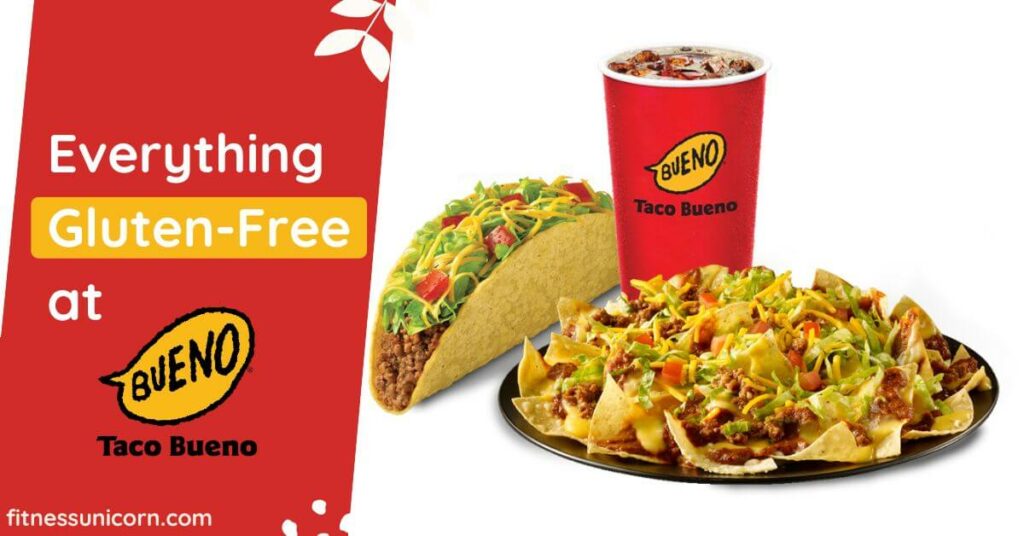 This post may contain affiliate links, which help keep this content free. (Full disclosure)
Gluten-Free Options at Taco Bueno
Who doesn't like Mexican food? There is something for everyone on their menu here. Taco Bueno offers a wide variety of Mexican cuisine.
There isn't a specific gluten-free menu. On special request, they do prepare gluten-free options which include queso, beans, guac, chips and crispy tacos are all GF.
Nacho Salad Chicken Crispy Beef Taco and Fajita Chicken Taco Chips & Queso are other popular gluten-free options. However, their chili sauce is not gluten-free so steer clear of it!
If you are worried about your kid who is gluten sensitive try their gluten-free kid menu.
Party Taco Kids Meal with Apple Juice/Crispy Potato Sticks, Party Taco Kids Meal with High Cal Drink/Crispy Potato Sticks, Party Taco Kids Meal with Apple Juice/Applesauce and Party Taco Kids Party Taco are excellent gluten-free options for your kids. 
READ MORE: BEST Gluten-Free Bakeries in San Antonio, TX
Tips for a gluten-free meal at Taco Bueno
Are you from the celiac tribe or have gluten sensitivity? Then there is no need to worry about dining out at your favorite restaurant safely just after following some tips and recommendations suggested in this article.
Taco Bueno always has a lot of options on its menu for those who are avoiding gluten in their meals and they have also designed a special food items menu along with the allergen and ingredient information.
Let's jump right into the best tips you can use to order a gluten-free meal at your favorite restaurant:
Don't assume anything is gluten-free
If you have to avoid gluten-containing foods at all costs, you must be proactive. Always do your homework before dining at a cafe or restaurant.
You have to put in some work and do some preparatory research to find out about their menu or the kinds of foods they provide. You can look up their online menus and prepared meal offerings by visiting their websites.
It is still necessary that you verify that the food items they are offering under the gluten-free options are genuinely gluten-free and are prepared in a gluten-free environment to avoid any health issues.
Nothing is worthwhile enough to jeopardize your health!
Instead of relying on the claims made by restaurants that offer gluten-free foods or beverages, do your own research on the menu and methods used at the restaurant before you arrive to order.
FIND MORE: P.F. Chang's Gluten-Free Options
Tell your server about your dietary requirement
Find out whether there are any gluten-free meal options by asking the restaurant staff. When placing an order, the majority of customers are reluctant to specify their dietary restrictions and any associated concerns.
It is imperative that you communicate your concerns and food preferences to the staff and server so they can take the required efforts to give you a meal that is "gluten-free."
They should know about it so they can realize how important it is for you to consume gluten-free meals and the harm it does to your health otherwise.
Despite the fact that Taco Bueno offers special gluten-free options, it is still advisable to communicate your needs to the waiter in order to avoid any misunderstandings and allergic reactions.
If in Doubt, Throw it Out
Never jeopardize your health for anything. Err on the side of caution and throw away your meal if you are doubtful about whether it was properly prepared or whether it is suitable for consumption.
If you have any doubts about something, you are unsure about your food or notice some questionable ingredients that shouldn't be in your meals, it is always advisable to avoid them.
If you have celiac disease or are allergic to gluten, it is not worth consuming anything you are unsure of.
Avoid Rush Hours
You've probably heard the saying "haste causes waste." The staff's coordination and communication are essential while dining out, but it doesn't help if they don't pay attention to the small things, especially when it's busy.
Everything can collapse with just one mistake, rendering regrets for the future useless.
There is a higher chance that staff members would forget your specific dietary requirements and any other concerns you might have discussed with them during peak hours due to the high volume of orders placed during those times, which could lead to mistakes.
If you are going to Taco Bueno, it is always best to go when it is not as busy.
RECOMMENDED: Mi Cocina Gluten-Free Options
Cross-contamination risk at Taco Bueno
Having been diagnosed with celiac disease or gluten sensitivity seems quite frustrating when you are unable to dine out at your favorite place.
A strict gluten-free diet is the only option as minor contamination with gluten results in an adverse reaction in the patient.
Cross-contamination may result if a gluten-free food item becomes contaminated with a gluten-containing food item or cooking utensils that are used in preparing the food.
It is of great concern to avoid meals containing gluten to avoid any allergic reaction as a consequence of it.
Look Up Allergen Information
Taco Bueno specializes in serving one of the best Mexican foods. Its menu offers burritos, tacos, quesadillas, platters, salads, fresh chips, corn and flour tortillas, classic sides, and toppings like salsa, guacamole, and jalapenos.
As far as a gluten-free menu is concerned, Taco Bueno does not specifically have a gluten-free menu but they claim some gluten-free options like chips with queso, crispy tacos, beans, chips, and guacamole, queso, black beans, Mexican rice, cilantro lime rice.
Allergen information is given on their menu in detail for people with specific allergies.
LEARN MORE: Gluten-Free Options at Corner Bakery Cafe
Food Preparation
Food is prepared in an environment that is not gluten friendly. There is no special dedicated area for cooking gluten-free meals. Utensils are being shared in preparing both gluten-free meals with regular meals which is alarming.
It increases the risk of cross-contamination putting allergic customers' health at stake.
In short, health is the foremost priority so be extra cautious while ordering a gluten-free meal. Make sure to be aware the waiter of your gluten sensitivity.
Instruct them to take precautionary measures to avoid any cross-contamination and serve a gluten-free meal.
What people are saying
Some people were fascinated by the gluten-free options available at the Taco Bueno restaurant serving Mexican food. Crisp tacos are one of the well-known gluten-free options the restaurant offers.
Besides this, chips, beans, and queso, guacamole are some other gluten-free options. Although chili sauce is not gluten-free and makes sure not to order it.
People found the food satisfying and tasty and didn't fall sick after eating food at the restaurant. Moreover, they also mentioned that their menu provides information regarding different allergens.
While some people were of the view that there weren't many gluten-free options at Taco Bueno and the staff was not very knowledgeable. Some even described their experiences where the staff did not pay much attention to their allergy.
Chances of contamination are great as there is no separate cooking area for preparing gluten-free meals. Some have even fallen sick.
So, for the safe side, it's better to be cautious and remember our tips to avoid cross-contamination and health risks.
However, many others shared their experience explaining how the management facilitated them and obliged their requests. Their Wichita branch is famous in this regard.
On special requests, they take care of cross-contamination making sure you walk out of the door happy.
Other gluten-free restaurant options
PEI WEI Asian Kitchen
PEI WEI Asian Kitchen located on beltline road Addison is a restaurant that contains gluten-free dishes. They use house chopped veggies and cuts of chicken for making different dishes.
They offer a main course, salad bowls, and desserts. Grilled bourbon chicken is a gluten-free dish with 770 kcal and contains shellfish, grilled chicken is tossed in sweet bourbon sauce.
Another dish in the main course is beef and broccoli which is a nutritious dish for celiac disease. It is tossed with sweet soy sauce and contains 790 kcal in total.
Sesame chicken is crispy chicken tossed in sesame sauce.
Kung pao shrimp is one more gluten-free dish mentioned on the menu. This dish has egg, shellfish, and soy added to it. Crisp shrimp is tossed with chili soy sauce.
A variety of gluten-free salad bowls are present in PEI WEI Asian Kitchen. Asian chopped chicken salad is gluten-free chicken salad with 660 calories in total. It is served with mixed greens and sesame ginger vinaigrette.
If your child is suffering from the celiac disease then no need to worry because this Asian kitchen provides a variety of dishes according to the children's taste.
Kids chicken Lo Mein is steamed white chicken that is served with egg noodles and broccoli
Chicken fried rice is a gluten-free dish with 1080 calories under rice and noodles entrees. It contains steamed white chicken, egg, and shellfish. All of these ingredients are safe for gluten allergens.
Wheat End Café
Why We Recommend This Café
Wheat end café located in East Lakeview Chicago was developed in 2007 by Susan when one of his friends was diagnosed with celiac disease.
They ensure that all dishes are gluten-free because self-manufactured products are used in making these dishes.
An open-faced egg sandwich is a dairy-free recipe for brunch. It is safe for gluten allergens with lactose intolerance. It contains egg and cheddar cheese with greens.
English muffins and bacon are added. Similarly, Belgian waffle is gluten-free as well as dairy free. It contains fresh fruits and homemade fruit syrup.
Buddha bowl is another gluten-free dish for gluten intolerants mentioned on the lunch menu. The bow is full of veggies and topped with egg and tahini.
Turkey cranberry panini is another gluten-free dish for lunch. Roasted turkey is served with sweet potatoes and sautéed spinach.
If you are vegetarian and gluten allergic, you should a try falafel pita. Falafel sliced is topped with a mixture of cucumber and tomatoes and served with homemade pita bread and fries.
A variety of sides are mentioned on the menu, wheats end bagel is one of them. It contains a blueberry bagel and is served with honey butter or cream cheese.
Doughnuts served here contain pumpkin ginger, coconut, and chocolate.
Brownies and chocolate chip cookies mentioned under café treats on the menu are all gluten-free and satisfy the cravings of gluten-allergic people.