With over 300 locations worldwide, you could say PF Chang's is world famous. Their menu has something for everyone, from the famous Mongolian beef to hand-folded crab wontons and even lobster-avocado roll.
The food is made from scratch every day; this allows the restaurant to handcraft dishes for all sorts of dietary restrictions.
So, is there any gluten-free option at P.F. Chang's?
P.F Chang's has a dedicated gluten-free menu containing rice noodles, entrees, lunch bowls, soups, and a decadent dessert for the gluten-sensitive visitor.
However, their gluten-free menu does not contain beverages. You should steer clear of all the food items from the main menu that are not included in the gluten-free menu.
The best part about PF Chang's is their dedicated gluten-free cooking area, utensils, and woks that are solely used for your meal prep.
This significantly minimizes the risk of cross-contamination and makes PF Chang's a safe place to eat out. Moreover, the staff is courteous and makes sure the needs of each customer are met to a high standard.
You should still remain cautious if you have Celiac disease or severe gluten sensitivity since mistakes can always be made in even the most stringent conditions. Make sure your plate has a gluten-free tag to ensure it came out of the gluten-free prep area.
This article is going to be an in-depth scrutinization of PF Chang's gluten-free menu. We'll be analyzing all the unique dishes on offer and discussing a few practical tips to further reduce the risk of contamination.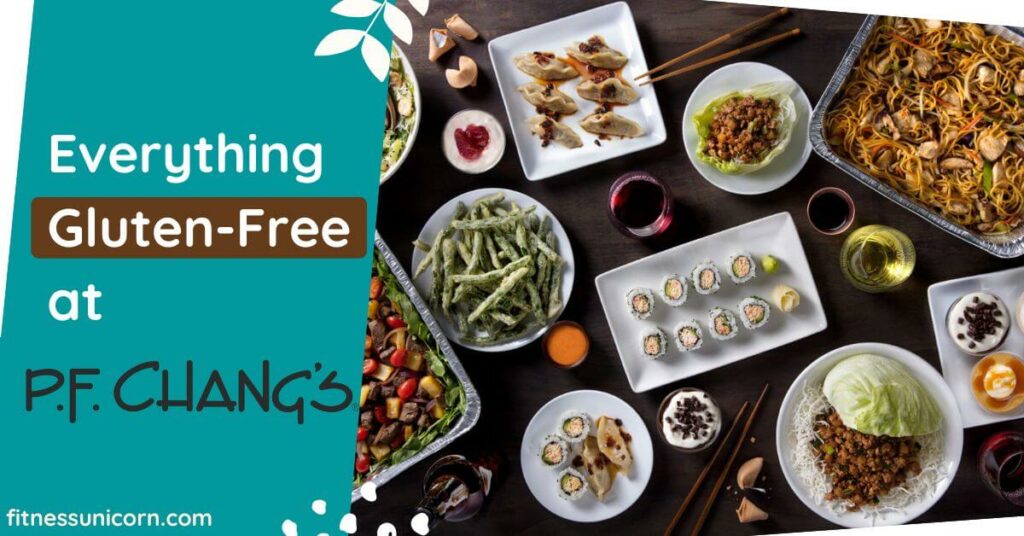 This post may contain affiliate links, which help keep this content free. (Full disclosure)
P.F. Chang's Gluten-Free Options
P.F. Chang's is a China bistro, Asian fusion restaurant that first opened its doors in Arizona after the gold rush in California in 1993. It was created by Chinese American Philip Chiang and American restaurateur Paul Fleming.
Philip Chiang's mother Cecilia Chiang immigrated to the US in the 1960s after the communist regime took over China. She was a pioneer, who introduced American taste buds to traditional mandarin cooking as upscale Chinese dining.
He learned about Chinese food from his mother. Later followed in her footsteps and opened a restaurant for young Americans to enjoy a more causal Chinese restaurant, celebrating the 2000-year-old wok cooking tradition and Chinese street food.
The menu encompasses Chinese history, culture, and food perfectly. Even though Cecilia Chiang sadly passed away in 2020 the food served in P.F. Chang's is still carrying on her legacy.
P.F. Chang's has an exclusive menu for gluten-free food which includes appetizers, soup, main entrée, dessert, and even lunch. Appetizers include Chang's Chicken Lettuce Wraps that are made with a secret family sauce.
Egg Drop Soup is another gluten-sensitive option that is made of freshly julienned carrots and green onions in a velvety broth.
The main entrée has 8 options of delicious gluten-sensitive dishes. If you like a bit of spicy kick in your food then you have to try Chang's Spicy Chicken, marinated with a signature sweet-spicy chili sauce and topped with green onions.
If you want to steer clear of spices then go for Ginger Chicken with Broccoli. The aroma of ginger and garlic with the chicken takes this dish to the next level.
Don't want poultry? Try their famous Mongolian Beef, the flank steak marinated in sweet soy glaze topped with garlic and onions is a dish to die for.
What if you want rice? Well then, their gluten-sensitive Fried Rice is just for you. A wide variety of protein options from vegetables to chicken, beef, shrimp, or even a combo is available as well. I personally love their wok-tossed combo!
Looking for seafood options? Then go for their Shrimp with Lobster Sauce. The buttery taste of a perfectly cooked lobster with rich umami Asian mushrooms, black beans, and egg elevates the flavor of the dish.
Who said you can't have delicious gluten-sensitive noodles? P.F. Chang's makes gluten-sensitive Chicken Pad Thai and Singapore Street Noodles to satisfy your cravings.
A gluten-sensitive Chocolate Soufflé for dessert that is served with vanilla ice cream and raspberry sauce sounds like a dream come true.  If you are dropping by for lunch, feel free to try their various chicken and beef bowl dishes.
RECOMMENDED: Mi Cocina Gluten-Free Options
Tips for a Gluten-Free Meal at P.F. Chang's ®
There is no need to worry about eating out at your favorite restaurant anymore, you can eat out safely from now onwards after going through some useful suggestions and tips provided in the upcoming article.
P.F. Chang's always ensures to prepare food for everyone because they are aware that everyone has distinct eating preferences and eating out might be difficult if you have a food allergy or any dietary limitation.
So, without wasting time let's dig into the most incredible tips that you can easily follow to get a gluten-free meal at your favorite restaurant out there:
Don't just assume that something is gluten-free
If you are strictly avoiding gluten-containing foods then you have to be proactive. Always know your restaurant or cafe where you are going to eat or dine.
You have to put some effort and do research beforehand to be aware of their menu or the kind of foods they are offering. You can check their online websites and search for gluten-free menus or foods they prepare.
For example; P.F. Chang's ® restaurant has a separate gluten-free dedicated menu but still, it's your first responsibility to double check that either the food options they are offering under the gluten-free menu are really gluten-free in real too or are they prepared in the gluten-free environment to avoid any mishap in the future.
Although oats are labeled as gluten-free but still they cannot remain gluten-free if they become contaminated with gluten so always collect vital information regarding the ingredients they are using in your gluten-free meal and related details of its preparation and storage too because nothing is worth risking your health at all!
Don't rely on the claims made by the restaurants offering gluten-free foods or beverages, know about the menu & protocols followed at the restaurant yourself prior. 
FIND MORE: La Madeline Gluten-Free Options
Tell your server about your dietary requirement
Do not be shy to ask for gluten-free meal options from the staff of the restaurant. Most people are reluctant to tell their dietary requirements and related concerns at the time of placing an order.
It is very important to communicate your concerns and make your food preferences clear to the staff, barista, waiter, and chef so they could take every precautionary measure to serve you a 'gluten-free' meal safely.
Speak to get them aware of it so that they could realize how important it is to you to have gluten-free food and tell them about the side effects of it on your health.
Since P.F. Chang's ® has a particular gluten-free menu, but still it is necessary to share your requirements to avoid any misunderstanding by the server and possible allergic reaction as a consequence of it.
If in Doubt, Throw it Out
Don't ever risk your health over anything. If you are doubtful about your meal that whether it is safely prepared or is safe to eat or drink, then err on the caution side & throw it away.
Either if you are uncertain or unsure about your meal or you noticed something unusual that should not be present in your food, then it is always better to avoid it.
It is not worth consuming anything that you're not confident about especially if you're a celiac patient or allergic to gluten.
Avoid Rush Hours
Everything goes to hell in a hurry. Communication and coordination with the staff are extremely important when eating out at a restaurant but it's no good if they lack attention to the details, particularly during peak hours.
One mistake can put everything behind and then there is no use to regret it later on.
During the rush hours, there is a lot of pressure on the staff with the heavy influx of orders placed which increases the chance that staff may forget your special dietary requirements and concerns that you have told them and might lead to potential mistakes.
If you are planning to visit P.F. Chang's, it is always advisable to go during off-peak hours.
Pro-tip: You can check the peak hours and off-peak hours of any restaurant by just searching the restaurant name on Google.
Cross-contamination risk at P.F. Chang's
Having diagnosed with celiac disease or non-celiac gluten sensitivity can be quite stressful and detrimental. A strict gluten-free diet is recommended for such people.
Therefore, people must be stringent while preparing gluten-free food to avoid any risk of contamination.
Cross-contamination may result if a gluten-free food item becomes contaminated with a gluten-containing food item or cooking utensils that are used in preparing the food. It is very concerning for people with celiac disease or gluten allergies.
P.F. Chang's restaurant provides gluten-free options. There are options like Gluten-free soups, desserts, main entrees, appetizers, and lunch options for people with gluten sensitivity.
Gluten-free food is prepared in a gluten-free cooking area. Moreover, gluten-free cooking utensils and woks are being utilized in the restaurant while preparing foods to prevent the risk of contamination.
Additionally, food is served on gluten-free plates ensuring gluten-free foods.
The staff is very knowledgeable and follows great allergy protocols. Nevertheless, contamination may result due to negligence of the staff or other factors.
For instance, if the food is mistakenly served on a serving plate that is not marked as gluten-free, it poses a serious health concern.
Hence, be vigilant while ordering gluten free meal and make sure to alert the waiter to be extra cautious and aware of your gluten sensitivity.
What people are saying
We have gathered reviews of people with gluten sensitivity regarding their experience of gluten free meals at P.F. Chang's restaurant by surfing the internet.
A quite large number of people are in awe of the restaurant's gluten-free menu and are impressed with the separated white dedicated plates for gluten-free meals.
They didn't experience any symptoms after having gluten-free meals at the restaurant and are pretty much satisfied.
Chang's lettuce wraps and Chang's spicy chicken are some of the well-known gluten-free options the restaurant offers and are loved by people.
The separate cooking area dedicated to preparing only gluten-free meals eliminated the risk of contamination.
Moreover, people found the staff quite knowledgeable regarding gluten sensitivity and their adherence to following strict allergy protocols.
People found P.F. Chang's a safe place to satisfy cravings for Chinese food while having gluten sensitivity at the same time.
There were few negative reviews as well regarding the restaurant. Some people didn't have a good experience and had negative reviews about the restaurant's gluten-free options.
They became severely ill as the food became contaminated with gluten somehow. They shared their experience of gluten-free food being served on normal unmarked serving plates mistakenly.
Although they also mentioned that this doesn't happen every time, they visited the restaurant.
All in all, you should still be cautious while dining out at the restaurant and report to the staff if in doubt about the food.
Other gluten free restaurant options
Outback Steakhouse
If you are gluten sensitive and have cravings for chocolates do not worry because outback steakhouse located in Florida since 1988 provides a sweet finish which is Chocolate Thunder from Down Under.
It's a brownie with 1500 kcal in total that is topped with vanilla ice cream and whipped cream.
Seafood lovers who can have grilled shrimp on Barbie. It is just 650 kcal and served without bread. Grilled shrimp is served with garlic toast. Another seafood dish lobster tails with 490 kcal is also a great option.
Botany Bay tilapia is another dish that is topped with lemon butter and fried tomatoes.
Allice spring chicken is a chicken breast that is grilled and topped with cheddar and honey mustard sauce. If you want to eat some salads, you can have Brisbane Caesar salad.
The lettuce is tossed with Caesar dressing and topped with grilled shrimp. Aussie cob salad is another salad here with gluten-free dressing and topped with grilled chicken.
In outback restaurants lots of gluten-free dressings are available like honey mustard, tangy tomatoes, creamy blue cheese, Caesar, and ranch.
You can enhance the flavor of steak by topping it with grilled onion, grilled shrimp, and roasted garlic butter. All these are gluten-sensitive food items.
If you are placing your order from a gluten-free menu so inform your server that you need gluten-free food.
Uno Chicago Grill
Uno Chicago Grill was established in 1943 and provides gluten-sensitive dishes for celiac disease patients.
Baked Chicken Spinoccoli is a gluten-free dish that is chicken breast stuffed with mozzarella and different vegetables such as broccoli, spinach, tomatoes, and garlic.
Another appealing dish named Zoodles Primavera topped with basil and parsley is enough to fulfill the cravings. The dish is named because of zucchini noodles that are sautéed with marinated artichokes, garlic, and mushrooms.
This restaurant is popular for pizzas and burgers. It provides a variety of pizzas and burgers and all are safe for gluten allergies. Veggie thin crust pizza with onion, peppers, and mushrooms, and pepperoni thin crust pizza is my favorite.
If you want to go for burgers, cheddar burger and Bacon Cheddar Burger that contains gluten-free rolls are juicy gluten sensitive options. There are plenty of fish dishes.
Lemon basil salmon in which salmon fish is grilled with lemon and basil seasoning and served with two sides. Grilled shrimp and sirloin are other healthy options.
If you are craving ice cream, you can try their vanilla ice cream with chocolate sauce and whipped cream that is topped with cherries. Cherries are both delicious and healthy for patients with celiac disease.
The best part about the Uno Chicago Grill is that all dishes are prepared in gluten-free designated utensils. But still, there may be a chance of cross-contamination because some dishes are cooked on shared equipment.
Make sure that you have clearly explained to the server about your gluten allergy. When you are served your food make sure to ask the server again whether the food served is gluten friendly!