Mi Cocina is well-known for some of the most authentic Tex-Mex dishes and highly famed margaritas. Besides the food, people love it for its electric atmosphere and chill vibe that makes it the perfect place to have a good old time.
So what's Gluten-Free at Mi Cocina?
The gluten-free options at Mi Cocina include an expansive variety of tacos, appetizers, classic Tex-Mex dishes, brunch, and delectable sides. They also boast an expansive drinks menu that you can choose from.
All of these items are gluten-free and subject to proper cross-contamination measures.
If you have extreme gluten sensitivity or Celiac disease, it's best to avoid Mi Cocina, though, because there's always a risk of cross-contamination despite the most rigorous measures.
This is due to the shared kitchen spaces that make cross-contact almost unavoidable.
Let us fill you in on everything good at Mi Cocina. What they serve, potential gluten-free choices and which menu items are listed as gluten-free, and what customers are saying.
Keep reading to learn more about all you can eat at Mi Cocina on a gluten-free diet.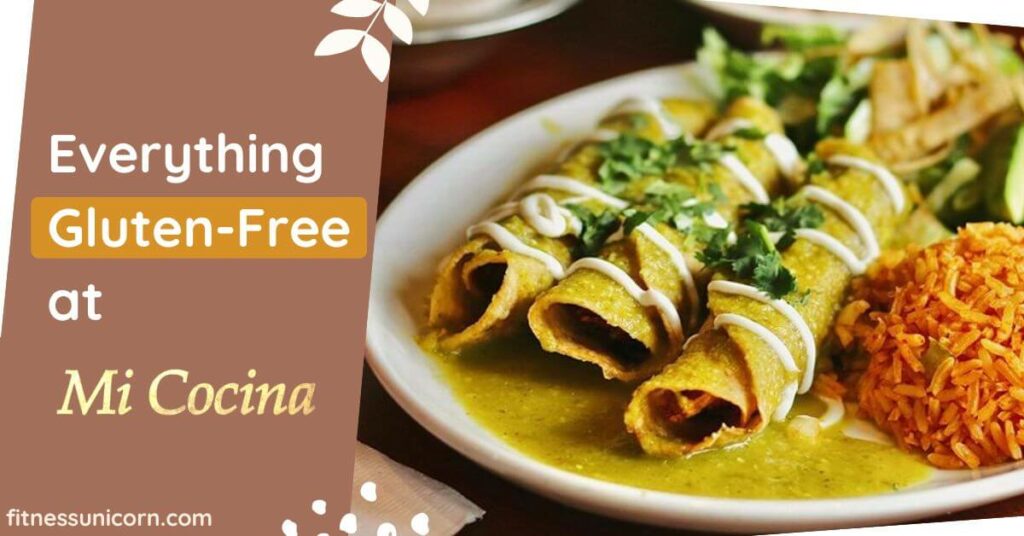 This post may contain affiliate links, which help keep this content free. (Full disclosure)
Mi Cocina Gluten-Free Options
Tex-Mex expert Michael "Mico" Rodriguez, Ray Washburne, Dick Washburne, and Bob McNutt collaborated in Dallas in 1991 to create a novel concept for classic Mexican eateries.
In a tiny 12-table location in Dallas, Texas Preston Forest neighborhood, they founded Mi Cocina (My Kitchen).
Only the best, highest-quality products were used in the distinctively upmarket Tex-Mex restaurant, which also prioritized providing warm, welcoming, and competent service.
Diners began to line up outside the entrance as soon as this winning combination was announced.
Just two years later, a second Dallas site in Highland Park Village opened, and a Tex-Mex restaurant reputation was created through word of mouth and a following built.
Mi Cocina is owned and operated by M Crowd Restaurant Group, which is privately held, and currently has restaurants in Dallas/Fort Worth, Texas, and Tulsa, Oklahoma with plans to open additional locations nationally.
Mexican restaurants generally use lots of gluten-free ingredients.
This makes it easy for Mi Cocina to cater to gluten-sensitive customers with its broad gluten-free menu that serves specials, classics, light options, side dishes, desserts, and many more to gluten-sensitive customers.
Before we discuss their gluten-free menu, here is a disclaimer from Mi Cocina: "Please be aware that during normal kitchen operations involving shared cooking and preparation areas, it is possible for food items to come in contact with other food products.
We are unable to guarantee that menu items can be completely free from allergens.
Apertivos/Sopas/Ensaladas
Guacamole "Mexicano": Award-Winning, Hass Avocado blended with Cilantro, Onions and Fresh Lime juice
Queso Blanco: Rich and Spicy Blend of Melted White Cheeses, Fresh Tomatoes, Onions and Garlic
Chile con Queso: Creamy Blend of Aged Melted Cheeses, Fresh Tomatoes, Onions and Garlic
Tortilla Soup: Traditional Tex-Mex style Soup with Hand-Pulled Chicken Breast, Fresh Vegetables, Jack Cheese, Tortilla Strips and Sliced Avocado
Ceviche de Camarones: Gulf Shrimp, Jicama, Avocado and Red Onion with Cilantro Lime Marinade
Rico Salad: House Favorite – Sliced Fajita Chicken over Romaine Lettuce, Aged Cheddar Cheese, Tomato, Sliced Avocado, Tortilla Strips and Bacon with your Choice of Dressing
Choice of Dressings
"House" Spicy Blue Cheese, Tex-Mex Vinaigrette, Chile-Garlic Vinaigrette
FIND MORE: La Madeline Gluten-Free Options
Gluten Friendly Business Lunch
Lunch Flame-Grilled Fajitas: Marinated and served with Arroz, Frijoles, Fresh Guacamole y Pico de Dallo
Chicken * Beef
Gluten Friendly Mi Cocina Classics
Flame Grilled Fajitas: Marinated and Served on a sizzling platter with Arroz, Frijoles, Fresh Guacamole y Pico de Gallo
Chicken * Beef or 50/50 * Latin Stir Fry * Rib-Eye
Gluten Friendly Taqueria
Tacos "De Brisket": Three Corn Tortillas filled with Shredded Brisket, oven roasted overnight, with green onions, poblano peppers and Jack Cheese served with Aroz and Sliced Avocado Ensalada
Gluten Friendly Light Options
Salmon a la Parilla: Grilled Salmon fillet served with a side of Agave-Guajillo Glaze, Cole Slaw a la Mexicana y Cilantro Rice
Tilapia Veracruz: Tilapia Fillet seared with Garlic and Lime served with Sliced Avocado, Sauteed Vegetables, Arroz and a side of Veracruz sauce
RECOMMENDED: Gluten-Free Options at The Habit Burger Grill
Side Sauces
MOLCAJETE * SERRANO LIMON SALSA RANCHERO * CHILE DE ARBOL * PICA PICA
Dessert
Mexican Flan: Try our Mexican Flan for dessert. It's gluten free (and delicious!)
Tips For a Gluten-Free Meal at Mi Cocina
There are further steps you should take on your own end especially if you have extreme gluten sensitivity to ensure that you don't consume anything that contains gluten.
Tell your server about your dietary requirement
You have to inform them of your gluten sensitivity or celiac disease. They have to know that consuming even the slightest bit of gluten will make you very ill.
This would prompt them to take extra precautions to further prevent cross-contamination.
Ask for a meal-specific gluten-free menu
After telling the server about your gluten sensitivity, you should go ahead to order directly from the gluten-free menu. There are so many gluten-free options to choose from at Mi Cocina
When in doubt, ask your server about any potential sources of gluten in a dish
They should be able to tell you which ingredients contain gluten and whether or not a dish can be made gluten-free.
Be prepared to speak up about your dietary restrictions
When eating with business partners, family, or friends at Mi Cocina, it is common for them to order shared meals. Don't be afraid to speak up about your dietary needs.
Explain that you need to keep your food separate from theirs so you can stay avoid falling ill.
If you doubt it, avoid it
The best course of action is to just order something else if you have any doubts about any component or dish on the menu. Compromise is a necessary aspect of maintaining health.
When you have Celiac disease or severe gluten sensitivity, no food is worth the pain that comes with consuming gluten.
Avoid rushed orders
The employees and waiters frequently work in a hurry to collect orders and serve food. Due to this, they could mix up orders or put the incorrect items in yours.
They could gently create your gluten-free lunch if you let them know they should take their time with your order due to your unique medical requirements.
Cross Contamination Risk
There is a risk of gluten cross contamination at mi cocina due to the presence of wheat flour in the kitchen. Wheat flour can be found in many common kitchen ingredients, such as bread crumbs, pastry flour, and even some types of pasta.
If these ingredients are not properly labeled, it can be difficult to know whether they contain wheat flour or not.
This can pose a serious problem for people with celiac disease or gluten intolerance, as even a small amount of gluten can cause serious health problems.
Mi cocina takes steps to minimize the risk of gluten cross contamination, such as using separate cutting boards and utensils for food preparation and clearly labeling all ingredients that contain wheat flour.
However, because wheat flour is so ubiquitous in the kitchen, it is impossible to eliminate the risk of cross contamination completely.
For this reason, people with celiac disease or gluten intolerance should exercise caution when dining at mi Cocina, and may want to consider avoiding foods that are likely to be contaminated, such as pasta dishes, desserts, and anything made with bread crumbs or pastry flour.
RELATED: BEST Gluten-Free Bakeries in Tucson, AZ
What People Are Saying
We have sourced some public views of gluten-free options at Giordano's from all over the internet along with some personal interviews.
Someone said "We adore this spot, and the GF menu is amazing. However, the GF queso lately began testing positive for gluten (using our Nima sensor) — something it never did before.
I'm not sure if the kitchen or their supplier is to blame for this adjustment. We discussed this with the manager, who informed us that they only guarantee that the food is gluten friendly and do not guarantee that it is gluten free.
Our celiac son enjoys eating here, so we are disappointed to have to remove it from our list of go-to places after so many positive tests."
Another reviewer said "You should not eat here, as I have been gluten-free for a year and a half since discovering I had Celiac disease. Within three hours of eating here, I became really ill after consuming the gluten-free brisket tacos.
I experienced chills, body aches, and stomach issues. Sadly, I won't ever visit a Mi Cocina again. Risk is not worth it!"
On the positive side, someone said "No gluten! with a manager and qualified wait staff! Nachos were ordered by my gluten-free wife.
The manager emerged to inform her that the typical "round" chips used for nachos were not gluten free, but he was happy to create her nachos using the typical gluten free chips!
All restaurants ought to offer services like these to customers who are gluten free."
"Prior to my visit, I contacted the restaurant using their online contact form. I received a call from a regional manager to discuss my celiac disease and symptoms.
He inquired about possible cross-contamination and whether I could use the fryer together (no). He then got in touch with the restaurant's management and executive chef to let them know I was coming."
"Went here anticipating positive ratings! Was dissatisfied. The girl who escorted us to our seat didn't even know what gluten was, despite my requests for a gluten-free menu and inquiries regarding gluten-free options.
Asked our server, who didn't know much English and wasn't much help. The food was tasty, however, I don't trust the safety of the gluten."
Gluten Free Alternatives to Mi Cocina
If you want to try other gluten free Mexican food spots, there are several options to choose from.
Tenoch Mexican
Tenoch Mexican offers a variety of gluten-free options to accommodate different dietary needs. For starters, they have a selection of fresh fruits and vegetables that are naturally gluten-free.
They also offer gluten-free tortillas, so you can enjoy your favorite dishes without worrying about the ingredients.
In addition, they offer a number of meat and seafood options that are also gluten-free, so you can find something to suit your taste.
Rosa Mexicano Restaurant
Rosa Mexicano offers a variety of gluten-free options to choose from! Their gluten-free menu includes options such as quesadillas, enchiladas, tacos, and more.
Plus, they offer a variety of gluten-free beers and cocktails for you to enjoy. So whether you're looking for a quick bite or a sit-down meal, Rosa Mexicano has you covered.
El Pelón Taqueria
Although El Pelón Taqueria is known for its delicious and authentic Mexican food, it also offers a variety of gluten free options.
In addition to its traditional menu, El Pelón Taqueria offers a selection of gluten free entrees, appetizers, special menus and desserts.
For those looking for a lighter option, the restaurant also offers a selection of salads and soups that are gluten free.