Taco John's is the place for anyone who would die for some tacos and burritos. There is surely something for everyone thanks to its extensive menu of your favorite taco meals prepared in different ways:
Crispy tacos with beef or chicken, grilled burritos with chicken, bean burritos, you name it! But the question is, is there anything keto at Taco John's?
So, what's keto friendly at Taco John's?
Taco John's doesn't have a long list of keto-friendly meals, but they still have some keto-friendly options for you! Like crispy tacos with beef, chicken, or steak along with some side salad, creamy Italian dressing, and a lot more!
These keto-friendly dishes come with their own sidings, dips, or drinks fit for anyone on keto.
Dining out at a restaurant can always be risky when going keto since one mistake in your food combination can cost you your hard-earned ketosis.
Most of the time, it's better to buy your food and leave just to avoid any temptation of getting something not keto-friendly.
But hey, this is what I'll help you with! Keep on reading to get the bits about the keto stuff at Taco John's and how to stay on keto while you're there!
Not only will you find meal options with the least carbs, but also some usual meals to avoid at Taco John's while on keto!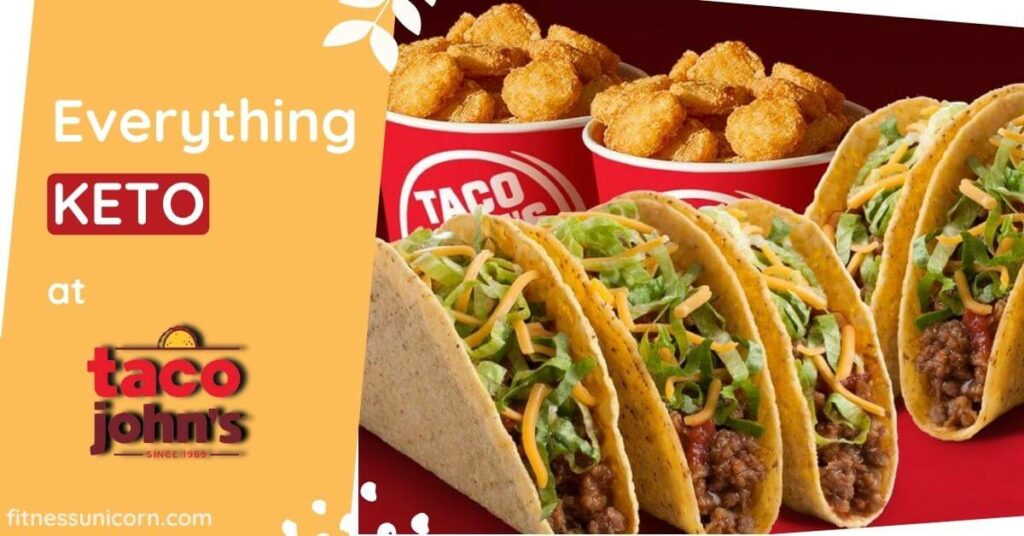 Tired of searching whether certain foods are keto? Download my keto cheat sheet with 210+ keto-friendly foods!
This post may contain affiliate links, which help keep this content free. (Full disclosure)
How to Survive Keto at Taco John's
Yes, it might be hard to get something keto at a restaurant like Taco John's with its wide variety of food. But there's always something for everyone, even for a keto dieter like you!
If you ever get bored of sticking to keto, remember that it's okay to eat something not keto-friendly with more carbs unlike your usual low-carb meals.
Here's a tip: eat a low-carb keto meal first if you're eyeing for something that's not keto. That'll make you feel full a lot faster, and you'll find yourself binging way less on the high-carb meal!
When eating a keto meal first before anything, the main goal is to quickly get full or to lose your appetite. So, as a keto-dieter, you must avoid meals with high carbs no matter what.
However, most of Taco John's dishes are quite carb-dense since they're heavily flour-based. Name it: nachos, tacos, burritos—almost everything crunchy has varying amounts of highly processed, low-fiber dough which results to having a higher number of carbs.
No worries! Their three mouthwatering, crispy tacos (beef, chicken, steak) still have low carbs. All these tacos have a net carb content of 9g.
You might want to have more of them since they're the best keto meals on the menu. But heads up! Any extra serving of these deprives you of your ketosis for the day.
See? You can still treat yourself with a nice meal by practicing portion control even if the rest of the menu at Taco John's isn't keto-friendly.
Without further ado, let's walk you through all keto-friendly meals Taco John's has to offer.
Taco John's Keto-Friendly Options
I have arranged some of the best low carb keto options at Taco John's just for you.
#1. Crispy Taco, Beef
This taco is quite different from the regular taco you know. It's actually a fried corn tortilla forming a U shape! It's also known as the hard-shell taco or crunchy taco. The unique taco is filled with beef, lettuce, tomatoes, and cheese!
Net carbs: 9g
Carbs: 11g
Fiber: 2g
Total fats: 10g Protein: 9g
Protein: 9g
Calories: 150 Kcal
ALSO READ: Taco Time Keto-Friendly Options
#2. Crispy Taco, Chicken
This next crispy taco is stuffed with chicken and some vegetables.
Net carbs: 9g
Carbs: 10g
Fiber: 1g
Total fats: 6g
Protein: 13g
Calories: 130 Kcal
#3. Crispy Taco, Steak
Just like our other crispy tacos, this one's also hard and crusty. Rather than stuffing it with beef or chicken, this is stuffed with steak alongside some vegetables and cheese!
Net carbs: 9g
Carbs: 10g
Fiber: 1g
Total fats: 8g
Protein: 11g
Calories: 140 Kcal
Sides
#1. Side Salad (1 order): 2g
RECOMMENDED: Everything Keto at Schlotzsky's
Sauces
#1. Chipotle Lime Sauce (1 fl. oz.): 3g
Chipotle is a famous ripe jalapeño pepper, dried and smoked for cooking. This sauce is spicy, making it perfect when paired with some tacos and the popular Texan-Mexican dishes!
Some of its ingredients are olive oil, jalapeño seeds, cilantro, green onion, chipotle, garlic cloves, honey, and lime juice.
#2. Creamy Italian Dressing (1.5 fl. oz.): 2g
This creamy dressing paired with whatever taco you have makes a heavenly combination. This thick sauce coupled with a crispy meal is made of mayo, sour cream, vinegar, olive oil, garlic, sugar, oregano, salt, and pepper.
#3. Guacamole (2.5 fl. oz.): 9g
Guacamole, an avocado-based sauce, can be used as a dip, spread, or salad!
#4. House Salsa (1 fl. oz.):6g
This spicy tomato sauce is made of coriander, jalapeño pepper, tomato, juice, and chili pepper.
#5. Jalapeño Ranch Sauce (1 fl. oz.): 3g
If your taste buds are in for something spicy, then have some Jalapeño Ranch Sauce as your dip. This usually consists of cilantro, sour cream, lime juice, jalapeño, lime juice, salt, onion and garlic powder.
#6. Mild Sauce (1 fl. oz.): 2g
Did you know that a sauce considered 'mild' usually has around 100-2500 Scoville Heat Units? This mild sauce has a combination of ketchup, hot sauce, and some barbecue sauce!
#7. Nacho Cheese (3 fl. oz.):5g
What's nacho without nacho cheese? Pair your crispy taco with some nacho cheese dip! The real twist is that this dip isn't made from real cheese despite being made from cheese.
#8. Sour Cream (2.5 fl. oz.): 4g
Sour cream is just perfect for avid keto fans since they are meant to avoid anything sweet, including sauces. This is usually an ingredient for sauces or just as a dip for your tacos or burritos.
#9. Super Hot Sauce (1 fl. oz.): 0g
This super hot sauce is definitely worth a try since everyone's into hot sauce these days. It's your usual hot sauce with some extra chili.
#10. Roasted Corn and Pepper Salsa (1 fl. oz.): 2g
This form of salsa consists of roasted corn along with red bell pepper, onion, garlic, lemon juice, olive oil, vinegar, and cilantro.
RELATED: Low-Carb options at Taco Cabana
Beverages
Cold Brew, Plain: 4g
Cold Brew, Mocha: 14g
Cold Brew, Vanilla: 13g
Diet Pepsi ®, small (20 fl oz): 0g
Diet Pepsi ®, medium (30 fl oz): 0g
Diet Pepsi ®, medium (40 fl oz): 0g
Brisk ®, No Calorie Peach Iced Green Tea, small (20 fl oz): 0g
Brisk ®, No Calorie Peach Iced Green Tea, medium (30 fl oz): 0g
Brisk ®, No Calorie Peach Iced Green Tea, large (40 fl oz): 0g
Conclusion
Taco John's might give you a hard time when you're strictly on keto meals. Regardless, the menu still features excellently appetizing keto-friendly meals containing the right amount of carbs.
However, you have to keep an eye on their other dishes if you're trying to loosen up.
Diet beverages and green teas are the only low-carb drinks on the menu that are safe for keto. Remember, don't let your meal's carb amount be too high, even if the carbs are above 15g!
Nonetheless, Taco John's proves to be a decent restaurant for keto dieters despite not having many keto-friendly meals.