Craving something Mexican today? If you are, then you should try Taco Cabana! It's an American fast-casual restaurant specializing in Mexican food.
Lots of its restaurants across the USA offer an extensive menu featuring a wide selection of Mexican food.
Do they have anything gluten-free, though?
If you're heading to Taco Cabana, you'll find only a few gluten-free options like the Crispy Beef Taco, Chicken Breast Fajita, Black Beans, and others. Take note that the chain doesn't have a separate gluten-free menu.
Its menu features a range of naturally gluten-free items, while other meals can be made gluten-free upon request.
However, customers with gluten sensitivity or celiac disease must be cautious when dining here due to the risk of gluten cross-contamination.
Regardless, you can still use this as a guide in finding out the available gluten-free items at Taco Cabana as you customize your meal!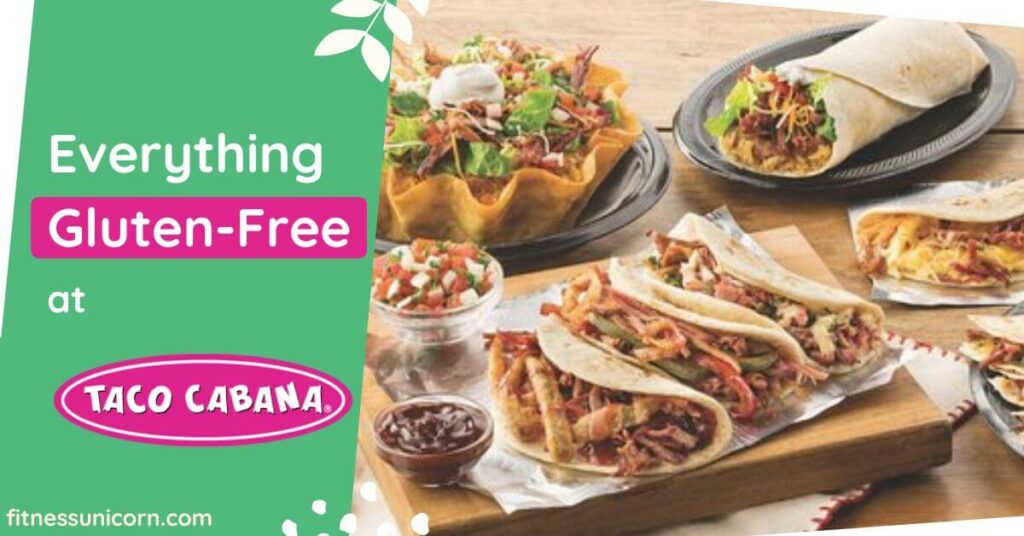 This post may contain affiliate links, which help keep this content free. (Full disclosure)
Gluten-Free Options at Taco Cabana
Taco Cabana is a US-based fast food restaurant founded in 1978 by Felix Stehling. It opened its first store in Midtown, San Antonio.
Taco Cabana has now been acquired by Fiesta Restaurant Group, Inc.
It currently operates nearly 166 locations throughout Texas and New Mexico.
You can savor a top-class, fast-casual Tex-Mex experience at their place, which you won't be forgetting any time soon. Make sure you're aware of the gluten-free options before visiting. You can find their latest gluten-free menu below.
Taco Cabana specializes in Tex-Mex cuisine. The menu features items like shrimp Yucatan, enchiladas, all-day breakfast, nachos, quesadillas, sides, a salsa bar, tacos, desserts, cabana bowls, family meals, kids' menu, and a few beverages.
You'll easily be able to come up with a decent meal for about six dollars.
Gluten-Free Tacos And Flautas At Taco Cabana
Crispy Beef Taco
Crispy Chicken Taco
Beef Street Tacos
RECOMMENDED: Gluten-Free Options at Godfather's Pizza
Gluten-Free Build Your Own Bowl, Burrito, And Salad At Taco Cabana
Steak Fajita
Chicken Breast Fajita
Shrimp Tampico
Ground Beef
Stewed Chicken
Guacamole
Refried Beans
Borracho Beans
Black Beans
Rice
Romaine Lettuce
Iceberg Lettuce
Gluten-Free Nachos At Taco Cabana
Steak Fajita
Chicken Fajita
Beef Super
Chicken Super
YOU MAY ALSO LIKE: 21 BEST Gluten-Free Bakeries in Los Angeles
Gluten-Free Chips And Dips At Taco Cabana
Chips And Queso
Chips And Guac
Tips for a Gluten-Free Meal at Taco Cabana
Dining out can always be challenging for those with gluten sensitivity or celiac disease. But with a bit of planning, you can still have a delicious and safe meal at any restaurant.
Here are three tips you should remember for a gluten-free meal.
Take Your Time To Order
Being a customer requesting many changes is never fun since we all know that gluten-free orders require more attention than the usual ones.
Wait until other people have finished ordering before speaking to the staff.
The extra time lets you discuss the menu thoroughly without having "that" awkward moment when everyone looks at you strangely while you list all ingredients that are off-limits for you.
Most people move to a new topic after ordering. As a result, you can make yourself as inconspicuous as possible while ensuring that your waiter understands your dietary needs well.
If your server seems unaware of your concern, politely ask to speak to the manager. There's nothing wrong with asking many questions or getting better assistance.
You have the right to know how your dish was prepared and if it is indeed safe for consumption.
RELATED: EVERYTHING Gluten-Free at Krystal in 2022
Make Sure You Triple-Check Everything
Don't assume that your food is ready to eat as it arrives on your table simply because the ordering process went smoothly. In some cases, your food may not be gluten-free even after discussing your order with the servers.
The ability to identify gluten-containing items from their gluten-free counterparts and inspecting your meal are the best ways to prevent gluten from getting into your food.
Be Wary of Cross-Contamination
Cross-contamination occurs in any kitchen, and the risk is always inevitable. Even if the restaurant takes precautions.
Choose dishes with the least risk of contamination, like grilled meat or vegetables instead of fried items or those tossed in too much sauce.
By following these tips, sit back and relax as you enjoy your meal without worrying about your condition.
Cross-Contamination Risk
While most people associate gluten cross-contamination with restaurants serving pasta or bread, the risk is highest at fast food chains serving Tex-Mex food.
This is due to the high likelihood of contact between the same equipment used for preparing gluten-rich and gluten-free food.
Gluten cross-contamination occurs when food comes into contact with gluten-contaminated surfaces or utensils. Suppose the same knife used to cut a flour tortilla is used for a corn tortilla.
In that case, the corn tortilla can be contaminated with gluten.
To minimize this risk, customers with gluten intolerance or celiac disease should consider ordering their food "to go" or just dine at another restaurant with fewer chances of cross-contamination.
For instance, the tortillas at Taco Cabana are prepared on the same grill used for quesadillas, nachos, and other wheat-containing items. This translates to a higher risk of gluten cross-contamination among gluten-free options.
There are still some steps you can take to minimize the inevitable risk of cross-contamination. First, make sure to specify that you want the gluten-free option when ordering. Second, order something fresh and not pre-made.
Lastly, don't hesitate to ask a manager or supervisor for any clarification or doubts about whether the food is truly gluten-free or not.
What People Are Saying
We compiled a collection of insights and opinions from the internet based on personal experiences.
One user described Taco Cabana as a popular Tex-Mex chain restaurant that has recently introduced gluten-free options. After getting curious to try them, he ordered a few gluten-free items and was delighted with the results.
Another user said that the food was tasty and filling. She didn't miss the flour tortillas at all! The gluten-free options are also clearly labeled on the menu, which makes it easier to avoid cross-contamination.
Overall, she was impressed with Taco Cabana's gluten-free options. She also recommended them to anyone looking for a good wheat-free meal.
One review mentioned that Taco Cabana's gluten-free options are pretty good! The user was surprised at the number of options and how delicious everything was. The enchiladas were his favorite.
The sauce was flavorful, and the chicken was cooked perfectly. He added that the tacos were also very good, along with the delicious, gluten-free rice and beans.
Overall, he was also extremely impressed with Taco Cabana's gluten-free options and highly recommended them to anyone in search of a gluten-free meal.
Gluten-Free Alternatives to Taco Cabana
Carrabba's Italian Grill
A popular chain of Italian cuisine restaurants founded in 1986 by Johnny Carrabba. He, and his family, own the original two restaurants on Voss Road and Kirby Drive.
10 new locations have opened in Florida and Houston since 1993 through a joint venture with Outback Steakhouse after being awarded the rights to develop Carrabba's brand across the USA.
The restaurant offers a decent variety of gluten-free options on the menu, all marked as gluten-free. These include appetizers, salads, pizzas, pasta, entrees, and desserts.
Carrabba's is a safe and delicious option for celiacs and those with gluten sensitivity. It takes several precautions to avoid cross-contamination, including separate areas for preparing and cooking gluten-free meals.
California Pizza Kitchen
Aside from its innovative and non-traditional pizzas, California Pizza Kitchen is known for its Barbecue Chicken, Thai Chicken, and Jamaican Jerk Chicken pizzas.
The restaurant also offers salads, soups, sandwiches, pasta, and desserts. There's also a children's menu for kids aged 10 and under.
It has over 250 locations across 32 states and 10 countries worldwide. This number includes Non-Traditional Franchise Concepts developed for airports, universities, and stadiums.
CPK's brand is licensed in supermarkets for selling frozen hand-tossed style, crunchy thin crust, gluten-free, and small frozen pizzas drenched in sauce. A license for CPK was first granted to Kraft in 1999.
Nestle was later awarded the license in 2010, upon its acquisition of Kraft's pizza lines.
While CPK may not feature an extensive range of gluten-free options, there are still a few certified gluten-free pizzas. Other pizzas also have their own gluten-free versions.
It is important to know that while other items are made from gluten-free ingredients, they aren't prepared to be particularly gluten-free, so cross-contamination can still occur.
So, order a specific pizza that is featured as GIG-approved. Let the manager know of your special dietary needs before ordering, as suggested by the restaurant.
Chipotle
In 1993, Steve Ells founded the Chipotle restaurant chain in Denver, Colorado. It's mainly an American-Mexican food joint, but there are also other available dishes.
The name "Chipotle" was inspired by the traditional Nahuatl culture. It means dried, smoked chili pepper. Founder Steve Ells and his father initially estimated that they needed to sell around 107 burritos a day to generate profit.
Although they thought that they wouldn't sell as much, they had actually sold over a thousand burritos after only one month. This happened at a faster pace than they anticipated.
Chipotle's main items are tacos and burritos. Customers can build their own burrito and bowl from the freshest ingredients. This option makes eating incredibly easy for those who follow a gluten-free lifestyle.
Only burritos and quesadillas should be avoided due to the flour tortillas since they're made of gluten. Gluten-free eaters are strongly recommended to substitute flour tortillas with corn tortillas.
Wildfire Restaurant
Looking for a hearty meal for lunch? Head over to Wildfire's and spoil yourself with their irresistible menu that'll leave you wanting more.
Wildfire has always embodied the style and warmth of Chicago through its incredible service, from jazz to food.
You can have a sumptuous selection of steaks, seafood, chops, fresh salads, and sandwiches in their modern-day 1940s dinner club.
There's something for every hour, from appetizers to desserts. Some of the gluten-free options include Filet Mignon, Thick Prime Angus Burger, Prime Ribs, and Baby Back Ribs. Treat your taste buds with a creamy, flourless chocolate cake.
Moe's Southwest Grill
Moe's is a great alternative for some good Mexican food. Keep an eye for cross-contamination, though. Chips and tortillas reportedly use a common fryer, so you might want to steer clear of anything fried.
Or try to get the corn tortilla instead if you can't resist its crisp.
Otherwise, you're better off with burrito bowls only.
Customers can choose from proteins like pork, tofu, ground beef, steak, fish, or chicken.
Complete your meal with their delicious toppings, which include jalapenos, guacamole, cheese, Chipotle ranch, sour cream, Pico De Gallo, or Tomatillo Salsa. You can also top this off with some Black or Pinto beans.
Moe's gives out free chips & salsa with every order, too!