Fuzzy's Taco Shop is a popular fast-casual restaurant serving some of the most delicious Baja-style Mexican cuisine.
The delectable food, amazing service, and electric vibe at Fuzzy's have taken the nation by storm since its conception in 2003. The restaurant has since expanded to over 150 locations across 17 states and shows no signs of slowing down.
So what's gluten-free at Fuzzy's Taco Shop?
In order to satisfy every customer's unique dietary restrictions, Fuzzy's has formulated a detailed allergen guide and gluten-free menu.
There is a wide variety of delicious options ranging from Baja tacos, breakfast, burrito bowls, and salads to scrumptious nachos and other mouth-watering creations.
The stellar gluten-free food is complimented by the fantastic, energetic staff and casual atmosphere where you can rejoice with friends and family.
The team at Fuzzy's is well-trained and informed about food allergies and hence follows adequate safety protocols to avoid any cross-contact.
It's important that you inform the server of your allergy so they can guide you through the gluten-free menu to help you order the safest possible option.
However, Fuzzy's does warn its customers of the possibility of contamination due to shared kitchen spaces and shared fryers in some locations.
Even though the team follows strict cross-contact protocols, the shared spaces expose gluten-free food to gluten particles. Therefore, it is paramount to be cautious and reiterate the need for stricter protocols and dedicated prep spaces.
If you have Celiac disease or severe gluten sensitivity, we would advise you to visit a location with dedicated spaces and fryers for a certified gluten-free experience. Since risking your health over momentary satisfaction is not worth it.
This article is going to be an in-depth scrutinization of Fuzzy's Taco Shop menu.
We'll be dissecting the menu to reveal all the possible gluten-free options and exploring tips on limiting contamination as much as possible to enjoy a safe and satisfying dining experience. So stay tuned!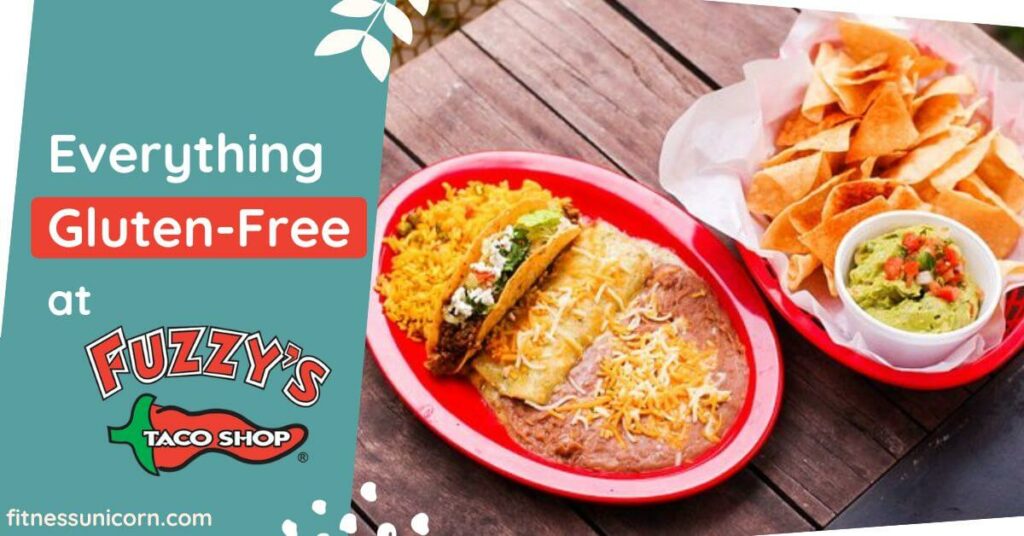 This post may contain affiliate links, which help keep this content free. (Full disclosure)
Gluten-Free Options at Fuzzy's Taco Shop
Fuzzy's takes pride in serving its customers the freshest possible and high-quality meals each time you order. The service is geared towards providing customers with the best possible experience in terms of food and comfort.
Each customer is looked after with great dedication, and servers make sure to address all of your dietary restrictions to make sure you leave satisfied with your experience.
Fuzzy's boasts an impressive gluten-free menu that will fulfill all of your Mexican cravings. The menu has a bit of everything so that you won't feel restricted with your options.
However, keep in mind that the lack of dedicated kitchen spaces for gluten-free meals might lead to contamination. If you have Celiac disease or severe gluten sensitivity, we advise you to stay cautious at Fuzzy's.
Now let us explore the various mouth-watering gluten-free options on offer at Fuzzy's Taco Shop.
Note: The restaurant advises customers to inform the server of their health condition and specifically ask for a gluten-free meal. 
RECOMMENDED: Gluten-Free Options at Village Inn
Breakfast
Fuzzy's offers flavourful breakfast tacos that you can order any time of the day. The best part is that they're completely gluten-free if they're prepared with soft or crispy corn tortillas.
Just make sure adequate cross-contamination measures are followed.
Egg & Cheese Taco
Potato, Egg & Cheese Taco
Bacon, Egg & Cheese Taco
Bacon, Potato, Egg & Cheese Taco
Chorizo, Egg & Cheese Taco
Chorizo, Egg, Potato & Cheese Taco
Shrimp, Egg & Cheese Taco
Huevos Rancheros (with corn tortillas)
Migas (with corn tortillas)
Chilaquiles (with corn tortillas and shredded chicken)
Starters
You can order from the exciting variety of gluten-free starters at Fuzzy's to get started. These fixings are perfect for sharing with friends while you wait for your main course.
Famous Chips & Queso 
Chips & Queso with Chorizo
Chips & Fire-Roasted Salsa
Chips & Guacamole
Baja Tortilla Soup with Tortilla Strips (corn tortilla)
YOU MAY ALSO LIKE: Top Gluten-free Options at Huddle House
Baja Tacos
The Baja tacos are what gave Fuzzy's its fame, to begin with. These delectable, mouth-watering tacos can be enjoyed with various meat toppings and are made in corn tortillas to make them gluten-free.
Grilled Shrimp
Grilled Mahi
Shredded Chicken
Shredded Brisket
Spicy Pork
Grilled Veggie
California Heat (with grilled shrimp)
Burrito Bowls
You can enjoy the sumptuous gluten-free burrito bowls that come with cilantro-lime rice and black beans topped with a protein of your choice and finished off with spicy chimichurri sauce or fire-roasted salsa, depending on your preference.
Fajita Veggie
Grilled Shrimp
Grilled Mahi
Shredded Chicken
Shredded Brisket
Spicy Pork
Grilled Veggie
Salads & Dressings
If you're not up for a full meal, you can order the refreshing green salads on offer. Veggies are topped with a protein of your choice and garnished with crispy corn tortilla strips for texture.
If you want to amp up the flavor you can top your salad with the delicious gluten-free dressings on offer.
Salads
Shredded Chicken
Shredded Brisket
Grilled Shrimp
Grilled Mahi
Grilled Veggie
Spicy Pork
Dressings
Buttermilk Ranch
Avocado Ranch
House Vinaigrette
Fire-Roasted Salsa
Creamy Sriracha
Mexican Plates
The gluten-free Mexican plates are perfect if you want to skip the carbs and have a high-protein meal packed with flavor
Enchilada Plate – brisket, cheese, chicken, grilled shrimp, pork, or veggies topped with queso or fire-roasted salsa
Fajita Shrimp Plate
Taco Plate – any two gluten-free tacos plus two gluten-free sides
Nachos
The gluten-free nachos are perfect for sharing or for kids. All the classic nacho fixings like sour cream, salsa, and cheese are topped with a protein of your choice.
Shredded Chicken
Shredded Brisket
Spicy Pork
Side Vibes
Fuzzy's also offers a few tasty gluten-free sides to compliment your meal.
Refried Beans
Black Beans
Cilantro-Lime Rice
Latin-Fried Potatoes
Helpful Tips for a Gluten-Free Meal at Fuzzy's Taco Shop
Since Fuzzy's has a gluten-free menu but no dedicated prep spaces to protect from cross-contact, we thought we'd share a few helpful tips to help you stay clear of contamination and enjoy a safe and healthy meal.
Know the Eatery
It is crucial to collect some information about how a restaurant operates when it comes to serving gluten-free meals. This information will help you gauge how allergy-friendly a restaurant is.
What kind of food do they serve?
Do they have a gluten-free menu or not?
Are the servers well informed and trained to handle allergies?
Are there strict cross-contamination protocols in place?
Are the gluten-free meals prepared in a dedicated prep space?
The only place where Fuzzy's lacks is having dedicated kitchen spaces for gluten-free meals. This makes it trickier to dine out for people with severe health issues related to gluten intake.
Communicate Your Concerns
Communication is vital when it comes to having a pleasant gluten-free experience. Always convey the seriousness of your condition to the manager and servers so they can accommodate you accordingly.
Fuzzy's strongly advises its customers to let their servers know their health conditions and dietary restrictions while ordering.
This enables the courteous and helpful staff to make the utmost effort to minimize contamination and give you a great experience without risking your health.
Following Precautions
Ask the servers to follow a few specific precautionary measures that will help reduce contamination and give the customer peace of mind.
Ask a single server to prep your meal from start to finish to avoid any mix-ups
Ask the server to wear a fresh pair of gloves before preparing your meal
Request the server to use clean utensils and clean disinfect the grill tops before prepping your order
Request the server to use a separate fryer or unused oil if possible
Ask the server to fetch ingredients from a fresh batch to reduce contamination
Ask the server to prep your order first if you're with a large group of people
If in Doubt, Throw it Out
You should know that no food is worth risking your health over, especially if you have Celiac disease or severe gluten allergies. Hence, if you're ever doubtful about a particular ingredient or dish, it's better just to leave it be.
Only consume items you're sure about.
Avoid Rush
When the orders start piling up, the kitchen's risk of mistakes and miscommunication increases, and if you have Celiac disease or severe gluten allergies, you cannot afford any errors when it comes to food.
Therefore, it is better to visit restaurants during off-peak hours when the staff is more relaxed and can give you its full attention.
Cross Contamination Risk at Fuzzy's Taco Shop
Cross-contamination occurs when gluten particles come into contact with gluten-free food through contaminated utensils, gloves, grill tops, pans, and other food items.
This is a serious health concern for people with Celiac disease and severe gluten sensitivity.
Therefore, having strict contamination protocols and dedicated kitchen spaces is crucial for any restaurant that wants to please its Celiac customers.
Fuzzy's has well-trained staff and adequate cross-contamination protocols to ensure customers' safety. The only drawback is the lack of a dedicated meal prep space for gluten-free meal prep.
Due to this, the gluten-free tortillas are cooked on shared fryers and stove tops, exposing them to gluten contamination. A shared kitchen space means there is always a risk of contamination, making many gluten-sensitive people uncomfortable.
What is the Public Saying?
When dining out on a gluten-free diet, the experiences of other gluten-free dieters tend to hold considerable credibility. We found many reviews on Fuzzy's on the internet that showcase what it's like to eat there on a gluten-free diet.
These reviews help you gauge how gluten-friendly a restaurant is and what it's like for a customer with dietary restrictions.
The majority of the reviews were positive and highlighted the fantastic food and amazing staff to go with it. People were impressed with the vigilance and attention to detail the team displayed.
Moreover, many Celiacs found the food to be safe and very flavorsome.
Some poor reviews highlighted people were getting sick due to mistakes made by the restaurant. Some customers criticized the absence of dedicated fryers and surfaces.
All in all, Fuzzy's is a great option if you're a casual gluten-free dieter. But, if you have Celiac disease, you might need to be more vigilant or skip going there altogether.
Gluten-Free Alternatives to Fuzzy's Taco Shop
The following alternatives are fantastic restaurants if you're looking for delicious gluten-free Mexican food when Fuzzy's is not accessible.
Moe's Southwest Grill
Moe's Southwest Grill has a 'build-your-own' style menu where you conjure up a meal with over 20 gluten-free ingredients. The ingredients are fresh and top-quality.
Moe's has a detailed gluten-free menu that helps you order the perfect meal.
Burrito Bowls
Stacks
Quesadillas
Tacos
Abuelo's Mexican Restaurant
Abuelo's Mexican Restaurant is a casual high-end Mexican restaurant with an expansive gluten-sensitive menu. If you're looking for a fancier atmosphere but want to enjoy all your favorite Mexican foods, this is the place for you.
Bear in mind that there is always a risk of contamination due to shared prep surfaces.
Guacamole
Shrimp Fajita Salad
Sides – Charro Beans, Black Beans, Cilantro Lime Rice, Refried Beans
Soft Taco Plate
Tamale Plate
Steak
Fajitas
Chipotle
Chipotle has to be America's favorite fast-food Mexican restaurant. It boasts a detailed gluten-free menu that is accompanied by stringent cross-contamination measures to give you a risk-free eating experience.
The best part is that you can pick everything that goes into your meal, and it's made in front of you.
Various protein and vegetable toppings
Guacamole
Beans and rice
Variety of Salsas