Nothing brings back that memory of home-style cooking like a small-town family diner. Huddle House is a popular restaurant franchise that allows you to enjoy southern-style meals served with a characteristic local appeal.
However, what's gluten-free at Huddle House?
Huddle House offers multiple gluten-sensitive food options ranging from ribeye steak to chicken wings. Huddle House also boasts gluten-free soda, lemonades, and fruit juices.
As a gluten-sensitive customer at Huddle House, you would have to avoid certain common ingredients like burgers, flour-sprinkled baked potatoes, or green tea with barley leaf inside.
Their staff is quite knowledgeable about gluten sensitivity and great at following stringent precautionary measures.
However, if you have celiac disease or an extreme form of gluten sensitivity then you may want to stay away from Huddle House restaurants because of the danger of cross-contamination.
That' still a possibility even if your meals are prepared with the most stringent measures.
We'll now look at some of the best gluten-sensitive options available at Huddle House. I'll also suggest some measures to effectively practice a gluten-free diet here.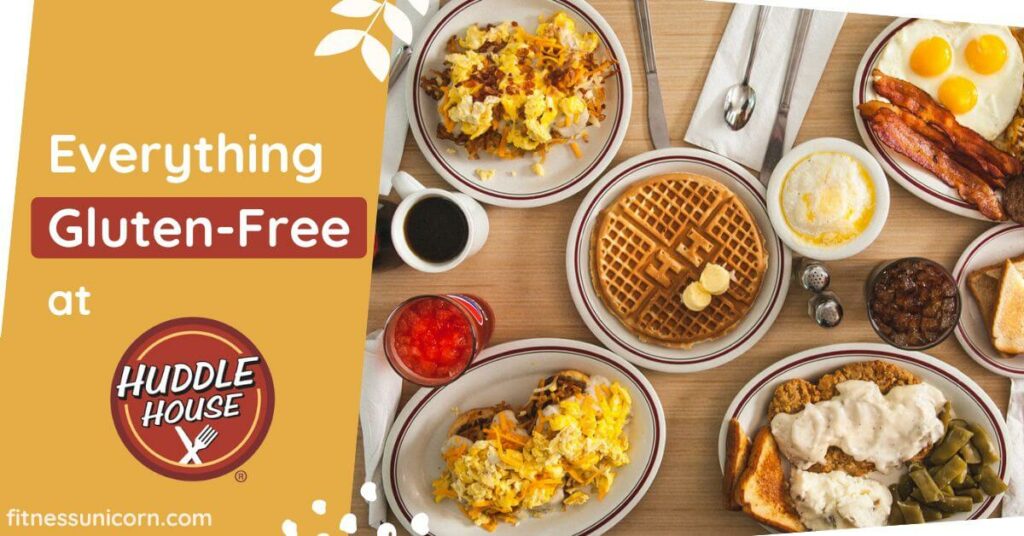 This post may contain affiliate links, which help keep this content free. (Full disclosure)
A Look at the Huddle House top Gluten-free Options
Huddle House is a southern-style diner franchise that serves a variety of home-style meals and drinks.
Going by their previous motto "Any meal, Anytime" customers are rest assured that they can get a meal at Huddle House at any time of the day.
The franchise was started in 1964 by John Sparks in Decatur, Georgia because people in the town needed a place to gather after local football games.
That simple idea started the business which has since been serving delicious meals to a wide range of customers for over five decades.
Huddle House has long since expanded from a single small-town location and boasts over 300 separate locations across 23 states. Yet all of these locations have followed the same basic pattern that is unique to all Huddle House restaurants.
From its in-house supply-chain model to its numerous menu offerings, low-cost meals, and large servings, the Huddle House system has been well-preserved over generations.
Their franchises can be found in various small towns, shopping centers, and hotels. They also boast of making the finest Philly cheesesteak, Southwestern Bowl, and Triple Huddle Burger anywhere in the continental USA.
So if you're interested in dropping by at one of their locations we've compiled a few gluten-free meal options for your convenience.
Important Note: The list below is obtained from the restaurant's official website.
The items listed here are marked as free from wheat only. But a tiny amount of gluten may/may not come up from other sources too (especially from the shared kitchen equipment/storage spaces)
Breakfast
Ribeye steak
Turkey sausage
Country Sausage
Southwest Salad
Grilled chicken nuggets
Grilled chicken sandwich (gluten-free bun)
Country ham
Sugar cured ham
Fluffed and Stuffed Omelets
RECOMMENDED: Newk's Eatery's Gluten-free Menu Items
Lunch and Dinner
Ribeye steak
Crispy southern fried chicken tender
Shrimp diner
Ribeye and shrimp
Rib tips
Grilled chicken fillet (gluten-free bun)
Plain grilled chicken with steamed vegetables
Sides
Fruit cup
Side salad
Potato fries
Beverages
Hot chocolate
Milk chocolate
Coffee
Teas
Strawberry lemonade
Orange juice
Soft drinks
Remember that this menu is not 100% person foolproof and there is a very real risk of cross-contamination. Therefore, all individuals with an extreme form of gluten sensitivity or celiac disease should avoid Huddle House.
YOU MAY ALSO LIKE: Everything Gluten-Free at Miller's Ale House
Tips to Enjoy a Gluten-free Meal at Huddle House
Although Huddle House has gluten-free meals and drinks, it doesn't have a dedicated allergen guide or menu for people who are gluten sensitive.
Therefore, to be on the safe side you have to be sure that what you are having is completely gluten-free and not a risk to your health.
Here are some helpful tips on how to avoid the risk of exposure to gluten.
ALSO READ: Lazy Dog Restaurant Gluten-free Options
Do Some Research on the Restaurant
Because you don't want to put your health at risk, you have to ensure that a restaurant is safe for you before eating there. The following questions will help you determine whether a restaurant is safe for your health.
What are the gluten-free foods and drinks on the menu?
What are their protocols to avoid cross-contamination?
Does their staff have ample knowledge on what to do if there's a case of food allergy?
Inform the Staff About Your Concerns
For your own good, the staff must understand your dietary requirements and health concerns. It is not enough for them to know that you have celiac disease or that you are gluten sensitive.
They should also understand that if there's any form of contamination you are likely to become ill and therefore they cannot risk cross-contamination with allergens.
Huddle House has a limited food menu that is gluten-free but has a lot of gluten-free drinks. The staff at Huddle House is friendly and knowledgeable and will listen attentively to all your needs.
You must remind them to use clean utensils to avoid cross-contamination.
Make Sure Your Instructions Are As Specific as Possible
To avoid mistakes of cross-contamination, your servers must follow some specific instructions while processing your order. You should do this politely and relay these instructions very clearly.
Request that a single server processes your order from start to finish to avoid mistakes.
Request that the server who is processing your order wears new gloves and ensures clean surfaces and utensils examples include knives, blenders, chopping surfaces, etc.
Ensure that the server is mindful of the ingredients used for example avoiding flour, syrups, sauces, etc getting into the meal.
Ensure your order is taken first if there's a large number of orders.
Know the Gluten-free Options Beforehand
When making your orders it is important to know the gluten-free options and make your preferred choice from those options.
You can check online to be sure before visiting a restaurant, you can also ask the manager or servers to put you through items on the menu that are gluten-free if you need any additional information.
Keep Things Simple
Make sure your order is simple to avoid mistakes of cross-contamination. For example, leave your chicken bare instead of opting for breaded ones.
It's also advisable to leave out the sauces as there is a higher chance of gluten from ingredients. Leave out foods with coatings too.
If In Doubt, Throw It Out
Risking your health over a mouthwatering meal is never the way to go. It's best to not just assume that the servers won't make mistakes.
Therefore just keep an eye out and also make sure to avoid any meals or drinks you are doubtful about what it is prepared especially if you are severely gluten-sensitive or you have celiac disease.
Avoid Rush Hours
The servers and staff are more likely to forget your dietary concerns when there are a large number of orders.
It's best to go to Huddle House at times when they are likely to have fewer customers because there will be a reduced risk of contamination and lower chances of mistakes within the kitchen.
Risk of Cross-contamination at Huddle House
Cross-contamination can occur when utensils, surfaces, gloves, and other food items used in preparing your meal come in contact with gluten-containing food or items directly or indirectly.
An example is when the same knife is used to butter a gluten-free slice of bread and a gluten-containing one or using the same oil used to fry a gluten-containing food for preparing a gluten-free meal.
Although there are gluten-free options at Huddle House there's a risk of contamination because there aren't dedicated utensils for preparing meals and drinks.
Therefore individuals with celiac disease or severe gluten allergies should be very vigilant when eating at Huddle House and always remember the importance of informing your server of your dietary requirements.
What Are People Saying?
Huddle House is a household name and their customers keep increasing because of their mouthwatering home-style meals.
Although the establishment is not a gluten-free facility, we were able to glean some important information after a survey of the online ratings and personal interviews from customers.
A lot of the customers had positive feedback such as:
One customer said that they had a great breakfast of eggs, bacon, sausages, and grits. They also said the service was friendly and professional.
Mr. Smith said a list of all food with nutritional information and allergens was given to him and he had grilled chicken, a side salad, and vegetables.
Mr. Paul was grateful that his wife's gluten-free dietary restrictions were considered by the staff when placing an order and were happy they had a safe place to eat during their visit.
Generally, most of the reviews were positive, especially praising the staff on how they took their orders and how knowledgeable they were about celiac disease and gluten allergy.
Although some people also expressed disappointment in the fact that the facility was not a gluten-free establishment and the menu didn't have a dedicated gluten-free section.
Gluten-free Alternatives To Huddle House
If you are gluten sensitive and want to have delicious meals outside the home, here are some gluten-free alternatives you can try out besides Huddle House.
Bob Evans
Bob Evans is another home-styled diner franchise that offers an amazing range of breakfast, lunch, and dinner options.
They operate a chain of about 442 locations in 18 states, mostly located in the Midwestern and Mid-Atlantic regions of the US.
They have a lot of gluten-free options but do not claim to be a gluten-free facility.
The facility, however, takes stringent measures when preparing meals for gluten-sensitive individuals and people with celiac disease to avoid cross-contamination.
Some of the safer options available on their menu include:
Cheese omelets
Grilled chicken
Chicken sandwich
Cobb salad without dressing
Plain baked potatoes
Fruit dishes
Broccoli cheddar soup
Border Scramble Omelets
Veggie Omelets
Chick-fil-A
Chick-fil-A is a household name in the family dining industry. It started in 1946 when the founder Truett Cathy opened his first diner, the Dwarf Grill, in the Atlanta suburb of Hapeville.
Since then the franchise has grown to include over 2,818 locations across 47 states within the US, the District of Columbia, and Puerto Rico.
Chick-fil-A has several gluten-free options for those who would rather avoid gluten. A few of them include:
Gluten-free bun.
Honest Kids® Appley Ever After Organic Juice Drink
Cinnamon Apple Sauce (Buddy Fruits®)
Milk
Simply Orange® Orange Juice
Waffle Potato Chips
Bacon slice
Hash Brown Scramble Bowl w/ Grilled Filet
Hash Brown Scramble Bowl w/ Sausage
Grilled Chicken filet (no bun or sub-gluten-free bun)
Grilled Nuggets (8- or 12-count)
Market Salad
Kale Crunch Side
Waffle Potato Fries™
Greek Yogurt Parfait
Chipotle
Chipotle is a fast-casual restaurant founded by Steve Ells in 1993 that offers higher dining services than traditional fast food restaurants. They operate over 3,000 locations in the US and all over the world.
At Chipotle gluten-free protocols are observed and you have the option of choosing every ingredient that goes into your meal. Let's take a look at some of their gluten-free options:
Barbacoa
Black Beans
Carnitas
Chicken
Tortilla Chips
Brown Rice
White Rice
Crispy Corn Tortilla
Fajita Vegetables
Fresh Tomato Salsa
Guacamole
Monterey Jack Cheese
Pinto Beans
Queso Blanco
Roasted Chili-Corn Salsa
Romaine Lettuce
Sofritas
Sour Cream
Steak
Supergreens Lettuce Blend
Tomatillo Green-Chili Salsa
Tomatillo Red-Chili Salsa
Chipotle Honey Vinaigrette