Your whole family can enjoy these MOUTHWATERING low-carb perfect keto peanut butter cookies made with ONLY 3 ingredients: peanut butter, an egg, and a sugar substitute.
If you are following the Keto diet or any other low-carb diet, that EVIL sweet tooth can be very demanding and constantly bothering you!
This is when these low-carb peanut butter cookies come to your rescue. They are crunchy from the outside and temptingly moist on the inside.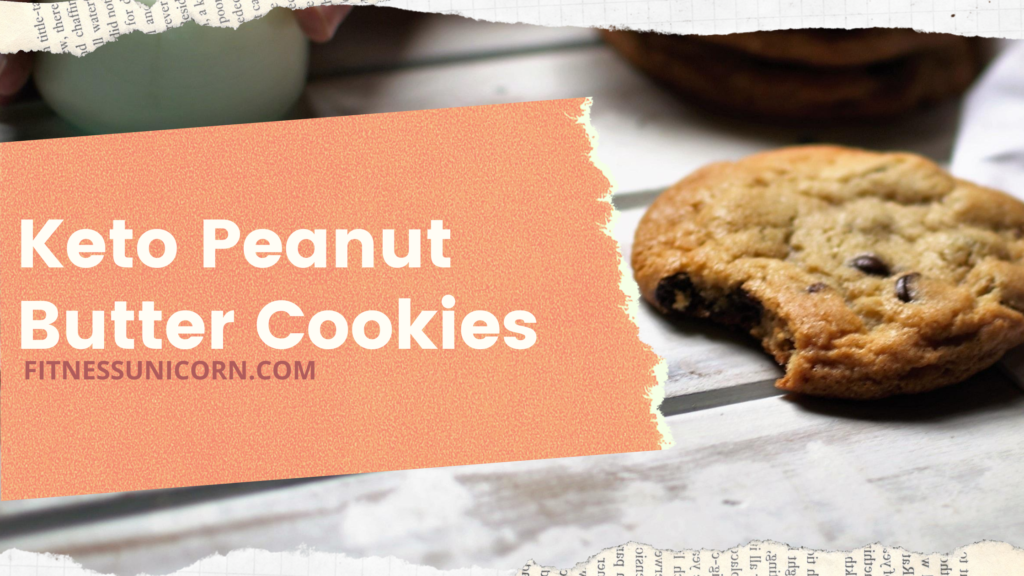 Tired of searching whether certain foods are keto? Download my keto cheat sheet with 210+ keto-friendly foods!
These can also be served along with tea or coffee as a great evening snack option.
The best part about these keto peanut butter cookies is that they are not OVERLY sweet and don't give you that artificially sweet taste. However, DON'T expect them to be as crispy as your regular cookies. (Things we do for weight loss!)
Let us see how to quickly make out-of-this-world keto peanut butter cookies in no time!
This post may contain affiliate links, which help keep this content free. (Full disclosure)
Recipe for Keto Peanut Butter Cookies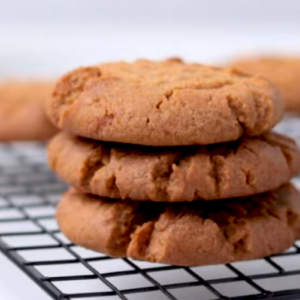 Keto Peanut Butter Cookies
Keto Peanut Butter Cookies Recipe – beginner friendly, low-carb, sugar-free, gluten-free cookies made with basic ingredients.
Ingredients
1

Egg

1/3

cup

Sweetener

keto friendly

1

cup

Peanut butter

unsweetened

1

tsp

Vanilla extract

(optional)

2

tbsp

Almond flour

(optional)
Instructions
Line a baking sheet withparchment paper and preheat the oven to 350 degrees F (175 degrees C)

Mix all the ingredients in a medium-large bowl. Stir with a spatula to make a smooth dough. The batter willbe runny at first and gets thicker when mixed well.

Create 1 inch balls from the dough or use a cookie scooper. Place them on a baking sheet and flatten with a fork making a criss-cross pattern. Sprinkle some salt on top.

Bake for 10 minutes in the preheatedoven until the edges become golden brown while the center is still soft. Let itsit for another 5 minutes and then transfer it onto the cooling rack. Let itcool for another 10 minutes there.
NUTRITION
Serving Size: 1 cookie
Calories: 108 kcal | Total Carbs: 4g | Net Carbs: 1g | Protein: 5g | Fat: 9g | Saturated Fat: 2g | Cholesterol: 14mg | Sodium: 79mg | Potassium: 110mg | Fiber: 1g | Sugar: 2g | Vitamin A: 20IU | Calcium: 11mg | Iron: 1mg
Note: Keto sweeteners like Swerve and Monk Fruit have carbs that do not impact your blood sugar levels. Hence these carbs are deducted from total carbs to derive net carbs.
YOU MAY ALSO LIKE: 21 BEST Keto & Low Carb Restaurants in Los Angeles
Useful Tips for Keto Peanut Butter Cookies
✔️ If you are using a regular unbranded Erythritol powder then go for ½ cup, and if you have a branded sweetener such as Swerve or Monk Fruit then 1/3 cup works fine. If you really have a tingling SWEET TOOTH (like me!), then you can add up to half a cup of branded sweetener.
✔️ You can store these keto peanut butter cookies in an air-tight container or a zip lock bag for up to 5 days.
✔️ Cooling down is very important to get rid of the crumbly texture. They will be super SOFT when out of the oven and might seem undercooked. But trust me they will harden and turn in to the PERFECT keto peanut butter cookies! They need a sufficient amount of cooling time to get the desired texture.
✔️ For those with a sweet tooth, add some Lily's sugar-free chocolate chips – either milk chocolate or dark chocolate.
✔️ Sprinkling the salt will really ENHANCE the taste of your keto peanut butter cookies, do not miss this step.
💡 Do you want to know if this recipe fits into your daily carb requirement? Read our Keto Carb Guide to know your EXACT carb allowance for effective weight loss.
Common Issues When Making Keto Peanut Butter Cookies:
Depending on your selection of peanut butter, sometimes the cookie can be gooey or crumbling dry.
If the peanut butter itself is dry and hard to stir, then mix a tablespoon of butter or some MCT oil to make it smoother.
And if your peanut butter is very moist and liquid then add a tablespoon of almond flour.
I recommend using unsweetened all natural peanut butter.
Conclusion
These keto peanut butter cookies turn out so well that I try hard not to eat the whole pan LOL! These surely have an unusual texture but they come out heavenly!
The ease and simplicity of these cookies are shouting at your face – "Please try me!"
Let me know how in the comments how this recipe turned out for you
PS: Don't expect them to be CRISP, they will be CHEWY.
Cheers and keep Keto-ing..