Quest Nutrition has gained massive popularity due to its low-calorie snacks! Whether it's Quest pizza or their protein bars, all are packed with the right stuff to keep you healthy even while snacking. Today we'll answer the question: Are Quest cookies keto?
Beginning your keto journey can be overwhelming with so much information overload online! You have tons of brands advertising themselves as "keto-friendly" but who knows what really goes inside?
Having the right information about what to eat can greatly help you stick to the new year resolution for shedding those pounds!
Today let's talk about cookies on a keto diet!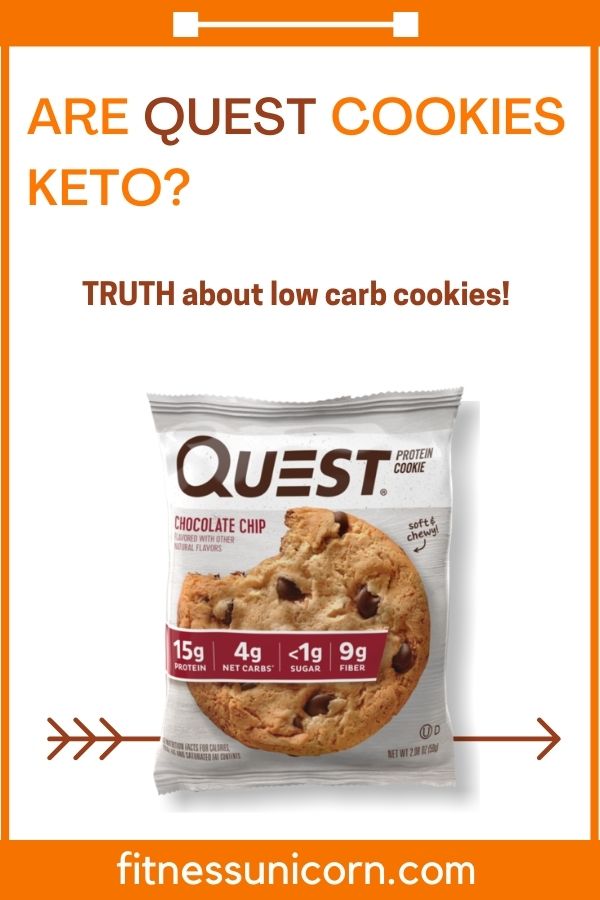 Tired of searching whether certain foods are keto? Download my keto cheat sheet with 210+ keto-friendly foods!
It's almost impossible to think of cookies without flour and sugar! These two seem like the perfect synonyms for the word "cookies".
Thanks to modern brands who understand our fitness craze, we have been blessed with many low carb beverages and healthier snacks.
Does the same go for cookies? In this article, we will discuss how Quest Protein Cookies fit into the keto diet and also look at other promising alternatives!
This post may contain affiliate links, which help keep this content free. (Full disclosure)
Are Quest Cookies Keto Approved?
Quest Cookies are Keto-friendly when eaten in moderation. The chocolate chip cookie has 4g of net carbs per serving which can easily be accommodated in a 20g daily carb limit.
It also contains 17g of fat and 15g of protein per cookie, which is a good overall macro profile for a healthy keto snack!
Their flavors include Chocolate Chip, Double Chocolate Chip, Peanut Butter, Peanut Butter Chocolate Chip, and Snickerdoodle. Each of them has 4-5g of net carbs per cookie.
These large-sized cookies are also rich in fiber giving you 9g of fiber per cookie. Fiber is great for your gut and also keeps you full for longer, thereby preventing those sudden cravings!
Quest Nutrition made these protein cookies to satisfy your sweet tooth without consuming extra carbs or calories! We can also include them in a keto diet as an occasional dessert.
Net Carbs in Quest Cookies
Looking at the nutrition label might confuse you.
You see, we are told to subtract fiber from total carbs to derive the net carbs present in a food. The Chocolate Chip Cookie from Quest Nutrition has 19g of carbs and 9g of fiber.
Following the same calculation, you may think that it has 10g of net carbs (19g minus 9g). However, out of the remaining 10g carbs, 6g is actually Erythritol, leaving us with just 4g net carbs.
Erythritol is a very popular keto sweetener that comes from the family of sugar alcohols. Sugar alcohols can't be absorbed by your body and hence they are not counted in the net carbs.
17g of fat per cookie is a great indicator of a good keto-friendly snack. This is a great carb to fat ratio for a healthy and satisfying low carb snack.
There is always a kind of risk involved when trying out desserts on a highly-restrictive diet like keto!
Suppose you have finally given up all carbs and slowly you are adapting to this low carb diet. You've achieved feats in conquering your craving for those sinful sugar treats!
But as you start eating these keto cookies, even though it's not actual sugar, the sweet taste might trigger further sugar cravings!
So you should make up your mind before treating yourself with any kind of keto dessert involving sweeteners.
And I would suggest that you don't keep more than 2 servings with you at a time!
It's really hard to resist once you start eating and you may end up being kicked out of ketosis!
Quest Cookies Nutritional Info
You can enjoy Quest cookies on a keto diet in 5 different flavors!
Here are the details of each one of them:
Chocolate Chip Cookie: 15g Protein, 4g Net Carbs, 9g Fiber
Double Chocolate Chip Cookie: 15g Protein, 5g Net Carbs, 11g Fiber
Peanut Butter Cookie: 15g Protein, 5g Net Carbs, 12g Fiber
Peanut Butter Chocolate Chip: 16g Protein, 5g Net Carbs, 12g Fiber
Snickerdoodle: 15g Protein, 4g Net Carbs, 11g Fiber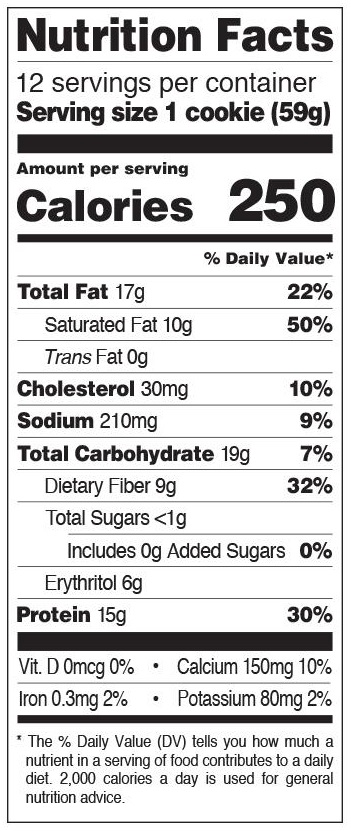 Quest cookies have a fantastic macro profile with few net carbs! Chocolate Chip Cookie and Snickerdoodle has the lowest number of net carbs i.e. 4g.
Keto Review for Quest Cookies
I must say that these cookies are a hell of a lot satisfying than most keto snacks out there! With 17g of fat and 9g of fiber, they can keep you full for a whole day without food!
We ketoers generally don't look at the calories, but some of us really do care about them! One single quest cookie can rake in around 250 calories! It may be a huge number and you should portion this accordingly.
If you've eaten their protein bars before, let me tell you that these two are completely different in taste! This cookie is much softer and has more of those funky little choco chips.
My only concern for low carb cookies is that they should not crumble insanely! This one scores 8/10 on my "cookie texture" score.
You can buy a box of 12 cookies because it is cheaper that way. Remember, keep 2 in your cupboard and hide the rest so that you don't overeat!

If you are a newbie, the slightly bitter after-taste of Erythritol may bother you initially. But that's the fate of all keto desserts and you have to accept it!
Feel free to put toppings like Cool Whip or peanut butter to further enhance the taste. Just make sure you factor in the carbs.
Mind you, these cookies also contain soluble corn fiber which may through you out of ketosis if you eat more than 2 cookies at a time!
Desserts like the Quest cookies can be a blessing when you are weaning off from real carbs! They can help you keep your shit together as you lower your carb intake and transition into ketosis.
You can warm these up in a microwave for 30 seconds to enjoy a great keto dessert!
What is a Snickerdoodle?
Did you notice that Quest Nutrition also sells a cookie named "Snickerdoodle"?
Well, people are always asking me "What's the difference between a cookie and a snickerdoodle"?
Is snickerdoodle just a cookie with a heavenly cinnamon-ish aroma? Let's clear the air!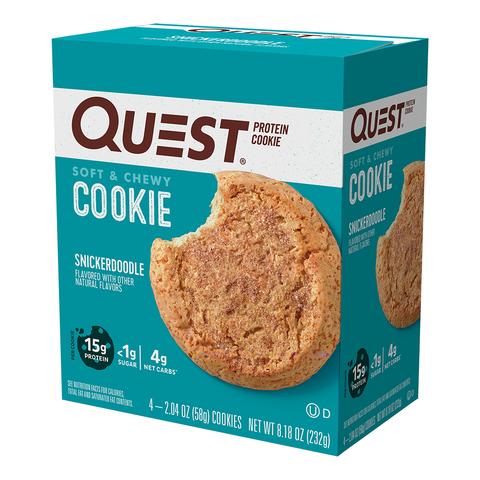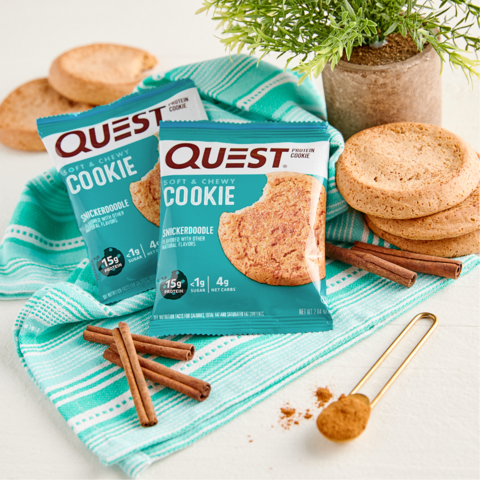 You see, there are a lot of common ingredients between the two, such as flour, butter and sugar (or sweeteners).
But the common ground of difference is this one ingredient: Cream of Tartar.
It is that one ancient secret present in all your lovely soft, chewy, and buttery, snickerdoodles! This is the reason behind the extreme softness and pillow-like texture of snickerdoodles.
Have you noticed how sugar crystallizes in regular cookies, leading to a crispy toughness? This is exactly what the cream of tartar prevents! It gets in way of sugar crystallization and hence gives us a really really soft cookie.
The cinnamon scent of snickerdoodles is so popular today that there are many "snickerdoodle fragrance" products available in the market!
A box of 4 Snickerdoodle cookies from Quest Nutrition is priced at just $8.99. One cookie has 4g of net carbs and a great indulgence of sweet cinnamon!
Other Keto-Friendly Cookies
It's hard to find good keto snacks that are low carb and also taste like real food!
I've been on this diet for last 7 years and trust me when I say this, most of the keto desserts taste like cardboard!
They are made with all sorts of fiber and have a weird texture that can kill your appetite for days to come! Thankfully, we do have some nice options but they come at the cost of a few carbs.
Good quality keto cookies in the market have 4-5g of net carbs per cookie. It's a bit too much as per keto standards. But then again, if you want a genuine taste (no cardboard!) you do have to sacrifice some carbs from your daily quota!
Other than Quest Cookies on keto, here are a few more options that I found worthy on a keto diet:
Nui Cookies
Nui cookies are also known as Keto Kookies.
The founders of Nui Cookies are keto dieters themselves. They noticed how energetic the keto diet makes you and since then they have never looked to another diet!
But having a business mindset, they instantly spotted the opportunity in the keto market for desserts! It was really tough to find good quality products that didn't taste awful!
They experimented different formulas and finally launched when they hit the right recipe!
Nui Cookies initially offered 5 different flavors:
Snickerdoodle
Peanut butter
Cinnamon
Double chocolate
Chocolate chip
They have recently upgraded their recipes and streamlined the options. Now you'll only see their Chocolate Chip Cookie and the Snickerdoodle in the market.
Nui Cookies' chocolate chip flavor contains a mere 2g of net carbs per cookie! Compared with the Quest Cookies, Nui wins hands down!
Fun Fact: Nui Cookies have been featured on Shark Tank which also landed them a great amount of funding! Being featured on a TV show also boosted their popularity!
Their Snickerdoodle has 3g of net carbs which is also less than 4g of Quest's snickerdoodle.
Each packet of Nui cookies contain two cookies, as compared to the single large cookie from Quest.
The sweet flavor in Nui cookies come from plant-based sweeteners like Stevia, allulose, and Monk Fruit.
Nui cookies are made with butter, heavy whipping cream, MCT oil, stevia, and coconut oil, all of which are keto-friendly ingredients!
Everything has cons and pros. Now that you know all the pros of Nui Cookies, let me shine light on some cons:
Some of their variants have a high amount of Erythritol sweetener (12-13g) which can be hard on your gut.
Nui cookies are harder and more crumbly as compared to Quest Keto cookies.
Lenny & Larry's Keto Cookie
The USP of Lenny & Larry's Keto cookie is that it's completely vegan!
Unlike Quest Nutrition, it does not contain dairy protein and all of its ingredients are plant-based!
They have 3 flavors for their Keto Cookie:
Chocolate Chip Cookie: 3g Net Carbs, 8g Protein, 5g Fiber
Coconut Cookie: 3g Net Carbs, 8g Protein, 5g Fiber
Peanut Butter Cookie: 3g Net Carbs, 8g Protein, 5g Fiber
Noticed something strange? Yes, all of there flavors have the exact number of macros!
I think it greatly simplifies the choosing process! You are just left with the taste to choose without considering the macros.
Lenny & Larry's Keto Cookie is gluten-free, Non-GMO Project Verified, Vegan & Kosher-friendly. They are also free from dairy, soy, eggs, corn syrup, or artificial ingredients!
With just 3g of net carbs per cookie, I think it's a great keto-friendly snack cum dessert! It's also an amazing dessert for people who are into overall fitness.
I personally love their coconut flavor which has a very unique touch to it. Honestly, the chocolate flavor in keto products is ruined mostly due to sugar-free sweeteners.
You always tend to compare the sugar-laden version of chocolate with these keto products and the end result is zero satisfaction!
Hence, it good to try different flavors that you otherwise wouldn't even taste if not on the low-carb diet!
MUST Read: Is Russell Stover Sugar-Free REALLY Keto?
HighKey Keto
These mini cookies from HighKey Keto Snacks are made with flour, butter, milk, coconut oil, and sea salt.
I must say that they have a quite "natural" scent to them unlike other commercial products having artificial aromas.
A serving of 6 mini cookies gives you 2g net carbohydrates (11g total carbs), 3g protein, and 13g fat.
One bag contains two servings i.e. 12 mini cookies. It makes things really easy when portioning out your cookies!
For example, if you want to break your serving over three meals, you can easily do that without any wastage due to crumbling!
A single large cookie has more hassles while spreading it over several meals in a single day. Since most keto cookies are very chewy and crumbly, this leads to a lot of wastage!
Life is much easier when you simply keep 2 mini cookies for breakfast, 2 for lunch, and the remaining 2 for dinner!
It's the safest way to have keto desserts without risking your ketosis!
Conclusion
Are Quest Cookies Keto?
Quest cookies are definitely keto with their chocolate chip cookie having just 4g of net carbs. It also has good amounts of fat and protein but you should not consume more than one in a single day!
A keto diet recommends around 20g of daily carbs. It is quite easy to accommodate a 4g cookie in the daily limit. Make sure you eat high fat and low carb whole foods for the rest of your day!